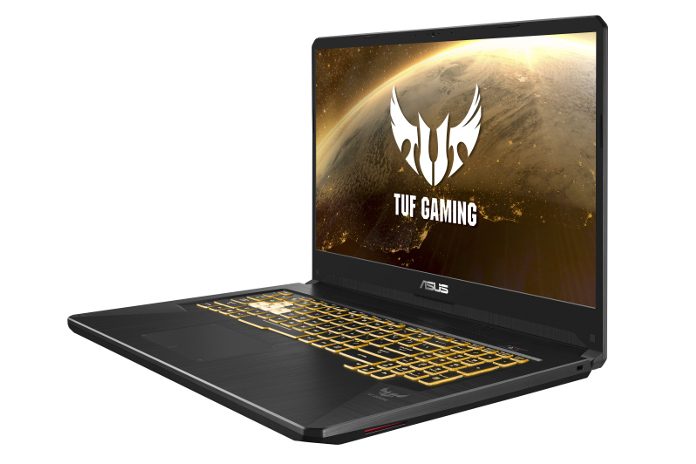 For years, savvy gamers and enthusiasts have combined AMD processors with GeForce graphics to create powerful PCs that deliver incredible performance per dollar. Now, ASUS gaming laptops let you take that dynamic duo on the road. The TUF Gaming FX505 and FX705 team the latest Ryzen mobile APUs with the new GeForce GTX 1660 Ti GPU to bring more power than ever to affordable gaming laptops.
Like the rest of the family, the TUF Gaming FX505DD/DT/DU and TUF Gaming FX705DD/DT/DU wrap military-grade toughness around core features that enhance gameplay. They make premium extras like narrow bezels and high refresh rates accessible to everyone, while also elevating fundamental elements like the keyboard and cooling to offer a better experience day to day.
Turing tuned for today
The GeForce® GTX 1660 Ti deploys NVIDIA's latest Turing architecture with a tighter focus on today's games. Although it lacks support for some of the flashier visual effects available in the RTX™ line, upgrades to its CUDA cores, cache hierarchy, and memory subsystem produce a significant per-core performance increase over the previous generation. Live-streamers can also reap the benefits of a new video encoder that improves video quality by up to 15% using hardware-accelerated capture that reduces burden on the CPU.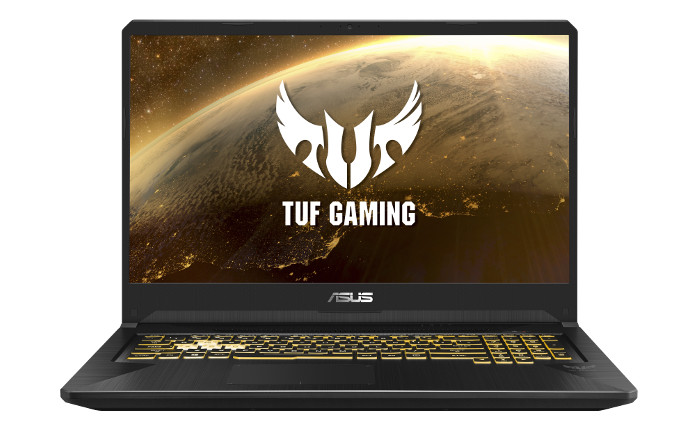 The powerful GPU puts triple-digit FPS within reach in popular games, and it's paired with a fast display lets you enjoy every frame. With up to a 120Hz refresh rate that's twice the speed of standard screens, the FX505 enables smoother gameplay that can give you an edge on the battleground. Its high refresh rate is especially helpful in fast-paced shooters and esports titles. The 15.6″ panel also comes in a 60Hz flavor that's better for graphically demanding games that run closer to 60 FPS. If you crave a larger screen, the FX705 stretches the diagonal to 17.3″ and is available with a 60Hz panel.
Both screen sizes feel expansive thanks to NanoEdge bezels that focus your attention on the display rather than what's around it. In addition to heightening immersion, the narrow frames shrink the footprints of the chassis, making the laptops more compact. The panels inside are based on vIPS-level technology that maintains vibrant colors over wide viewing angles, so you can sit off to the side while playing games or streaming videos with friends.
Picasso rising
Impressive gaming credentials are balanced with everyday versatility powered by AMD's latest Ryzen processors. Also known as Picasso, these second-generation mobile APUs are based on the updated Zen+ architecture and built using industry-leading 12nm fabrication technology. The TUF Gaming FX505 and FX705 are available with up to a Ryzen 7 CPU that features quad cores and eight threads with ample performance for gaming, entertainment, and everyday work. Despite the ability to slice through multithreaded workloads and aggressive multitasking, the processor fits into an energy efficient 35W power envelope that preserves battery life.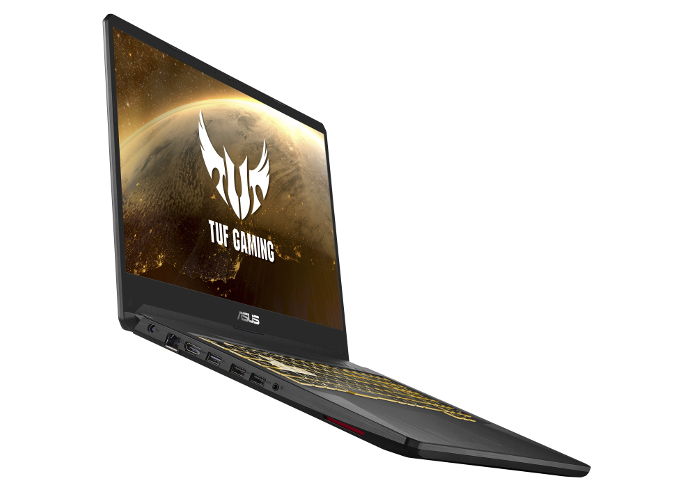 With room for up to 32GB of DDR4-2400 memory, there's enough RAM for productive multitasking and light content creation. A range of storage options accommodates varied needs and budgets: solid-state drives up to 512GB boast high speeds across the board, a 1TB FireCuda SSHD accelerates access to frequently used data, and 1TB HDDs offer affordable storage at 5,400. The storage bays and memory slots are readily accessible with a standard screwdriver, so it's easy to upgrade as needed.
Self-cleaning cooling stands the test of time
Effective cooling is crucial to maintaining strong performance, so HyperCool technology covers the CPU and GPU with independent fans and heatsinks. A shared heatpipe links them all together to maximize cooling in situations where only one processor is under load.
Warm air vents out the back under a patented trapezoid cut in the lid that ensures exhaust escapes unobstructed, even with the screen tilted back. Special anti-dust tunnels on the edges of the fan housings catch and direct particles out of the laptop to prevent them from clogging the heatsinks and fans. This self-cleaning design prevents buildup that could impede performance and stability over time.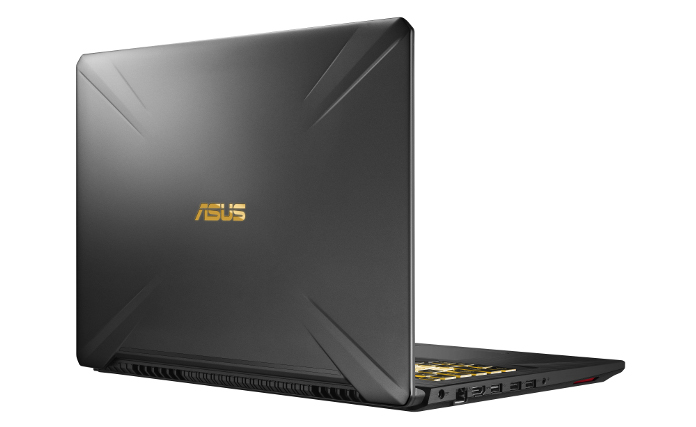 Fan speeds adapt automatically to component temperatures. With a quick keyboard shortcut, you can switch between three operating modes that mix different cooling and performance profiles. Turbo mode delivers maximum performance and fan speeds for intensive tasks, while Balanced mode optimizes speed and acoustics for the best gaming experience. Silent mode backs off to reduce noise for lighter loads like day-to-day productivity, web surfing, and video streaming.
Two shades of military-grade toughness
Two chassis variations bring different looks to the TUF Gaming FX505 and FX705. Gold Steel skins the lid with Gunmetal Grey aluminum, while Stealth Black keeps a lower profile with a shadowy exterior. Both exhibit the sharp lines and angular accents that define the TUF Gaming aesthetic, right down to the distinctive Radiating-X design on the lid and customizable color through Aura RGB lighting in the keyboard.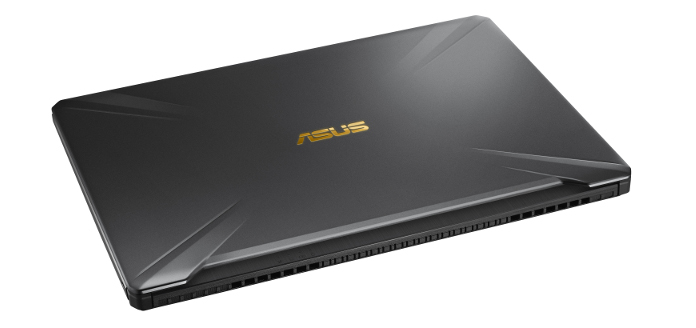 The bottom of the chassis adds structural strength and rigidity with a hexagonal design that helps the laptops live up to the TUF name. These machines meet military-grade MIL-STD-810G standards, passing demanding tests that ensure survival in extreme environments, and with ambient vibration and accidental knocks. Both versions bounce back from short drops to a desk, and the 15″ models can handle higher falls.
Desktop-inspired keyboard feels like home
The keyboard is optimized for gaming with a layout reminiscent of standard desktop designs. Function keys are separated in the usual groups to make shortcuts more intuitive, arrow keys are offset for effortless navigation, and a full numpad makes number crunching a breeze. Highlighted WASD keys clearly identify the home row for gaming, while a wider space bar provides a larger target for your thumb.
Each key cap is gently curved to cradle your fingertips. The underlying switches have 1.8mm of travel enhanced by Overstroke technology that offers responsive input with an improved overall feel. Overstroke raises the actuation point so that presses register sooner, and the resulting increase in post-actuation travel makes typing more comfortable. With a rated lifespan of 20 million presses, the switches are durable enough to hold up to years of heavy use.
Models with RGB backlighting let you add an element of personalized style across the keyboard as a whole. You can tweak RGB colors and effects with our Armoury Crate utility, which unifies vital functions like lighting control, system monitoring, and configurable game profiles that automatically load preferred system settings for different titles.
Plug in to enhance your experience
Gaming is more immersive with DTS Headphone: X technology that brings 7.1-channel virtual surround sound to stereo headsets or speakers plugged into the laptop. Choose between built-in presets for games, movies, and sports or try your hand at custom tuning with the embedded equalizer.
The 3.5-mm audio jack is joined by enough USB ports for vital peripherals like a gamepad, mouse, and external storage. HDMI 2.0 lets you drive a wide range of displays at resolutions up to 4K, from the monitor on your desk to the big-screen TV in the living room to the projector at school. Getting online is easy with integrated 802.11ac WiFi. It's hard to beat the convenience of wireless networking, but wired connections have lower latency for serious multiplayer gaming, so Gigabit Ethernet is also included.
TUF Gaming FX505DD/DT/DU
TUF Gaming FX705DD/DT/DU
Processor
AMD Ryzen 7 3750H with Radeon Vega Mobile Graphics
AMD Ryzen 5 3550H with Radeon Vega Mobile Graphics

AMD Ryzen 7 3750H with Radeon Vega Mobile Graphics
Display
15.6" Non-glare Full HD 120Hz IPS-level
15.6" Non-glare Full HD 60Hz IPS-level
17.3" Non-glare FHD(60Hz) IPS-level
Memory
Up to 32GB DDR4 2666 MHz
Graphics
NVIDIA GeForce GTX 1050 with 3G GDDR5 VRAM
NVIDIA GeForce GTX 1650 with 4G GDDR5 VRAM
NVIDIA GeForce GTX 1660 Ti with 6G GDDR6 VRAM
Storage
1TB 5400RPM
1TB 7200RPM
1TB Firecuda
128GB / 256GB / 512GB PCIe SSD
1TB 5400RPM
1TB Firecuda
128GB / 256GB / 512GB PCIe SSD

Wireless
802.11AC+ Bluetooth 5.0
1*1, 2*2 (wave 2)
Connectivity
2 x USB 3.0 Gen1 ; 1 x USB 2.0
1x HDMI 2.0
1x RJ-45 Jack
1x 3.5mm headphone and microphone combo jack
1x Kensington lock
Keyboard
Global
Gold Steel: RGB keyboard
Stealth Black: RGB keyboard

China:
Stealth Black: White backlit keyboard
Red Matter: Red backlit keyboard

Gold Steel: RGB keyboard
Stealth Black: RGB keyboard
Battery
48Whr
OS
Windows 10
Windows 10 Professional
Size
360.4(W) x 262(D) x 25.8~26.8(H) mm
399.8(W) x 279.5(D) x 26.7~27.7(H) mm
Weight
2.2 kg
2.7 kg
Big bang for your buck
The new TUF Gaming FX505 and FX705 capture new ground by putting GeForce and Ryzen shoulder to shoulder in affordable gaming laptops equipped to do much more. Carefully specced and built to last, they strike the right balance between the features and durability you need and the performance you crave. The TUF Gaming FX505 is available for pre-order in the United States starting today at the retailers listed in the tables below. Check with your local ASUS representative for specifics on pricing and configurations for the FX505 and FX705 in your region.
TUF Gaming FX505DT-EB73
TUF505DU-EB74
Processor
AMD Ryzen 7 3750H with Radeon Vega Mobile Graphics
AMD Ryzen 7 3750H with Radeon Vega Mobile Graphics
Display
15.6" Non-glare Full HD 120Hz IPS-level

Memory
8GB DDR4 2666 MHz
16GB DDR4 2666 MHz
Graphics
NVIDIA GeForce GTX 1650 with 4G GDDR5 VRAM
NVIDIA GeForce GTX 1660 Ti with 6G GDDR6 VRAM
Storage
512GB PCIe SSD
256GB PCIe SSD + 1TB 5400RPM

Price
$999 USD
$1,099 USD
Availability
Newegg
Amazon
ASUS
Newegg
Amazon