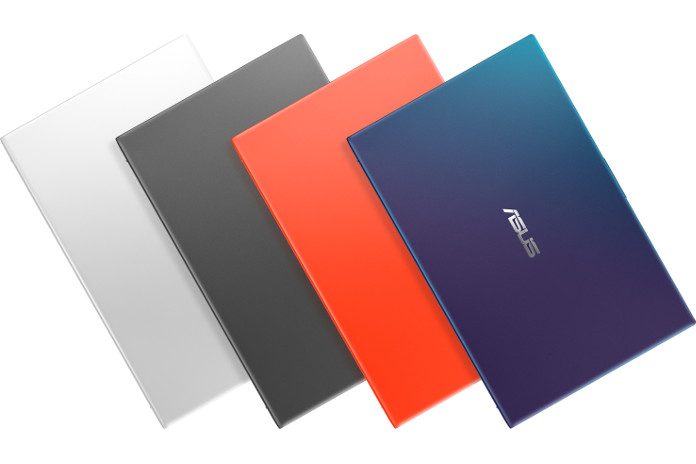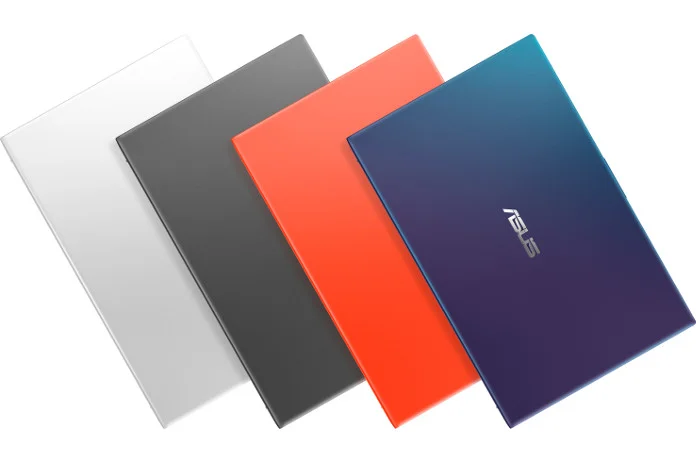 Continuing the quest to create laptops in outstanding, never-before-seen hues, our newest VivoBook series comes bearing colorful gifts. Announced at CES 2019, they're bright enough to stand out in any crowd, at school or at work, and inspire creativity even as they make everyone else double-take with jealousy. But we didn't sacrifice form over function. The VivoBook 14, VivoBook 15, and VivoBook 17 are just as eye-popping on the inside, with up to the latest Intel 8th Generation Core i7 processor, options for NVIDIA GeForce MX130 discrete graphics, and a variety of storage configurations.
Color your world
Tired of the usual greys and blacks dominating the mid-range and entry-level laptop markets, we started dabbling in fresh shades with our VivoBook S line. Students and young professionals often don't have the budget for pricier luxury laptops that go all out on style, and the mid-range laptop market is littered with more utilitarian designs that fail to ignite anything close to creativity. We built an entire line of laptops that balance power and good looks, and now we're expanding with Peacock Blue and Coral Crush on our newest 14" and 15" laptops, and a classy Transparent Silver on our 17" VivoBook.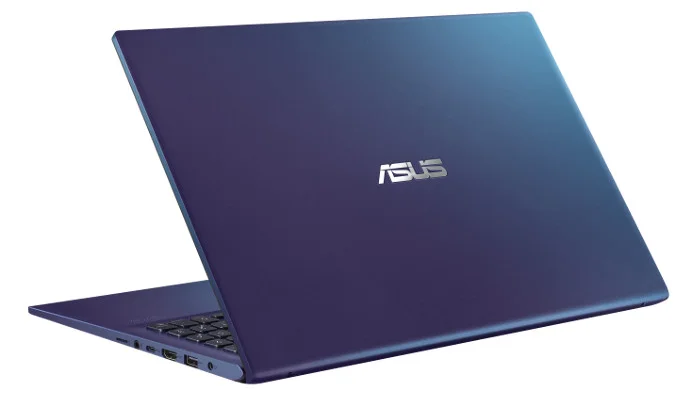 The Peacock Blue color is iridescent, with shimmering tones of blue, green, and purple. We started with a rich, deep blue and added those analogous colors to create a shade that shows all three tones and appears to shift depending on the angle and lighting conditions. It's a look never before achieved on a laptop, and both the VivoBook 14 and VivoBook 15 wear it with pride. Coral Crush is just as exciting. A vivid and warm color somewhere between pink and orange, coral is more popular than ever because it adds personal flair without being too loud. It pops in any lighting and is equally at home in a beige office as a boho coffee shop.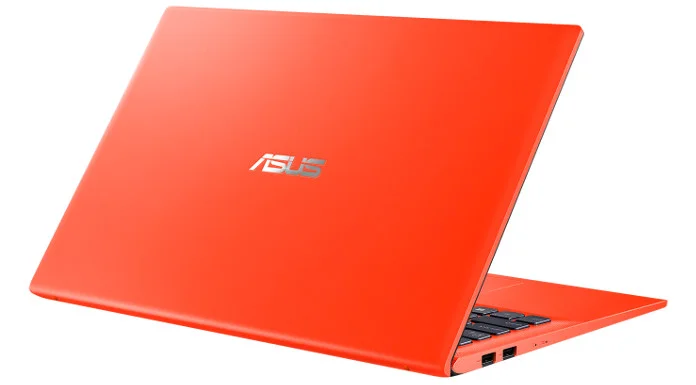 You don't have to stand out from the crowd if you don't want to, though. If you'd prefer a more serious look, the Transparent Silver option looks like it was carved out of precious metals and is available in across all three models. To keep a low profile at the office, go for the chilled-out Slate Grey. It's subtle but strong, dignified yet cool, with gravity that matches the VivoBook 17's larger 17" form factor.
Realize the right size
While you're debating which color you love the most, you can choose the size that best matches your preferences and needs. Each of our new VivoBooks features a Full HD 1920 x 1080 display, and that resolution can be spread over a roomy 17.3" panel or more compact 14" or 15.6" one. If portability is your primary concern, the 14" VivoBook 14 is ideal thanks to its smaller footprint, though a step up to 15.6" VivoBook 15 gives you a little more room to work across multiple windows without adding much in the way of size or weight. Creative pros and those who regularly juggle side-by-side applications will want to roll with the bigger 17.3" VivoBook 17. All of them feature wide 178° viewing angles to keep colors vivid and bright, which is especially important when sharing the screen with a friend.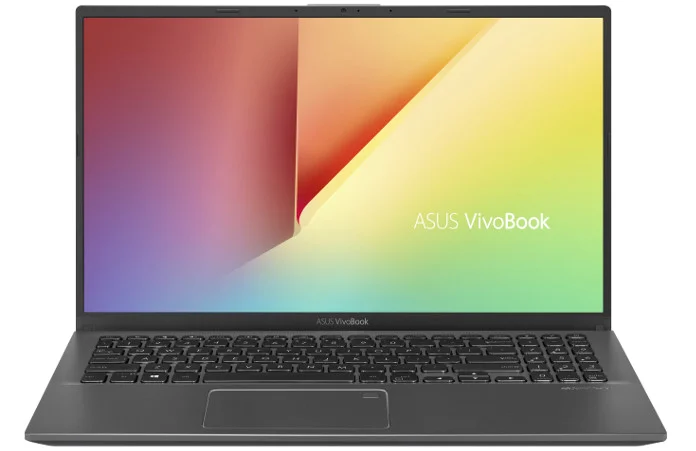 A 17.3" laptop might sound massive, but we're able to fit all of the screens into more compact chassis thanks to their narrow bezels. The VivoBook 17 has slim bezels designed to keep your focus on your work, while the smaller VivoBook 14 and VivoBook 15 feature the same super skinny NanoEdge bezels as our ZenBook line of premium ultrabooks. Narrow bezels not only make for a more immersive experience free of ugly black frames, they make the laptops themselves smaller and easier to carry around. The 14" VivoBook 14 measures just 12.7" across, while the 15.6" VivoBook 15 comes in at 14.1" wide. Despite its huge 17.3" display, the 16" VivoBook 17 will still fit in a backpack. The smaller two are 0.77" thick, while the VivoBook 17 is a little thicker at 0.84". All three of them will blend right in with notebooks and textbooks in your bag or locker.
Of course, physical size isn't the only factor when calculating portability. You also want to avoid back and shoulder pain when toting your computer around campus. The lightest of the bunch is the VivoBook 14, which weighs just 3.3 lbs. The VivoBook 15 is a shade heavier at 3.5 lbs, and the larger VivoBook 17 tips the scales at 4.6 lbs.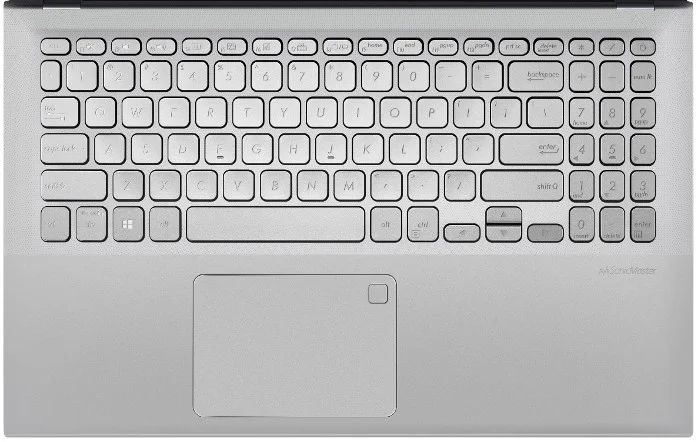 Full-size keyboards allow you to work comfortably for as many hours as you like, and the bigger VivoBook 15 and VivoBook 17 make good use of their additional width by squeezing in a physical number pad to the right of the keyboard for quick calculations and data entry. The Transparent Silver VivoBook 14 makes the most of its compact footprint with an illuminated NumberPad built into the trackpad. It can be activated with one tap and doesn't take up any extra space.
The larger members of the family have a slightly deeper 1.4 mm of key travel, though the difference from the 1.3 mm on the VivoBook 14 is almost indistinguishable from its siblings. Our ErgoLift hinge is present across the family and raises the rear edge of the laptop, propping it up at a more ergonomic angle while you type. The rounded edges on the keycaps are matched by the corners on the trackpad and fingerprint sensor and lend themselves to a more minimalist look.
Workhorse wolf in sheep's designer clothing
Don't be fooled by the fashion-forward designs, though. The whole family packs outstanding internals befitting of hardest working notebooks out there. Configurations include the option for up to an 8th generation Intel Core i7-8565U Whiskey Lake CPU, with four cores and eight threads of multitasking prowess. It's complemented by up to 16GB of DDR4 memory for smooth, responsive performance even when you have loads of apps open.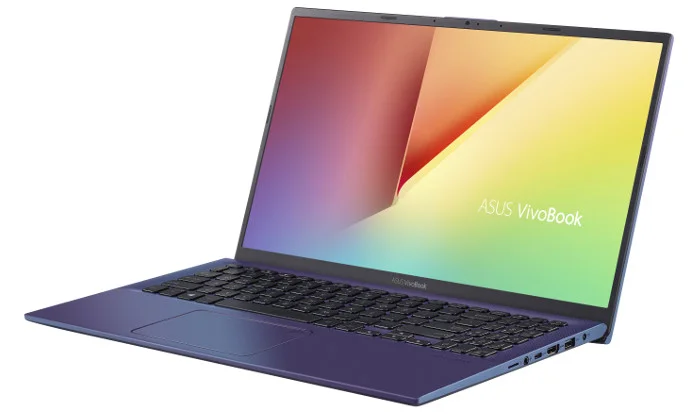 Whiskey Lake chips use UHD Graphics 620, which is more than enough for regular productivity, browsing, streaming, and even light photo editing, but there are discrete GPU options available, too. These offer a boost for more complex photo and video projects by speeding up rendering. The VivoBook 17 can be configured with NVIDIA MX110 graphics, while the VivoBook 14 and VivoBook 15 enjoy up to MX130 to aid your creative pursuits.
All three models serve up a one-two punch of storage capacity and performance. Up to 256GB of solid state storage is available for all of your applications, and an up to 2TB HDD storage means there's ample space for storing projects even after the semester is done. There's also the option of a 2TB HDD accelerated by up to 16GB of Intel Optane Memory to reduce boot time and make your whole system feel more responsive.
Getting it done
Whether you're working from your favorite cafe or the computer lab, the VivoBooks' dual-band 802.11ac WiFi facilitates a reliable internet connection with the ability to connect to networks on the 2.4GHz band as well as the less congested 5GHz band. All day battery life eliminates the need to find an outlet between classes, and if you want to top off before heading for a late study session at the library, quick charge can get you to 60% in just 49 minutes.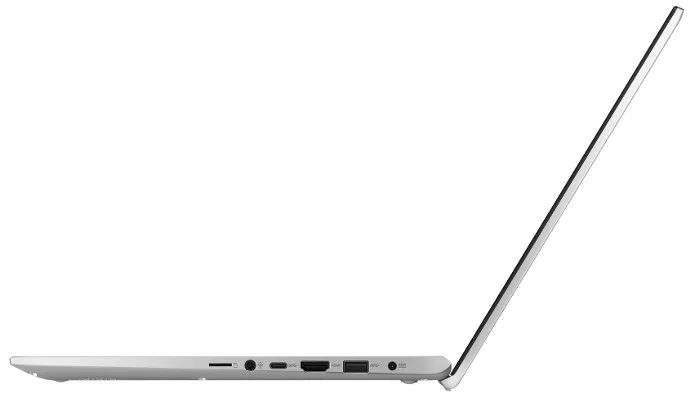 Portability is key for staying productive on the go, but a smart selection of ports is crucial for making sure you can work comfortably at home as well. All three of our new VivoBooks are equipped with an HDMI port for connecting to your desktop monitor or the projectors at school, and there's a USB 2.0 port for your mouse. A faster USB 3.1 port and a reversible USB Type-C port take care of external storage drives, and the microSD card slot makes it easy to transfer photos from your phone without plugging in an adapter or hub. Both the VivoBook 15 and VivoBook 17 have a second USB 2.0 port for connecting additional devices.
If you need music to focus, the audio combo jack is on hand for your favorite noise cancelling headphones, though it's not your only option. When you want to blare music in your room or just kick back with some Netflix, you can ditch your earbuds and crank the volume on the SonicMaster speakers. They're tuned to have a wider frequency range to clearer voice performance and deeper bass.
VivoBook 14
VivoBook 15
VivoBook 17
CPU
Intel Core i3-8145U, 2C/4T, 1.2GHz (4MB cache, up to 3.9GHz)
Intel Core i5-8265U, 4C/8T, 1.6GHz (6MB cache, up to 3.9GHz)
Intel Core i7-8565U, 4C/8T, 1.8GHz (8MB cache, up to 4.6GHz)
GPU
Intel UHD Graphics 620
Up to NVIDIA GeForce MX130 discrete graphics with 2GB VRAM
Intel UHD Graphics 620
Up to NVIDIA GeForce MX110 discrete graphics with 2GB VRAM
Display
14" Full HD 1920 x 1080
15.6" Full HD 1920 x 1080
17.3" Full HD 1920 x 1080
Memory
Up to 16GB DDR4
Storage
128GB / 256GB / 512GB SSD with a 1TB / 2TB HDD
Networking
Dual-band 802.11ac Wi-Fi
Bluetooth 4.2
Connectivity
1 x HDMI
1 x USB 3.1 Gen 1 Type-A
1 x USB 3.1 Gen 1 Type-C
1 x USB 2.0
1 x MicroSD Card reader
1 x audio combo jack

Dimensions
12.7" x 8.4" x 0.77"
14.1" x 9.1" x 0.77"
16" x 10" x 0.84"
Weight
3.3 lbs
3.5 lbs
4.6 lbs
Battery
37 Wh
37 Wh
32 Wh
Colors
Coral Crush
Peacock Blue
Slate Grey
Transparent Silver
Coral Crush
Peacock Blue
Slate Grey
Transparent Silver
Transparent Silver
OS
Windows 10
Dressed for success
The VivoBook 14, VivoBook 15, and VivoBook 17 sport looks designed to impress and inspire, but they don't sacrifice the serious performance you need to get real work done. A range of options for CPU, graphics, and storage allows you to tailor the laptop to the type of work you do, and three different sizes of display make it easy to find the right fit. The new VivoBooks will be available in early 2019. Configurations and pricing will vary by country, so check with your local ASUS representative for details on models available in your region.
Don't miss the rest of our announcements from CES 2019. You can see all the newest tech from ASUS and ROG in this article.