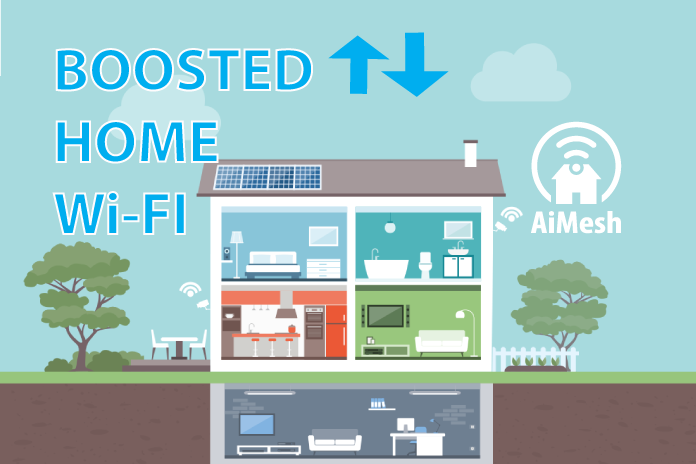 Too many of us accept less-than-perfect Wi-Fi coverage. We shrug our shoulders when the connection drops in that one spot upstairs, and we caution our guests not to expect a signal in certain rooms. We'll happily spend hundreds upgrading our PCs for an extra few frames per second, but it seems like we'll tolerate anything short of no connection at all from our wireless networking hardware. It's time to ask more of your wireless network with AiMesh.
We're rolling out a dynamic duo of technologies that promises excellent Wi-Fi coverage throughout your house. It's now possible to get hardware that combines Wi-Fi 6, the certification program based on the 802.11ax standard, and our AiMesh whole-home wireless networking technology to achieve faster Wi-Fi performance and farther reach than anything you've ever experienced.
How confident are we of this dynamic duo's synergy? We put out a call for people to tell us how their existing wireless networks were failing them, and we selected 18 winners whose Wi-Fi was delivering anything but winning performance. We then sent teams of engineers to the homes of those folks to quash their Wi-Fi issues—or give them $1,000 in cash if we failed.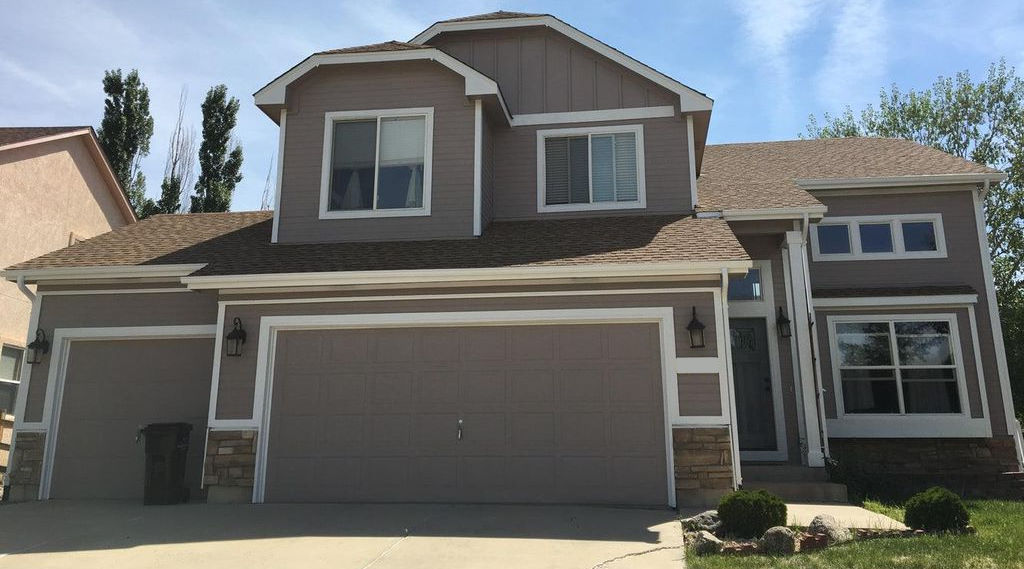 Welcome to Jake's house
This is the story of Jake Hanrahan, one of the lucky 18, whose two-story house was transformed from a minefield of choppy connectivity into an all-you-can-eat buffet of screaming bit rates, maxed-out signal strength, and ample capacity for his dozens of internet-connected devices. Jake may have missed out on the $1,000, but we think he's far happier having the best wireless network on his block.
So what's wrong, Jake?
In Jake's entry for the AiMesh Challenge 2019, he complained of a weak and unstable connection throughout his house. His two-story floor plan was further complicated by a basement where wireless signal strength dropped off precipitously. The only ideal office space in his home was down in the basement, though, making it frustrating to use the PCs in that room for work.
All told, Jake had more than 20 devices connected to his network. As each one came online and started moving data, performance got worse and worse. The result was that he couldn't use streaming services without severe buffering on the smart TVs on the first floor of the home and in the basement.
Left untreated, Wi-Fi problems like Jake's are only going to get worse. Each new phone, smartwatch, security camera, learning thermostat, and video doorbell in a home will join the battle for a constant, stable connection. Meanwhile, PCs, game consoles, and smart TVs pull down higher-bit-rate content than ever before, creating more contention for limited bandwidth. Wireless networking hardware that's barely holding on today is bound to fall flat on its face tomorrow.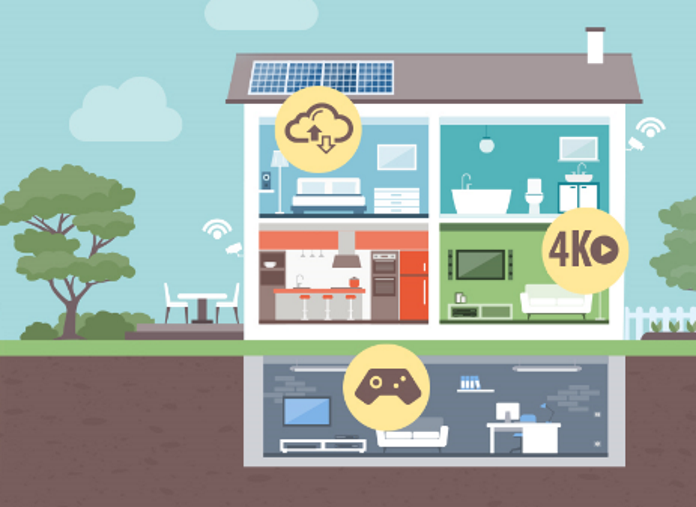 Jake's setup
Once our engineers assessed Jake's situation, it became painfully apparent why signal strength was such an issue in the basement. The wiring for his internet connection ran to a room on the second floor of his house. The signal from the single access point Jake had upstairs struggled to reach the first floor, and it was just plain sporadic two levels down.
Jake could have used a Wi-Fi repeater on the first floor to capture his router's wireless signal and re-broadcast it on a second network for devices down in the basement. But as other members of the household moved up and down the stairs, their mobile devices would have had to jump from one network to the other. Worse, repeaters can't send and receive data simultaneously, so they sacrifice half of your network's bandwidth in exchange for better coverage. We had something far more elegant in mind.
The solution starts with AiMesh
AiMesh technology allows compatible ASUS routers to join together in a mesh network and present a single network name to wireless clients all over the house. As you roam around, the technology constantly monitors signal strength to your device. If another router offers a better connection, it hands your device off to that source with no interruption whatsoever. It's a completely seamless solution. And if one node in a multi-router system fails, the remaining devices link up to prevent disruptions.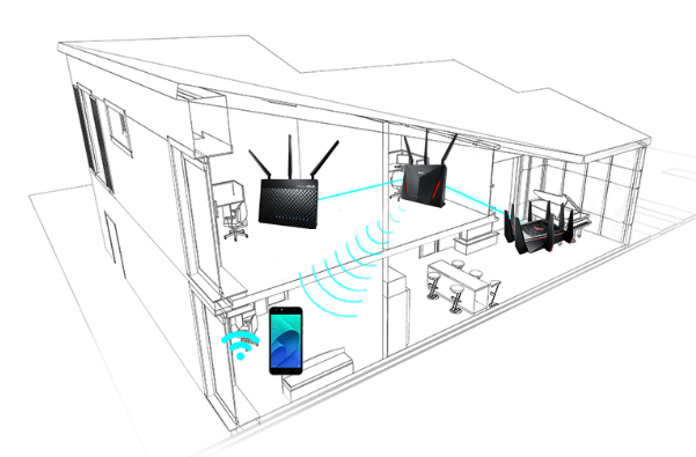 A conceptual depiction of AiMesh
Unlike repeaters, routers in an AiMesh network also communicate with each other over a dedicated backhaul, whether that's a wired Ethernet link or another wireless frequency band. Even congested networks enjoy peak performance thanks to full-duplex data transmission.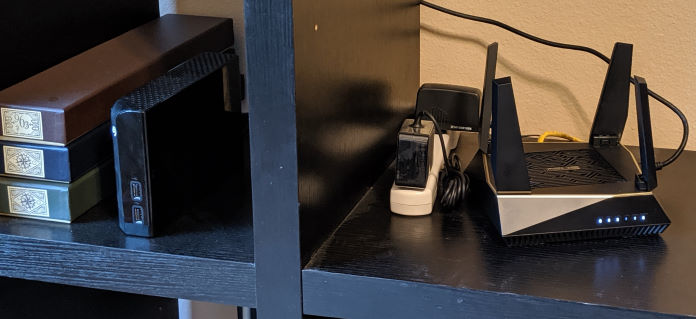 The upstairs node and its companion hard drive
We replaced Jake's previous router with a two-pack of our RT-AX92U nodes: one on the second floor of his home and the other in the basement. Thanks to the dedicated node in the basement and the capabilities of the Wi-Fi 6 backhaul network that the RT-AX92Us employ, the difference from old router to new was night and day. The PCs, smart TV, and PS4 down there enjoyed about a 3x improvement in download speed after the upgrade, jumping from about 53Mb/s to almost 156Mb/s. More importantly, though, the basement connection is rock-solid with no buffering required. Jake couldn't be more thrilled.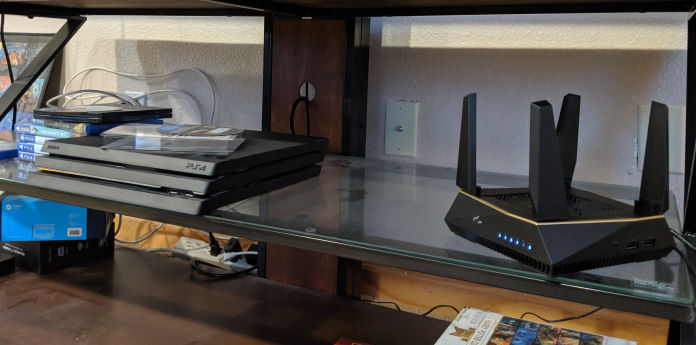 The downstairs node keeps PCs, a PS4, and a smart TV happy
Jake is also taking full advantage of AiMesh's configurability. He now has a roomy hard drive attached to his main router via USB. He can work on the files from that drive from anywhere in the house without fear of an untimely disconnect. Real-time traffic monitoring built into the router replaces third-party software Jake needed to avoid exceeding his metered connection's data cap. And after he installed the ASUS Router app on his phone for help with the setup process, he continues to use it to monitor the network's internet activity and diagnose security settings. In the future, he plans to use the app to optimize AiMesh's quality of service settings and dial in each device's priority.
AiMesh, enhanced by Wi-Fi 6
We have lots of great AiMesh-compatible routers that make it easy to add new hardware to your existing wireless network and grow its range. But when you're starting from scratch like our engineers did at Jake's house and can roll out the latest technology in one fell swoop, you'll immediately notice the performance improvements. And since many of the latest AiMesh routers support Wi-Fi 6 technology, network performance won't degrade as Jake brings future devices into his home.
Right out of the gate, advanced tri-band routers like the RT-AX92U give you two bands (2.4GHz and 5GHz) for serving clients, as well as a third 5GHz band to let the routers talk to each other. That dedicated backhaul connection gets a powerful array of four transmit and four receive antennas for blasting data back and forth between nodes, ensuring snappy performance whether you connect from a tablet or high-end gaming PC.
The next generation of Wi-Fi 6 clients will enjoy similar features to today's Wi-Fi 6 access points, enhancing their performance and increasing their reach. Wi-Fi 6 also includes a number of technologies that let many wireless devices play nicely together on the same network. As Jake retires older tech and upgrades to newer devices that support Wi-Fi 6 technology, the performance of his revamped wireless network is only going to get better.
A big congratulations to Jake and the other 17 winners of our AiMesh Challenge 2019. When you're ready for your own whole-house makeover, check out our Wi-Fi 6 family of AiMesh routers. And if you want to upgrade your own network using the RT-AX92U AiMesh two-pack, here's where to buy it in the USA and in Canada.