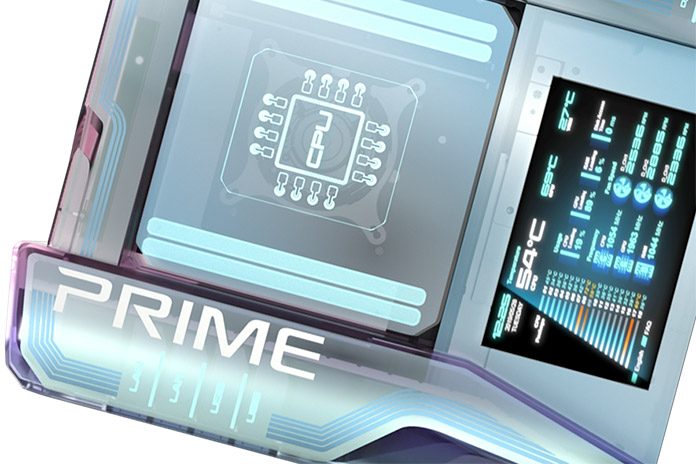 ASUS has been making motherboards for 30 years. Our history is filled with innovations that steered the industry, and we're looking ahead to what the next decades may hold. The Prime Utopia concept reimagines core motherboard elements to improve cooling for critical components and expand flexibility for PCI Express devices. Modular I/O offers more freedom outside the box, while special headers support multiple independent fans to cut cable clutter inside the case, and you can monitor it all on a removable OLED dashboard capable of connecting wirelessly.
The Prime Utopia gives a glimpse into the future of motherboards with a custom build that you can see today. This stunning example of our thoughtful engineering and creative design is on display at Computex 2019, on our home turf in Taipei where our search for incredible began.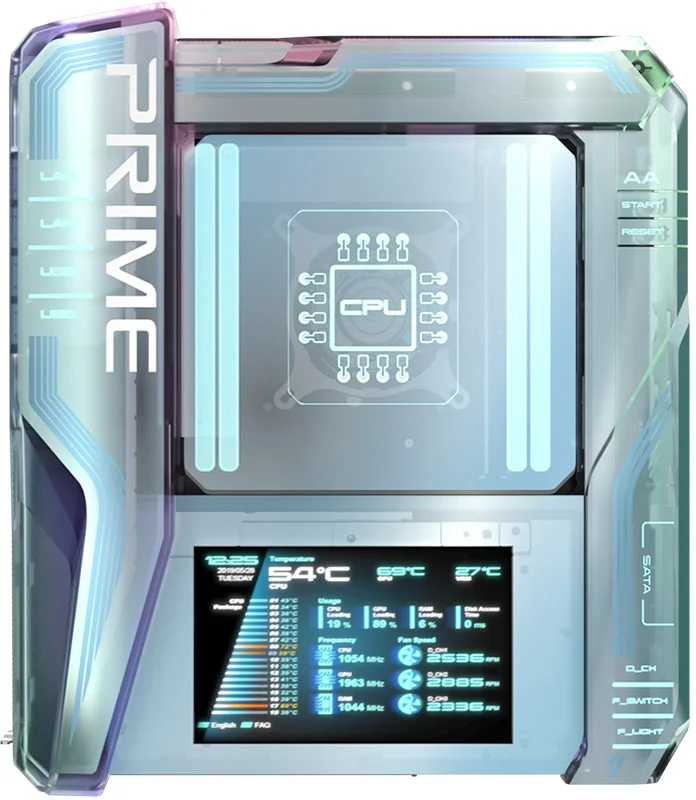 Split the difference for superior cooling
As high-end desktop platforms add more CPU cores and PCI Express lanes, the form factor needs to adapt to handle the heat and accommodate additional devices. Traditional layouts put everything on one side of the system, which limits space and cooling for the hardware that needs it the most. GPUs top that list, so the Prime Utopia concept moves them to the back, where a dedicated chamber provides superior cooling with easy access.
Relocating power-hungry graphics cards removes their thermal footprint from the main chamber, reducing the ambient temperature for the CPU and other components. It also prevents the cards from obstructing airflow across the motherboard and its massive M.2 heatsink. Effective SSD cooling is crucial for the future because without it, even today's NVMe drives can suffer temperature-induced performance throttling under sustained loads.
Throttling is more commonly associated with lowering CPU clocks in response to higher temperatures, but processor performance can also be constrained by VRM cooling. The circuitry feeding current to the CPU has to stay within its optimal thermal range to deliver full power. That becomes increasingly difficult as overclocking pushes more cores to higher frequencies, especially when those cores share silicon with faster PCIe and memory controllers that have their own heat signatures and power requirements.
Since way back in 2007, we've been a leader in supporting liquid cooling for power-hungry motherboard components. The Utopia's unique layout leaves enough room to raise the stakes with an expansive water block capable of chilling monster VRMs. There's more than meets the eye with this stealthy cooler, which hides its pump and plumbing around back to maintain a cleaner look up front.
Make room for more devices and modular I/O
Splitting the layout leaves more room for extra expansion slots that take advantage of growing bandwidth in the CPU and accompanying platform. In addition to mounting a graphics card at the back, the concept motherboard hangs four M.2 slots off the front face, enabling insanely fast SSD RAID arrays with ample cooling and easy accessibility. High-end systems rarely feature this many M.2 slots, and those that do typically bury them behind graphics cards that obstruct upgrades and increase drive temperatures.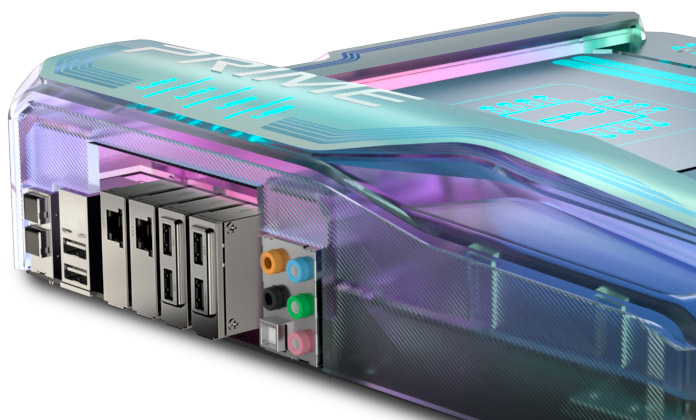 Additional expansion capacity points the Prime Utopia toward a more versatile future, but flexible I/O is what really pushes it forward. Instead of relying on a fixed layout of external ports, the board combines static ports with four modular blocks that let you define your own spec. Each block connects via PCI Express and is completely self-contained, housing both the physical port and any auxiliary silicon required to drive it. You can pick the right mix for your needs and adjust the payload as necessary to meet new requirements.
These next-gen fans Hail Hydra
Streamlined styling has been a hallmark of the Prime family since its inception, and the Utopia concept consolidates cabling to carry that look across the rest of the system. We developed a proprietary Hydra Cortex fan header that supports up to four fans from a single motherboard connection. Driven by dedicated ICs, this interface allows independent tuning of both rotational speed and addressable RGB lighting for each fan, so you can cleanly connect all the cooling for an extreme build without giving up control.
The patent-pending headers combine the expertise we've gained at the forefront of motherboard-based cooling and lighting. They may arrive sooner than you expect, too. We're already collaborating with industry partners to develop compatible fans based on the technology.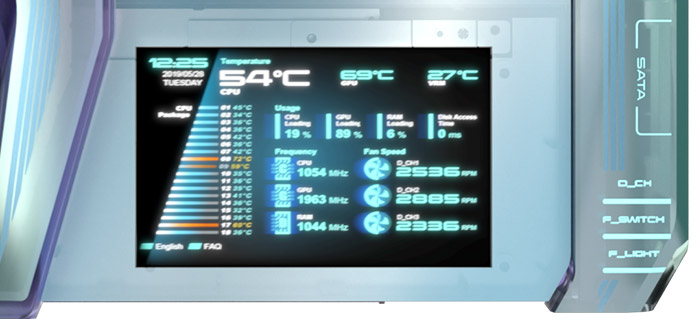 Aura Sync illuminates the translucent motherboard shroud, giving the smooth external skin a healthy RGB glow. Even with the lighting turned off, the shroud's special paint reflects different colors depending on the angle. The bold shell helps hide additional cabling and also frames the 7" OLED that serves as a dashboard for your build. This removable display sits comfortably on a desk thanks to an integrated kickstand. It can connect to the system with a cable or via Wi-Fi, allowing updates to follow the screen anywhere on your home network.
We were the first to bring OLED-based monitoring to motherboards with the original LiveDash, and the Prime Utopia takes that idea to the next level. The larger panel and full color palette lay the groundwork for exciting new ways to visualize performance and other vital system stats, while touch support adds an element of interaction that expands the dashboard's functionality. In addition to passively monitoring your machine, you can actively adjust fan speeds, clocks, and other UEFI settings, or even turn the system on and off by touch.

Witness the future of motherboards at Computex 2019
The Prime Utopia is on display in a custom build at Computex 2019 in Taipei, Taiwan. You can see it in the ASUS showcase at the Nangang Exhibition Center, booth M0410, from 9:30AM ~ 5:30PM on May 28 to May 31, and from 9:30AM ~ 4:00PM on June 1.