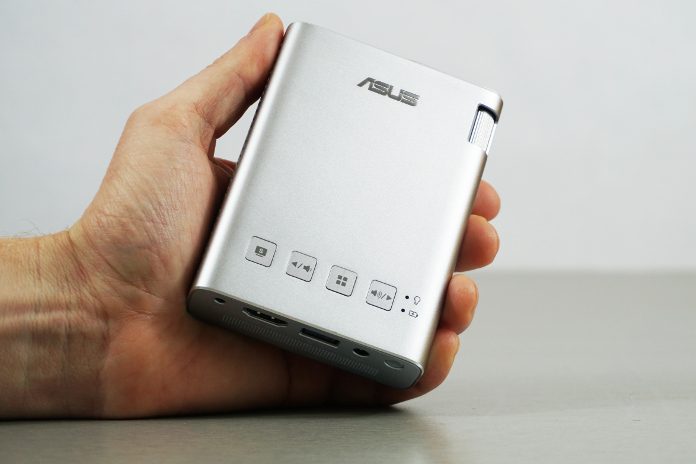 Between our laptops, tablets, and smartphones, we spend a lot of time in front of small, portable screens. And thanks to ubiquitous internet connectivity, we also have an unending supply of delicious content to consume on those devices. But when you want to share content with others, small screens are far from ideal.
Projectors, on the other hand, are great for getting movies, video clips, and presentations in front of big audiences. They're not very portable, though. Even travel-friendly projectors usually require access to an electrical outlet. The ASUS ZenBeam E1 has no such restriction. Its built-in 22Wh battery promises up to five hours of playback, turning tiny displays into big-screen experiences anywhere you go, whether you're visiting family or hosting friends for movie night at home.
Taking the party outside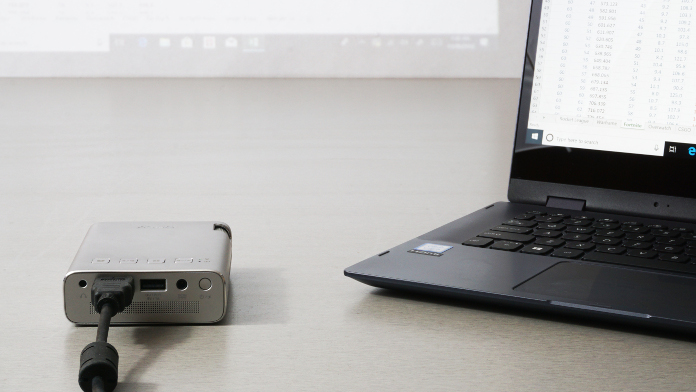 Having friends over for a movie night or sports event can be a lot of fun, but also stressful to coordinate and plan. The last thing you want to worry about is dragging a TV around your back deck to catch the big game during a BBQ. With the ZenBeam E1, though, you can plug in a streaming device like the ASUS VivoStick, Roku, or Amazon Fire Stick with a League Pass subscription and fire the action onto a wall.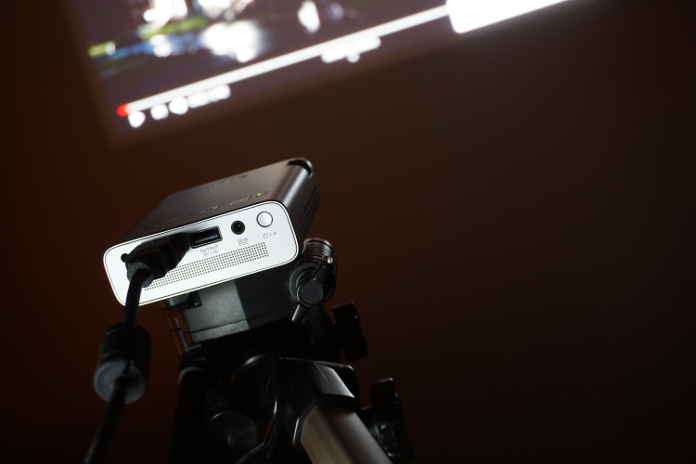 I tested this with a real-world get-together, inviting friends over for a backyard soiree. We set up outside, connected a Roku Express to the ZenBeam E1, and pointed the projector at the side of my house. I didn't even need a power outlet. The ZenBeam runs for hours on its own internal battery, so we had no problem finishing the game on a single charge. And although the Roku Express does need power, I simply connected it to the ZenBeam's USB charging port and ran an HDMI cable between the two devices.
The one limitation of a streaming device compared to a laptop or tablet is its lack of built-in speakers. That wasn't a problem for us, though. The ZenBeam has its own 2W speaker that's surprisingly loud and clear. It's on par with what you'd expect from decent laptop speakers.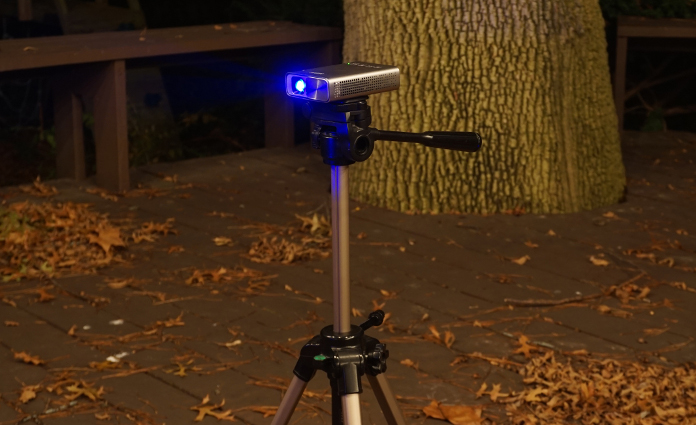 I could have placed the ZenBeam E1 on a table, but we wanted to keep that surface clear for food and drinks. Fortunately, the projector has a tripod socket, so I grabbed my camera tripod and mounted the ZenBeam, which made it easy to move around. Although the ZenBeam offers ±40 degrees of keystone correction, the tripod gave me extra flexibility with height and level adjustments, giving us a perfectly level picture.
Moving away from the wall does affect brightness, and pocket-sized projectors are especially vulnerable to underwhelming light output when they're far enough back to create a 120" screen, but I was happy with the ZenBeam's picture quality. It was night time with minimal ambient light, and our game looked great. When the night was over, the ZenBeam packed neatly into the bundled carrying bag.
The kids are alright
The ZenBeam E1 didn't stay in storage for long, though, because this tiny projector is useful for more than backyard viewing parties. Kids love watching movies or YouTube videos together, and the adults love those precious few hours when they're distracted enough to stay out of trouble. But just try giving two or more children one device to share. Chaos is bound to ensue. Best case, they can crowd around the 15.6" screen on your laptop, but more likely, they're clamoring to get a good view of your phone or tablet. Rather than having them crowd around a small screen, the ZenBeam E1 blasts that picture onto a wall and gives everyone room to get comfortable.

Another underrated benefit of a projector in a kid-centric scenario is that you can avoid putting a device in bed or on a couch with those careless button-pressing monsters. If you hand them a laptop to watch their movie, you're risking the laptop's life (we've seen too many cracked cell phone screens and laptop keyboard spills as the little ones jockey for position).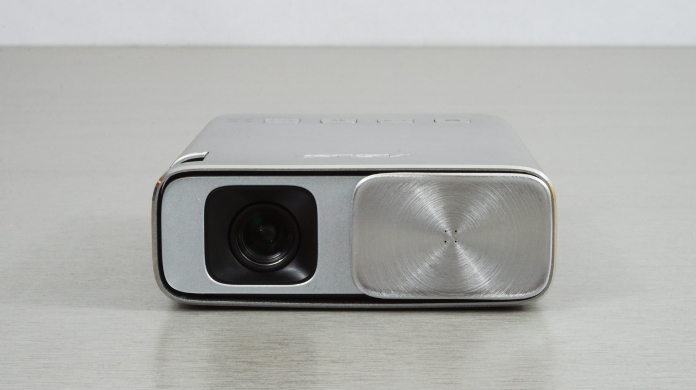 In the same vein, I've been looking for a solution to putting entertainment in the kids' playroom. I don't want a TV in there because there's a 100% chance it gets damaged, but I want to hook up an Xbox 360 for them to play on. The ZenBeam provides an excellent solution. Not only is it not as vulnerable as a TV, I can hook up the Xbox 360 directly to it and don't have to worry about cables or controller wires being strung across the floor. The aluminum chassis is more durable than plastic, which means that if the Zenbeam does get knocked around, I don't have to worry about the case breaking.
There's no software to install and no configuration needed. Simply connect your content source to the projector's HDMI port. HDCP compliance means it's even possible to play back protected HD DVD and Blu-ray movies without running afoul of digital copy protection mechanisms.
The happy traveler
The biggest advantage of a portable projector, particularly a tiny, battery-powered one like the ZenBeam E1, is that you can really use it anywhere. The ZenBeam is small enough to take with you when you're visiting relatives who don't have streaming services like Netflix, let alone a TV in the guest room where the kids are holed up. It can be hooked up to your computer to project their favorite shows right onto the wall and works equally well up close or across the room. Naturally, as you move back, the picture gets larger, but even from two feet away, you get a roughly 21" picture.
If you're a traveling professional who needs to give presentations on the go, the little ZenBeam can be a lifesaver, because it's not a problem if you show up to a conference room and there's no projector. Just pull out the ZenBeam and connect your laptop via HDMI. Two minutes after walking in the door, you're ready to pitch, and because you don't need a power outlet, it doesn't matter where your audience sets up. Find a free conference room, office, or break room—you have a completely self-contained projection system in your pocket.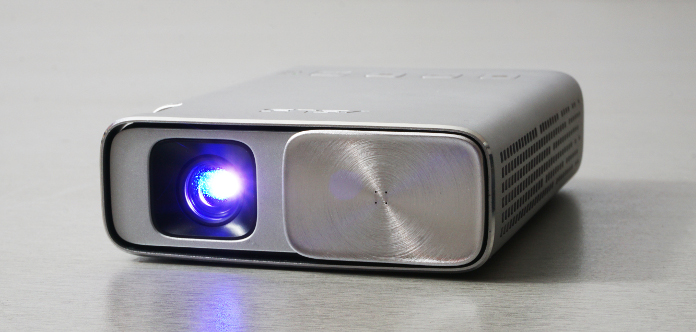 Should you find yourself giving a presentation in a brightly-lit room, you can use the ZenBeam's menu to punch up brightness and contrast. Brightness, contrast, and keystone correction adjustments are easy to make using the ZenBeam E1's on-board controls. Just press the Windows-like icon, then use the left and right arrow buttons to pick a setting. Once you've dialed in your changes, press the S button to save them. Alternatively, you can navigate to the Splendid menu option and activate Presentation Mode for slide decks that take less than 90 minutes to work through. The Standard setting is tuned for general use, and the Eco preset is how you get up to five hours of play time between charges.
When the work day is done and you're ready to relax in your hotel room, you can use the ZenBeam E1 to create your own personal cinema. Place it on a tabletop tripod, aim it at the ceiling, plug headphones into the projector's 3.5-mm jack, lay on your back, and treat yourself to a show as you wind down for the night. If you keep a compatible streaming device with you on the road, you can even cast content from your phone without connecting a laptop.
Try living without it
In a world where mobile devices pull our attention away from friends and family, the ASUS ZenBeam E1 makes it easier to share content, whether that's a movie at a friend's house or a slide deck in the office. Once I had the ZenBeam E1 in my hand to test, it wasn't hard to dream up scenarios where a 120" screen untethered from electrical outlets might come in useful.
ASUS ZenBeam E1
Display Technology
0.2" DLP
Resolution
854x480
Contrast Ratio
3500:1
Display Colors
100% NTSC coverage
16.7M colors
Projection Distance
1.6 - 12 feet
Projection Size
16" - 120"
Audio
1 x 2W speaker
I/O
HDMI, MHL
3.5mm audio out
USB 1 x Type-A (for power)
Battery
6,000mAh, up to 5 hours at 50 lumens
Power consumption
≤ 24W
Noise
30dB standard mode
28dB Theatre mode
Dimensions
4.3" x 1.1" 3.2"
Accessories
Carry case
HDMI cable
Power adapter
Price
$269 USD
$399 CAD
Availability (USA)
Amazon
Micro Center
Fry's
Availability (Canada)
Amazon
Best Buy
Essentially, any media device with an HDMI output—your laptop, a gaming console, a standalone Blu-ray player, or a media streamer—can connect to this projector and get a great-looking picture up on the wall for hours at a time. And with the right HDMI MHL cable, it's possible to attach MHL-compatible phones and tablets, too. The projector's compact dimensions and built-in battery ensure you don't have to compromise mobility, either. The ZenBeam E1 is available for $269 USD or $399 CAD from retailers listed in the table above.