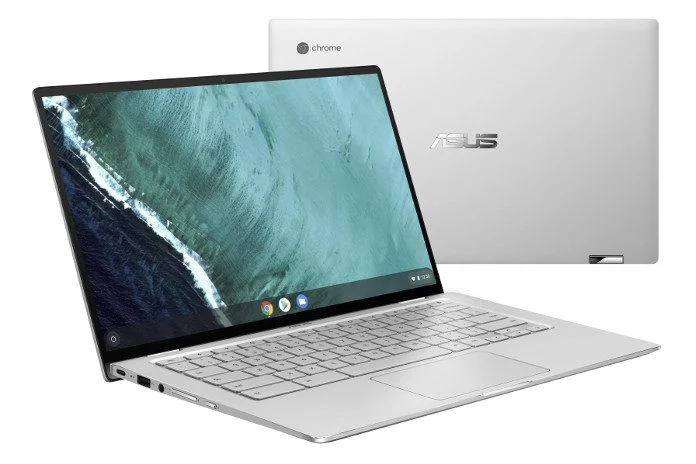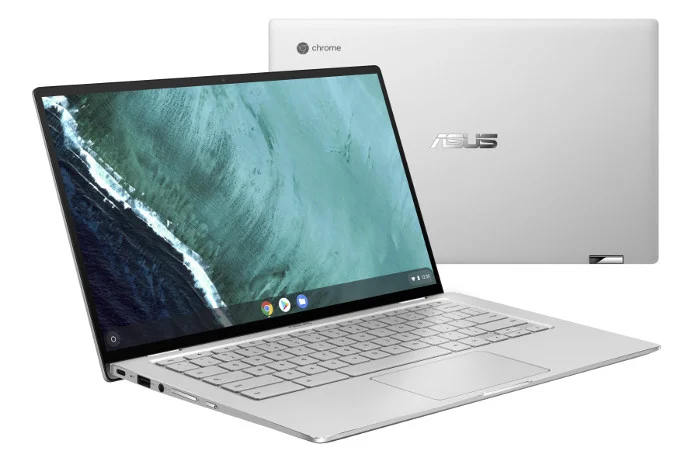 Google's lightweight Chrome OS operating system is not demanding, which means it's easy to get a low-end Chromebook that performs well for a couple hundred bucks. But those devices are geared towards budget shoppers looking for an affordable way to stay connected. Certain trade-offs must be made to keep the price palatable, and with plastic construction, low resolution screens, and concessions on components, entry-level Chromebooks often feel like they only cost $200.
That's fine if you all you want is a supplementary device for travel, or you need something you can toss in your bag for class. However, plenty of people are attracted to Chromebooks for their functionality and pared down UI rather than just their low price tag, and there aren't a lot of options for those looking for a powerful Chromebook to serve as their full-time computer. A wave of premium Chromebooks led by the Google Pixelbook is paving the way for Chromebooks made for professionals, but they also cost about a grand. The Chromebook Flip C434 sits in between these two extremes, serving up powerful specs inside a gorgeous metal chassis equipped with a 14" display and a 360° hinge that allows it to moonlight as a tablet.
Silver bullet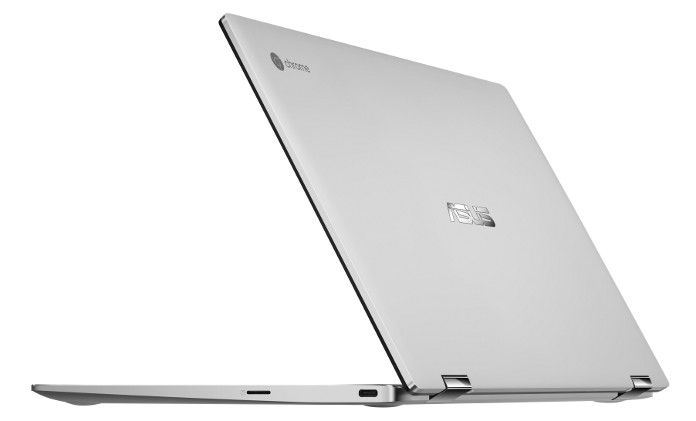 The last-gen Chromebook Flip holds a special place in our hearts because of its sleek design, awesome keyboard, and versatile form factor. For its successor, we wanted to double down on the best parts of the Flip with a few tweaks to enhance its looks and functionality. To start, we went with an all-metal construction. The C434 chassis features lightweight aluminum on the lid as well as the top and bottom of the laptop's base. The brushed silver is subtle and hides fingerprints better than plastic or rubberized cases, but it also lends a premium feel that's too often missing in Chromebooks. The end result is an aesthetic that's uniform and consistent, whether you're working in laptop mode, presenting slides in stand mode, or watching a movie in tablet mode.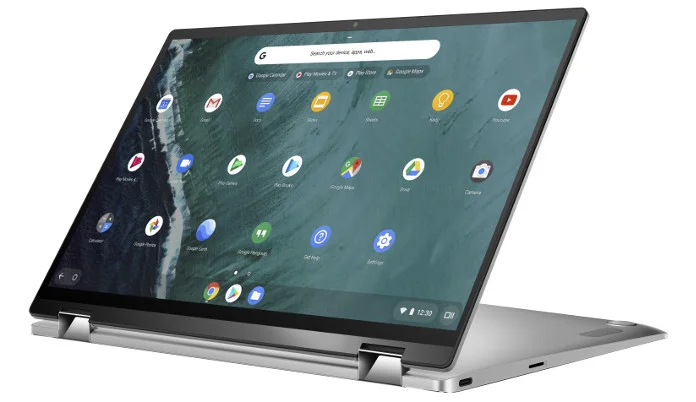 Chromebooks tend to be compact because they're supposed to be extremely portable, but that also means the majority have smaller displays that can feel cramped when you're trying to work. The C434 leverages ASUS's NanoEdge display technology from our ZenBook line of premium ultrabooks to squeeze a 14″ Full HD touchscreen display into a chassis that measures just 13″ across. The bezels on either side have been reduced to a scant 5 mm, so they all but disappear when you're streaming video or engrossed in a project. Without a thick black border framing your screen, working in Google Sheets or across multiple windows feels less claustrophobic.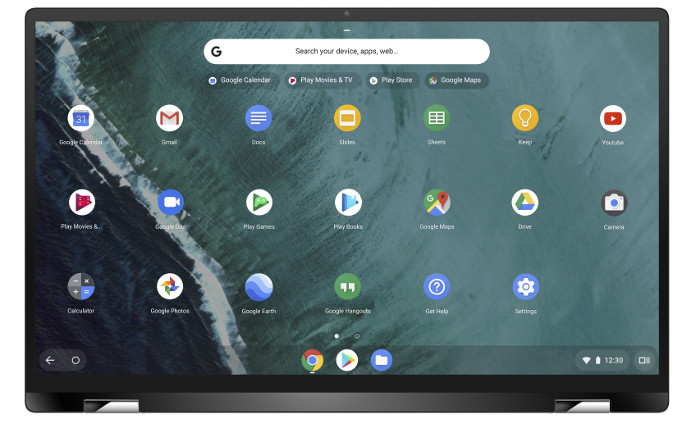 We could have moved the HD webcam to the bottom bezel (after all the 360° hinge and built-in accelerometer make it easy to rotate the laptop and take calls in tablet and tent mode), but we kept the camera in its traditional spot in the top bezel to make sure video conferencing while using the Flip as a laptop doesn't mean offering the other party a view up your nose.
Work it out
With 1.4 mm of key travel, crisp, clean feedback from the keys, and a backlight for working late into the night, our Chromebook Flip's keyboard is legendary. In fact, it's been so heavily praised that it's informed the development of other keyboards in our laptop lineup. When we made our luxury ZenBook S, we redesigned keyboard's structure with the goal of making it feel as good as the C302.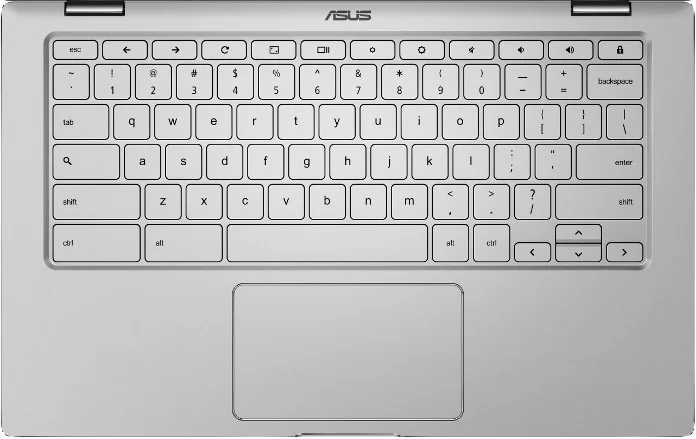 The new Chromebook Flip's full-size chicklet keyboard offers the same tactile feedback and comfortable typing experience as the original. It features 1.4 mm of key travel and a multistage backlight for comfortable typing all day and night, and our ErgoLift hinge raises the laptop's rear edge to put your hands at a more ergonomic angle for typing. For flipping into tablet mode, the C434's 360° hinge and touchscreen display take the wheel, allowing you to stow the keyboard and read or watch video more comfortably in a range of different form factors.
The Chromebook Flip gets a power up
Peek under the hood and you'll find the C434's internals are just as impressive as the laptop's first impression. This 2-in-1 squeezes up to an Intel Core i7-8500Y processor and a maximum of 8GB of RAM into its slim frame, along with solid state storage options as large as 128GB. Chrome OS is lightweight, so it doesn't need a lot of compute horsepower, but higher-end specs are useful if you plan to use your Chromebook for getting proper work done. Support for Android apps from the Google Play Store has expanded the capabilities of new Chromebooks far beyond whatever extensions are available in the Chrome store. More RAM and a beefier processor will keep things running smoothly if you have lots of Chrome windows open alongside your favorite Android apps.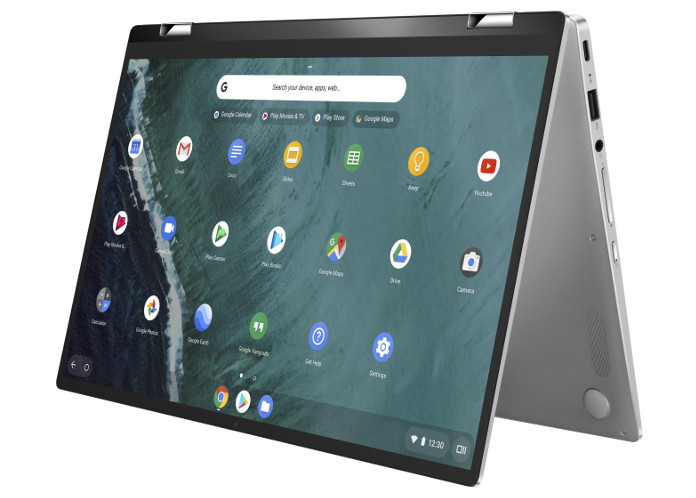 The Play Store has millions of applications spread across every imaginable genre, from gaming and shopping to photo editing and podcasts. They open the door for more people to use Chromebooks as their only computer rather than a supplementary device. Even Microsoft's popular Office suite is available to serve as an alternative to Google's own cloud-based productivity apps, whether your motivation is driven purely by familiarity or by a need for compatibility with coworkers' documents.
Chrome OS relies heavily on the cloud, but offline work makes it easy to download the files you need for long flights or stints in your favorite WiFi-less cafe. Increasing storage to a maximum of 128GB means you don't have to worry about painstakingly managing available space. You'll have plenty of room for all of your favorite productivity tools, documents, and even your Netflix downloads, which are available for offline viewing via the Android app. If you do run out of onboard storage, you can add more via the C434's MicroSD slot.
Home and away
Bridging the gap between home and away is always difficult with a thin and light laptop, but the C434's 15.7-mm thick chassis can accommodate more than enough connectivity for setting up at home or in a cafe. A versatile design and 3.3 lb total bodyweight make it ideal for anyone who finds themselves working from a variety of locations daily. Dual-band 802.11ac WiFi ensures a reliable and stable connection, no matter where you are, and Bluetooth 4.0 facilitates file transfers over the airwaves.

Two speakers built into the base pump out sound when you're watching movies in the hotel room, though the audio combo jack is probably a safer bet for video calls or listening to music when you're working in a public space. There are two USB Type-C ports, plus a standard USB Type-A port for your peripherals. The USB-C ports implement the full standard, meaning they can be used for data transfer, hooking up to an external display, or for power delivery. The cherry on top is a 48Wh battery that saves you from hunting for an outlet to plug in everywhere you go.
Chromebook Flip C434
CPU
Intel Core M3-8100Y, 2C/4T, 1.1GHz (4MB cache, up to 3.4GHz)
Intel Core i5-8200Y, 2C/4T, 1.3GHz (4MB cache, up to 3.9GHz)
Intel Core i7-8500Y, 2C/4T, 1.5GHz (4MB cache, up to 4.2GHz)
GPU
Intel HD Graphics 615
Display
14" LED-backlit IPS NanoEdge display, 100% sRGB
Resolution
Full HD (1920x1080)
Memory
Up to 8GB LPDDR3 1867MHz
Storage
Up to 128GB eMMC
Micro SD card reader
Wireless
802.11ac Wi-Fi
Bluetooth 4.0
Ports
2 x USB 3.1 Gen 1 Type-C
1 x USB 3.1 Gen 1 Type-A
1 x MicroSD
1 x Audio combo jack
Operating system
Google Chrome OS, Android-ready
Battery
48Wh lithium-polymer
Dimensions
12.6" x 8" x 0.6"
Weight
3.2 lbs
All that and then some
The Chromebook Flip C434 is a true next-generation Chromebook. Built on powerful parts with a versatile design that allows you to work in a range of environments, it goes beyond the call of duty to offer a more professional-looking device that redefines what a Chromebook can do. Scheduled for launch in the coming months, the Chromebook Flip C434 will be available in a variety of configurations. Contact your local ASUS representative for more information on pricing and availability in your region.
Don't miss the rest of our announcements from CES 2019. You can see all the newest tech from ASUS and ROG in this article.