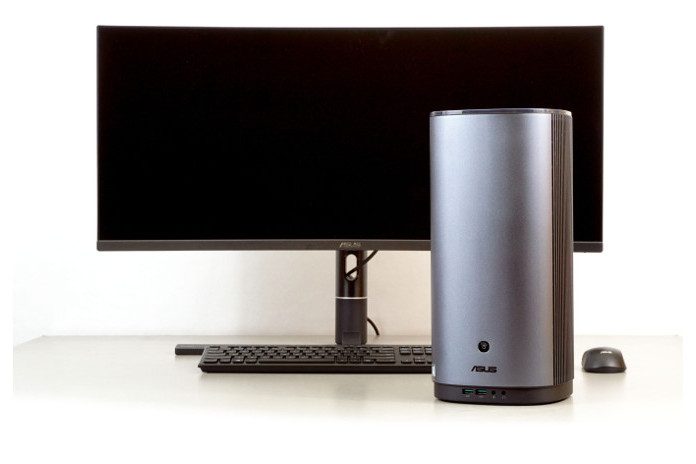 There's something to the notion that if you need to be creative, surround yourself with the kind of beauty that espouses innovative design. We're careful to keep unnecessary clutter away from our workspaces, and we introduce calming elements like plants or tchotchkes that bring us joy. It's even better when the tools we use to get our jobs done are similarly satisfying. The ASUS Mini PC ProArt PA90 sets forth to enhance the vibe of your creative space in a compact, cylindrical form factor that packs oodles of performance for work but doesn't dominate your desk. It's a computer with the power that professionals need wrapped in a sleek design that complements creativity.
A tiny beast
A workstation-class list of components inside the PA90 belies that this is a mini PC. Its custom motherboard sports an Intel Z390 chipset. Support for up to a 9th gen Intel Core i9-9900K processor enables eight cores and 16 threads of compute muscle with a base frequency of 3.6GHz that stretches as high as 5GHz thanks to Turbo Boost technology.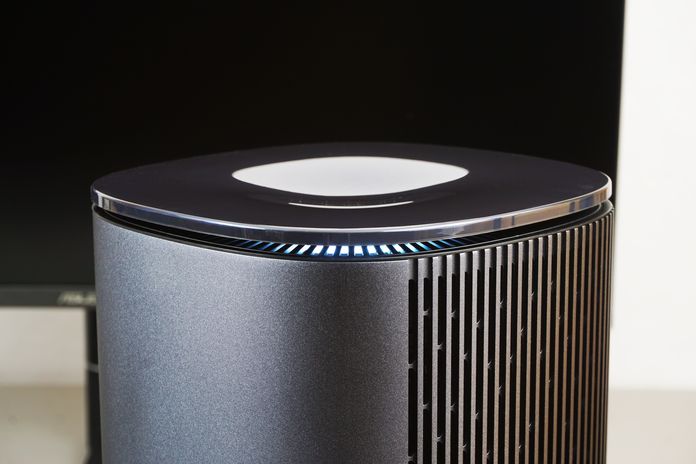 High-end host processing is complemented by similarly potent NVIDIA Quadro P4000 graphics. The card is built and optimized for professional applications, right down to its certified drivers. It sports enough DisplayPort 1.4 outputs to accommodate four 5K (5120×2880 at 60Hz) displays with HDR color. The Quadro P4000 we used for this hands-on is even fast enough to drive virtual reality head-mounted displays, regardless of whether you're working in VR or creating experiences for others to enjoy.
Four SO-DIMM slots host up to 64GB of DDR4 memory, fully exploiting the processor's dual-channel controller, while a tiered storage solution delivers a one-two punch for capacity and speed. Support for Intel Optane Technology adds a high-performance storage option behind the PA90's RAM, boosting overall responsiveness. Meanwhile, PCIe- and SATA-attached SSDs hold up to 512GB of latency-sensitive software. There's even room for a 2.5" hard drive, which is great for storing documents, photos, or project files that aren't as reliant on high throughput.
Design that works
Although the ProArt PA90's cylindrical chassis is fluid and aesthetically pleasing, its shape serves a functional purpose. This is a mini PC after all, and it's meant to monopolize as little space as possible on your desk. The enclosure is only 6.9" wide, which minimizes its footprint, but at 14.4", it's taller than our other mini PCs, which gave us the additional room we needed to house and quietly cool cutting-edge hardware. Even still, that was only possible with a little creativity in the construction and arrangement of the components inside.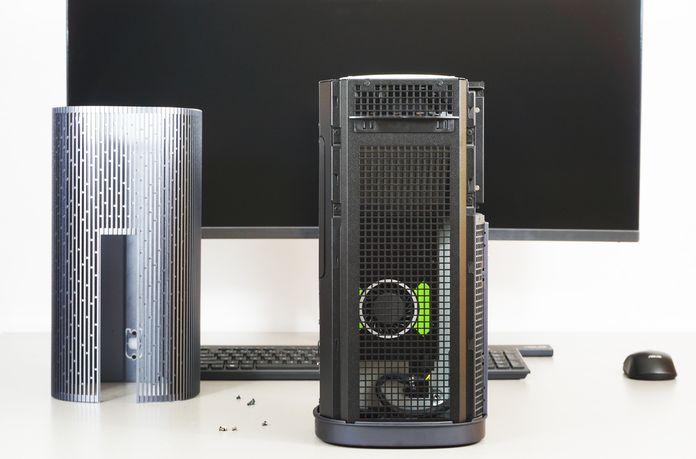 While most PC cases are standardized to fit mini-ITX, microATX, or standard ATX platforms, the PA90's is one-of-a-kind. Achieving its compactness necessitated a custom motherboard, and we applied our extensive engineering experience to build a board perfectly suited to the cylinder. NVIDIA's Quadro card wouldn't fit perpendicular to the motherboard in an expansion slot, so we mounted it vertically using a riser card.
Continuing the effort to keep your desktop tidy, clean, and ready for maximum productivity, we created a back panel that exposes tons of I/O in a way that won't lead to a rat's nest of cables. All four of the Quadro's DisplayPort interfaces are available, flanked by two 802.11ac Wi-Fi antenna connectors, a line-out jack, and an RJ45 port for gigabit Ethernet. A pair of USB 3.1 Gen2 Type-A ports come in useful for attaching peripherals, but the bundled wireless keyboard and mouse won't take up any of your precious ports. For external storage, the PA90 gives you two Type-C Thunderbolt 3 ports capable of 40 Gb/s data rates.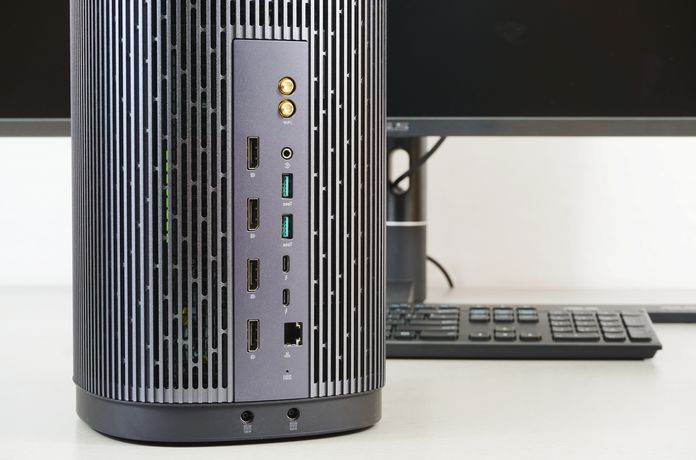 An additional pair of USB 3.1 Gen2 Type-A ports up front provides easy access for thumb drives or external hard disks. Separate headphone and mic jacks come in handy for teleconferencing, or when you need a little musical inspiration without disturbing the office.
Cool-looking cooling
One of the greatest challenges in building a small PC is keeping it cool without generating a ton of noise. Compact interiors don't have a ton of room for ideal airflow, making it easy for hotspots to negatively affect performance and reliability, but we built the PA90 with effective cooling in mind, so its most sensitive components are thermally pampered. The case is composed of two main parts: an external shell that slides off if you remove a few screws and a skeleton of sorts that all of the hardware connects to in some way. Every panel and frame is made of metal, and the whole system is sturdy.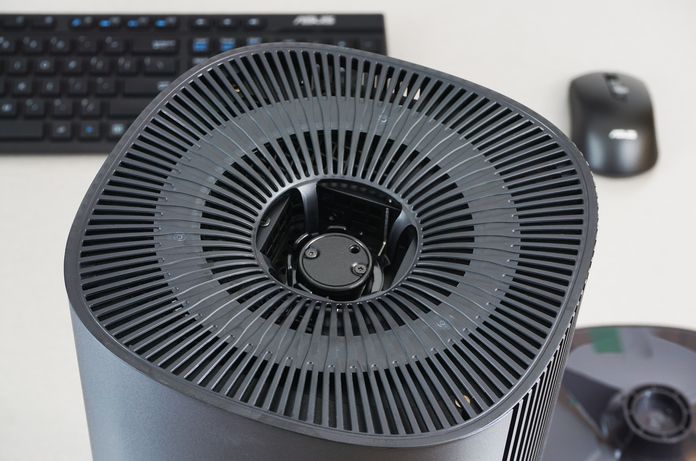 Instead of a sink and fan, the CPU is cooled by a closed-loop all-in-one system. A fan blows through its 120-mm radiator, exhausting waste heat out one side of the chassis. Of course, thermal energy rises, so it was a no-brainer to turn the PA90's top into a large vent. We keep dust out with a classy-looking cap over the opening. More than just eye candy, the air vent also moves in response to CPU load; the top cap will lift up to boost cooling when the going gets tough.
Other vents ensure hot air doesn't get trapped inside. There's one adjacent to the 2.5" drive mount and another just below that gives the rear ports some breathing room. The entire side that hides NVIDIA's Quadro card is full of ventilation, allowing the card's cooling fan to pull in plenty of ambient air before exhausting it out.
Careful attention to cooling goes hand-in-hand with unobtrusive operation, too. The PA90 idles at 25.5dB and tops out at 32dB under full load. That's 36% quieter than an average desktop PC. And for a bit of context, a normal conversation between two coworkers would be about 60dB.
Getting down to business
During our time testing the PA90, it was important to ensure the system could handle the regular workload of a creative pro without getting overwhelmed, so, we pushed it hard. With dozens of browser tabs open, Discord chat up, a 1080p video streaming from YouTube, more than 20 pictures open in Adobe Photoshop, and working on a video edit in Adobe Premiere, we expected to see a slow-down, but there was none. Every application was as snappy as if it was the only one running.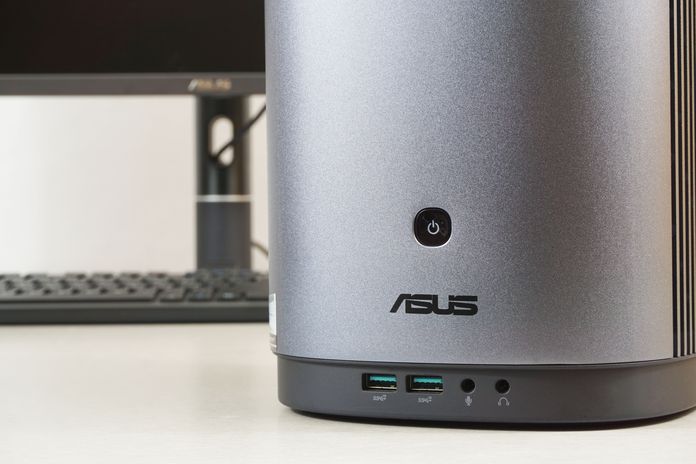 The ProArt PA90 was as quiet through our load testing as it was at idle, though it does keep a little trick up its sleeve for demanding work sessions. When the mini PC's CPU temperature hits 80°C, LEDs under the cap change color and the top automatically rises to increase airflow by up to 38%. It takes an intensive task indeed to push Intel's Core i9 up to the target temperature where the top cover rises and the LEDs change color, but there's something comforting about witnessing the adaptive airflow system in action and knowing the system has the ability to boost its airflow when it's being pushed hard.
Built by professionals, for professionals
The ProArt PA90 doesn't just look chic and contemporary sitting on my desk, it has a hidden beast within that I really loved tapping into when it came time to do real work. The powerful components housed inside blast through basic desktop productivity and easily accelerate more demanding tasks. And whether you're pushing through a threaded render, compile project, or simply jumping around between multiple applications, our thermal solution responds quickly and dynamically to keep everything inside cool.
The ProArt PA90 starts at $2,999.99 USD and $4,199.99 CAD from the retailers listed in the table below.
Mini PC ProArt PA90-M9012ZN
Mini PC ProArt PA90-M7021ZN
CPU
Intel Core i9-9900K, 3.6GHz (16MB cache, up to 5.0GHz)
Intel Core i7-9700K, 3.6GHz (12MB cache, up to 4.9GHz)
GPU
NVIDIA Quadro P4000
NVIDIA Quadro P4000
Memory
32GB DDR4

16GB DDR4
Chipset
Intel Z390
Storage
512 GB M.2 SSD + 1 TB HDD
Networking
802.11 a/b/g/n/ac WiFi
Intel Gigabit Ethernet
Connectivity
2 x Thunderbolt 3 (Type C)
4 x USB 3.1 Gen 2 Type A
1 x Headphone Jack
1 x Mic-in
1 x Line Out
4 x DisplayPort 1.4
Bluetooth 5.0
Power Supply
180 W + 230 W Power adapter
Weight
6.9" x 6.9" x 14.4"

Dimensions
12.79 lbs
OS
Windows 10 Professional
Price
$3,299.99 USD
$4,599.99 CAD
$2,999.99 USD
$4,199.99 CAD
Availability (USA)
Amazon
Newegg
B&H
Amazon
Newegg
B&H
Availability (Canada)
Amazon
Newegg
Amazon
Newegg