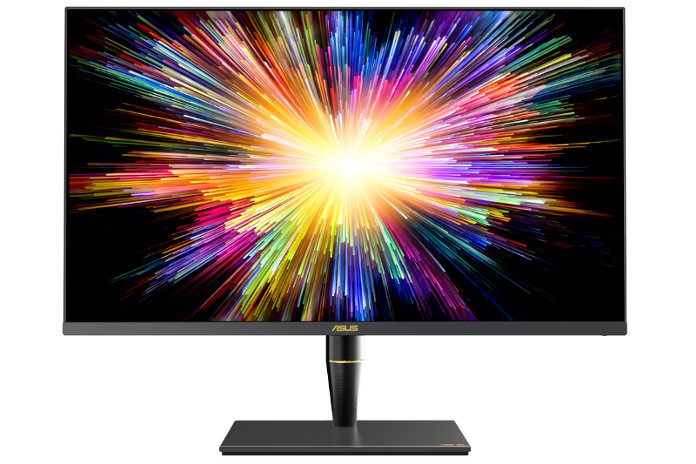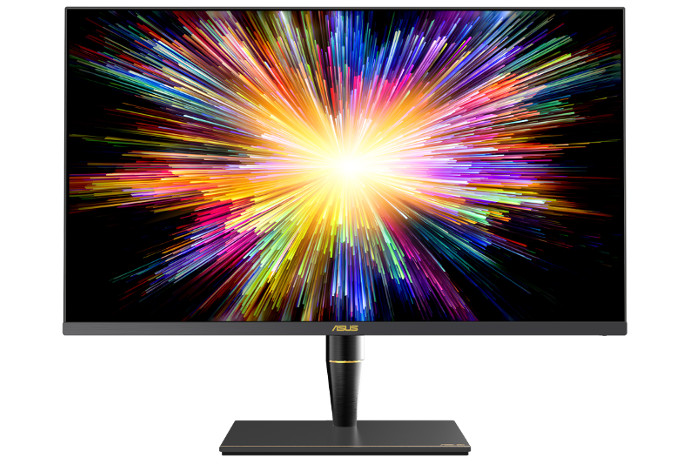 For years, ASUS ProArt monitors have been catering to creative professionals who need beautifully accurate monitors to do their jobs. Our new 32" ProArt PA32UCX takes the faithful reproduction of real life even further to deliver a deliver a premium HDR monitor complete with a bespoke panel lit by Mini LEDs. It boasts gorgeously vivid color spread across its native 4K resolution, lots of cutting-edge connectivity, and unprecedented control over brightness.
Boosting brightness with Mini LEDs
The very best LED-backlit LCDs employ a technology called full-array local dimming to improve their contrast ratios. The LEDs are arranged in zones, with each zone corresponding to part of the screen, and dimming individual LEDs makes it possible to display an image with bright and dark areas while preserving detail in both.
Our ProArt PA32UCX expounds on this technology with Mini LEDs. These physically smaller LEDs are packed in more densely, which increases the granularity of our brightness control. Less space between the LEDs means small details, like a white cursor on a black background, can be illuminated more precisely. The halo effect that's common with coarser LED arrays normally manifests as light bleed around bright points, but that's minimized when there's a higher number of smaller LEDs.
The ProArt PA32UCX packs 1,000 zones into its 32" form factor, compared to other monitors that use 384 local dimming zones. This is no small achievement, and we had to work closely with the panel and scaler manufacturers on a custom design for controlling all those lighting zones. This technology didn't exist before, and it took months of testing different proposed solutions before it could be perfected. As a result, the PA32UCX is one-of-a-kind. It offers 1,200 nits of luminance and offers improved whiteness and color uniformity compared to larger OLED panels.
Doubling down on High Dynamic Range
The accurate reproduction of HDR (high dynamic range) content is closely related to precise brightness control and high contrast ratios, so it only makes sense that the ProArt PA32UCX feature native support for multiple HDR formats. HDR10 ensures compatibility with existing streaming video and a growing list of HDR-enabled games while hybrid log gamma (HLG) support addresses broadcast and satellite TV, including the BBC's iPlayer and DirecTV.
Tailor-made for pros
Building the world's first professional monitor based on Mini LED technology wasn't just about increasing brightness or controlling lighting zones in a more accurate way, though. To pass muster, the ProArt PA32UCX also needed to incorporate a host of other features that content creators can't live without.
The 32" panel features a 3840 x 2160 native resolution for a large, crisp canvas on which to work. The screen is capable of reproducing 97% coverage of the DCI-P3 color space used by Hollywood filmmakers and 89% of the Rec. 2020 color space, which is the color space for ultra-high definition television. Moreover, it's one of the few monitors that meets VESA DisplayHDR 1000 requirements, offering superior white luminance and black level performance commensurate with the standard body's top tier. In fact, the PA32UCX exceeds the VESA DisplayHDR 1000 requirements in certain metrics, including DCI-P3 coverage.
The ProArt PA32UCX has two USB Type-C ports that support Thunderbolt 3 for speedy data transfers at 40 Gbps. You can daisy-chain external storage or even multiple monitors from those connectors. Alternatively, attach the PA32UCX to your graphics card through a more traditional HDMI 2.0 or DisplayPort interface—the monitor supports both.
Experience Mini LEDs for yourself
Our ProArt PA32UCX officially launches in the spring of 2019. But you can see the world's first Mini LED-based professional monitor for yourself at CES 2019 in Las Vegas, NV from January 8-11 at the Trump International Hotel.
Don't miss the rest of our announcements from CES 2019. You can see all the newest tech from ASUS and ROG in this article.