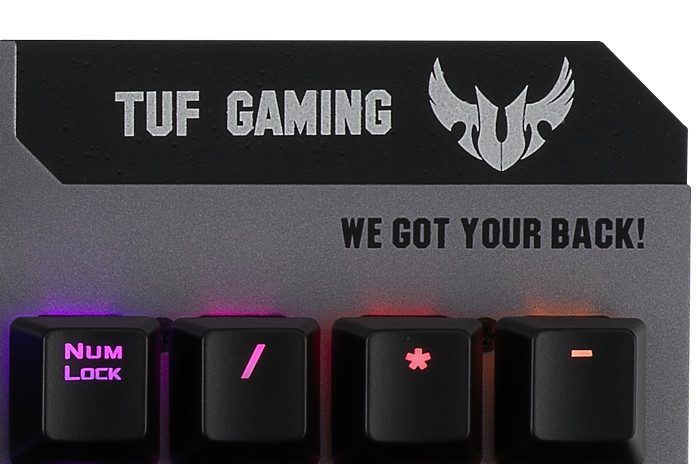 Gamers are always looking for an edge over their competition, and the TUF Gaming K7 is optimized to deliver the speed you need to dominate on the battlefield. It offers faster actuation, near-instantaneous switch response time, and durability that exceeds anything mechanical switches can offer. An aluminum top plate, per-key RGB lighting, and a compact, frameless design ensure you look stylish as you show off your surgical precision, too.
Blink and you'll miss it
Our TUF Optical-Mech switches use the speed of light and gamer-friendly construction to deliver speedy performance. Optical switches are like standard mechanical switches in terms of their internal moving parts. The difference is in how they tell the PC that a key has been pressed. A standard mechanical keyboard switch has two metal pieces that touch to send the signal. In comparison, our TUF Optical-Mech switches employ a beam of infrared light inside the switch housing. When you press a key, the switch shaft interrupts the light beam, triggering actuation. Metal contact points require a built-in debounce delay of about 5ms to keep one keypress from registering as several, but the optical design actuates way faster with a delay of just 0.2ms.
There are two versions of the TUF Optical-Mech switch. One is linear, and the other is clicky and tactile, meaning there's an audible click and a physical bump in the key travel that you can feel. The click and bump of the TUF Optical-Mech switch is placed right at the actuation point, so when you hear and feel it, that's the moment the signal is sent to your PC.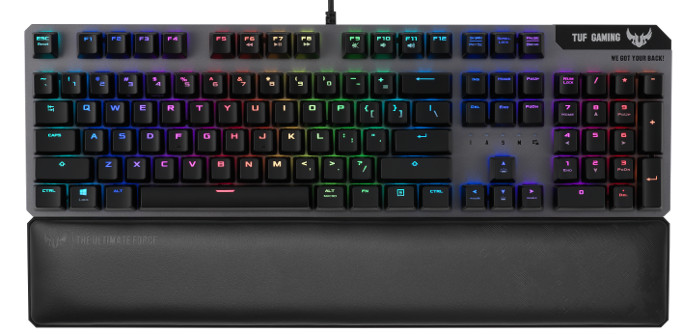 The actuation point of both TUF Optical-Mech switches is 1.5 mm, which is much shallower than the approximately 2-mm actuation of most mechanical switches. This higher actuation point will make you feel like you're sweeping through games at warp speed.
A real looker
The TUF Gaming K7's floating keycap design sits on top of a matte aircraft-grade aluminum plate that just begs to be touched. It has a frameless design with no bulky bezel, for a trim, deadly look. The TUF Gaming logo in the upper-right corner is made of iron, and the keyboard includes a black leatherette wrist rest with memory foam for increased comfort. It attaches to the keyboard via magnets, making it easy to snap on or pull off, and features a TUF aesthetic to match.
You can control the per-key RGB lighting with our ROG Armoury II software, and Aura Sync compatibility allows you to incorporate the TUF Gaming K7 into your ROG gaming lightshow, coordinating it with other compatible Aura Sync peripherals and components in your system. There are lots of effects to try out, and more than 16 million colors to cycle through. The software also lets you create, edit, and assign macros to customize your gameplay input.
Built to last
The K7's metal top plate isn't just for looks. It provides structural integrity and a firmness that you can feel in your fingertips when you're typing. The TUF Optical-Mech switches are rated for 100 million clicks, so they won't wear out over time, and the switches themselves are inherently resistant to damage from moisture because, unlike regular mechanical switches, they have no metal parts inside.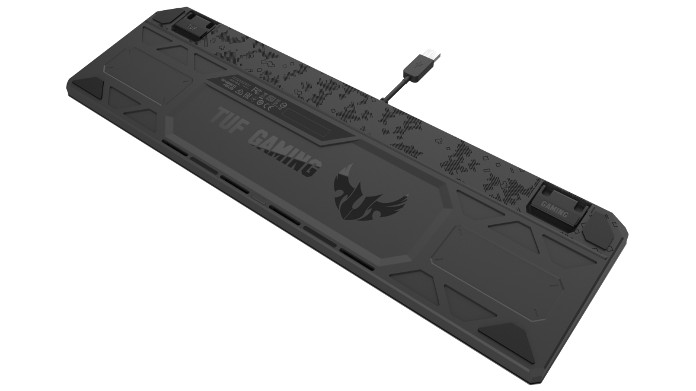 The TUF Gaming K7 is IP56-rated to be water and dust resistant, so you don't need to worry about a spilled soda or crumbs from your snacks ruining the responsiveness. We also protected the PCB inside with a special nano-coating and added protection to combat oxidation on the keyboard's metal parts. Even the feet under our TUF Gaming K7 were redesigned to ensure their durability. Tougher rear anchor points on the hinges were designed to reinforce the feet so they don't break off.
Stronger, faster
The TUF Gaming K7 keyboard offers a unique combination of lightness and speed thanks to its TUF Optical-Mech switches, durable construction and IP56-related protective measures. Come try the keyboard out for yourself from January 8-11 at CES 2019 in Las Vegas, NV. We'll be showing it off at our suite in the Trump International Hotel. For pricing and availability, check with your local ASUS representative for more information.
Don't miss the rest of our announcements from CES 2019. You can see all the newest tech from ASUS and ROG in this article.