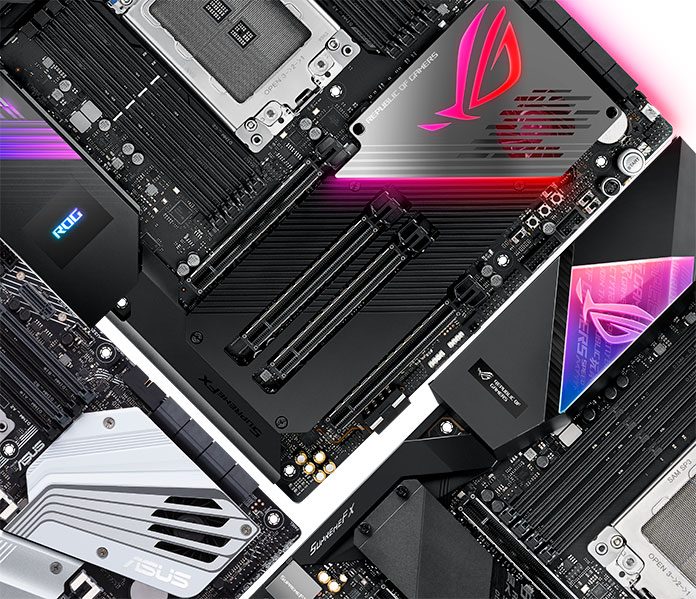 Look at the wide color palette of computing and you'll find many shades of CPUs, each one fit for a specific task. Workstation builders need high-end desktop processors that can give them the most of everything, whether they want more CPU cores, memory capacity and bandwidth, or PCI Express expansion slots. Those users are exactly who AMD's third-generation Ryzen Threadripper processors are made for, and those chips need new TRX40 motherboards to unleash their power. We've readied three TRX40 boards to satisfy the needs of professional users who need every bit of performance and flexibility they can get.
Teamed up with the TRX40 chipset, third-gen Threadripper CPUs bring PCI Express 4.0 (PCIe 4.0) to the high-end desktop for the first time. PCI Express 3.0 has served the world well during its tenure, but the train of technology stops for no one. Builders who want Threadripper CPUs' multi-core capabilities will probably want every single bit of PCI Express bandwidth available, and AMD has cooked up a potent combination for them. For the uninitiated, PCIe 4.0 doubles bandwidth from 8Gbps to 16Gbps per lane, allowing for even faster SSDs, graphics cards, and A/V gear. Every PCIe slot and M.2 slot in our TRX40 lineup is wired with PCIe 4.0 connectivity for maximum bandwidth. Whatever expansion cards you decide to slot into your ASUS TRX40 board, you can rest assured they'll run as fast as they can.
Third-generation Threadripper CPUs provide 64 PCIe 4.0 lanes, and eight of them run between the CPU and the TRX40 chipset. Our engineers can use the remaining 56 lanes to pave the way for NVMe RAID arrays, three- or four-way graphics card setups, or whatever expansion card configurations high-end desktop builders might want.
As befits a high-end desktop platform, TRX40 offers four memory channels, and you can install up to 256 GB of RAM across eight slots. Third-gen Threadripper CPUs maintain their predecessors' support for ECC memory, too. This type of RAM can automatically detect and correct flipped bits caused by electromagnetic interference. While a gaming box can do just fine without that feature, an errant bit flip in a CAD workstation, cloud server, or AI training system means you could lose time, money, or even life or limb—especially if the corruption goes unnoticed. That's not all the news for the third generation of Threadripper, though. AMD bumped up stock RAM speeds to 3200MHz. While that's a nice enough figure on its own, our engineers always look to push the envelope further. Thanks to our OptiMem III technology, the ROG Zenith II Extreme gives enthusiasts the tools they need to reach for new heights with their RAM.
The ROG Zenith II Extreme helps demanding users push every limit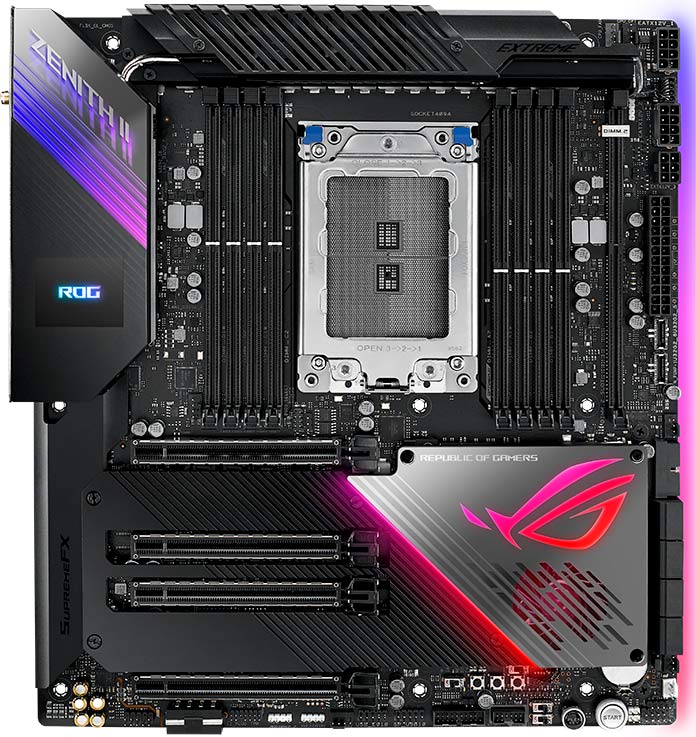 Today's most powerful PCs don't run one heavy workload at a time. 3D artists and CAD professionals might be working on their next masterpiece while rendering out an incredibly complex finished project at the same time. Media pros might be grading and transcoding multiple ultra-high-resolution source files residing on massive RAID arrays for responsiveness, brought to life by multiple graphics cards powering expansive arrays of pro monitors.
Gaming personalities might be capturing video from cameras and other external devices, compositing those signals together to stream to Twitch or Mixer, and encoding the highest-quality archival video to local storage—all on one PC. Those who count themselves among the Republic of Gamers might be looking to explore the very limits of third-gen Threadripper CPUs' core and memory clock speeds, too.
The ROG Zenith II Extreme is our ode to those users. It's filled to the brim with top-notch hardware to satisfy the dreams of the most demanding users around.
The board's styling strikes a balance between industrial power and gamer-friendly flash. With the lights off, the Zenith II epitomizes stealth and subtlety, but once you fire up the multi-zone Aura RGB LED lighting, the Zenith II becomes a high-end showpiece. The decorative panel atop the I/O shield has a holographic Infinity Lighting motif, while a full-color LiveDash OLED display can display POST codes, critical system information, or custom graphics. Aluminum ROG Armor covers most of the front of the board, and a metal backplate fortifies the board against the weight of massive heatsinks and expansion cards.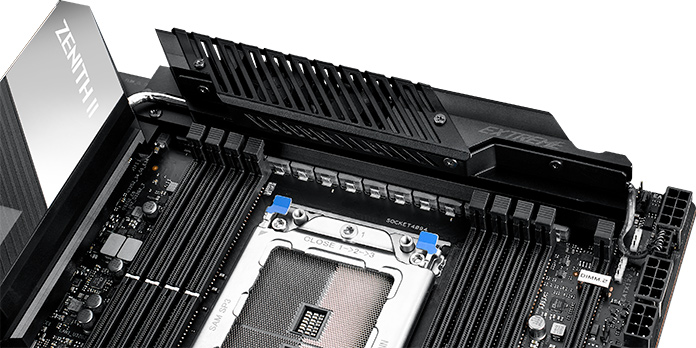 Threadripper chips have ridiculous core counts, and keeping them all happily fed requires a reliable source of tightly-controlled power. To that end, the Zenith II employs a 16-power-stage  VRM with fully integrated Infineon TDA21472 power stages  and MicroFine Alloy chokes. All told, this setup gives you the foundation you need to overclock your CPU to dizzying heights. The solid pins in the ProCool II auxiliary power connectors are built to precise specifications to increase current capacity and ensure the best contact with PSU plugs. The net result is lower impedance and lower temperatures at the connector. Yes, those are two eight-pin power connectors and a six-pin auxiliary connector you see on the edge of the board—enough for the most extreme overclocking efforts and then some.
Dedicated power, reset, retry, and Safe Boot buttons help extreme overclockers control this board outside of a case. The reset button can be remapped with FlexKey to turn the lighting on or off, or boot directly into the firmware. And if your overclocking efforts should fail entirely, you can always start fresh with a Clear CMOS button on the back panel.
Many components in a high-end build can get a little toasty once workloads ramp up and the bits start flowing, especially with the leading-edge bandwidth of PCIe 4.0. The Zenith II Extreme's main VRM heatsink uses two semi-passive fans that only turn on when the underlying component temperatures reach 60º C. To make the most efficient VRM possible and deliver the best performance, our designers added 5mm to the height of the EATX standard PCB to make room for the necessary components and heatsinks. You'll want a suitably spacious case with at least eight centimeters of space above the top edge of the motherboard to properly house the Zenith II Extreme.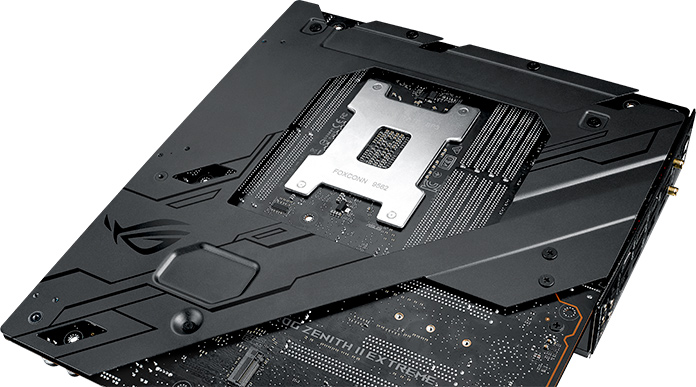 To further enhance heat dissipation, a heat pipe joins the main VRM heatsink with an auxiliary heatsink under the I/O shroud. Another fan underneath the chipset heatsink draws heat away from the main M.2 slots and the TRX40 silicon itself, and its airflow also helps keep the SoC VRM cool during memory overclocking. Every one of those fans is smart enough to only turn on when they're needed, and you can control them all in the Fan Xpert 4 utility.  A proprietary DIMM.2 module girds a pair of NVMe SSDs with a passive heatsink that stands upright to take advantage of ambient airflow around the CPU socket.
Since we're on the topic of M.2 slots, we might as well throw out a sweet number: five. That's how many NVMe SSDs you can attach to the Zenith II Extreme—three directly on the board, and another two by way of the space-saving DIMM.2 module. Each of those slots can use up to four lanes of PCIe 4.0 connectivity. With that kind of bandwidth on tap, poring through multi-terabyte data sets is a breeze. Good old hard drives are still the kings of sheer capacity, though, and the Zenith II provides eight SATA ports for all your mass storage needs.
Processing huge amounts of data tends to require gobs of RAM, and the eight DIMM slots neatly flanking the Zenith II Extreme's sTRX4 socket can pack in as much as 256 GB of quad-channel ECC RAM. OptiMem III technology,exclusive to the Zenith II Extreme in our TRX40 lineup, can help you take DDR4 DIMMs to their limits or even beyond if they're up to the task.
The next star in the Zenith II Extreme show is a quartet of PCIe 4.0 x16 SafeSlots. Dual-GPU setups can enjoy 16 lanes of PCIe 4.0 each, and four-way setups get a x16/x8/x16/x8 configuration. Audiovisual gear and next-generation graphics cards will be happy to use all that bandwidth, or perhaps you want multiple NVMe risers for one of the fastest RAID arrays on the planet. After all, the options are nearly endless when there are so many gigabytes per second of PCIe bandwidth on tap.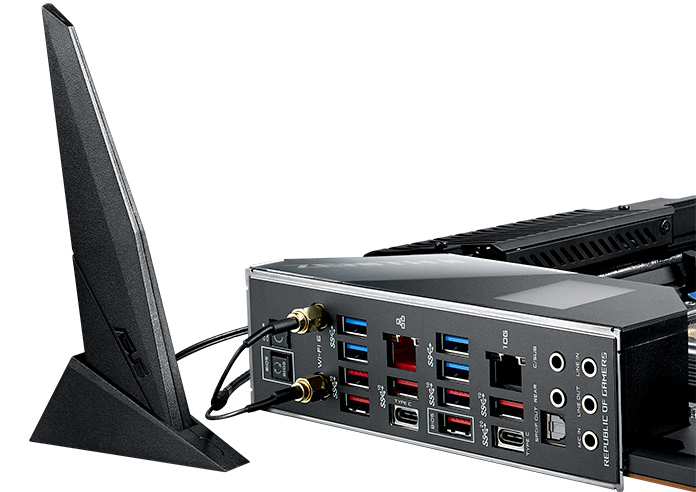 Networking is a key aspect for workstation and high-end desktop machines. After all, whatever tasks you're dealing with probably involve shuffling large chunks of data from one machine to another. You won't be left waiting around with the Zenith II Extreme and its trio of network interfaces. An Intel I211-AT Gigabit Ethernet controller gets the party started, but the Aquantia AQC-107 10GbE controller really fires things up as it makes short work of multi-terabyte transfers. If wires don't agree with you, then the Intel AX200 Wi-Fi 6 adapter with Bluetooth 5 support will. Thanks to its next-gen connectivity, it can move up to 2.4 Gbps over the air, and it's ready to play nice in crowded Wi-Fi environments when paired with one of our Wi-Fi 6 routers.
While the Zenith II Extreme is perfectly capable of keeping itself cool, the high-performance components hooked up to it might be a different story. Whatever PC this board ends up in, it's bound to live alongside a flotilla of fans or even a fully custom liquid cooling loop. Builders hungry for smart fan control will marvel at the Zenith II Extreme's collection of fan and pump headers. Multiple connectors for chassis fans dot the board's surface, along with dedicated liquid-cooling headers and connectors for remote temperature sensors. That set of hook-ups already covers most use cases, but the included Fan Extension Card II comes with another six fan connectors and three more thermal sensor headers for good measure. You can rest assured that there's no cooling setup the Zenith II Extreme can't control and monitor.
A carefully thought-out cooling system for a high-end machine is technically interesting, but what about form to go with the function? The Zenith II Extreme offers quite the visual spectacle all by its lonesome, but system lighting and customization really put the cherry on top of any build. The board has four RGB LED strip headers—two for standard strips, plus two Gen 2 addressable headers that can control each individual diode and detect how many LEDs are connected per device for easier configuration. If that's not enough, the Fan Extension Card II offers up another trio of RGB LED headers.
A Threadripper build certainly isn't going to have just a keyboard and a mouse plugged into it. Every recent improvement in USB speed has made its way into the Zenith II, so the board is more than ready for the latest peripherals. The back panel contains a total of seven USB 3.2 Gen 2 ports with 10Gbps of throughput, but the real highlight is the super-fast USB 3.2 Gen 2×2 Type-C connector with 20Gbps of bandwidth. You also get a pair of front-panel USB 3.2 Gen 2 connectors, a helping of USB 3.2 Gen1 ports, and additional USB 2.0 headers.
Finally, a little music for your ears. Whether you're gaming or rocking your headphones to some tunes while working, quality sound is important for excitement and ambience both. To tickle your cochleas, the Zenith II uses a SupremeFX S1220 codec coupled with a high-end ESS Sabre 32-bit DAC. This ESS chip comes with its own integrated headphone amplifier. The audio package further includes software support for DTS Sound Unbound, offering deep soundscapes with pinpoint-accurate object-based 3D audio.
ROG Zenith II Extreme
Size
EATX
Memory
8x DDR4
Multi-GPU
4x SLI, 4x CrossFireX
PCIe 4.0
4x x16: up to x16/x8/x16/x8

Storage
5x M.2 (all PCIe x4, 2 support SATA)
8x SATA 6Gbps
Networking
Aquantia AQC-107 10G Ethernet
Intel I211-AT Gigabit Ethernet
2x2 802.11ax (Wi-Fi 6) MU-MIMO; Bluetooth 5
Audio
SupremeFX S1220 codec
ESS Sabre9018Q2C DAC
DTS Sound Unbound
USB
3.2 Gen 2 2x2 (20 Gbps): 1x back Type-C
3.2 Gen 2 (10 Gbps): 1x Type-C, 6x Type-A, 2x front
3.2 Gen 1: 8x back, 4x front
2.0: 3x front
Aura
2x strip headers + 3x on Fan Extension Card II
2x Gen2 addressable headers
Cooling
4x fan headers + 6x on Fan Extension Card II
2x pump headers
2x coolant temperature sensor
1x coolant flow rate sensor
1x waterblock sensor
2 x temperature sensor
Transport Threadripper to the battlefield atop the ROG Strix TRX40-E Gaming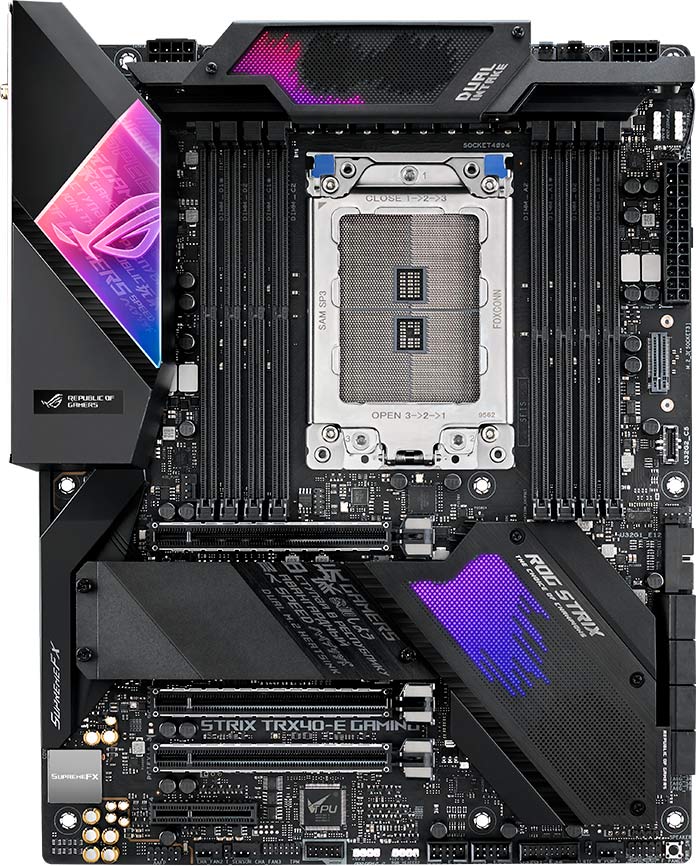 Not everyone needs the power of the ROG Zenith II Extreme's arsenal to launch third-gen Threadripper CPUs into the stratosphere. Even so, coming back to earth doesn't mean you have to give up the style or substance that comes standard with membership in the Republic of Gamers. The ROG Strix TRX40-E Gaming looks quite striking with its angular styling and Aura RGB LED lighting. It's not just made for looks, though. This motherboard has the high-end desktop credentials you'd expect from such a standout component, and it fits all of that power into a standard ATX form factor.
A translucent acrylic plate with a ROG cybertext motif adorns the I/O shield, sitting just above a 1.3″ LiveDash OLED display that can display system metrics or custom graphics. The eye-catching perforations on the VRM and chipset heatsinks pull double duty as air intakes, but they aren't just functional. Aura RGB LED lighting shines through the mesh in an eye-catching pattern. The angular design extends to the M.2 heatsink and audio circuitry covers, and most of the board is blacked out so that it can look its best under any shade of RGB LED lighting.
Threadripper CPUs are best served by a potent power delivery package. This Strix board feeds its CPU with a 16-stage VRM. To keep these components cool even when they're supporting demanding overclocks, we install two semi-passive fans above the heatsink. The heatsink atop the TRX40 chipset has its own fan that only spins when temperatures start to climb, too. ProCool II power plugs and their solid pins help ensure stable power delivery to Threadripper's many cores and keep the connectors themselves cool under load.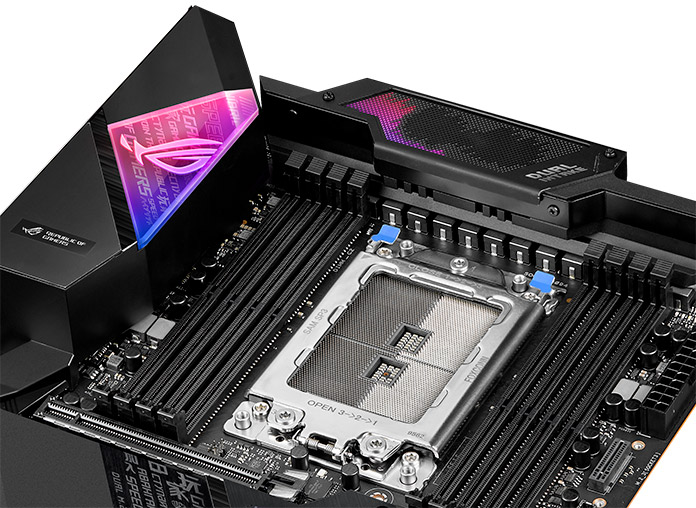 As with the Zenith II Extreme, the ROG Strix TRX40-E Gaming works with 3200MHz RAM out of the box. If you're up for a bit of RAM overclocking, the Strix gives you the tools to push even faster memory kits to the limit. The four memory channels of the TRX40 platform can take in up to 256 GB of RAM, all with ECC support.
The Strix comes with three PCIe 4.0 x16 slots, all of which can run at full x16 speed thanks to third-gen Threadripper CPUs' generous PCIe lane allotment. While the obvious choice for using those slots is a pair of graphics cards in an SLI or CrossFireX setup, additional storage risers and A/V gear are also good candidates. The rest of the lanes on the board are all wired with PCIe 4.0 connectivity, too.
The Strix provides plenty of options for connecting storage devices and peripherals. There are three M.2 sockets. Two hide underneath a dedicated heatsink, and a third vertical M.2 slot places drives in the path of case airflow. All of them are linked to four lanes of PCIe 4.0. Eight SATA ports adorn the edge of the board. Around the back, you'll find eight USB 3.2 Gen 2 ports with 10Gbps of bandwidth (one in the Type-C form factor), alongside another four USB 2.0 Type-A connectors.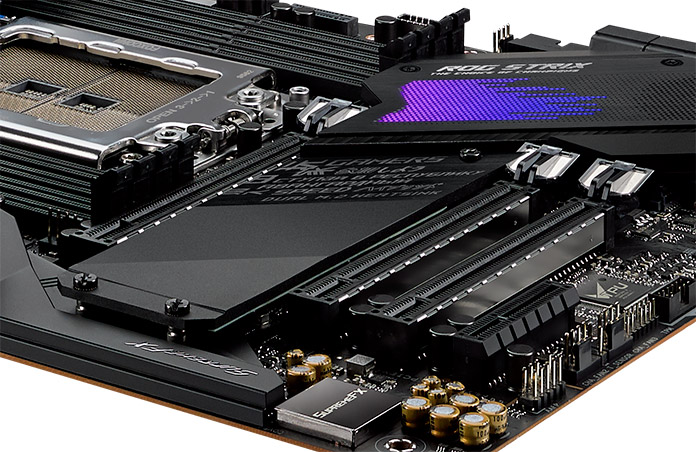 This board couldn't claim any gamer cred if it didn't come with a host of cooling and customization features. In addition to the onboard lighting, you can attach two standard RGB LED strips and another two Gen 2 addressable LED strips for all sorts of customizable special effects. The Strix TRX40-E Gaming offers dedicated headers for both AIO and custom-loop pumps in addition to its standard arsenal of fan headers. Our Fan Extension Card II works with the Strix, and it's available separately if you need to hook up even more fans, thermal probes, or RGB LEDs.
Like the Zenith II, this board also comes with a trio of network controllers. The Intel AX200 Wi-Fi 6 adapter with Bluetooth 5 reprises its role, as does the Intel I211-AT Gigabit Ethernet controller. This dual-LAN board pairs up the Intel chip with a potent 2.5G Realtek ethernet controller. Likewise, the Strix keeps the same SupremeFX S1220 audio codec and DTS Sound Unbound support its bigger brother uses, but doesn't include the dedicated Sabre DAC.
ROG Strix TRX40-E
Size
ATX
Memory
8x DDR4
Multi-GPU
3x SLI, 3x CrossFireX
PCIe 4.0
3x x16: up to x16/x16/x16
1x x4
Storage
3x M.2 (all PCIe x4, 1 supports SATA)
8x SATA 6Gbps
Networking
Realtek RTL8125-CG 2.5G Ethernet
Intel I211-AT Gigabit Ethernet
2x2 802.11ax (Wi-Fi 6) MU-MIMO; Bluetooth 5
Audio
SupremeFX S1220 codec
DTS Sound Unbound
USB
3.2 Gen 2 (10 Gbps): 1x Type-C, 7x Type-A, 1x front
3.2 Gen 1: 4x front
2.0: 4x front
Aura
2x strip headers
2x Gen2 addressable headers
Cooling
5x fan headers
1x pump header
1x AIO cooler header
1x thermal sensor
The Prime TRX40-Pro is a rock-solid professional foundation for any third-gen Threadripper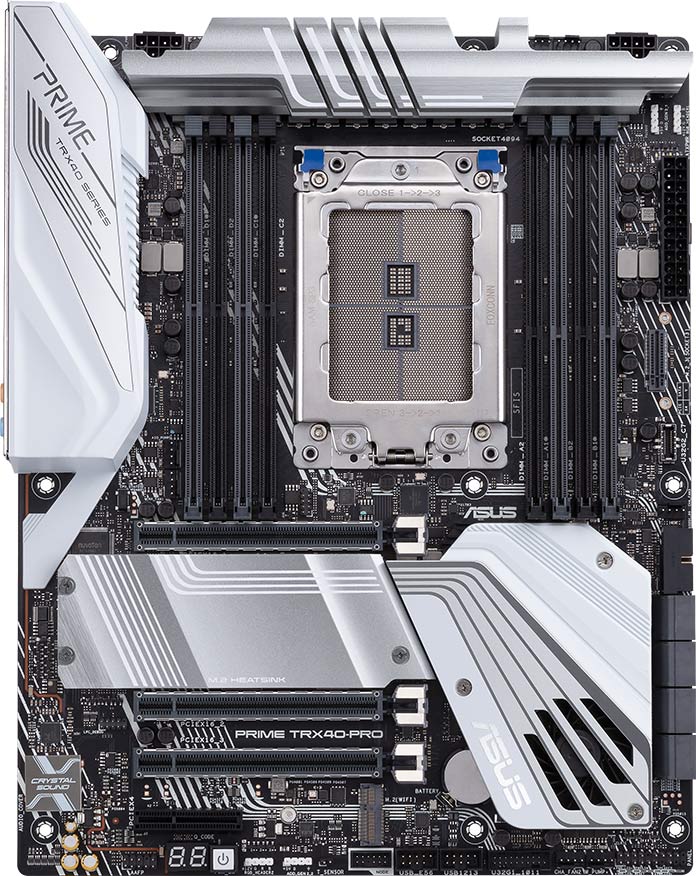 Some builders don't need extreme overclocking features or flashy aesthetics from their motherboards, but they still need a reliable foundation for creative workloads like video editing and 3D rendering that benefit from the power of many-core CPUs. Third-gen Threadripper CPUs offer those folks the computing performance they need, and our Prime TRX40-Pro is a rock-solid way to unlock that power with minimal fuss.
A massive brushed-aluminum VRM heatsink at the top of the board doesn't just look good—it wicks heat away from a 16-stage power-delivery subsystem comprising Infineon TDA21462 integrated power stages paired with premium chokes and components. Even when your third-generation Threadripper is chewing through intense creative work like rendering, transcoding, or other heavy-duty data crunching, you can rest assured that its performance won't drop over time due to VRM throttling. A quad-channel memory interface spread across eight slots can take in 256GB of RAM with ECC if you'd like, and the Prime TRX40-Pro has all the tools you need to run fast DDR4 at its limits or beyond. Every single expansion slot comes loaded with the performance of PCIe 4.0, too. Three PCIe x16 SafeSlots grace the main portion of the board, and they're poised to run all-out in a x16/x16/x16 configuration. SLI and CrossFireX support comes along for the ride.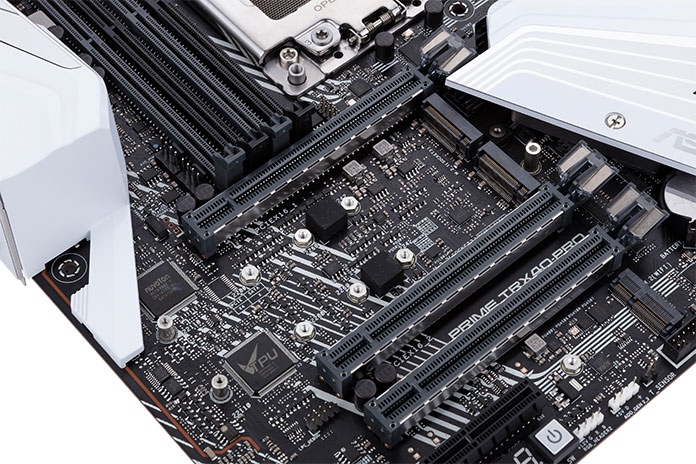 Although the Prime doesn't have built-in wireless connectivity, we've added an E-key M.2 2230 socket for those who want to add a Wi-Fi module of their own. Wired connectivity comes from a Gigabit Ethernet port backed by an Intel I211-AT chip. Finally, the USB port selection on the back panel includes three USB 3.2 Gen 2 Type-A connectors and a reversible USB 3.2 Gen 2 Type-C port provide up to 10Gbps for connecting fast external storage, audio interfaces, dedicated video editing controllers, and more.
Even if you're not intent on overclocking a Threadripper CPU, you'll want to ensure your system stays as cool as possible. The Prime TRX40-Pro has a full set of fan and liquid-cooling headers controllable with our Fan Xpert 4 utility, as well as a thermal sensor header to monitor any other areas on the board you'd like to keep an eye on. Should you experience any bumps in the road with your system, the handy . BIOS support means you can always update or restore compatible firmware to the board with nothing but a power supply and a USB thumb drive, while an onboard power button gives you control over your system even if you're testing it outside of a case.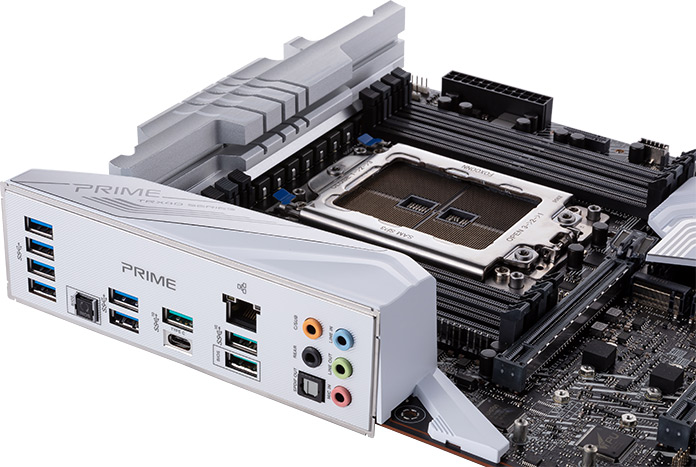 The I/O shroud fuses a pure white foundation with a metallic Prime nameplate. Aluminum heatsinks grace the middle of the board, leading the eye to the stylish ASUS nameplate on the chipset heatsink. The neutral color palette will nicely complement builds without custom lighting, and it's just as ready to fit in with any RGB LED-bedecked build. Those with a penchant for adding flair can use any of the four onboard LED strip connectors. We bake in two four-pin headers for standard-issue RGB LED strips, and another two for Gen 2 addressable RGB LED devices.
The Realtek S1220 audio codec offers pristine audio quality, helped along by EMI shielding and separate PCB layers for the left and right channels to maintain signal integrity. Whether you're listening to your latest finished tracks or putting the final aural touches on a film or podcast, you'll enjoy the sweet sound of the Prime TRX40-Pro's audio subsystem. When it's time to blow off some steam with your favorite music, or when you just need to pump up the volume to keep yourself motivated during your work, you can engage DTS:X Ultra support to bring immersive 3D spatial audio to your existing set of headphones or speakers.
Prime TRX40-Pro
Size
ATX
Memory
8x DDR4
Multi-GPU
2x SLI, 2x CrossFireX
PCIe 4.0
3x x16: x16/x16/x16
1x x4
Storage
3x M.2 (all PCIe x4, 1 supports SATA)
8x SATA 6Gbps
Networking
Intel I211-AT Gigabit Ethernet
Audio
Realtek S1220
DTS X:Ultra
USB
3.2 Gen 2 (10 Gbps): 1x Type-C, 3x Type-A, 1x front
3.2 Gen 1: 6x back, 1x front
2.0: 4x front
Aura
2x strip headers
2x Gen2 addressable headers
Cooling
5x fan headers
1x pump header
1x AIO cooler header
1x thermal sensor
Pricing and availability
Please contact your local ASUS representative for more information about pricing and availability of the ROG Zenith II Extreme, the ROG Strix TRX40-E Gaming, and the Prime TRX40-Pro motherboards.