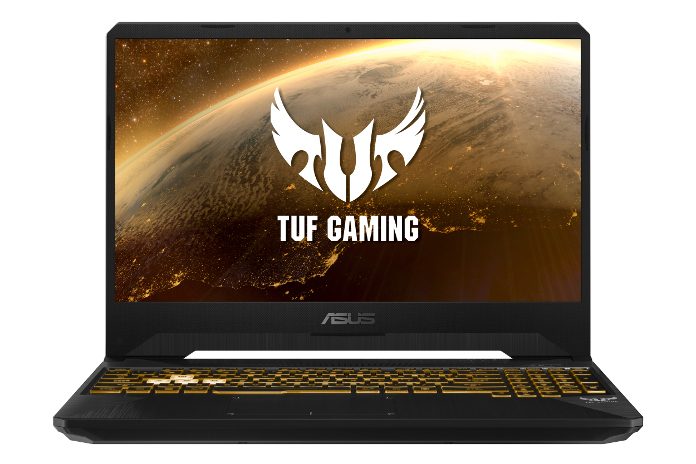 TUF Gaming FX505DY and FX705DY laptops take Ryzen and FreeSync on the road
Gaming can be an expensive hobby, but you don't need to drop thousands of dollars on a laptop to play your favorite titles. With the right mix of components, affordable gaming laptops can add up to more than the sum of their parts.
Our new TUF Gaming FX505DY and TUF Gaming FX705DY laptops are perfect examples. They're the first to feature the latest Ryzen processor from AMD, and we've paired this new Picasso platform with discrete Radeon graphics tightly coupled to vivid FreeSync displays. Slim bezels frame the NanoEdge screens to further enhance immersion and shrink the overall footprint, while reinforced bodies help the machines survive everyday life.
Intelligently specced and carefully built, these AMD Editions balance performance and affordability to provide a better experience in your favorite games.
Seeing red
AMD's Ryzen processors have taken desktops by storm, and we're excited to have TUF Gaming laptops lead the deployment of the newest version. Otherwise known as Picasso, this 2nd Gen Ryzen Mobile APU is built with industry-leading 12nm technology. The Ryzen 5 3550H chip powering the FX505DY and FX705DY boasts four cores and eight threads that deliver capable performance for popular games and everyday work. Multithreaded performance is particularly strong, yet the processor fits into a 35W power envelope that doesn't compromise battery life.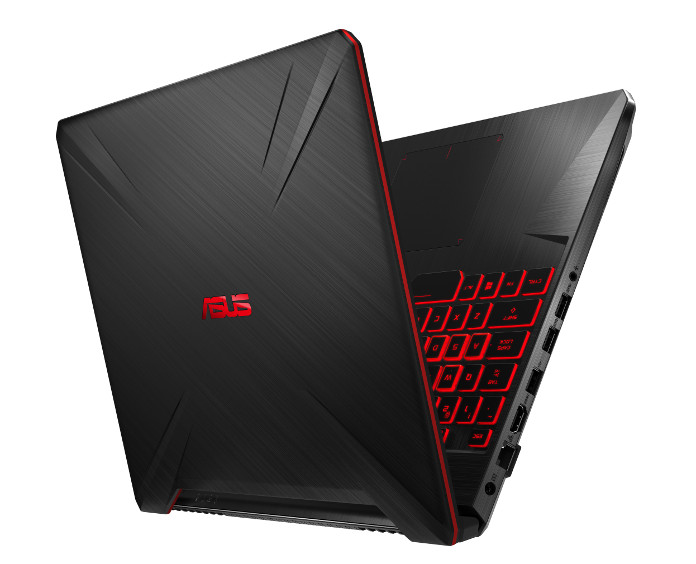 The TUF Gaming AMD Editions pair Picasso with up to 32GB of RAM, so they're primed for productive multitasking and light content creation. A range of storage options allows you to tailor to your needs and budget, though every configuration mixes faster solid state storage with a higher-capacity hard drive to offer speed where you need it alongside plenty of room for larger game libraries.
Scream if you wanna go faster
Vega-based integrated graphics allow the APU to power the laptop all on its own, which helps conserve power and extend battery life to over seven hours of 1080p video playback on the FX705DY and nearly six hours on the FX505DY. Discrete GPUs are where it's at for proper gaming, so when it's time to play, AMD Switchable Graphics tech automatically activates the laptop's discrete Radeon RX 560X. The GPU pumps out smooth frame rates in mainstays like Fortnite and Overwatch, as well as esports classics like League of Legends and Dota 2.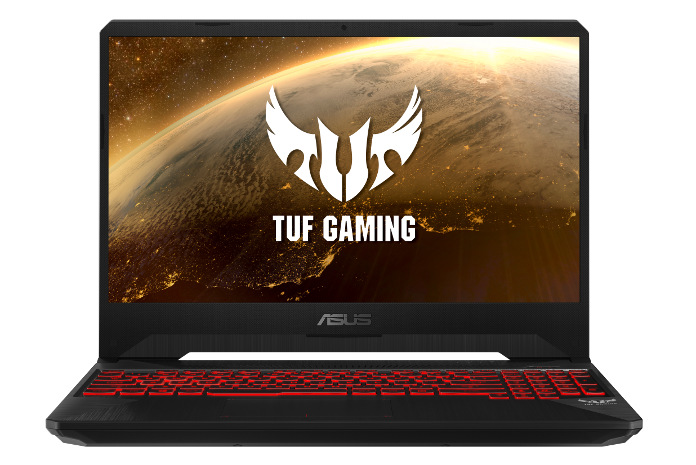 Smart gamers know that the GPU is only half the battle when it comes to a smooth gaming experience. All your graphics power is for naught if the display misses the mark. Performance varies constantly depending on the game and what's happening at any given moment, but the displays on most affordable gaming laptops are stuck with a fixed refresh rate. TUF Gaming AMD Edition laptops use FreeSync variable refresh rate technology to match the display's refresh rate with the GPU's frame rate. Synchronizing these components eliminates visual tearing, cuts input lag, and reduces stuttering to heighten your overall gaming experience. It's especially impactful with entry-level systems that can experience more FPS fluctuation with chaotic gameplay, maxed-out graphics, or AAA titles.
The TUF Gaming FX505DY packs a 15.6" Full HD IPS-level display, while the FX705DY stretches to 17.3". Choose your own adventure: more compact and portable or more expansive and immersive. Both are surrounded by narrow bezels that focus your attention on the game instead of the frame around it, and wide viewing angles keep the colors vivid even if you're sitting off to one side while playing with a friend.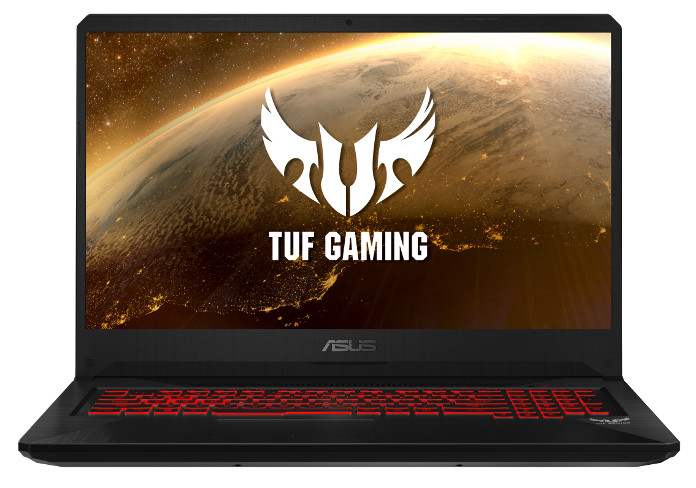 Refresh rate is where the two deviate. Although both offer panels that operate within a FreeSync range of 40-60Hz, only the FX505DY has a high-refresh option that goes from 48-120Hz to offer smoother performance at higher frame rates. The 60Hz panel is great for gamers who play more graphically demanding titles where sky-high frame rates aren't realistic for this class of system. Go with the 120Hz alternative if you prefer fast-paced shooters like CS:GO and Overwatch.
Straight cold player
When the action heats up, you want your laptop to stay cool, so we pay special attention ensure the thermal solution keeps internal temperatures in check and maintains consistent performance over time.
Our HyperCool technology keeps the CPU and GPU cool with independent fans for each chip. As the fans spin, special anti-dust tunnels on the edges of the housing catch and direct particles out of the laptop to prevent them from clogging up the cooling. This prevents dirt from building up on the heatsinks and exhaust grills, which can impede cooling enough to affect not only performance, but also long-term reliability and stability.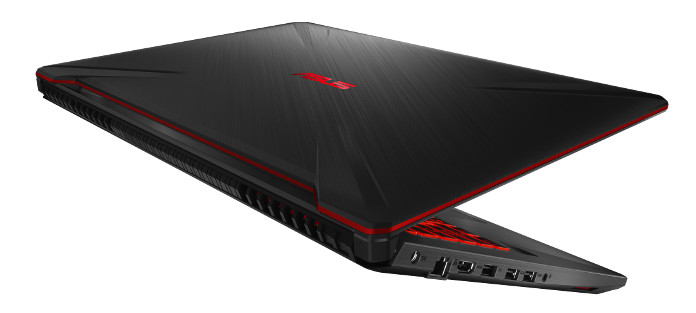 The fans are placed right under the keyboard, which helps keep the area cool when you're typing or playing, and the rotational speeds adjust dynamically based on component temperatures. You can easily switch between three operating modes with a press of a button. Silent mode takes its foot off the gas to reduce noise for lighter loads like homework, productivity, and the web surfing and video streaming you'll inevitably do to procrastinate. Turbo mode delivers maximum performance on demand, while Balanced mode finds an optimal middle ground between speed and acoustics.
Hot air is expelled out a vent in the back of the laptop's spine, and a patented trapezoid cut in the lid ensures it escapes unobstructed, even if you have the screen tilted back. The angular cut-out matches the TUF aesthetic, which favors sharp lines for a more aggressive industrial vibe. There are two chassis variations to choose from: Red Matter blends brushed black with striking red, while Gold Steel swaps out the scarlet for a bit more bling and adds an aluminum lid that adds a more premium feel.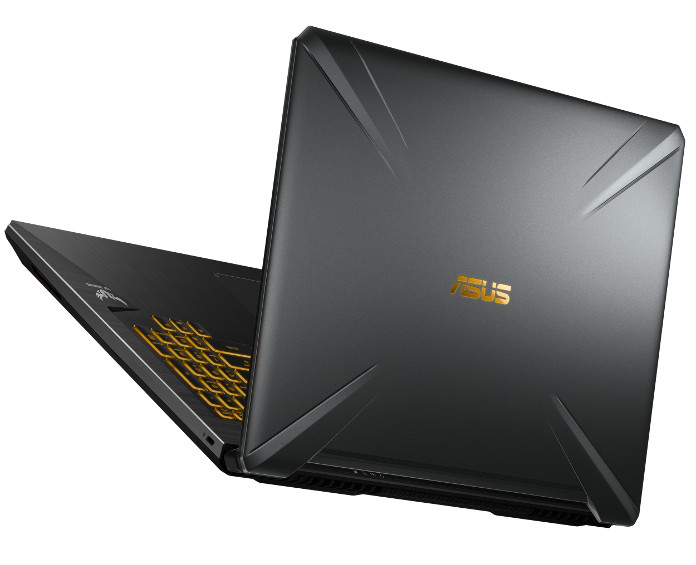 Regardless of the color and material, the FX505DY and FX705DY meet military-grade MIL-STD-810G standards for toughness. Strenuous testing ensures they can withstand extreme environments, ambient vibration, and accidental knocks. Both models shrug off short drops to a desk, and the FX505DY is certified to survive higher falls. The hexagonal design on the bottom of the laptops adds structural rigidity and deserves some of the credit for their toughness.
Kitted out for combat
Gaming is harder on a laptop's keys than regular typing, so make sure the keyboard is worthy of the TUF Gaming name. Our HyperStrike deck brings a desktop-inspired layout with separated blocks of function keys for easier recognition, a wider space bar that offers a bigger target for your thumb, a full numpad for faster number crunching even on the 15" model, and offset arrow keys that you can't miss even when flying blind. Curved caps cup your fingertips to help keep them locked on the controls, while highlighted WASD keys make it easier to find your way home.The keys are rated for 20 million presses each, so they'll hold up to heavy gaming habits. Their deep 1.8mm of travel reduces the risk of accidental presses, and our Overstroke technology improves responsiveness by raising the actuation point so that presses register sooner. The increased travel distance after actuation also makes typing more comfortable.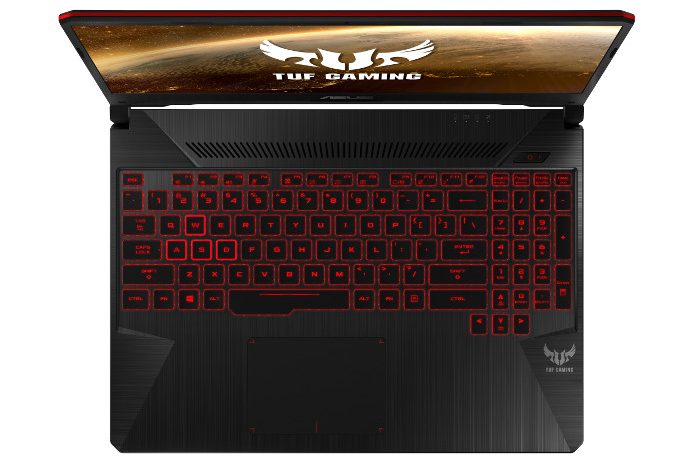 A backlight is a must whether you're taking notes in a dark lecture hall or staying up beyond a reasonable hour for just one more round. Red Matter versions of the FX505DY and FX705DY bring a red glow that mirrors their trim, while Gold Steel models feature customizable RGB lighting. You can tweak RGB colors and effects with our Armoury Crate utility, which unifies vital functions like lighting control, system monitoring, and configurable game profiles that automatically load your preferred system settings.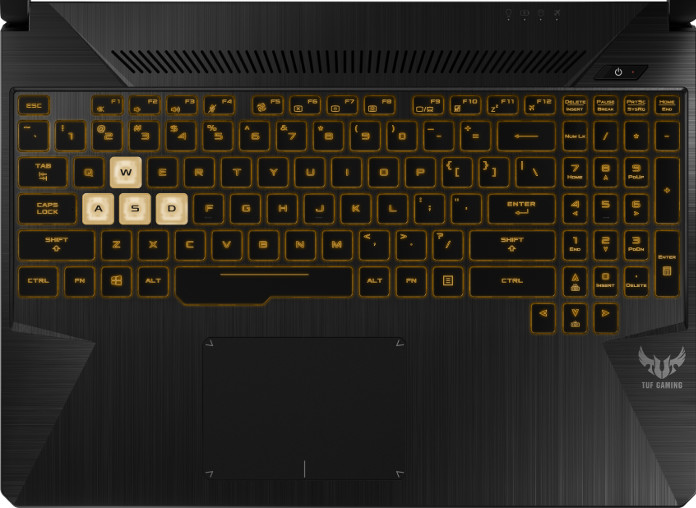 Plugged in and ready to play
The TUF Gaming AMD Editions are well equipped for setting up anywhere. If you're out and about, you can connect wirelessly via the integrated 802.11ac WiFi. Crowded places can be distracting when you're trying to focus, but great audio can be a big help for drowning out distractions or even just cranking the volume at home. The FX505DY and FX705DY deepen gaming immersion with DTS Headphone: X technology that brings 7.1-channel virtual surround sound to stereo headsets or speakers. You can choose between built-in presets for games, movies, and sports or do your own hands-on tuning with the embedded equalizer.

When you get home in the evening, you can hook up to a monitor or TV via HDMI 2.0. FreeSync works over HDMI with compatible displays, extending smoother gaming to even bigger screens. Onboard Ethernet lowers networking latency for serious multiplayer matches, and three USB ports let you connect external storage without unplugging your gaming mouse and gamepad.
Hangin' TUF
Our newest TUF Gaming laptops mix a cocktail of AMD components and technologies to elevate your gaming experience. Combining a Ryzen APU with discrete Radeon graphics and a FreeSync display checks all the right boxes for gamers looking to make the most of their budget, and we add distinct style that's tough enough for life in and out of your backpack.
TUF Gaming FX505DY
TUF Gaming FX705DY
CPU
AMD Ryzen 5 3550H
GPU
AMD Radeon RX 560X
Display
15.6" Full HD 1920 x 1080
17.3" Full HD 1920 x 1080
Panel
NanoEdge up to 120Hz IPS-level
NanoEdge up to 60Hz IPS-level
Memory
Up to 32GB DDR4-2666
Storage
Up to 512GB NVMe SSD
Up to 1TB FireCuda SSHD
Networking
Gigabit Ethernet
802.11a/b/g/n/ac WLAN
Connectivity
1 x HDMI 2.0
2 x USB 3.1 Gen 1
1 x USB 2.0
1 x audio combo
Battery
48Wh
64Wh
Dimensions
14.2" x 10.3" x 0.98"
15.7" x 11" x 1.06"
Weight
4.85 lbs
5.73 lbs
OS
Windows 10
The TUF Gaming FX505DY and TUF Gaming FX705DY will begin selling in Q1. Configurations, availability, and pricing will vary by region, so check with your local ASUS representative for more information.
Don't miss the rest of our announcements from CES 2019. You can see all the newest tech from ASUS and ROG in this article.