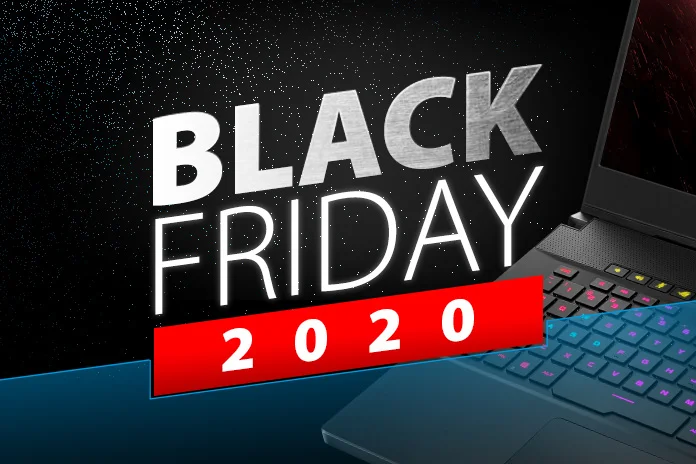 ASUS participates in several affiliate programs, including the Amazon Associates program, and may receive affiliate fees for qualifying purchases.
2020 has had its ups and downs, but there's still plenty to be thankful for. Family, friends, food, and juicy Black Friday deals, of course. In this ASUS 2020 Black Friday deals guide, we've cooked up a sizable serving of sizzling sales for your enjoyment so you can get a hold of a new laptop or DIY PC component for an appetizing price. 
To score the best discounts, you have to strike when the iron is hot. We know that the internet is drowning in deals and that time is short, so we've already selected only the finest cuts for your plate of potential PC purchases. If you're on the fence over any particular deal, you'll also find out why we think each one is particularly worthy of your hard-earned dollars.
Many of these discounts will be running for a little while, but stock is limited, so we recommend you act swiftly on anything that catches your eye. Select sales will only be running through Black Friday itself, too, so be ready to click that buy button. To help you navigate this schedule our handy list includes deal expiration dates and retailer links.
Gaming laptops
ROG Zephyrus S15 GX502 (GX502LXS-XS79)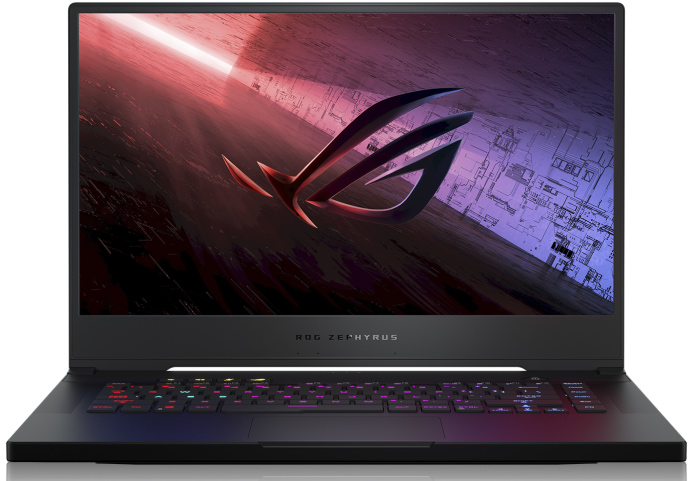 $3000 $2549.99 at Amazon, 11/26/2020-11/30/2020
It's quite a striking machine, isn't it? The Zephyrus S15 GX502 is part of a new breed of gaming laptops that somehow manage to pack the mightiest processors and graphics cards without adding back-breaking bulk. 
There's enough high-grade hardware inside the Zephyrus S15 to run laps around many desktop gaming PCs. The machine is built around an eight-core Intel Core i7-10875H CPU that can clock as high as 5.1GHz. Its right-hand man is an NVIDIA GeForce RTX 2080 SUPER graphics card with 8 GB of RAM and real-time raytracing support. 
This potent concoction feeds tons of frames to the 300Hz PANTONE Validated display (yes, that's right, three hundred). G-SYNC support means that the S15 can deliver smooth, tear-free gaming even when frame rates fall below the screen's native refresh rate. And that PANTONE certification means you'll enjoy vivid, accurate colors when it's time to relive and share your experiences with the world.
The rest of the system is just as upmarket. 32GB of system memory and 1TB of SSD storage in a RAID 0 configuration ensure that every game or heavy application loads in the blink of an eye. An RGB LED keyboard with per-key backlighting rests on a magnesium-alloy chassis with our exclusive Active Aerodynamic System for maximum cooling performance. A cornucopia of ports and connectivity options including Wi-Fi 6, Thunderbolt 3, and USB-C round out the main specs.
ROG Zephyrus S17 GX701 (GX701LV-DS76)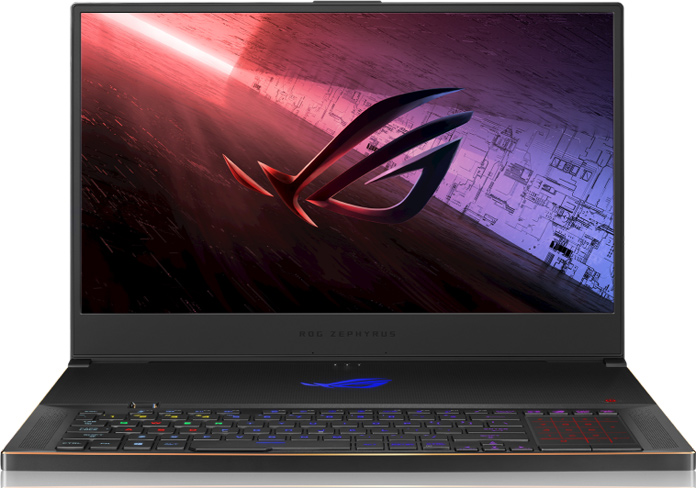 $2499 $1999 CAD at Canada Computers (11/27/2020-12/3/2020)
Canadian shoppers can enjoy a similar take on the Zephyrus concept by way of the ROG Zephyrus S17. As its name implies, this model comes with a 17.3" PANTONE Validated 144Hz display. In exchange for that size boost and a more sedate price tag, the S17 employs an Intel Core i7-10750H six-core, twelve-thread processor clocking up to 5GHz, humming along with a NVIDIA GeForce RTX 2060 graphics card packing 6GB of VRAM.
Don't get any wrong ideas, though—we're still talking hardware capable of producing hundreds of FPS in many titles, even with detail turned up. 16GB of RAM and a 1TB NVMe SSD complete the system.
ROG Strix G17 (G712LW-ES74)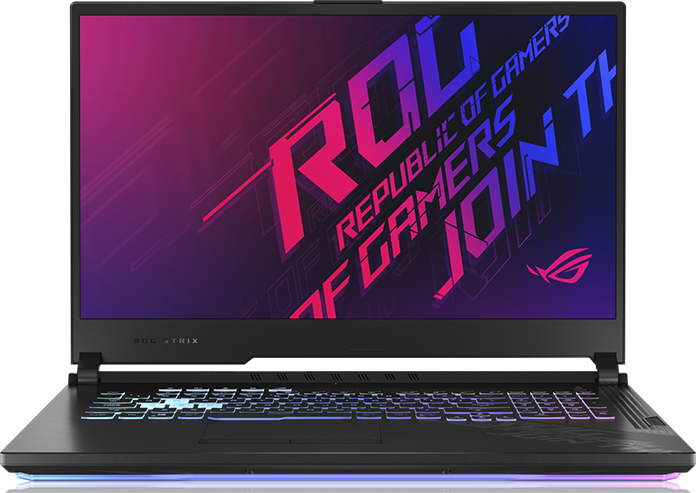 $1699.99 $1399.99 at Newegg (11/26/2020-11/30/2020)
As an alternative to the heady Zephyrus notebooks above, we'd like to present the ROG Strix G17. Hailing from the same lands as its brother, this variation uses an Intel Core i7-10750H six-core processor with a 5GHz turbo clock. This chip pairs quite nicely with a NVIDIA GeForce RTX 2070 graphics card with 8GB of VRAM. The 1920×1080 IPS-level display spans an expansive 17.3", with a fast and fluid refresh rate of 144Hz. 
We've designed the Strix G17 with an eye towards gaming marathons and heavy-duty number crunching sessions—after all, who likes to see clock speeds dip after only a few minutes of fun? Its cooling system is primed to perform with our Intelligent Cooling design philosophy. Dual fans, each with 83 ultra-thin blades, contribute plenty of airflow. The cooling system is designed to automatically expel dust, keeping performance consistent and extending component lifetime. 
The stylish keyboard has four individual RGB LED lighting zones, all easily configured using Aura Sync. For times when you need to assign more macro keys or enter data at speed, you can take advantage of an integrated ten-key pad. 
Nobody likes to lose games due to lag, which is why the Strix G17 comes with Wi-Fi 6 connectivity enhanced by our ROG RangeBoost technology. That tune-up lets your wireless signal reach up to 30% farther and minimizes dead spots. Side-firing speakers powered by Smart Amp technology let you hear action and music almost three times louder and with clearer bass compared to common laptop audio.
ROG Strix G15 (G512LU-DS71-CA and G512LI-DS71-CA)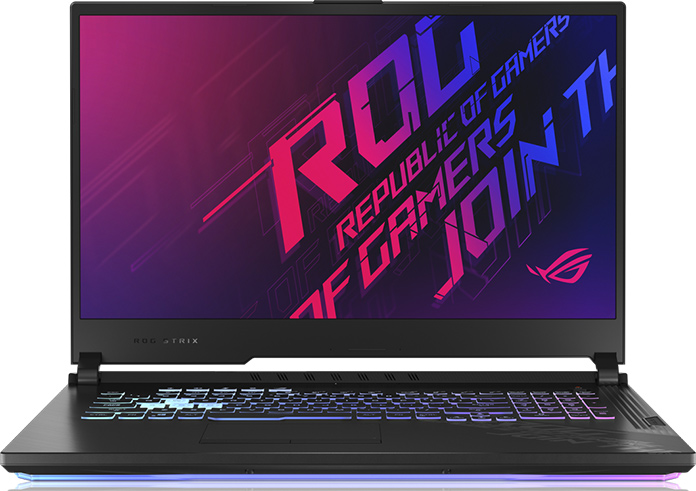 ROG Strix G15 G512LU-DS71-CA: $1699 $1599 at Canada Computers (11/27/2020-12/3/2020)
ROG Strix G15 G512LI-DS71-CA: $1599 $1299 at Canada Computers (11/27/2020-12/3/2020)
Up north in Canada, there's a pair of great deals on two variants of the ROG Strix G15. This machine is mostly identical to the G17 described above, except its screen is just a tad smaller at 15.6" across. 
The two models we have for your consideration share the same Intel Core i7-10750H six-core CPU, 16GB of memory, and a 1TB NVMe solid-state drive. What sets them apart is the graphics card: a NVIDIA GeForce GTX 1660 Ti with 6GB of video RAM on one model, and a GTX 1650 Ti with 4GB on the other. Both are plenty capable of pushing hundreds of frames out to the 144Hz display in today's most competitive games, though higher-octane gamers will probably want to spend the extra cash to get the speedier card. The choice is yours.
TUF Gaming A17 (TUF706IH-ES75)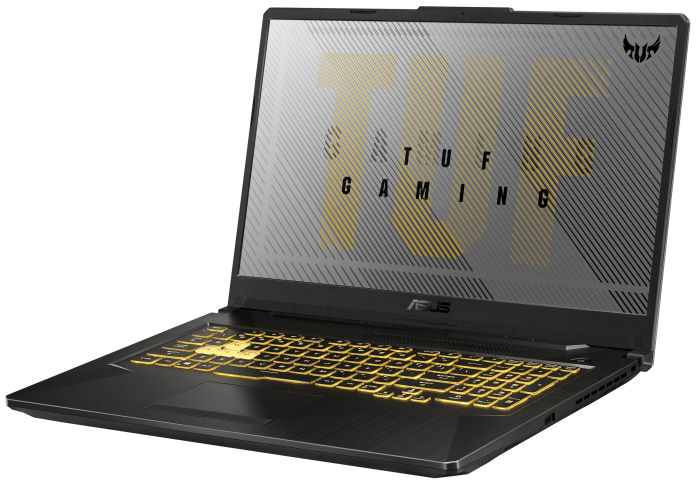 $999.99 $849.99 at Newegg (11/23/2020-11/30/2020)
In 2020, it's not crazy to think that you can get a reliable, speedy gaming laptop for a sensible amount of cash. That's what the TUF Gaming A17 is all about. The sturdy TUF exterior motif speaks to the meaty AMD Ryzen 7 4800H processor inside with eight cores running at up to 4.2 GHz. It's coupled with a NVIDIA GeForce GTX 1650 graphics card with 4GB of its own memory. For good measure, this machine's sizable 17.3″ display is an IPS-type panel that's ready to game with Adaptive-Sync support and a 120Hz refresh rate.
Putting that speedy silicon inside an affordable laptop is a challenge in itself, but we've gone the extra mile and packed this variant with an entire 16GB of RAM and a combination storage setup. A 512GB solid-state drive for your favorite games and applications teams up with a 1TB hard drive for the rest of your files. Since it's part of our TUF Gaming line, each and every A17 goes through rigorous shock, vibration, and humidity tests to ensure it doesn't break down on you when you need it most.
TUF Gaming A15 (TUF506IH-RS74)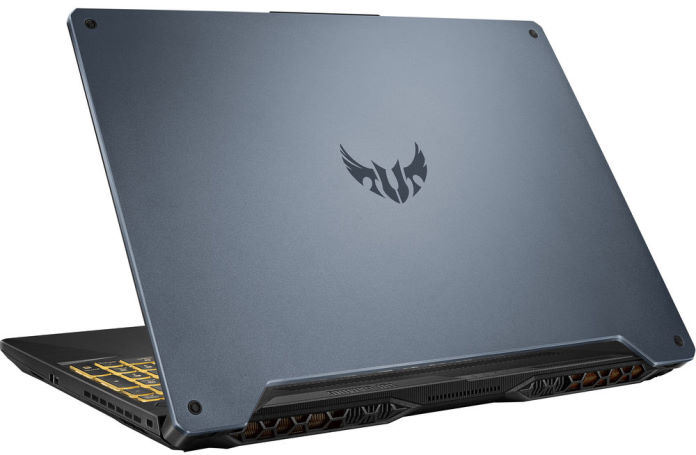 $1199 CAD $999 CAD at The Source, Walmart Canada, or Visions (11/27/2020-12/3/2020) 
We have a slimmer but similarly TUF variant in Canadian friends: the TUF Gaming A15. This alternative comes with a slightly smaller screen and chassis, and its Adaptive-Sync display is a slightly faster 144Hz unit with the same 1920×1080 resolution.
 The processor and graphics card are identical to those of its bigger brother, but this model comes with a single 512GB NVMe solid-state drive rather than the dual storage setup described above.
Ultrabooks and standard laptops
ZenBook 15 UX534 (UX534FTC-NH77 and UX534FTC-AS77)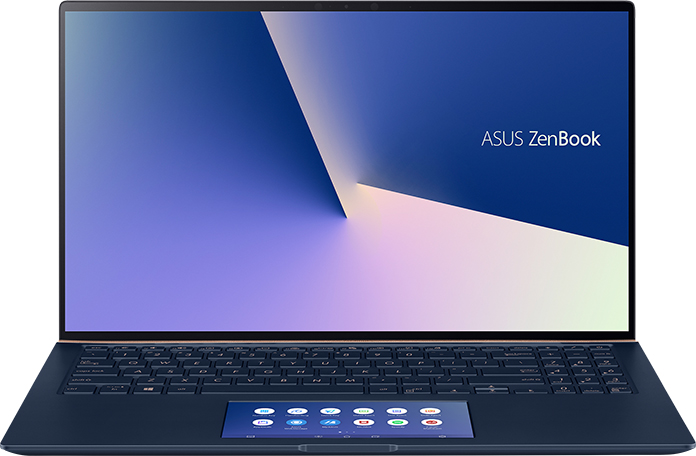 ZenBook 15 UX534 (UX534FTC-NH77)
ZenBook 15 UX534 (UX534FTC-NH77): $1499.99 $1199.99 at Newegg (11/23/2020-11/30/2020)
ZenBook 15 UX534 (UX534FTC-AS77): $1199.99 $999.99 at Amazon (11/26/2020-11/30/2020)
The ZenBook 15 UX534 is one elegant computer. Its centerpiece is the 15" NanoEdge 4K display, a beautiful 3840×2160 array of pixels that displays crystal-clear text and lifelike pictures and video. The barely-there bezels are only 2.9mm wide, adding to the immersion. But there's a surprise—another screen, right on the trackpad. The ScreenPad 2.0 is a handy companion whose abilities include handy shortcut icons, effortless applications switching, or just acting as a secondary monitor.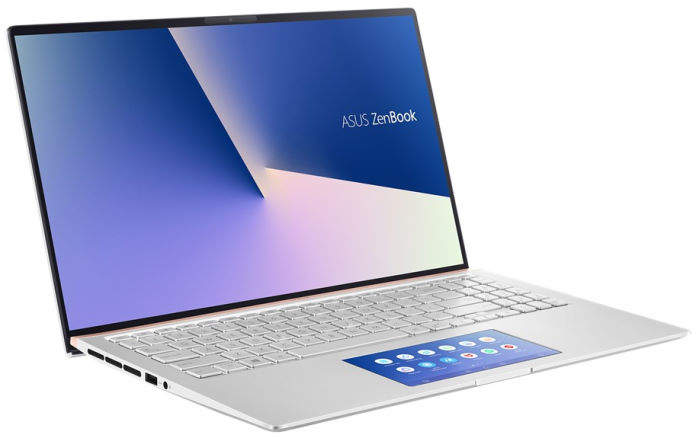 ZenBook 15 UX534 (UX534FTC-AS77)
Both displays are ensconced in a super-slim, featherweight chassis that rings in at a mere 3.6lb. Thanks to our ErgoLift hinge, the backlit keyboard tilts up in use for extra comfort. Despite the svelte dimensions, the ZenBook 15 includes multiple Type-A and Type-C USB ports, a card reader, and an HDMI output. Inside, an Intel Core i7-10510U processor handles data-crunching duties in tandem with an  NVIDIA GeForce GTX 1650 graphics card and 16GB of system memory.
You'll find tasty sales on two variants this Black Friday. The Royal Blue UX534FTC-NH77 comes with a roomy 1TB solid-state drive for $1199.99 at Newegg through 11/30/2020, while the Icicle Silver UX534FTC-AS77 is fitted with a 512GB SSD and runs $999.99 at Amazon, also through 11/30/2020.
ExpertBook B9450 (B9450FA-XS74)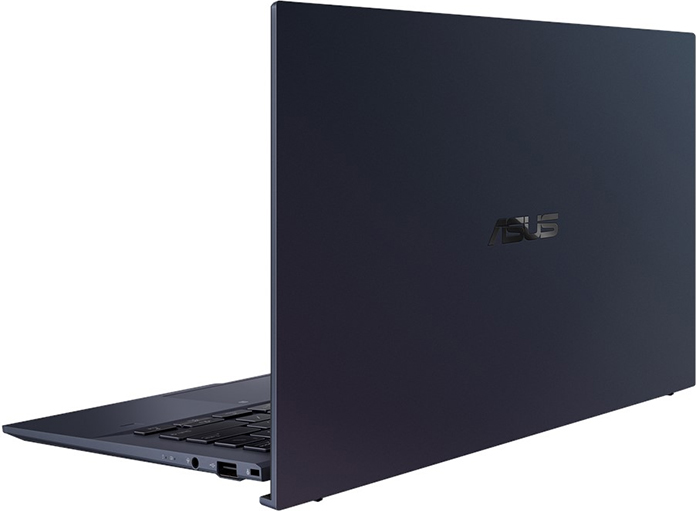 $1699.99 $1449.99 at Amazon (11/26/2020-11/30/2020)
For professionals on the road or folks with exceedingly busy lives, battery life is a particularly precious commodity, and every extra pound is a burden. We've built the ExpertBook B9450 with exactly those users in mind. 
For starters, the chassis is carved out of magnesium for exceptional lightness, durability, and thermal dissipation. The 14″ NanoEdge IPS-type display is mounted on a 180º hinge that lets you easily show it to the people around you. The comfortable keyboard is backlit and resistant to spills, too. For peace of mind, we subject the B9450 to stringent military-grade shock, drop, and panel pressure tests to ensure reliability on the road. Additionally, we ensure the hinge smoothly opens and all the ports work after thousands of cycles.
Since this ultrabook is likely to carry sensitive information, it comes with a fingerprint reader and a Windows Hello-enabled infrared camera for added security and ease of use. Inside, an Intel Core i7-10510U and 16GB of RAM take care of business with expeditious aplomb. This model comes with 512GB of NVMe storage, but there's an additional M.2 slot inside if you need extra room for data. To talk to the world outside, the ExpertBook comes with Wi-Fi 6 and a collection of flexible ports, including two Thunderbolt 3 USB-C connectors and an HDMI output for those important presentations. 
We've saved the best for last, though. All of this hardware and features fit in a chassis that's unbelievably thin and light: 15mm at its thickest point, and feather-weight at just 1.9lb. We saw 13 hours and 10 minutes of battery life in regular use, too. With specs like those, the ExpertBook B9450 will make any road warrior happy. 
ZenBook Duo UX481FA (UX481FA-DB71T)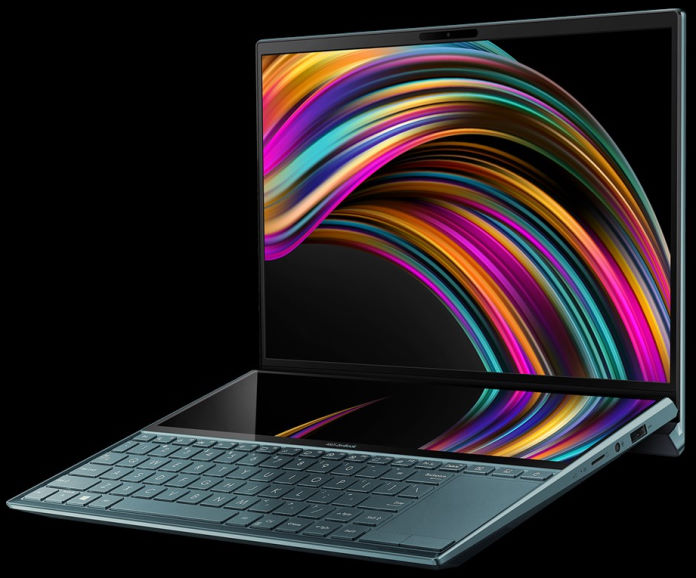 $1299.99 $999.99 at Newegg (11/24/2020-11/30/2020)
"Wow," right? That's the usual reaction when coming across the striking ZenBook Duo and its dual displays. The first is a 14" NanoEdge unit with PANTONE Validated color. The second is the 12.3" ScreenPad Plus. This handy full-width second screen can act as an extension for the primary display or as a spot to keep multiple windows at hand, like a set of faders in a DAW or a materials selector in a 3D rendering package. Since the ScreenPad Plus is touch- and pen-enabled, any application where multitasking is paramount can enjoy a productivity boost.
The 70Wh battery inside ensures you can work for up to 16 hours with the ScreenPad Plus enabled, or as much as a whopping 22 without. The ErgoLift hinge on this model raises the keyboard by 5.5° for maximum typing comfort, and it also improves cooling and audio performance. Despite the fact it's carrying two displays and a capacious battery, the UX481FA weighs just 3.5lb, too. An Intel Core i7-1051U quad-core processor, 8GB of system RAM, and a 512GB solid-state drive power the proceedings.
ZenBook 14 UM433 (UM433IQ-DS71-CA and UM433DA-NH74)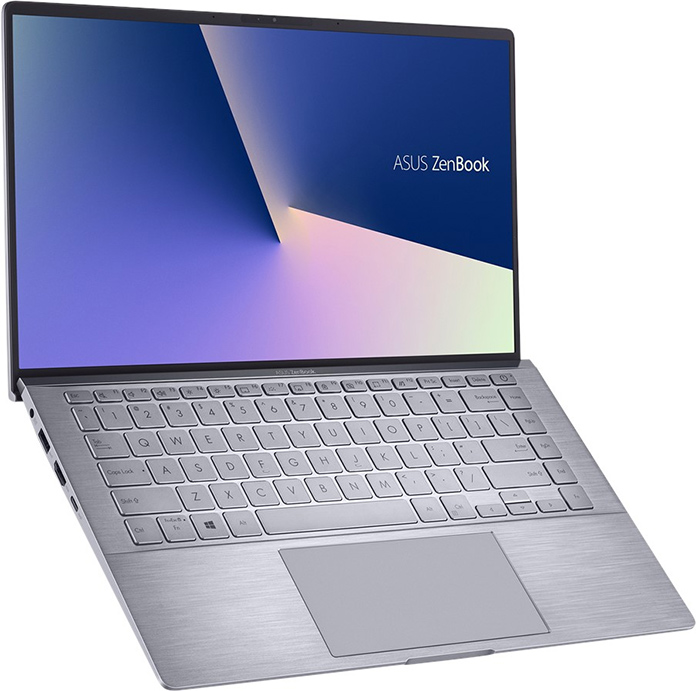 ZenBook 14 UM433 (UM433IQ-DS71-CA)
ZenBook 14 UM433 (UM433IQ-DS71-CA): $1199 $999 CAD at Canada Computers and Memory Express (11/27/2020-12/3/2020)
ZenBook 14 UM433 (UM433DA-NH74): $899.99 $699.99 at Newegg (11/23/2020-11/30/2020)
You're about halfway through our holiday deals smorgasbord, and two of our sweetest, juiciest deals are right here in the middle. The ZenBook 14 has an elegant, understated look that's at home anywhere. Despite its 14" screen, It's plenty thin and light, too, at only 17mm at its thickest and between 2.5 and 2.9lb—dimensions most often belonging to ordinary 13″ laptops. Even within that compact footprint, there's still room for a colorful 1080p IPS-type display surrounded by NanoEdge bezels.
The backlit keyboard offers 1.4mm of key travel and the same ErgoLift hinge as other models in the ZenBook family. A 50Wh battery that's good for 12 hours of battery life and 10Gbps USB-A and USB-C ports complete the external highlights.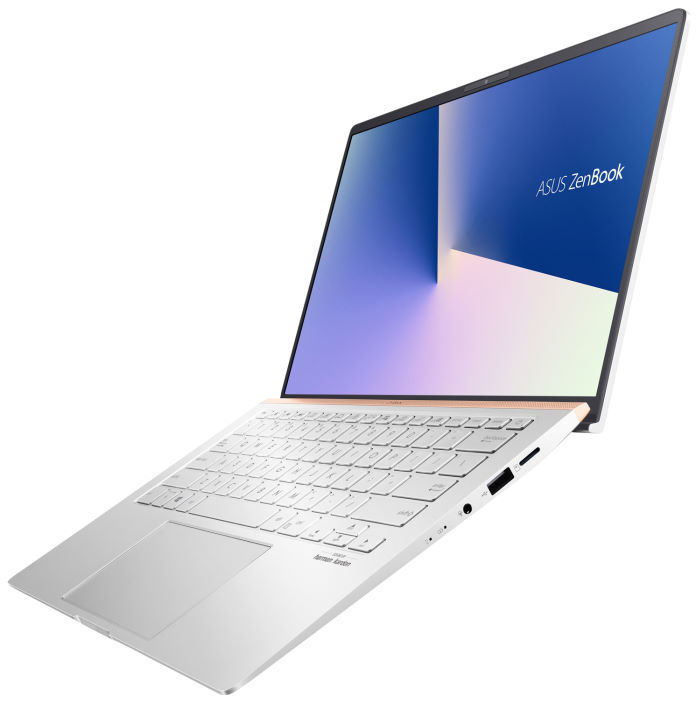 ZenBook 14 UM433 (UM433DA-NH74)
Inside, both machines carry 16GB of system RAM and AMD Ryzen processors, but they diverge slightly from here. The Canada-specific version has an eight-core Ryzen 7 4700U clocked at up to 4.1GHz, plus a NVIDIA GeForce MX350 graphics card with 2GB of video memory for pixel-pushing duties. A 512GB solid-state drive handles the storage department.
Meanwhile, the USA-bound model offers a quad-core Ryzen 7 3700U capable of hitting 4GHz and relies on integrated Radeon RX Vega graphics, but also brings a bigger 1TB SSD.
If you're in Canda, get the ZenBook 14 UM433 (UM433IQ-DS71-CA) for $999 CAD at Canada Computers and Memory Express from 11/27/2020 through 12/3/2020. American shoppers can find the ZenBook 14 UM433 (UM433DA-NH74) for $699.99 USD at Newegg from 11/23/2020 through 11/30/2020. 
VivoBook 14 X412DA (X412DA-AB51-CA)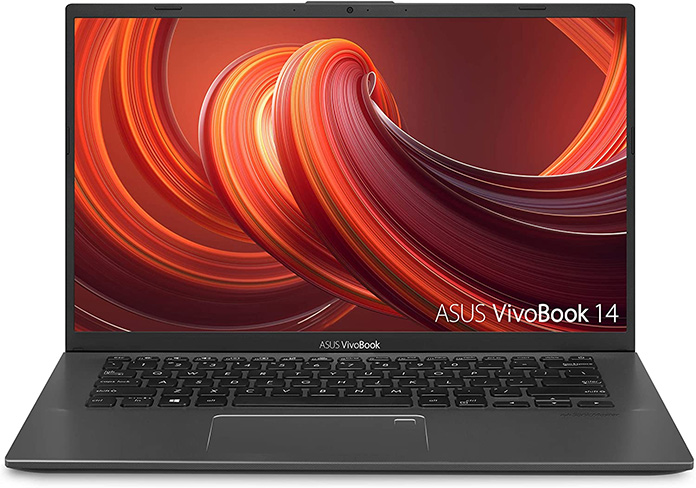 $599 $499 at Amazon Canada (11/27/2020-12/2/2020)
We're wrapping up our selection of laptops with an exceedingly affordable yet competent, ultrabook for Canadian buyers. The VivoBook 14 punches far above its price class by including a Full HD 14" display with slim NanoEdge bezels. It's lightweight at just a little over 3lb, and even with its focus on value, it still includes a fingerprint reader with Windows Hello integration and an ErgoLift keyboard hinge.
The engine inside is an AMD Ryzen 5 3500U chip with four cores and eight threads ticking away at up to 3.7GHz. Coupled with 8GB of RAM and 256GB of solid-state storage, this set is more than capable of handling school, home, and office applications at a rapid clip. The price tag is quite appetizing, almost in impulse purchase territory.
Motherboards
ASUS Prime Z490-A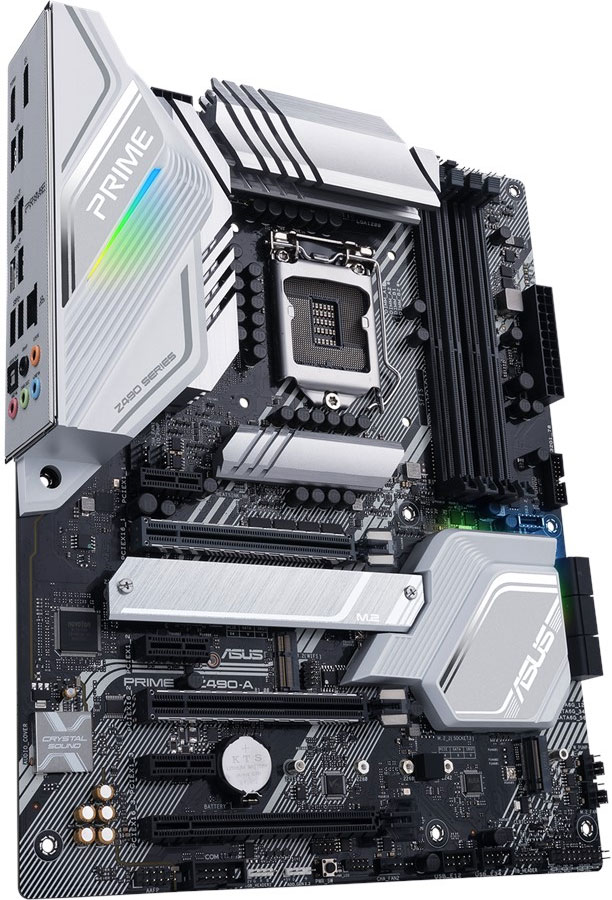 $229.99 $179.99 at Newegg and Micro Center (11/26/2020-11/30/2020)
Intel's latest crop of Core chips can reach stratospheric clock speeds to deliver some of the leading gaming performance of the moment. It takes a good motherboard to eke out the best performance from those high-performance CPUs, though, and the Prime Z490-A is one fine example of the breed.
This slab o' circuit goodness comes with a meaty DrMOS VRM with 14 power stages, all resting underneath generously sized heatsinks. The main metal-reinforced PCIe x16 SafeSlots can handle the largest and heaviest graphics cards with ease. Two M.2 slots can take in swift NVMe SSDs, and one of them even has a heatsink to prevent throttling when shuffling large amounts of data around. 
The I/O shield is integrated for easy installation, and there are a few tasteful dashes of LED lighting across the black-and-white board. The subdued motif will look great under custom RGB lighting, too. An Intel-powered 2.5Gb Ethernet port, USB 3.2 Gen2 Type-C and Type-A connectors, and a Thunderbolt 3 internal header offer latest-gen connectivity options.
Graphics cards
ROG Strix Radeon RX 5700 XT OC Edition 8GB (RX5700XT-O8G-GAMING)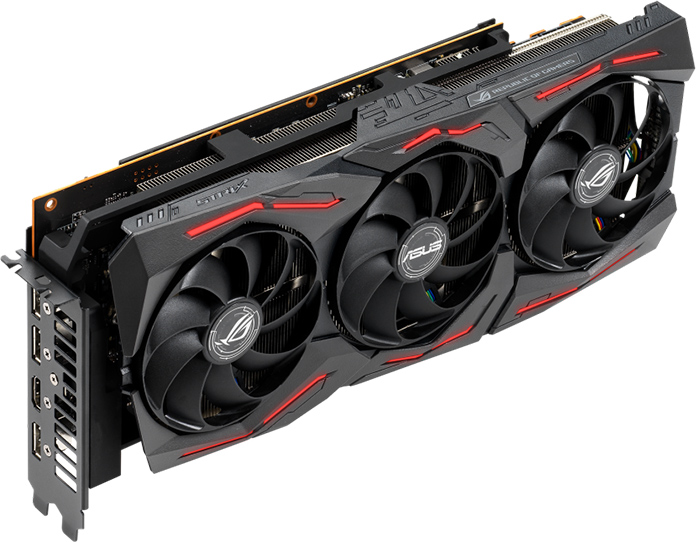 $459.99 $409.99 at Newegg (11/23/2020-11/30/2020)
2020 has delivered a tectonic shift in the price-to-performance ratio for graphics cards in desktop PCs, and Black Friday is just the time to reap the benefits. AMD's Radeon RX 5700 XT chip is one hard-hitting slice of silicon, capable of driving many 4K games at 60 FPS or letting you indulge in fast 1440p action with the detail turned up.
The Navi GPU under our stylish ROG Strix triple-fan cooler can hit 2035MHz in the card's OC mode. Those fans are built using our proprietary Axial-tech design for lower noise output and improved cooling. The Aura Sync RGB LED lighting is fully configurable to match the rest of your system, too. All told, you'll find this RX 5700 XT an enviable expression of its breed.
TUF Gaming X3 Radeon RX 5700 XT EVO (TUF 3-RX5700XT-O8G-EVO-GAMING)

$419.99 $369.99 at Newegg (11/23/2020-11/30/2020)
If you'd rather save a little cash or prefer a blacked-out look, you'll want to check out the TUF Gaming X3 RX 5700 XT EVO instead. 
This card carries the same chip as its Strix cousin, but comes with a slightly simpler heatsink that forgoes Aura RGB LED lighting. It still boasts three fans and a full-length protective backplate. The GPU is clocked at 1980MHz in this model for high performance, and for good measure, the hardware goes through a stringent 144-hour test procedure to ensure reliability under pressure.
ROG Strix GeForce RTX 2060 EVO Gaming (ROG-STRIX-RTX2060-A6G-EVO-GAMING)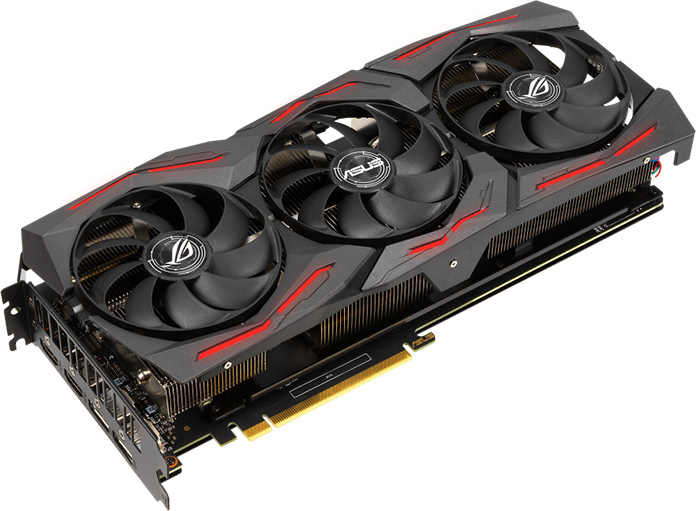 $359.99 $309.99 at Newegg (11/23/2020-11/30/2020)
The advent of real-time raytracing in GPUs has ushered in a new era for stunning graphics in games. Faithfully tracing the paths of light rays in a scene allows for crisp shadows, sophisticated lighting, and physically accurate reflections. 
NVIDIA's Turing GPUs with RTX capabilities are paving the way on this front, and we have one such card in our Black Friday sale: the ROG Strix GeForce RTX 2060 EVO Gaming. It's fit for comfortably playing AAA titles at 60 FPS or above at 1440p, or for running twitchy high-octane titles at 1080p and hundreds of FPS.
This GeForce RTX 2060 employs our trusty Strix cooler design to reach 1740MHz in its OC mode, and its beefy heatsink and trio of fans might even enable higher speeds thanks to NVIDIA's GPU Boost technology. 
Asus Radeon RX 580 8GB Dual OC Edition (DUAL-RX580-O8G)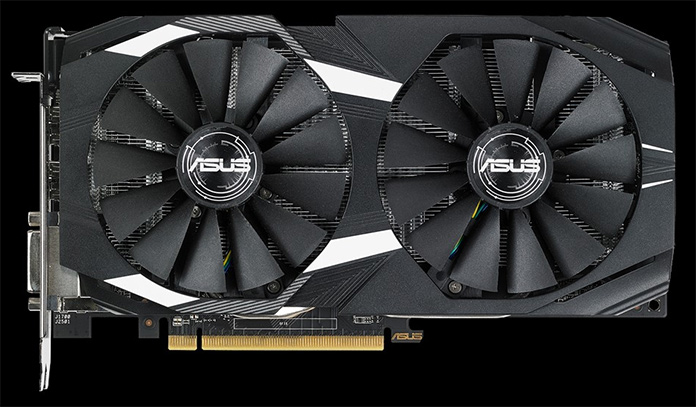 $229.99 $199.99 at Newegg (11/23/2020-11/30/2020)
The latest graphics hardware is always enticing, but it's now time for a trio of deals at affordable prices. The first contestant is the Asus Radeon RX 580 8GB Dual OC Edition card. We clock its GPU up to 1380MHz in this two-fan variant. The spinners themselves use our tried-and-true Wing-blade design for high performance, and they're dust-resistant for a long operating life. This GPU plays most every AAA title at 1080p with aplomb, and can delve into 1440p gaming at 60 FPS in many titles. 
Asus TUF Gaming GeForce GTX 1650 OC Edition 4GB (TUF-GTX1650-O4GD6-P-GAMING)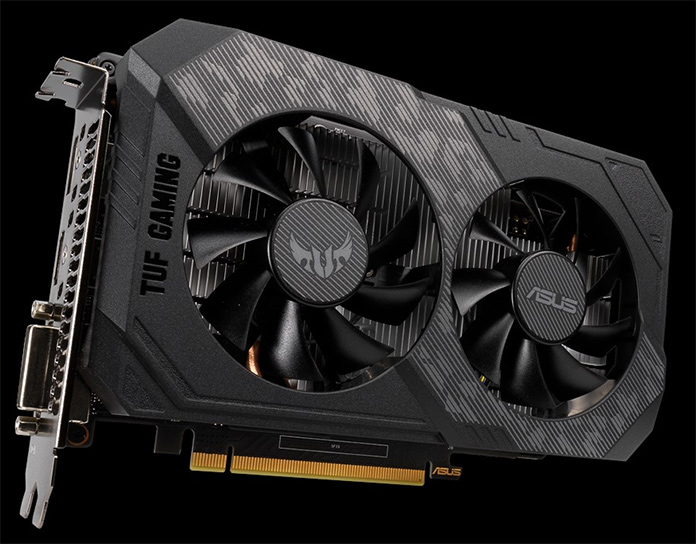 $159.99 $124.99 at Newegg (11/23/2020-11/30/2020)
The TUF Gaming GeForce GTX 1650 OC Edition 4GB is our second option for budget systems. The GTX 1650 chip is clocked at 1785 MHz in OC mode, and the dual-fan TUF cooler is more than ready to keep this chip cool under gaming loads. For playing at 1080p at 60 FPS and above and occasionally delving into 1440p, look no further.
Asus GeForce GTX 1050 Ti 4 GB Phoenix (PH-GTX1050TI-4G)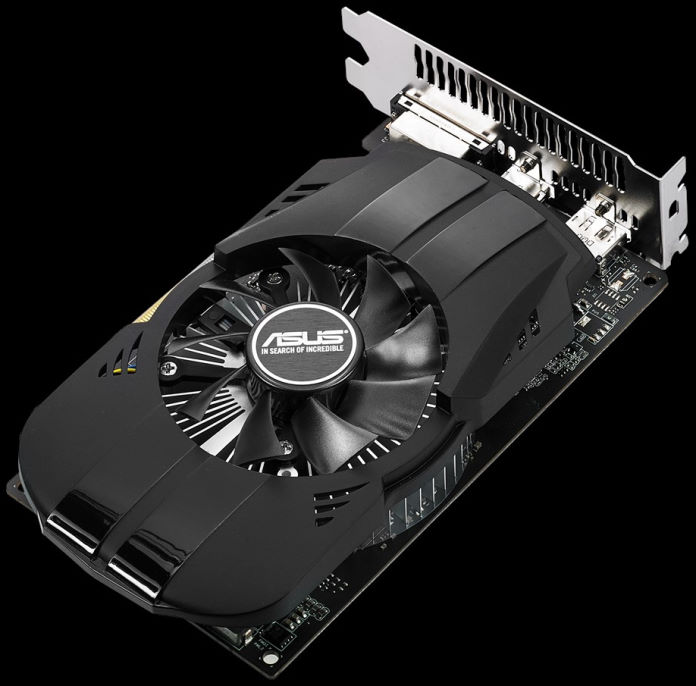 $139.99 $112.99 at Micro Center (11/23/2020-11/30/2020)
The final card is the most affordable, but it's by no means cheap. The GeForce GTX 1050 Ti 4GB Phoenix is simple, rock-solid, and comes in a compact form factor that'll fit nearly every build where space is at a premium, particularly Mini-ITX builds or small OEM desktops. This is the perfect upgrade to get into esports titles action on any compact budget system.
Displays
ROG Swift PG35VQ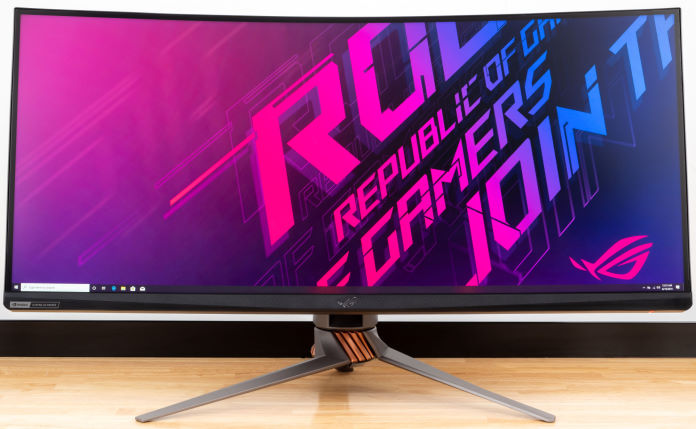 $2499 $1999 at Micro Center (11/23/2020-12/13/2020)
We have plenty of displays to talk about, but we're kicking off with the two brightest examples—quite literally. The ROG Swift PG35VQ is a 35" ultra-wide beast with a resolution of 3440×1440. The gorgeous VA panel can hit a blistering 200Hz overclocked refresh rate, and its response time has been whittled down to 2ms for crystal-clear motion.
Specs like those would make any gamer hungry, but we haven't even gotten to the best part. A 512-zone full-array local dimming backlight with quantum-dot enhancement provides a 500,000:1 HDR contrast ratio and allows for some of the deepest blacks aronud. Maximum brightness can hit 1000 nits, and the color gamut covers 90% of the cinematic DCI-P3 color space. This display bears both VESA DisplayHDR 1000 and G-SYNC ULTIMATE certification to attest to its brightness, color depth, quality of motion, and input lag. Thanks to HDR, you can enjoy movies and games with intense, jaw-dropping colors alongside lifelike shadows and highlights.
The thin bezels around the panel add to your sense immersion, and the beautifully designed casing and stand integrated RGB LED lighting make this display the centerpiece of any gaming setup. Added conveniences include an audiophile-grade headphone output with an ESS Sabre DAC so that your game's audio quality can match that of the visuals.
ROG Swift PG27UQ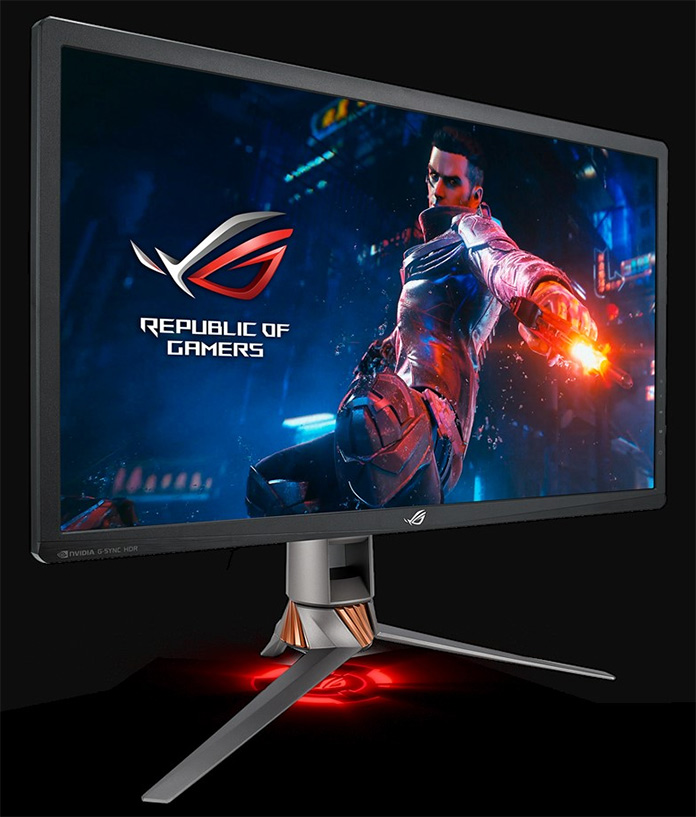 $1199 $999 at Micro Center
The ROG Swift PG27UQ might be the most Zen-like of our displays, since it's the One with Everything. Its 27" IPS panel offers a super-sharp 4K resolution and silky-smooth 144Hz refresh rate. 
That's just the start, though. When it's lit up by the quantum-dot-enhanced, 384-zone FALD backlight with 1000 nit peak brightness, your HDR content will look absolutely gorgeous. The PG27UQ also lets you enjoy 97% coverage of the DCI-P3 color space. That all means this is a fast, colorful monitor that's equally at home for gaming or photo and video editing. 
The DisplayHDR 1000 certification is a given, but there's also G-SYNC ULTIMATE support on tap for clear, tear-free animation and low input lag. The RGB LED accents on the fully adjustable stand and the monitor itself are configurable using Aura Sync for total cohesion with the rest of your setup.
TUF Gaming VG27WQ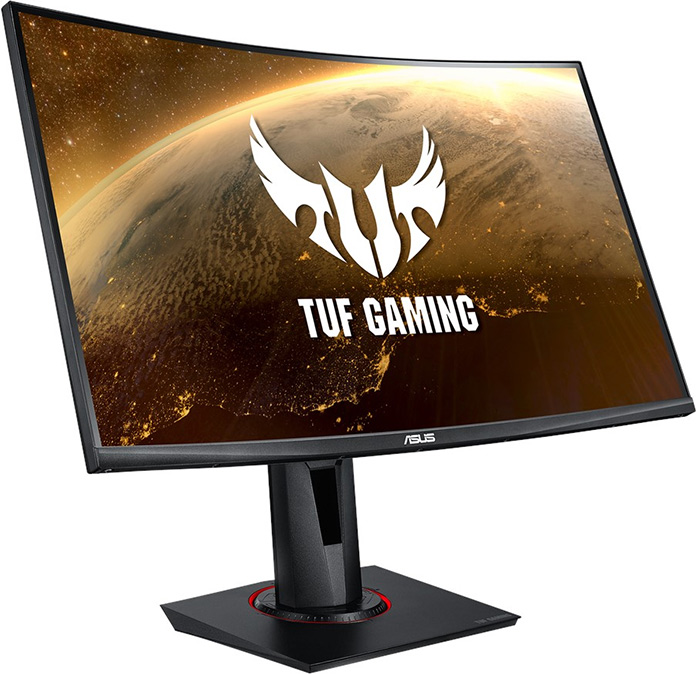 $399 $359 at Newegg (11/26/2020-11/30/2020)
Our next selection hails from the TUF Gaming family. The TUF Gaming VG27WQ has a curved VA panel measuring 27" diagonally, and it can refresh at a whopping 165Hz. It's a  gaming display through and through, thanks to its low 1-ms response time and support for Extreme Low Motion Blur (ELMB) mode to enable the best motion clarity this side of an old-school CRT. FreeSync Premium support enables tear-free gaming with compatible graphics cards, even as frame rates vary over time.
Having a gaming display in 2020 doesn't mean you have to deal with washed-out colors, as panels offer 90% coverage of the DCI-P3 color space. The 1500R curvature means you'll always be in the optimum viewing position no matter where your eyes are pointed.
The TUF Gaming VG27WQ comes in a 2560×1440 resolution, so it's ideally used with mid-range and higher graphics cards. To round things out, it's fitted with a convenient height-adjustable stand. 
TUF Gaming VG24VQ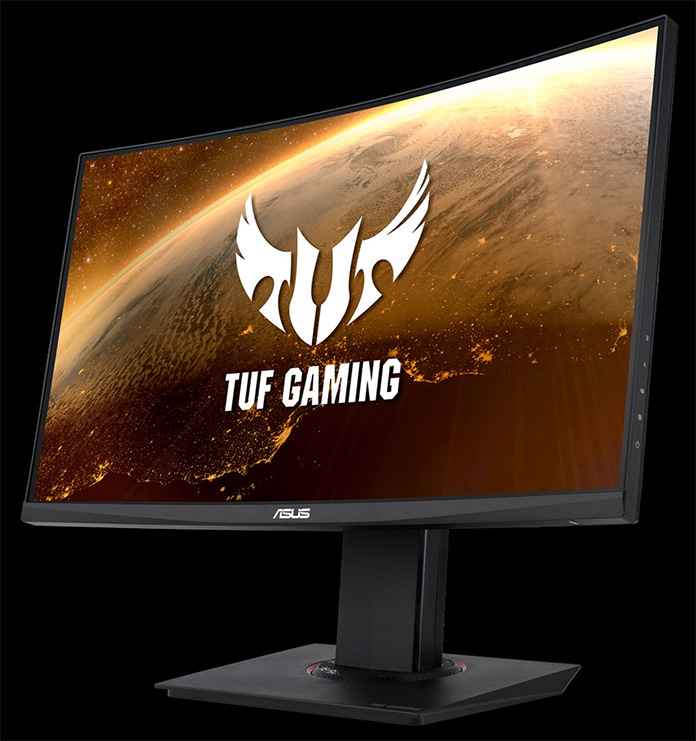 $179.99 $149.99 at Newegg (with $20 mail-in rebate)
The TUF Gaming VG24VQ is the perfect choice for the budget-conscious gamer, or someone who's just getting their feet wet in the PC space. It's got a compact 24" panel with a 1920×1080 resolution, but it still plays with the big boys thanks to the 144Hz refresh rate and an optional ELMB mode. There's FreeSync adaptive refresh rate support available, too. The amount on its price tag may be small, but this display nevertheless includes a height-adjustable stand, multiple inputs, and a handy headphone jack.
ASUS VP28UQG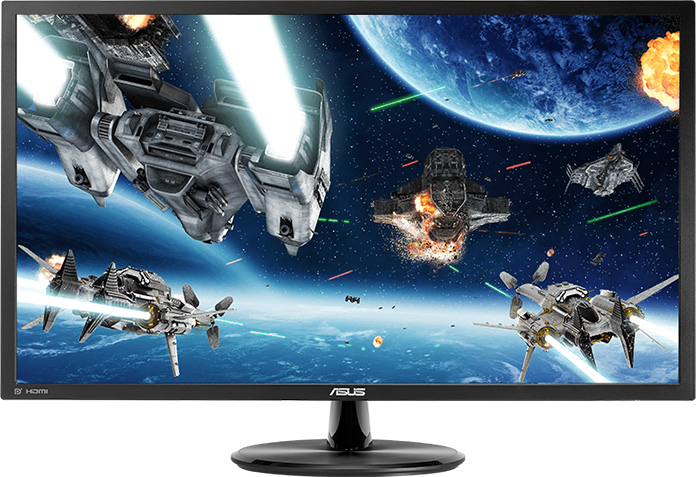 $329.99 CAD $269.99 CAD at Newegg Canada and Memory Express (11/27/2020-12/3/2020)
Up next, we have a Canuck-exclusive deal for the ASUS VP28UQC, a sharp mid-size display with an approachable price tag. The 28" panel's resolution is a whopping 4K (3480×2160), allowing for crisp imagery and enough desktop real estate for all the windows you might want to keep open while working.
At night, the VP28UQC can exchange its business outfit for a pilot's suit and enjoy fast-paced gaming thanks to its low 1ms response time for blur-free motion. It also supports variable refresh rates with compatible graphics cards for smooth motion at a wide range of frame rates. Around the back, you'll find a DisplayPort connector, two HDMI inputs, and a headphone jack.
ASUS VA249HE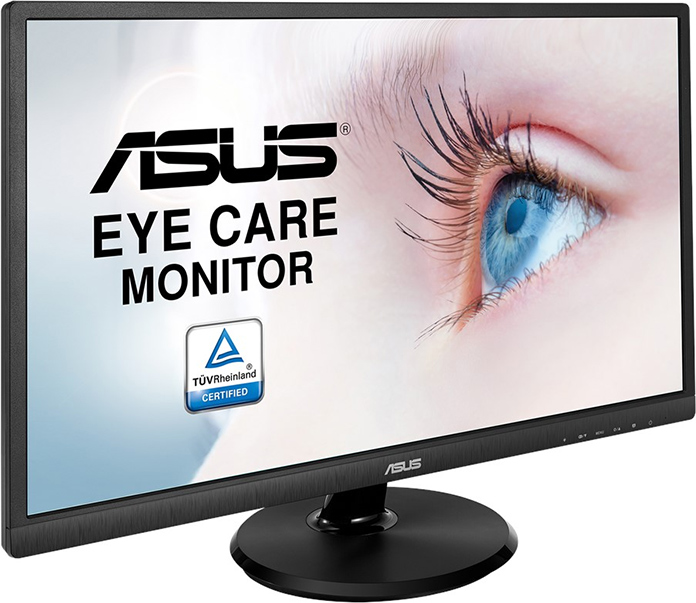 $119 $99 at Newegg (11/26/2020-11/30/2020)
The selection of displays is complete with the ASUS VA249HE: a simple, affordable home and office monitor. Even at this price point, this 24" monitor uses a VA panel for intense colors and an excellent 3000:1 contrast ratio. The backlight is flicker-free, and the controls include an optional blue light filter and several handy presets for multiple situations including office work, watching a movie, or gaming.
Peripherals
ROG Delta headset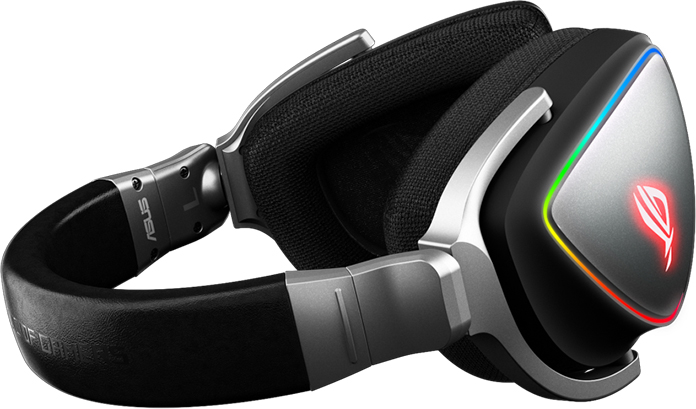 $199.99 CAD $159.99 CAD at Newegg Canada, Memory Express, and Visions (11/27/2020-12/3/2020)
This time around, we're kicking off a section with a couple of deals for Canadian gamers. The first is the ROG Delta, one of the mightiest headsets around. At its heart, ASUS Essence concentric drivers produce sound through an inner zone for bass and mid frequencies that's surrounded by an outer ring for treble.
To ensure that both zones across both ears all get crystal-clear audio, the Delta uses a total of four ESS 9218 digital-to-analog converters. The box comes with two cushion types—a pair of taller ROG Hybrid cushions perfect for marathon gaming sessions, and a thinner protein leather set good for listening on the go.
The chips are all wired to a USB-C interface for compatibility with the latest PCs and phones, and there's an included USB 2.0 adapter for wider compatibility. All told, the Delta should work with most any contemporary system, including PCs, mobile devices, and consoles like the PlayStation 5. The RGB LED light rings on each side are fully configurable using Aura Sync technology, too. 
ROG Chakram wireless mouse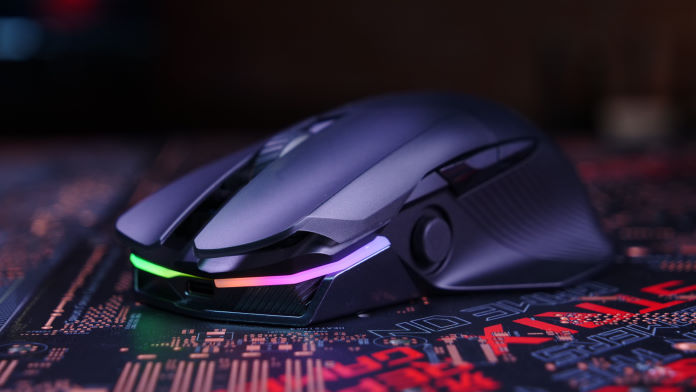 $219.99 CAD $159.99 CAD at Newegg Canada and Memory Express (11/27/2020-12/3/2020)
The next item for Canadian shoppers is the high-end ROG Chakram wireless mouse. This new spin on gaming mice offers a unique control scheme for maximum versatility. Next to the side buttons, you'll find an actual joystick with two modes: an analog mode for controlling the view in flight sims and racing games, and digital to use as a four-way directional pad. The joystick can be customized with two different caps for your personal preference. 
With the Chakram's USB transceiver, you can enjoy low-latency 2.4GHz connectivity, while Bluetooth LE support is ideal for connecting on the go. The internal battery can be charged up in just 15 minutes over USB when you need to get back into the game fast.
That's a pretty impressive calling card already, but there's much more to look at. The Chakram can be charged wirelessly with any Qi charging pad. The sensor in the base has a resolution of 16,000 DPI and can track movement at up to 400 inches per second, enough for keeping up with both the most precise and most aggressive hand movements. The switches for the main buttons are user-replaceable and customizable thanks to our exclusive push-fit design, and you access them simply by lifting a magnetic cover.
ROG Gladius II Wireless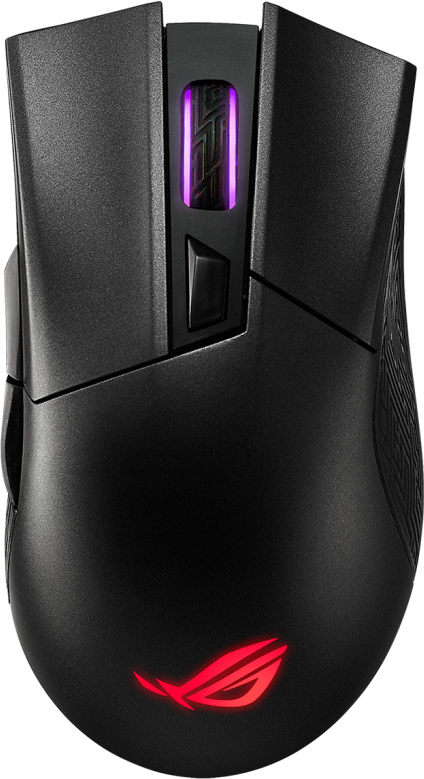 $99.99 $75.98 at Newegg and Amazon (11/27/2020-11/30/2020)
Next up, we present the ROG Gladius II wireless mouse for USA-based Black Friday shoppers. Much like the Chakram above, the Gladius II Wireless has a dual-mode 2.4GHz-and-Bluetooth interface, along with a 16,000 DPI optical sensor. Its more traditional control scheme will feel familiar to gamers of all stripes.
The body shape is carefully sculpted to fit all main three grip types—palm, claw, and fingertip. Underneath the cover, you'll find user-replaceable main button switches. The multi-zone RGB LED lighting, mouse profiles, and DPI settings can all be configured with the Armoury Crate II software.
ROG Gladius II Core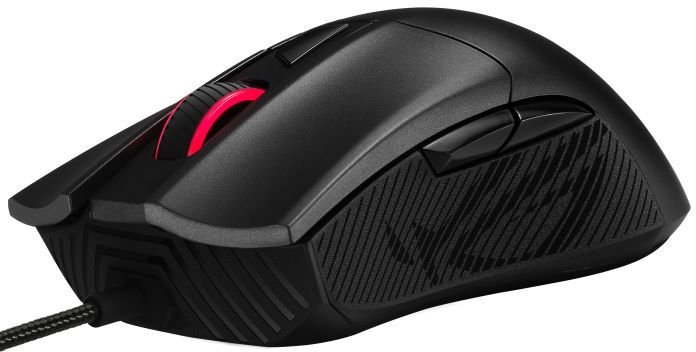 $69.99 CAD $49.99 CAD at Newegg Canada, London Drugs, and Memory Express (11/27/2020-12/3/2020)
$49.99 USD $29.99 USD at Amazon (11/27/2020)
The ROG Gladius II Core is essentially the "greatest hits" model in the Gladius gaming mouse family. It has the same shape and overall layout as the rest of its stablemates, but it skips the sniper button and puts a PixArt PAW3327 6,200-DPI optical sensor to good use. An affordable item doesn't have to be basic, and we chose to include Omron switches for the main buttons sitting atop sockets so you can easily replace or customize them, extending the life of this mouse for many years of gaming to come.
ROG Strix Carry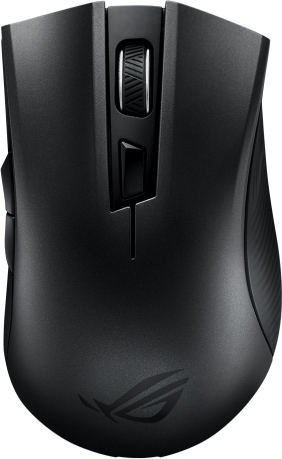 $79.99 $46.19 at Amazon (11/27/2020)
For gaming on the go, we'd like to show you the ROG Strix Carry. This compact wireless mouse offers both 2.4GHz and Bluetooth connectivity, and should be good to play on up to 400 hours on a pair of AA batteries. 
The tried-and-true PMW3330 optical sensor with 7,200 DPI sensitivity does the honors on this model. Much like our standard-size mice, the Strix Carry has user-replaceable switches—a rarity in any mouse but practically unheard of for portable wireless units of this size class. Add one to your laptop bag today. 
ROG Scabbard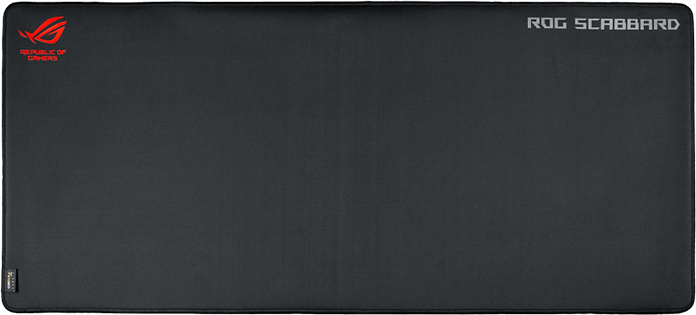 $49.99 $34.99 at Newegg and Amazon (11/27/2020)
With mice on sale, it's only natural we're discussing a pad for one. The ROG Scabbard is an extra-large pad that's handy for both your keyboard and mouse. It provides a soft, supple support surface for your hands and wrists—and it's also a tasteful desk decoration, if we do say so ourselves.
The Scabbard is made out of Cordura Lite fabric with anti-fray stitched edges, and its textile-weave surface works equally well for laser and optical gaming mice. The underside of the pad is rubberized so that it doesn't slip. As an added touch, the "ROG Scabbard" lettering at the top-right glows in the dark.
Networking
ASUS RT-AX3000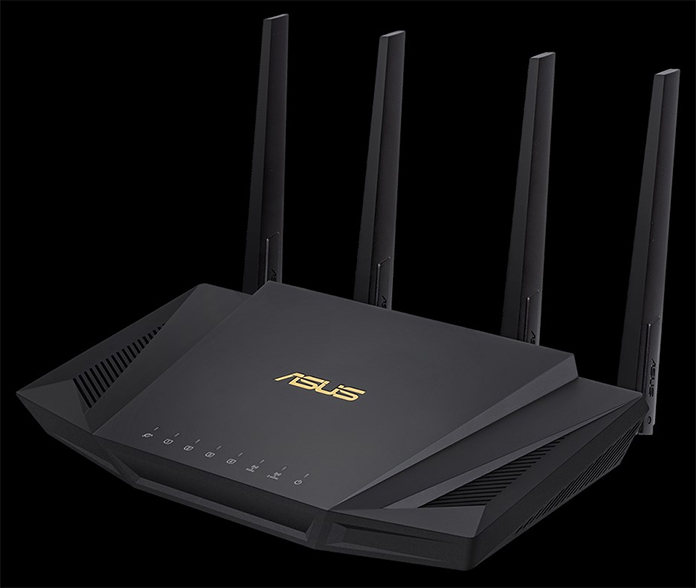 $179.99 $149.99 at Newegg, Amazon, Micro Center, Best Buy, and B&H Photo Video (11/27/2020-11/30/2020)
As we all bundle up and hunker down for the winter, everybody can use a new wireless router to handle the demand of dozens of devices competing for a signal. Our leading networking deal for Black Friday is the ASUS RT-AX3000 router. This latest-gen unit offers up dual-band Wi-Fi 6 (802.11ax) support that's for the next generation of mobile and home devices.
The Wi-Fi 6 protocol allows for greater speeds than before, but its biggest improvements are actually in managing crowded radio environments, lowering traffic collisions and latency. This translates to a stronger signal farther out from the router. That means fewer hiccups and lower latency with compatible devices.
The RT-AX3000 has two 2×2 wireless radios for high performance on the 2.4GHz and 5GHz bands. Four Gigabit Ethernet ports reside on the back, along with a USB port for external storage. ASUS AiMesh support guarantees easy network expansion with compatible equipment, while the ASUS Router App lets you easily control your network from anywhere.
ASUS Lyra Voice

$179.99 $129.99 at Newegg, Amazon, Best Buy, and B&H Photo Video (11/27/2020-11/30/2020)
Smart speakers are handy, and quality routers are essential. For a device that may be on prominent display in an office or living room, it only makes sense that we combine the two into the Lyra Voice. This all-in-one device integrates a tri-band wireless router with combined speeds up to 2200Mbps, along with two 8W stereo speakers for rich music playback.
The device comes with Amazon Alexa built in, allowing easy access to news, music, and controlling smart home devices. The phrase "Alexa, tell me a joke" remains as popular as ever. You can also use the Lyra Voice as you would any Bluetooth speaker, of course, and the understated design blends in nicely into any abode.
Thanks to its tri-band design, the Lyra Voice can act as a simple router, as part of a wider-ranging setup thanks to ASUS AiMesh support, or as a wireless repeater with devices that don't support AiMesh. AiProtection network security software with parental controls comes free for the lifetime of the device.
ASUS RT-ACRH12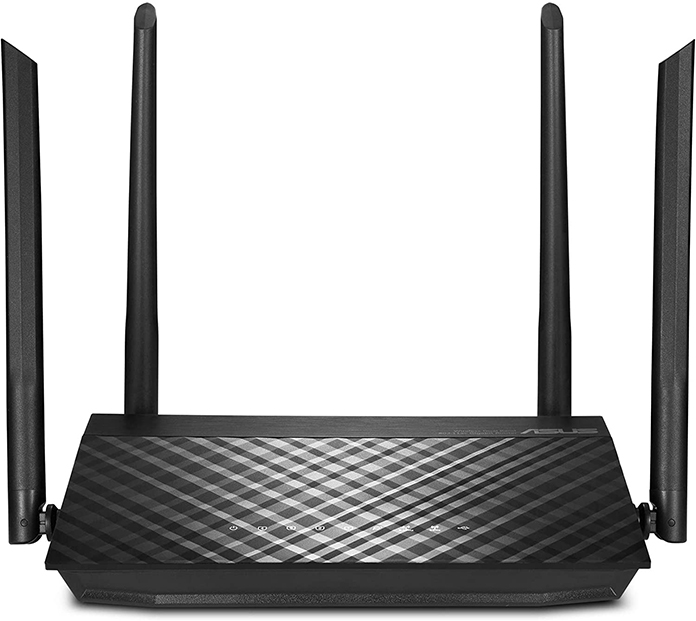 $59.99 $44.99 at Amazon (11/24/2020-11/27/2020)
There's no need to spend a lot of cash to get reliable Wi-Fi connectivity, as proven by the ASUS RT-ACRH12. This Wi-Fi 5 (802.11ac) router is good for pushing up to a combined 1200Mbps of data across the airwaves to multiple devices.
This unit has a total of four antennas for broad signal coverage in a small home or apartment. It's powered by the same award-winning, easy-to-use ASUS firmware interface as seen in our higher-end models, and there's support for the ASUS Router mobile app for easy setup, monitoring and control. If you just need to get on the air for not a lot of money, add one of these routers to your cart this Black Friday season.