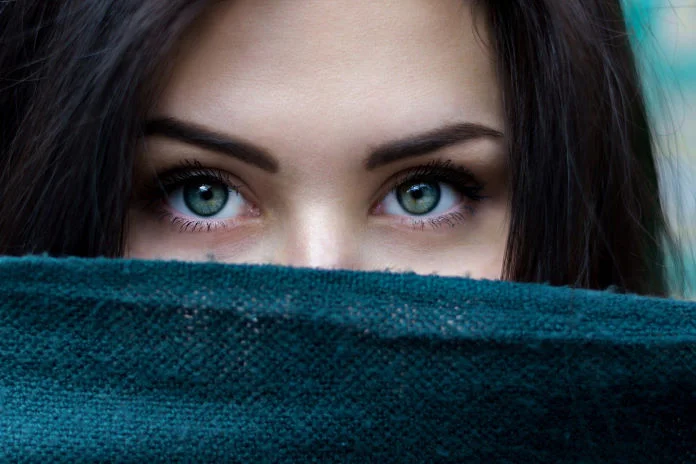 If you're staying safer at home right now, it's likely that you're spending more time with screens than ever. Whether you're browsing the web on your phone, working from home on your laptop, or playing a game on a desktop PC, those various screens connect you with coworkers, important online communities, or family and friends. That connection simply wouldn't be possible without a display of some kind.
Screen time still has its potential downsides, of course. We all know that spending lots of time sitting in front of a display without breaks isn't great to begin with. Resting your eyes by following the 20-20-20 rule, which recommends diverting your eyes from the screen every 20 minutes to focus on an object 20 feet away for 20 seconds, is a good start. Staying active by getting up and walking around your living space from time to time helps keep the rest of your body happy. But those measures only go so far. You might be surprised to learn that your monitor itself can be the source of distinct stressors that have potentially far-reaching effects on your well-being.
It's a blue world
The first of these stressors comes from extended exposure to the broad-spectrum white light emitted by an LCD monitor's backlight. That light is composed of wavelengths similar to those we see during the daytime. It's fine for work and play during normal hours, but as the sun begins to set and its light shifts toward warmer, yellower colors, most screens don't change their color balance to match.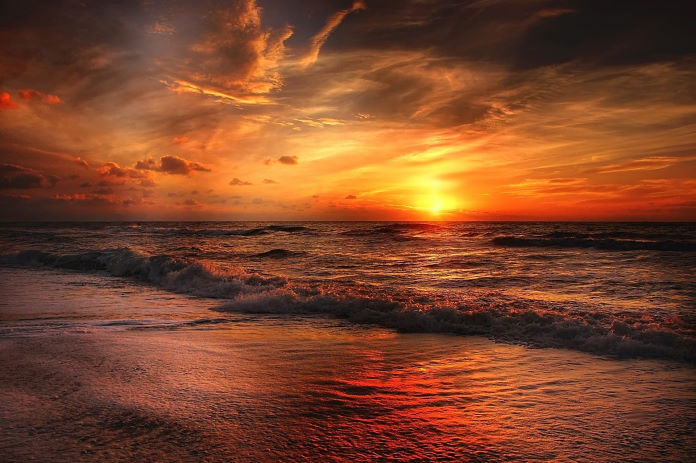 The archetypal "golden hour" at sunset
The disparity between the changing light of the natural world versus the fixed color balance of many screens can affect your body's melatonin production. Reduced levels of that hormone can disrupt your natural circadian rhythm, making it harder to fall asleep when it's time to shut down for the day. A good night's sleep is invaluable at the best of times, so knowing that it can be affected by something as innocuous as a computer screen is a surprising wake-up call.
Flicker frustrations
Monitor-related sources of red, dry, scratchy eyes don't end there. LCD monitors themselves can cause eye strain through sub-optimal dimming technologies.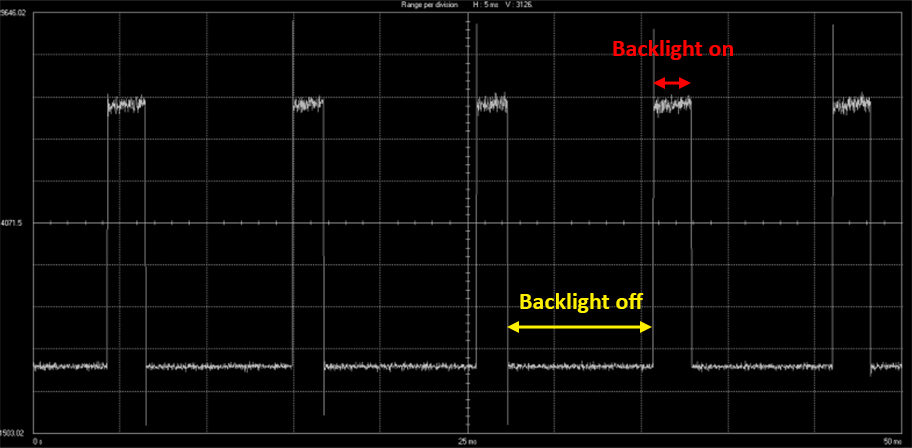 Oscilloscope shot courtesy of TÜV Rheinland
If you check your display's settings, it's likely that you use it at a brightness level significantly below 100%. One way that monitor makers implement adjustable brightness levels is called pulse-width modulation, or PWM. This technique works by rapidly switching the backlight on and off many times per second. This rapid switching between light and dark averages out to the desired brightness level.
If this PWM frequency is too low, it can manifest as a distracting, annoying flicker that's visible as you move your eyes across the screen or turn your head to look at your surroundings. If you're a seasoned computer user, you might recall how annoying it was to look at a CRT display with too low a refresh rate for extended periods. PWM backlight dimming can have a similar effect on your level of eye comfort.
Eye Care monitors banish blue light blues and foil flicker
As PC enthusiasts, we're acutely aware of the numerous benefits and potential downsides of spending lots of time in front of a screen. The good news is that monitors don't have to be a source of annoyance during working and sleeping hours. You just need to pick the right one for your needs and set it up properly. Our broad selection of Eye Care monitors makes picking eye-friendly screens simple. Whether you're working, gaming, learning, or creating at home, there's an Eye Care display that's up to the task.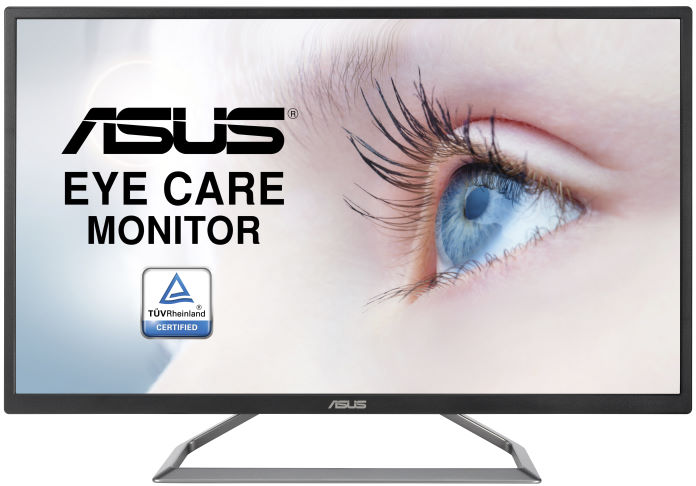 When one of our screens sports an Eye Care badge, you can trust that it provides mitigating measures against exposure to blue light and uses a flicker-free backlight. Qualifying displays are generally certified by the third-party testing, inspection, and certification organization TÜV Rheinland to provide effective measures against blue light exposure, and they universally include backlights that employ direct-current (DC) brightness control or other proprietary techniques that don't result in annoying flicker.
Eye Care monitors help mitigate the effects of blue light exposure by electronically filtering the most troublesome wavelengths of light from the backlight. If you dive into your Eye Care monitor's on-screen display, you'll find a dedicated Blue Light Filter menu that generally exposes five levels of filtration intensity. Even the first level of low blue light filtration cuts exposure to those wavelengths by about 20%, and higher levels cut more and more blue light.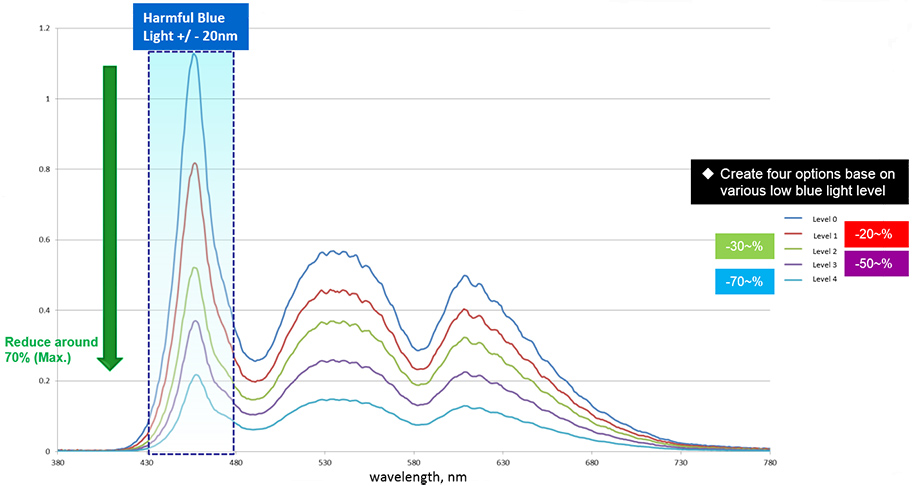 Because it changes the mix of red, blue, and green light that reaches your eyes, the Blue Light Filter technology can have an impact on the perceived color of on-screen content. If your work involves color-sensitive media, or you find that content simply doesn't look right at higher levels of filtration, you can reduce the filter to a lower level or keep it off during those times when color accuracy is critical.
For typical web browsing and productivity work, however, higher Blue Light Filter levels can help keep your eyes comfortable with negligible impact to the fidelity of what's on screen. And in dimmer rooms, or when you're working at night, the most intense filter level helps keep your eyes comfortable for longer while providing the maximum level of mitigation against blue light exposure.
Once you have the right Blue Light Filter level dialed in, setting up your Eye Care display's flicker-free backlight couldn't be simpler. Just choose the level of brightness you prefer, and the display will remain crisp and comfortable to look at. Whether the monitor incorporates DC backlight control or another one of our proprietary technologies, the beauty here is in what you don't see.
Eye Care monitors for work, learning, play, and creation
Looking for the right Eye Care display for your home or office? Here are a few suggestions to get you started. These monitors fit a wide variety of needs from productivity to play, and they all implement technologies that limit blue light and minimize eye strain.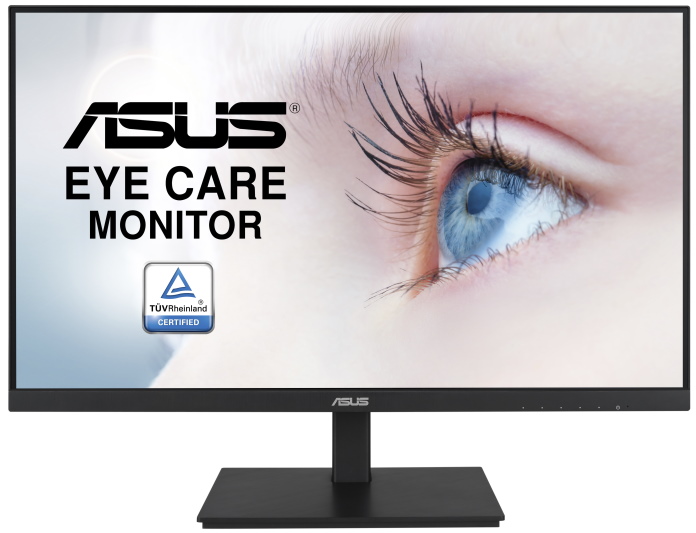 Here's an all-around excellent choice for your home PC. The VA27DQSB is a 27" display with the essential Eye Care features you need, and it's easy to set up, too. It has a 1920×1080 resolution, also known as Full HD or FHD. It uses an IPS panel, a type of LCD that's sought after for its excellent viewing angles. If someone in your home dabbles in gaming, you'll appreciate how the VA27DQSB's 75Hz refresh rate and Adaptive-Sync support keep gameplay fluid and smooth. A full set of ergonomic adjustments allow you to swivel, pivot, and raise the monitor to just the right position so that you can work comfortably.
Go big with the ASUS VA32UQ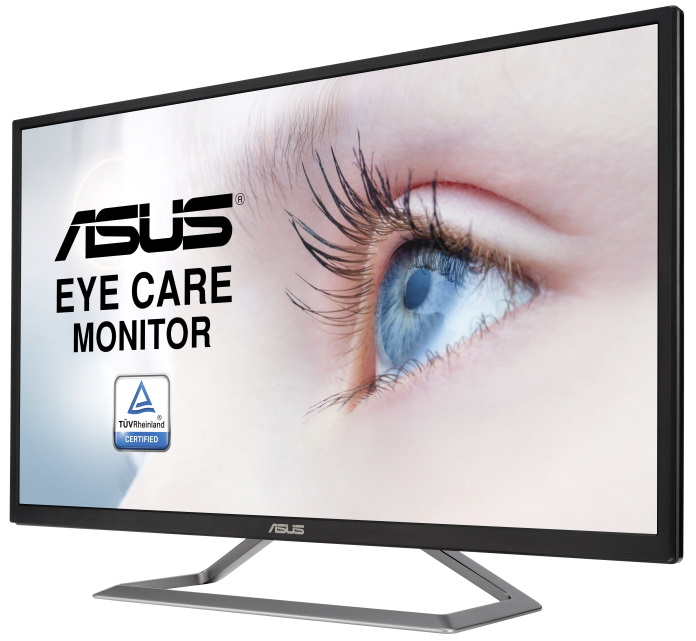 A 27" monitor can offer much more space for apps and windows than your typical laptop display, but there's reason to go even larger. The 32" VA32UQ provides a sweeping expanse of pixels that's great for spreadsheets and entertainment alike. Its 4K, or 3840×2160, resolution keeps images and text remarkably clear, even when you're working with the monitor on your desk.
When you're done with work for the day, the VA32UQ will deliver immersive entertainment experiences. Thanks to its high 3000:1 typical contrast ratio, it can reproduce inky blacks and bold highlights, and 95% DCI-P3 color gamut coverage will make bright colors really pop. Its flicker-free and Low Blue Light technologies are TÜV Rheinland-certified, so you'll have a comfortable viewing experience even as you transition from work to play.
Learn in comfort with the VA24DQ and VA24DQLB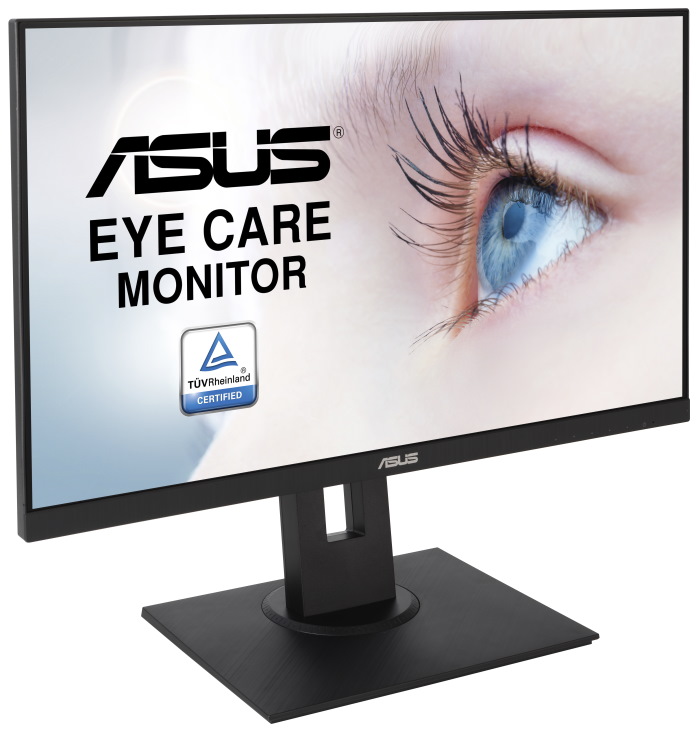 For students of all ages, a good portion of their classwork and meetings is likely to be conducted online right now. An Eye Care monitor will keep you or the learners in your household on track with assignments without being slowed down by eye fatigue.
Our VA24DQ and VA24DQLB displays are perfect partners for education. At 23.8", they fit onto just about any desk. They have an FHD resolution and IPS panels for crisp images and wide viewing angles. Thanks to their thin display bezels, these monitors are also prime candidates for a multiple-monitor setup. Nab the VA24DQLB if you need a full suite of tilt, swivel, pivot, and height ergonomic adjustments.
Keep your eyes on the prize with the TUF Gaming VG27AQ and ASUS VP28UQG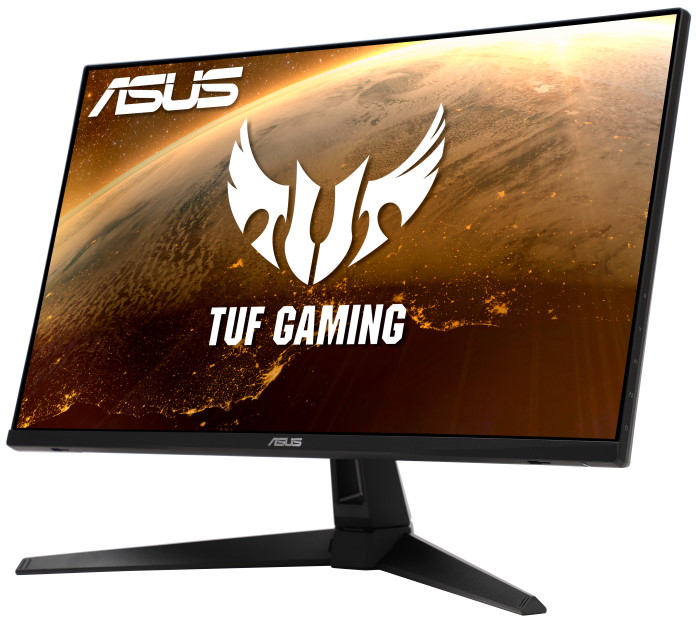 Demanding gamers can get Eye Care monitors specifically designed for them. The TUF Gaming VG27AQ, for example, provides the gaming-focused features that give competitive players an edge over the competition in addition to the Eye Care technologies that keep their vision clear and comfortable.
This 27" display gives you access to increased detail and image clarity through its 2560×1440 resolution. Many of today's midrange graphics cards can run games at this resolution at high frame rates, so we dial the refresh rate all the way up to 165Hz. Its exclusive Extreme Low Motion Blur Sync (ELMB Sync) technology and 1ms response time make sure that gaming visuals are sharp and blur-free even when the action is fast-paced, and its NVIDIA G-SYNC compatibility allows you to play without tearing or the input lag introduced by Vsync, even as frame rates naturally vary over time.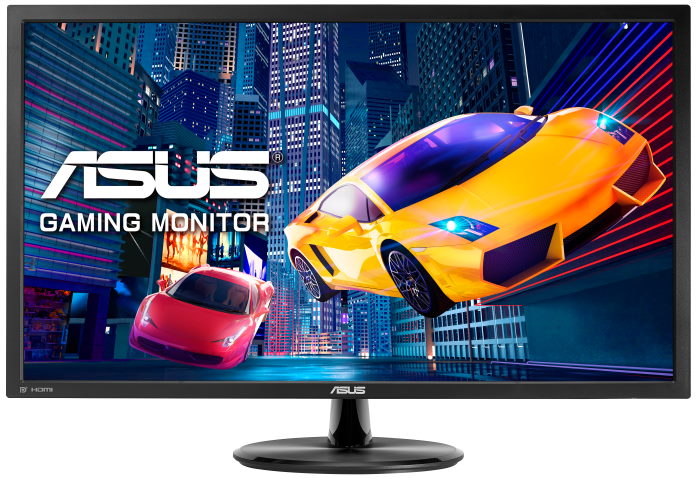 Perhaps you'd prefer a 4K gaming monitor? Check out the VP28UQG. With a graphics card that's up to the task of serving up frames at this demanding resolution, you'll enjoy a new level of visual fidelity in games and media. Its lightning-fast 1ms response time minimizes blur around fast-moving objects, and its Adaptive-Sync technology aligns the refresh rate on the screen with the current frame rate so that you can enjoy smooth animation with any compatible PC.
Create in comfort with the ProArt Display PA278QV and ProArt Display PA248QV
Creators of all stripes spend long hours poring over their projects, adjusting the fine details in their photos, videos, and digital art to realize their vision. Our ProArt Display PA278QV and ProArt Display PA248QV provide the tools creators need for color-accurate work when it's needed, and Eye Care support keeps peepers comfortable when it's time to relax.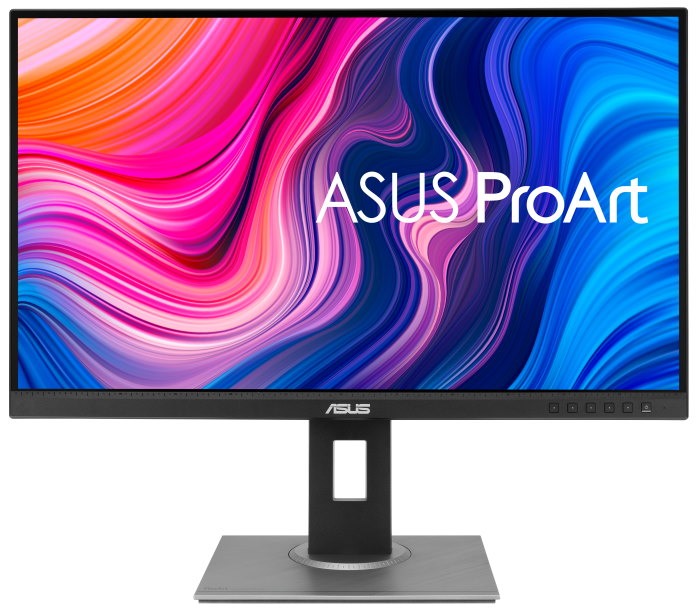 The PA278QV is the larger of this duo. It's a 27" display with a 2560×1440 resolution. Its IPS panel covers 100% of the sRGB and Rec. 709 color gamuts, and we factory-calibrate this Calman Verified display to achieve an average Delta E value of less than 2 so that it delivers professional-quality color accuracy right out of the box. It has an extensive connectivity list including Mini DisplayPort, DisplayPort, HDMI, and dual-link DVI-D inputs so that it is compatible with a wide range of devices.
The smaller 24" PA248QV has a 1920×1200 resolution. Its 16:10 aspect ratio gives you just a bit more vertical space to work with. Both displays have ergonomic stands with a full range of tilt, swivel, pivot, and height adjustments so that you can position the screen comfortably.
Eye Care displays keep everybody's eyes comfortable
If your work, play, and social hours increasingly happen in front of a screen, it's time to make some thoughtful choices. When you choose an Eye Care monitor, you'll have the tools to enhance your computing comfort and well-being. Our Blue Light Filter technology reduces the impact that blue light can have on your sleep cycle, helping you to maintain the psychological and productivity benefits of a good night's sleep. The flicker-free backlights help make sure that your eyes don't get fatigued before your work is done, too.
You'll find monitors with the Eye Care badge across our full lineup of displays. Whether you're looking for a general-use display for the family PC, a monitor rigged out for gaming glory, or a creative canvas with exceptional color accuracy, there's an Eye Care screen with the features you need. Grab one of your own and set yourself on the path to more comfortable computing.