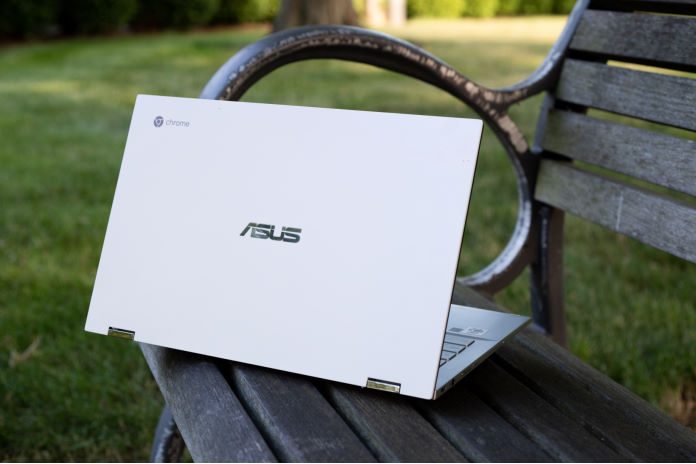 Chromebooks have long been part of my household's computing arsenal, and the pint-sized ASUS Chromebook Flip C100PA was one of the first to earn its keep. Thanks to a solid build, comfortable keyboard, high-quality screen, and a convertible form factor, the C100PA won my heart as a worry-free portal to the web. It was the machine that awakened me to the potential of Chrome OS, but a lot has changed since. There's no better example of the growth and maturity in the Chrome OS ecosystem than the ASUS Chromebook Flip C436 that we launched earlier this year.
Chrome OS devices now cover a wide variety of form factors and price points, including high-end systems for demanding users. Chrome OS itself has grown from its browser-first roots, too. In supported regions, users can install a wide selection of apps from the Google Play Store to bolster the Chrome browser, and in one click, the OS can even transform into a capable Linux environment for power-hungry app and web developers that still want the worry-free experience of Chrome OS for day-to-day use.
My husband and I have been using the C436 as our primary Chrome OS machine for several weeks, and its high-end specs and unique features have elevated everything we use a Chromebook for. From content consumption on the couch to web development using Chrome OS' new Linux environment, the powerful hardware inside and distinctive design touches outside put the Chromebook Flip C436 in a class of its own.
A standout inside and out
The first outward sign that the C436 is different from the average notebook starts with the finish on its lid. We offer this system in a traditional Transparent Silver finish and a unique Aerogel White coating that I've been a fan of ever since I first laid eyes on it at ASUS HQ. This coating looks like a pure white at first glance, but when your eye catches it at the right angle and in the right light, you'll be treated to subtle shades of blue, purple, red, and pink rippling across the lid.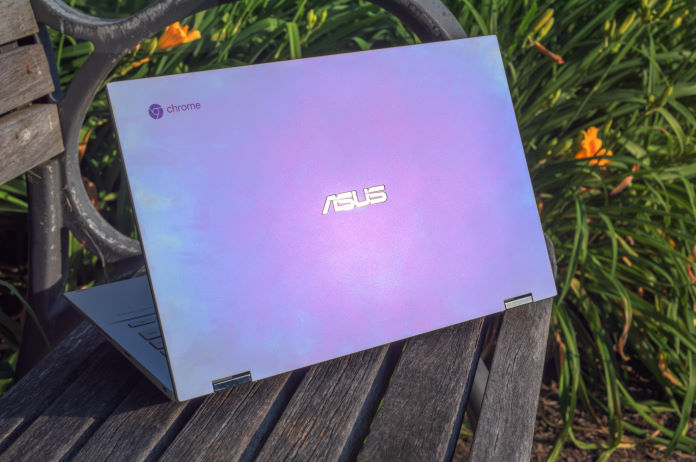 Inside the top-end Chromebook Flip C436 I've been using, Intel's Core i5-10210U processor runs the show. This four-core, eight-thread CPU offers snappy Turbo Boost clock speeds of up to 4.2 GHz and plenty of multithreaded performance when it's needed. Compare the i5-10210U to the two-core, four-thread CPUs in many Chromebooks, and it's easy to see why this chip is a big upgrade for more demanding users. We paired this powerful CPU with 16GB of RAM in the system I've been using—enough to take full advantage of Chrome OS' new Linux environment or just to keep plenty of tabs open in Chrome.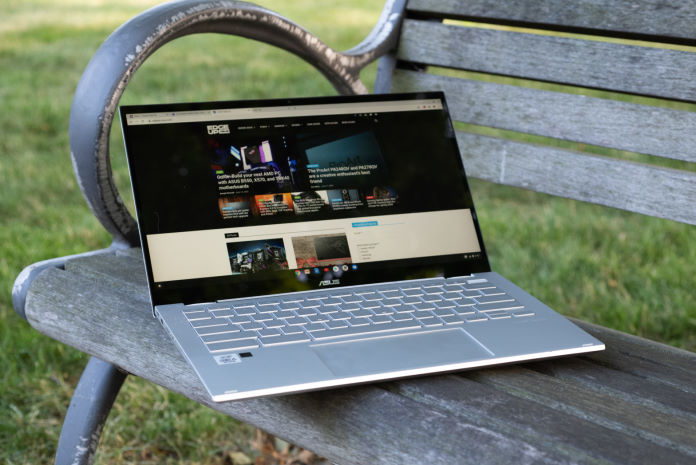 After my first experience with our NanoEdge display design, I can't go back to systems that surround their displays with seas of plastic trim. The NanoEdge design isn't just about sharp looks, although I've certainly enjoyed the immersive view that the trim bezels on the Chromebook Flip C436 offer. This approach also lets our designers squeeze more screen space into a system without increasing its overall footprint. The Chromebook Flip C436 doesn't occupy any more desk or bag space than my older 13" work notebook, but it squeezes a 14" screen into that same area.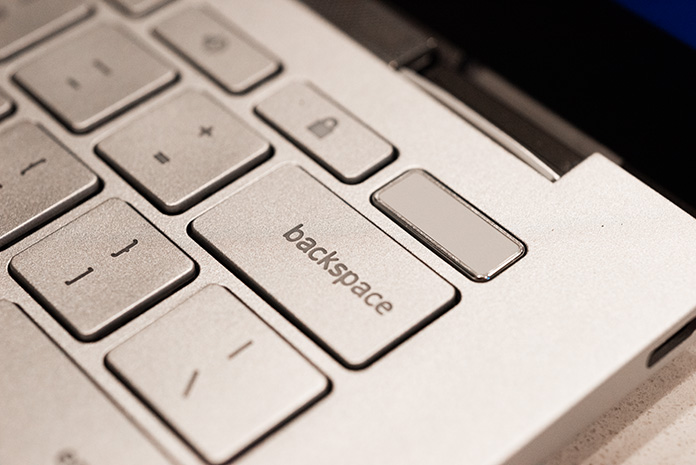 Chrome OS machines use a distinctive keyboard layout to provide quick access to common shortcuts and Google services, and the Chromebook Flip C436's keyboard is no exception. We went a step beyond and added a fingerprint reader to the upper right corner of the Chromebook Flip C436's keyboard. This biometric method provides a quick, easy way to log back into my Chrome OS profile without typing the complex password that secures my Google account. It's an excellent complement to the rest of the wide, comfortable keys and their crisp typing feel. I especially appreciated the wide adjustment range of the C436's white backlighting during nighttime typing. Just hold the alt key and tap the screen brightness keys up or down to find your preferred level.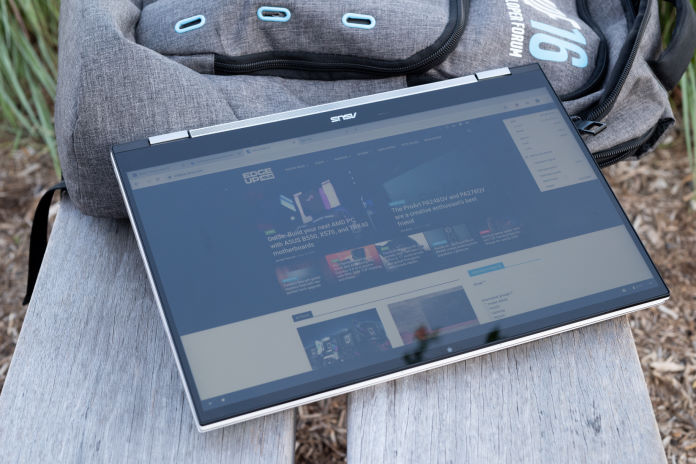 As its name suggests, the Chromebook Flip C436 isn't just a traditional notebook. Thanks to its 360º hinge design, the C436 can keep up with both work and play. Whether I needed to use it like a regular laptop, save desk or counter space in tent mode, or turn the system into a tablet for easier reading, a quick fold of the hinge was all it took to transform it for my needs. No matter what mode I chose, a Harman/Kardon-certified quad-speaker array ensured that crisp, clear sound reached my ears—a feature I especially appreciated when watching YouTube, Twitch, or feature films.
I'm no artist, but if you enjoy sketching and drawing, the flexible hinge and built-in Universal Stylus Initiative (USI) sensing layer in the display make the Chromebook Flip C436 a great easel or sketch pad. Chrome OS' support for Android apps means you can use your favorite artistic or design tools on this system in supported regions, too.
Cloudy with a 100% chance of collaboration
At ASUS, a great deal of our day-to-day work already happens in Google's G Suite, so a Chromebook is a natural portal for many of my daily tasks. I write and edit articles in Google Docs, track projects and article performance in Google Sheets, review video creative briefs in Google Slides, and store my files in Google Drive. Thanks to Chrome OS' lightning-quick resume from sleep and single-sign-on support with a Google account, the C436 makes it easy to access that work when I need it.
My G Suite files are automatically saved and stored in the cloud, so I don't have to worry about whether I saved my work or whether it's vulnerable to a system failure or restart. I even restarted the C436 to apply a system update while writing this article, and Chrome OS returned right to the point where I left off. That data is encrypted server-side for extra security, too.
Security isn't just server-side on Chromebooks. Chrome OS automatically updates with the latest security and user experience fixes, and a verified boot process adds an extra layer of protection and security to mitigate against persistent attacks at the firmware level. In the event that an opportunistic attacker did try to mount such an attack, the Chromebook Flip C436 would warn me to initiate the system recovery process rather than boot into a compromised environment. Any Android apps I open on this system run in a software sandbox, meaning that a malicious app can't modify more sensitive or privileged portions of the operating system.
Even when I have to venture outside of G Suite to get work done, many software companies now provide web versions of their apps that can be accessed from any device. We rely on Microsoft Outlook for email and Teams for collaboration, but that didn't present a problem for getting work done. Both apps offer web portals, and there's no need to download and install a native app when you can just open another Chrome tab and get down to business.
My daily workload creates tons of Chrome tabs, and thanks to the powerful processor and copious amount of RAM inside, the C436 never missed a beat even as I conducted calls in Microsoft Teams next to dozens of G Suite tabs. Had I wandered outside of the range of network connectivity, Chrome OS and G Suite would have automatically saved any changes in my open documents while I was offline and synced them up once I was back within range. In tandem with a compatible router, the Wi-Fi 6 radio inside the C436 ensures especially fast, reliable, and long-range network connectivity, too.
My day-to-day work doesn't tap into the full potential of this system, though. To really see what this Chromebook could do, I needed to call in a bit of help.
A web developer unlocks the power of Linux and Chrome OS
For more perspective on the new level of power that the Chromebook Flip C436 delivers to Chrome OS and how to access it with the operating system's new Linux mode, I handed this notebook over to my husband, who is a web developer by trade. He's long been a fan and user of Chrome OS, and he was excited to try out this system as a development platform for his web apps. Here's his story.
I primarily build complex React web apps, static websites, and cloud-hosted Node applications. Everything I do has a web-based, platform-agnostic ethos, so there's no drawback to running on a Chromebook. If anything, there's an upside in that I won't accidentally create a platform lock-in for myself or my users.
The best thing about the Chromebook Flip C436 for my web development work is that there's a one-click Linux environment available in Chrome OS on this system. It's full Linux, and it lets you install any package you might need, such as Visual Studio Code, Node.js, or Python. That one-click setup gives me all the benefits of Chrome OS when I'm not working and full access to the finer points of Linux when I need it. To get started, I just enabled Linux in the Chromebook Flip C436's settings menu, installed Visual Studio Code and Node.js from repositories, and got to work on my primary web applications.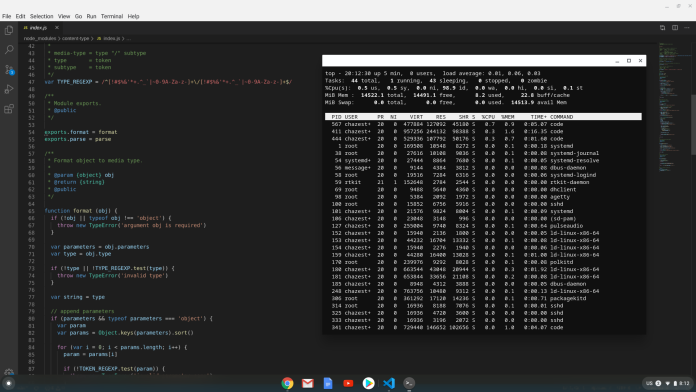 Although I'm not an Android developer, it's worth noting that Chrome OS can run Android apps at native speed, not with the simulation layer you might need on other platforms. If you want to preview your app with the full performance of the underlying system behind it, a powerful Chromebook like this could be a valuable tool.
I particularly like developing in the Chrome OS environment because it encourages building with the ethos of "things should be in the cloud." On the Chromebook, I'm always working with the cloud in mind. First and foremost, I pull down my work from Github when I need it and upload it when I'm done. When developing locally, it can be easy to create a setup that only runs on your workstation. When I develop on multiple devices, including a Chromebook like the C436, I ensure that my apps are portable by default so that I can always work on them from the cloud.
Security-wise, I can feel assured that I'm not subject to common viruses or malware when I'm doing my work on Chrome OS, and if I need to wipe the entire system and reinstall, it's really straightforward to powerwash the machine and start over. System updates happen automatically, so I don't need to worry whether a Chromebook is fully up to date.
The tradeoff of developing on a Chromebook compared to other systems is usually slower compile times. Many Chromebooks use power-sipping dual-core CPUs, but the C436 offers much more power than average thanks to its four-core, eight-thread chip and 16GB of RAM. That extra processing power is there when I need it, and the active cooling doesn't kick in unless it's needed. Even with those powerful components, the C436 only weighs in at 2.58 lb—not much more than other premium Chromebooks on the market with lower specs. That tiny bit of extra weight is a worthy tradeoff for more power on the go.
That extra power means I spend less time waiting on projects to compile and get more done. I can try new ideas more quickly, troubleshoot new code faster, and deploy new versions of my web apps to my users with less lag time. Every second shaved off every compile adds up during a development cycle, and the C436 saves a lot of time compared to my daily-driver Chromebook with a dual-core CPU. The C436 compiles my two most active React projects in half the time of my usual Chromebook, and in fact, it's as fast as the older Core i5 CPU in my primary desktop. That speed greatly improves my productivity on the go.
Powering through the workday
Now that we've seen what the C436 can do for a power user, it's time to look at power usage of a different sort. A notebook isn't much good if it runs down its battery before you can even walk out the door. Cue one more way that the Chromebook Flip C436 stands out. The top-end C436 I'm using was designed to meet the high standards of Intel's Project Athena, an innovation program that challenged our engineers to build swift, responsive, and long-lasting mobile systems. The C436's high performance, instant resume from sleep, and biometric authentication methods all contribute to its Project Athena certification, but long battery life is perhaps the most challenging of the standards to meet.
To get a sense of how long the Chromebook Flip C436 could withstand my web-app-heavy workday, I fired up the system on a typical Wednesday morning and got down to business. I work remotely in the Eastern time zone, so I start my work around noon to sync up my schedule with my Californian colleagues. I set the screen to a comfortable 50% brightness and turned off the keyboard backlight, since I had the light of the sun to work with.
I kicked off the day with a review of my email in the Microsoft Outlook web portal before diving into my first hour-long departmental meeting in the Teams web app. After that, I got on another Teams call for a lengthy one-on-one strategy discussion with a colleague. With that call out of the way, I helped to review and edit some copy in Google Docs in support of a recent motherboard launch before juggling the C436 and my work laptop in collaboration with our IT department to take care of some software issues. All that work took me about halfway through the work day, and it also brought the Chromebook Flip C436's battery to just below 50%.
Once my work laptop was back to normal, it was time for another hour-long Teams call. On this particular Wednesday, I was also keeping an eye on the first attempt by SpaceX to launch a manned Crew Dragon capsule to orbit, so I had a YouTube Live stream running in the background from time to time. Even though that launch attempt sadly ended in a scrub, it didn't mean the end of my workday. Back in Google Docs, I edited a colleague's profile of two of our latest Mixer streamers and provided feedback on the script for our first B550 motherboard feature overview video, too. Right after 8 PM, the C436 fell below 5% battery life, leaving me just enough time to send a couple more Teams messages before plugging it in.
All told, the Chromebook Flip C436 powered through eight hours of continuous use before I had to return it to its charger. On a less meeting-heavy workday, I would expect even longer battery life from this system. Either way, I never felt a twinge of battery anxiety while moving around my house and working with the C436.
We've come a long, long way together
The Chromebook Flip C436 shows just how far Chromebooks have come since my first experiences with our own Chromebook Flip C100PA. The Core i5-equipped C436 delivers perhaps the most computing power you can get in a Chromebook, and houses it in a flexible chassis that doesn't weigh you down.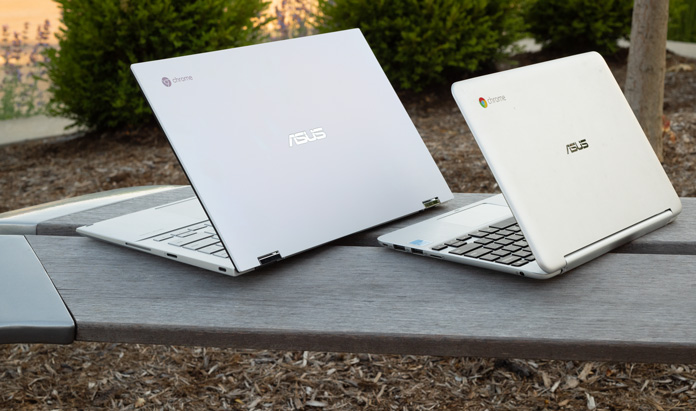 Pair all that with long battery life and the distinctive Aerogel White finish, and you get a no-compromises Chrome OS experience that dares to be different both inside and out. If you demand all the power you can get from Chrome OS, pick up a Chromebook Flip C436 of your own.
Chromebook Flip C436
CPU
Intel® Core™ i5-10210U Processor
Display
14-inch four-sided NanoEdge display with 4.9mm slim bezel and 85% screen-to-body ratio
OS
Chrome OS
Graphics
Intel® UHD Graphics
Main memory
LPDDR3 16GB (2133MHz)
Storage
512GB PCIe Gen3 x2 NVMe M.2 SSD
Wireless
Dual band Wi-Fi 6 (802.11ax)
Bluetooth® 5.0
I/O
2 x USB 3.2 Gen 1 Type-C
1 x micro SD card (up to 2TB)
1 x audio combo jack
Battery
42WHr Li-Polymer, 3 cell
Dimensions
319.54 x 205.3 x 13.76 mm
Weight
1.17kg (2.58lb)
Availability (USA)
ASUS Store