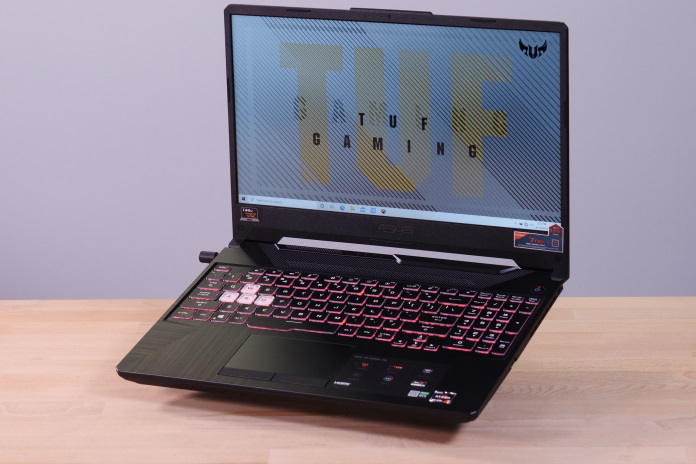 Can I hear some love for value-focused gaming laptops? I get as excited as anybody about the high-end machines that push the boundaries of what's possible in a mobile device, but I have some real affection for the laptops that make these technologies accessible for a broad audience. These are the real game-changers. That's why I jumped at the opportunity to get my hands on the new TUF Gaming A15.
I've been eagerly waiting for AMD's Ryzen processors to shake up the mobile gaming space, and this year's Ryzen Mobile 4000-series CPUs didn't disappoint. This laptop pairs a Ryzen 7 4800H with an NVIDIA GPU ranging up to the GeForce RTX 2060, and it does so at an attainable price. With its potent hardware and durable design, the A15 is a sure-fire starting point for PC gaming.
I've spent a couple weeks exploring everything that the TUF Gaming A15 has to offer. In my hands-on testing, the A15 proved itself a credible contender for esports games and lavish AAA titles alike, and thanks to the 8 cores and 16 threads of the Ryzen 7 4800H, it's more than capable of streaming and recording my sessions. It backs up that performance with a high-refresh-rate display, all-day battery life, and easy upgrade options, and it's just $1199.99. If you've been looking for a gaming laptop that checks all your boxes without breaking the bank, look no further than the A15.

Sizing up a competitor
First impressions matter, and the TUF Gaming A15 communicated durability and dependability from the moment I slipped it out of the box. I have the Fortress Gray version on my desk. This model features a sandblasted metal lid with four exposed screws at the corners. All told, the A15 has a blue-collar look that suits my personality to a T.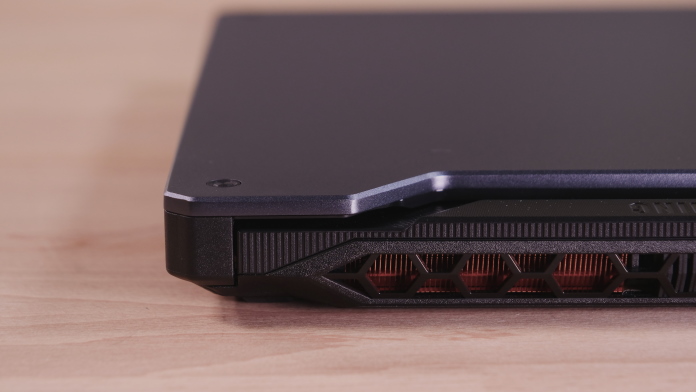 It's also a pleasure to spend time with a 15.6" laptop. My work-issued daily driver is a slim little number that's easy to pack up for a trip, but my hands were made for wider keyboards. Even with a full-sized numpad on the right side of the deck, the A15's comfortable keys have room to breathe. Single-zone RGB LED backlighting makes sure I'm still in command even when I'm in a dim room, and the clear caps for the WASD block make it easy to position my hands for gaming glory. There's no sizing shenanigans with commonly-used buttons like Alt, Ctrl, or Shift, either. Those are all sized for regular, accurate use. I love that the left side of the space bar is a bit thicker, too, as it gives my thumb a wide landing zone.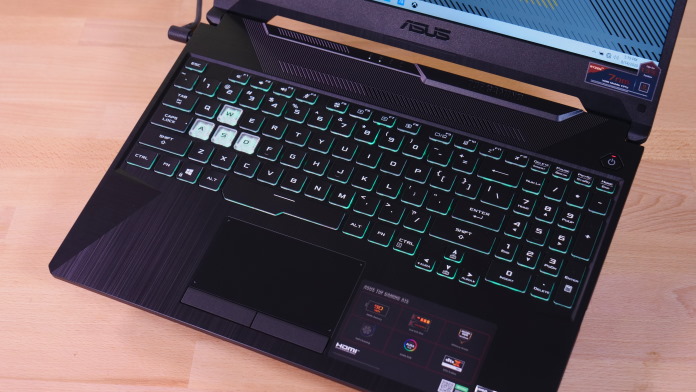 The TUF Gaming A15 has a well-curated selection of ports. There's a handy USB 3.2 Gen 2 Type-C port on the left side of the laptop. It's wired for DisplayPort 1.4, so it's ideal for connecting an external gaming display. The HDMI 2.0b port can also handle those duties. The A15 also has a USB 2.0 Type-A port on the right side and two USB 3.2 Gen 1 Type-A ports on the left. Having the bulk of my connectivity on the left side of the laptop is definitely preferable for me, as I'm apt to have a gaming mouse on the A15's starboard side and I don't need cables interfering with my gameplay.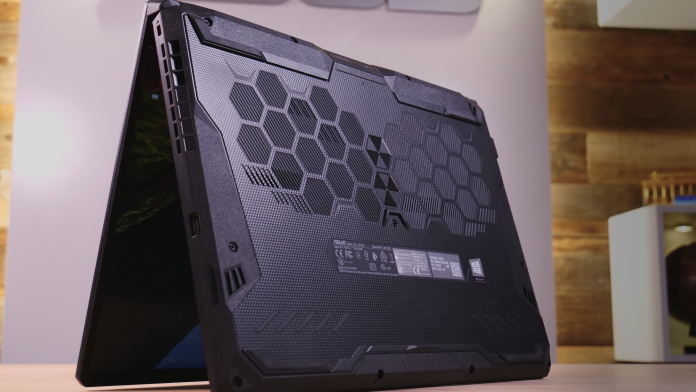 This laptop meets all my immediate needs, and it's ready for tomorrow thanks to some easy upgrade paths. Its 1TB NVMe SSD is spacious enough for a good gaming library right now, but since I have a long track record of losing control during Steam sales, I'm glad that there's a readily-accessible second SSD slot for increasing available storage space. The DRAM slots are positioned for a quick upgrade, as well. All you need to open up the A15 is a Phillips screwdriver. Our new pop-up screw mechanism even takes the fuss out of popping off the panel. After you remove the others, loosening the pop-up screw will lift the bottom cover so that you can easily remove it.
Ready to conquer any battlefield
From Call of Duty: Warzone to Fortnite to new contender Hyper Scape, it seems like everyone's playing battle royale games these days. Take your pick of the lot, and the TUF Gaming A15 will deliver high frame rates and increase your chances of being the last one standing. That's a big claim, but I've got the data to back it up. I took the A15 through a tour of popular games, and it served up winning frame rates every time.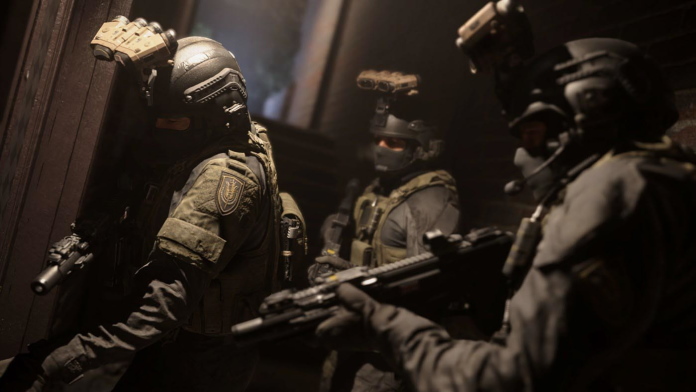 Image source: Gamesplanet
Gamers have flocked to the Call of Duty series for years for its multiplayer modes and realistic aesthetic, but the free-to-play Warzone adds a whole new dimension by pitting 150 players against each other on sprawling maps. I ran the game at the display's native 1920×1080 resolution, of course, and then proceeded to turn up every setting in the game aside from ray tracing.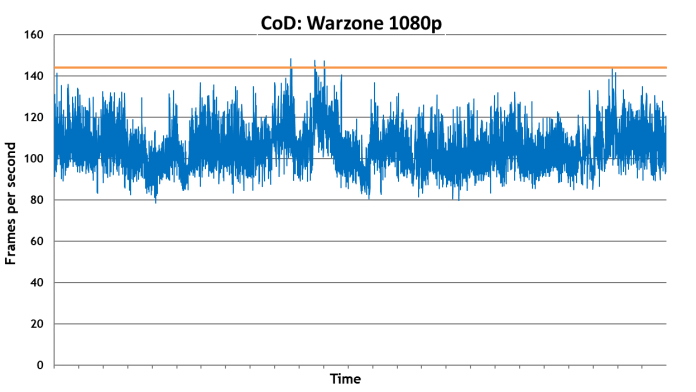 That's 102.4 FPS on average right there. The TUF Gaming A15 will certainly handle Warzone with ray tracing enabled, but I prefer to play with higher frame rates that let me take full advantage of the A15's 144Hz screen. Warzone is a game where life and death are separated by milliseconds, and having a screen that refreshes itself 144 times a second is an undeniable advantage.
Speed matters, and so does smooth, tear-free delivery of frames. The A15's screen features Adaptive-Sync technology that synchronizes the refresh rate of the display with the delivered frame rate of the GPU. PC gamers will be familiar with the notion that frame rates fluctuate naturally over time as the complexity of the scene being rendered changes with the in-game action. Adaptive-Sync makes sure that you don't get distracted by immersion-breaking artifacts as you play. Make sure to turn off Vsync when you're playing on the A15, because Adaptive-Sync minimizes screen tearing without the input lag introduced by Vsync.
It's hard to talk about battle royale games without dabbling a toe in the waters of Fortnite. This game is as much a social phenomenon as a competitive shooter. I took a bus ride to the newly-flooded island to check out the A15's performance. The ultra-competitive corner of the community might prefer to play this game with reduced graphical effects to gain a slight advantage in spotting opponents, but I prefer to play with the settings cranked up to Epic. All the water that has swamped the zone in the recent chapter deserves a lovely reflective shimmer across its surface.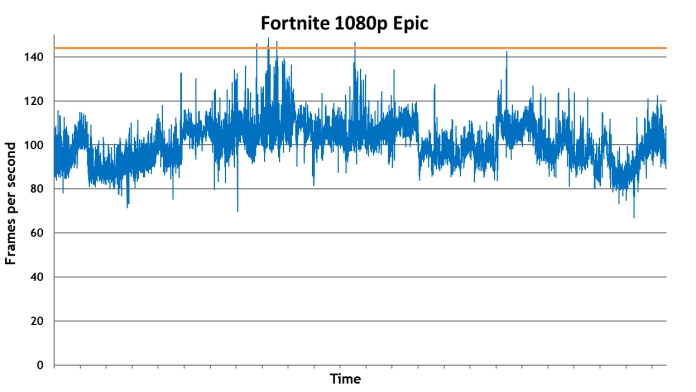 I had to dodge a shark or two in the process, but I can report that the A15 performs just as well in Fortnite as it did in Warzone. Even with Epic graphics settings enabled, the A15 delivered a 98.1 FPS average. That's perfect for the fast, fluid Adaptive-Sync display. Even when the house I was hunkered down in was assaulted by a coordinated squad, the frame rates stayed smooth while the bullets flew and the walls fell apart.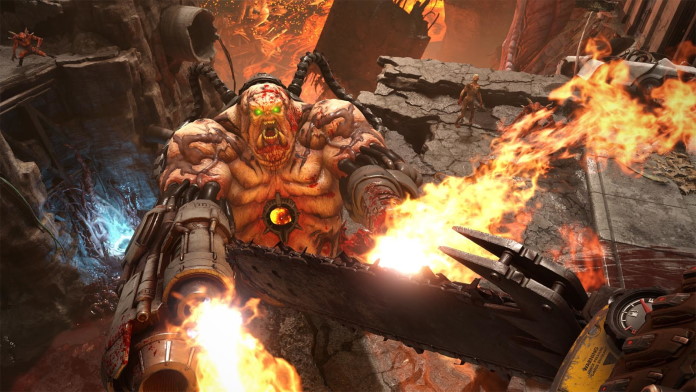 Image source: Gamesplanet
Next, I loaded up one of my favorite games of the last year, Doom Eternal. I don't know if "pretty" is the right word for its war-torn environments and unrelenting swarms of hellspawn, but the game's graphics engine is certainly top-tier. It takes you on a cross-dimensional sci-fi journey, starting from a ravaged Earth. Each location is more lavishly detailed than the last. I tested at the game's Ultra preset.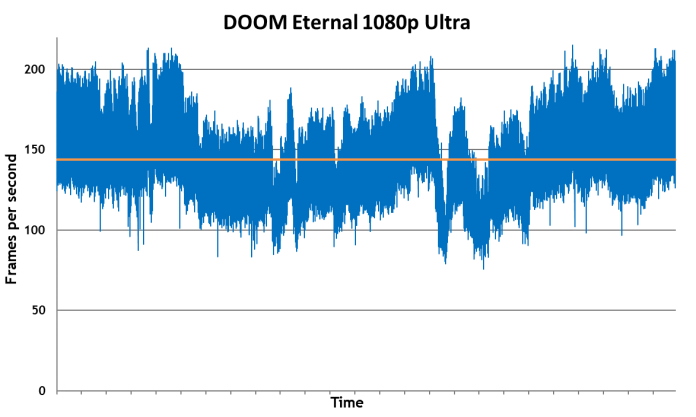 The A15 posts 145.3 average FPS in this game, yet another result well north of 100. That's a good thing, too, because Doom Eternal is one of the fastest-paced shooters in recent memory. The minions of hell don't sit back and wait for you to snipe them, and they always bring friends when they charge into battle. A high-refresh-rate display gives you a moment-by-moment edge in combat as you neutralize key targets, grab vital power-ups, and jump and dash above the fray.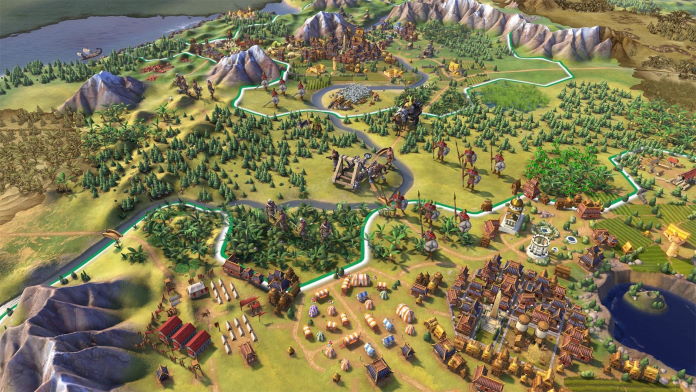 Image source: Gamesplanet
Finally, I tested performance in the latest installment of the empire-building Civilization series. I loaded up a save file in which I'd played well into the modern era to make sure the map was chock-full of cities and units, maxed out all of the graphics settings, and grabbed a snapshot of the A15's performance.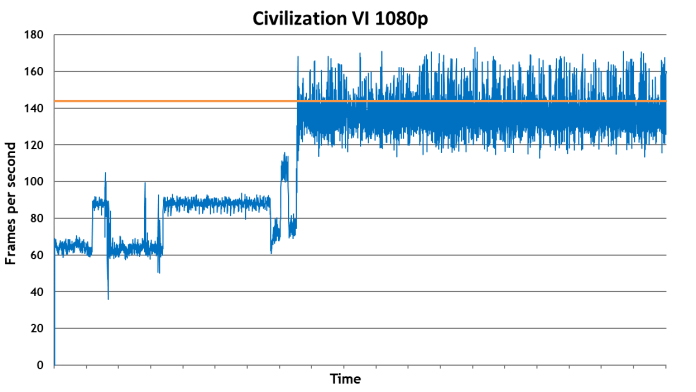 Even a world of competing civilizations can't conspire to drag down the TUF Gaming A15. There are a few pre-rendered sequences that appear early in the frame time plot where the game is running at 60 FPS by design. When it was my turn to play, however, the frame rate rocketed up to an average of about 140 FPS. This stable performance was very clear to me as I scrolled around the map to look at my various settlements and cities. On a lesser machine, the game will occasionally hang up momentarily as I pan around, but the A15 never flinched.
Stable clock rates, reliable gaming performance
A gaming benchmark is a useful snapshot of a laptop's performance, but it doesn't quite tell the entire story of what it's like to game on the device. To put the A15 to the test in a marathon rather than a sprint, I tracked the clock rates of the Ryzen 7 4800H and RTX 2060 while I indulged in an hour-long session of Dying Light, the best (perhaps the only!) open-world zombie parkour RPG.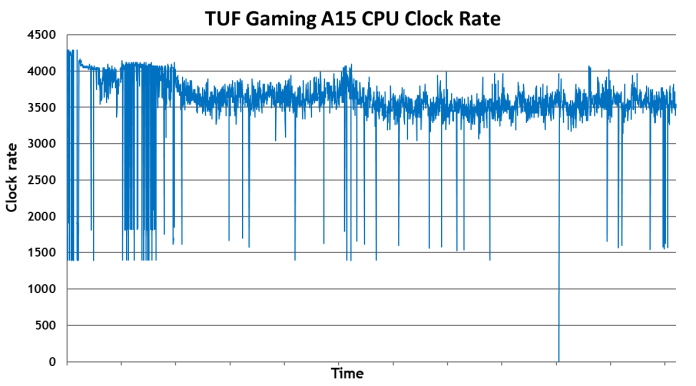 The graph above is a great primer on modern CPU performance. The chip's frequent jumps above 4,000MHz at the start of the graph show how this Ryzen CPU intelligently boosts performance when it has thermal and electrical headroom to spare. Once I got past the cutscenes and really started exploring Dying Light's open world, the 4800H settled in around 3,600MHz and really didn't waver that much. This latter section clearly shows that you can count on reliable CPU performance from the A15 even with multiple cores working for an extended period of time.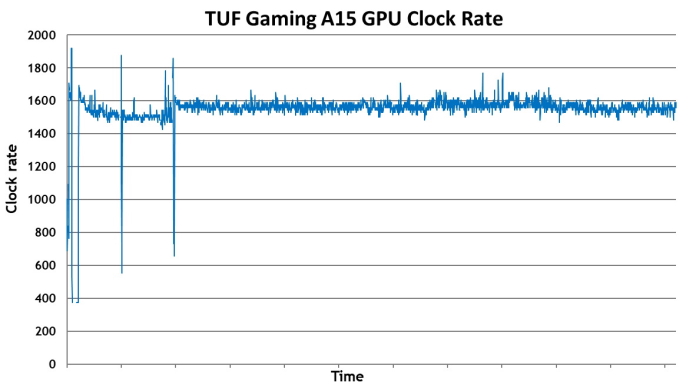 How about the RTX 2060? As with the CPU, its clock rate varies a bit in the opening stages of my test run, but once I started running across the rooftops in Dying Light, the RTX 2060 finds the upper end of its rated boost clock range and stays there.
The TUF Gaming A15 delivers stable performance that you can count on long after the device is fully warmed up and humming along. Consistent, reliable performance like this is no accident. It only comes about when carefully curated parts are paired with reliable power delivery and a holistic cooling solution.
Taking my show on the road
The PC hobbyist in me just can't resist pushing my machines to see what they can accomplish. The eight cores and sixteen threads of the Ryen 7 4800H just cry out for a highly parallelized workload, and the RTX 2060 has resources that my testing hasn't yet tapped into. Must be time to livestream some Doom Eternal—and record high-quality video footage while I'm at it.
For the stream, I was happy to find that my home internet had the bandwidth to handle 6,000kbps, the maximum bitrate Twitch allows. I set the RTX 2060's NVENC hardware encoder to the "quality" setting in OBS. The resulting stream was smooth and virtually indistinguishable from a stream using the popular x264 software encoder, which relies on the CPU.
While the GPU did the heavy lifting with the stream encoding, I tasked the Ryzen 4800H's eight cores with recording the stream locally. Since I was concerned with quality above all for my local recording, I used a constant rate factor (CRF) instead of a constant bitrate. I set OBS to use x264 at a CRF of 20 to produce 1080p, 60FPS footage. The resulting video was clear of any visible blocking or artifacting. Any enthusiast would be happy with it as a starting point for a YouTube clip.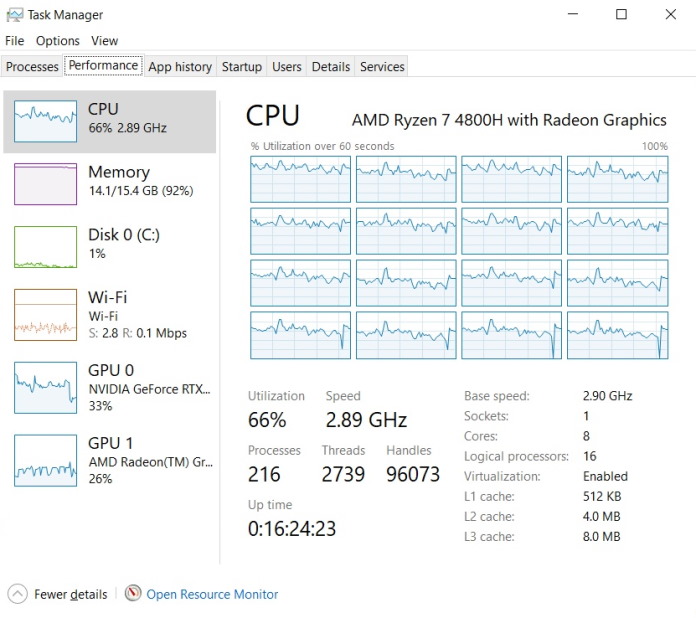 Gaming, streaming, and recording simultaneously is a tough workload, even with the tasks split as equitably as possible between the CPU and GPU. As the Task Manager window shows, all sixteen of the Ryzen 7 4800H's threads were engaged in the process. But how smoothly was DOOM Eternal running with all this work happening in the background?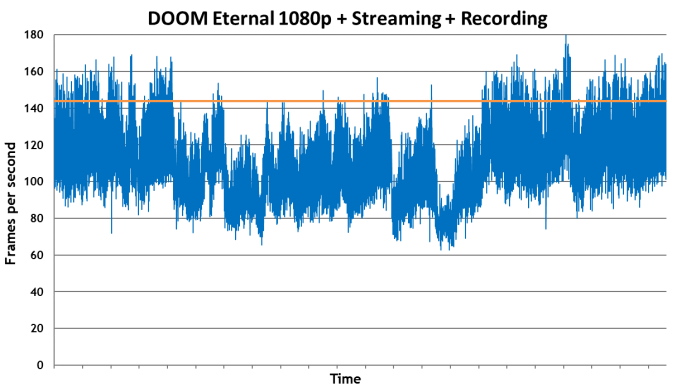 Very smoothly, as it turns out. Even with OBS Studio doing its thing, the A15 delivers 111.2 FPS on average in DOOM Eternal. I used the same in-game settings and benchmarking run as I did earlier, when the A15 achieved a 145.3 FPS average. Streaming and recording certainly demanded a slice of the A15's processing power, but the laptop had more than enough resources left over to serve up frames at a remarkable rate.
Battery life that just doesn't quit
Even in my own house, I rarely sit and work on my laptop in the same place for more than an hour at a time. The kitchen counter, dining room table, and coffee table are all common landing spots for my laptops in addition to my office desk. While my laptop moves around the house frequently, its charging cable does not. My children and 75-pound chocolate lab are all prone to tripping over things, and frankly I'd just rather not have my laptop leashed to an outlet 24/7.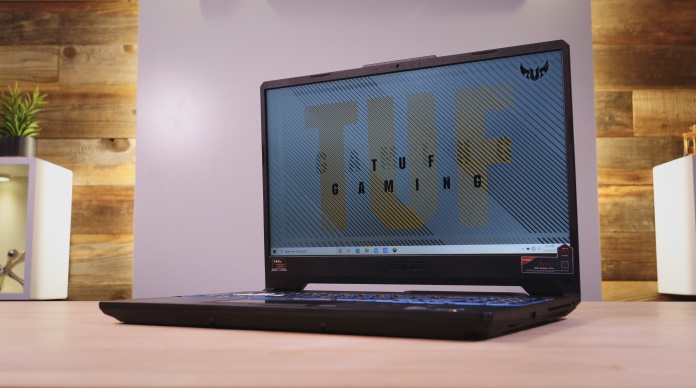 The TUF Gaming A15 has all the battery life I need for my untethered lifestyle. I took advantage of a recent road trip to visit family to put the A15's 90Wh battery to the test. After making sure that the battery was fully charged, I unplugged the system and set its screen brightness to a reasonable 50%—bright enough that I didn't have to squint. After a couple hours of email and work in Google's G Suite, the battery was down to about 76%. We started driving around 11:30AM and I continued to work in the car as my wife drove, turning up the screen brightness as necessary to keep my work visible even in the bright sunlight. By the time we finished a five-hour drive, the A15 was down to 31%.
The battery life that remained was good enough to take me through an hour and a half of meetings after we arrived. (Yes, I'm an exciting house guest.) Windows 10's battery saver mode  turned on at about 10:00PM, but by the time I called it a day and went to bed at 11:00PM, the A15 still had 10% left in the tank.
I didn't use the A15 constantly during that day, but it never sat idle for all that long. Its battery had no trouble meeting my basic computing needs all the way from breakfast to bedtime, a fourteen-hour stretch of time. That's seriously impressive endurance for a gaming notebook.
TUF Gaming A15
Model
TUF506IV-AS76
CPU
8-core AMD Ryzen 7 4800H Processor 45W (8M Cache, up to 4.2GHz)
GPU
NVIDIA GeForce RTX 2060 6GB GDDR6
Display
15.6" 144Hz IPS-Type display
Resolution
FHD (1920x1080)
Memory
16GB DDR4 3200MHz RAM
Storage
1TB PCIe NVMe M.2 SSD
Networking
Wi-Fi 5 (802.11ac)
Bluetooth 5.0
Connectivity
1x USB 3.2 (Gen 2) Type-C with DisplayPort 1.4
2x USB 3.2 Gen 1 Type-A
1 x HDMI 2.0b
1 x audio combo jack

Battery
90Whr
Dimensions
14.1 x 10.1 x 0.9 ~ 0.97 in
Weight
5.07lb
OS
Windows 10 Pro (64-bit)
Availability (USA)
ASUS
Newegg
Amazon
B&H
XoticPC
The new bang-for-your-buck champion
Friends and family love to pester me when they're shopping for a new laptop. Recommending a dependable, affordable laptop that meets their needs isn't always an easy task.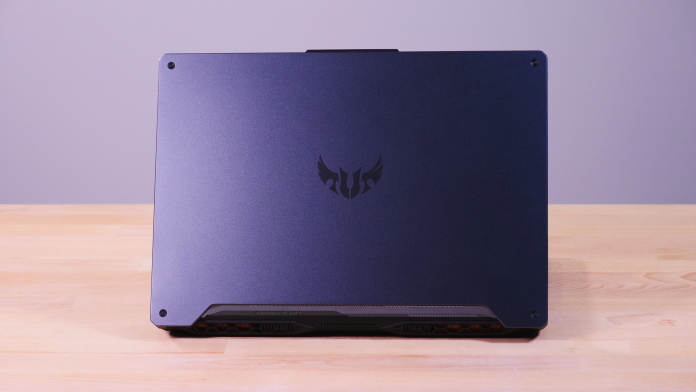 The TUF Gaming A15 takes the stress out of that part of my life. For my acquaintances who need a sensible, durable gaming machine that doesn't break their budget, the A15 is easy to recommend. Its Ryzen 7 4800H CPU and NVIDIA GeForce RTX 2060 GPU can lead them to victory across a wide range of games. It's equipped with a generously-sized 1TB NVMe SSD for their gaming library, and if they need some more space down the road, there's an easily-accessible second slot.
And that's just the beginning of the A15's complete suite of gaming essentials. It has a wide, comfortable keyboard with an optimal layout for gaming, DTS:X Ultra spatial surround sound, a long-lasting 90Wh battery, and a 15.6" display with a blazing-fast 144Hz refresh rate and Adaptive-Sync. Only a couple years ago, a laptop with these specs would be priced out of most folks' reach, but the TUF Gaming A15 offers these features at a very competitive price.
I took the A15 into battle through game after game, and it delivered exceptional performance every time. While I built a civilization, dodged shark attacks, and streamed my demon-slaying exploits to Twitch, the A15 kept up with me every step of the way. If you're in the market for your first ticket to the wide and rich world of PC gaming, the TUF Gaming A15 is the laptop for you.