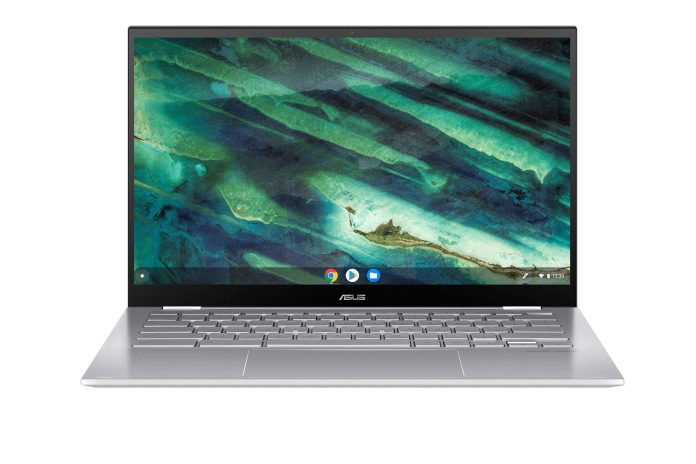 Chromebooks are all about creation and collaboration, whether you're a mobile professional or a student in the classroom. Most of their functionality revolves around Google's G Suite, including applications like Gmail, Docs, Sheets, and Slides. While this software runs just fine on basic hardware, the addition of HD conferences in Meets and 4K video on YouTube suggests that it's time for some folks to demand higher-end hardware for their Chromebooks. Meet the Chromebook Flip C436.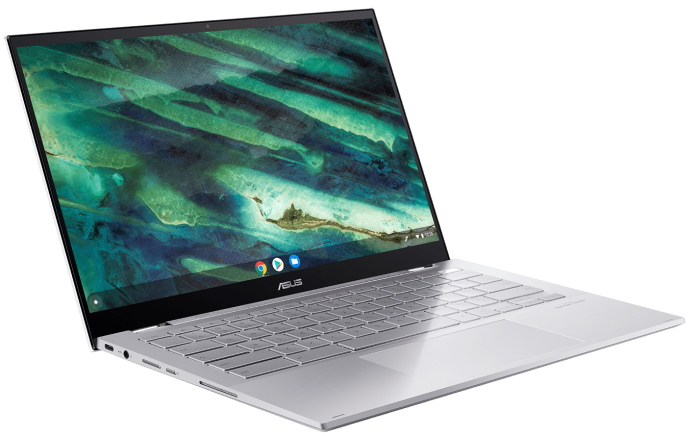 Our newest Chromebook integrates 10th Gen Intel Core CPUs, lots of RAM, fast SSDs, and cutting-edge Wi-Fi 6 networking to keep the platform nimble. It also adds premium extras like an integrated fingerprint sensor in the power button, a patented speaker array with four discrete drivers for high-quality sound in any of its convertible modes, USI stylus support for open pen input, and copious peripheral options.
The melding of high-grade metals, two beautiful finishes, and an ultra-thin chassis make this a Chromebook that'll attract its fair share of double-takes. If you're used to the idea of a Chromebook as a slice of affordable computing power, the C436 will convince you that Chromebooks can be premium machines in their own right.
Wait, that's a Chromebook?
High-end Chromebooks can look every bit as dolled-up as some of the flagship Windows 10 machines out there. Our C436 sports a magnesium alloy chassis that measures a scant 13.7mm thick and weighs just 1.1kg. By our measure, it's the one of the thinnest and lightest 14" Chromebooks available. You'll find it in two finishes: an iridescent Aerogel White, which changes color as you view it from different angles, and an understated Transparent Silver.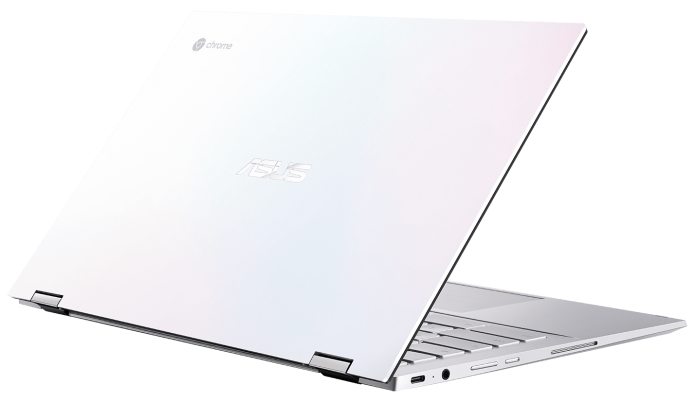 The Chromebook Flip C436 also features our frameless NanoEdge display. It's designed to maximize screen real estate in the smallest form factor possible. Thanks to the trimmed-down bezels, the C436's 14" screen comes in a footprint no larger than the average 13" notebook. And because the display boasts a 1920×1080 native resolution and 100% coverage of the sRGB gamut, it's perfectly tailored to both work and entertainment.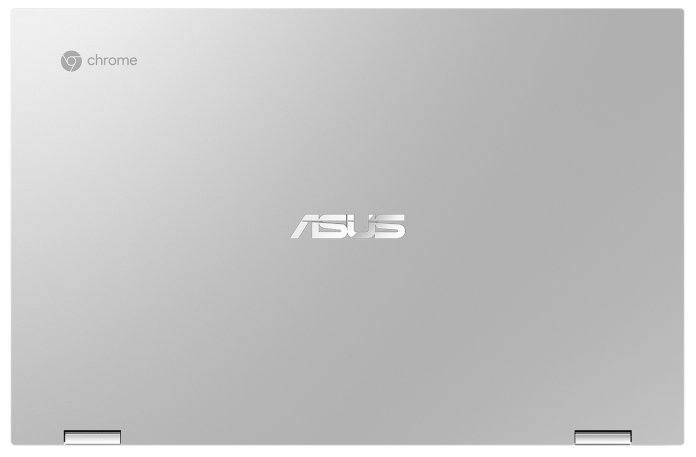 Even if we stopped there, the C436 would be quite the premium Chromebook. But we went a step further and made this machine fully convertible. Regardless of whether your C436 is in a clamshell configuration, standing up like a tent, or closed over on itself in tablet mode, the slim 5mm side bezels fade away, allowing you to focus on your work or play.
You probably weren't expecting a Chromebook to wield a quad-speaker array, either. But with such a flexible display, we thought it important to engineer the C436's audio capabilities just as thoroughly. The Harman Kardon-certified setup produces crisp audio with plenty of volume, regardless of how you have the screen positioned. Out in public, you can enjoy your music and movies through headphones plugged into an audio combo jack instead.
With great power comes… a great time
Our Chromebook Flip C436 is the first Chromebook to satisfy Intel's target specifications for Project Athena, an innovation program that establishes standards for consistent responsiveness away from wall power, a demanding baseline for battery life, comprehensive connectivity, and sleek form factors. In other words, you can be sure the C436 is going to wake up quickly, respond in a snap, and keep you working on the road, even after a full day away from a charger.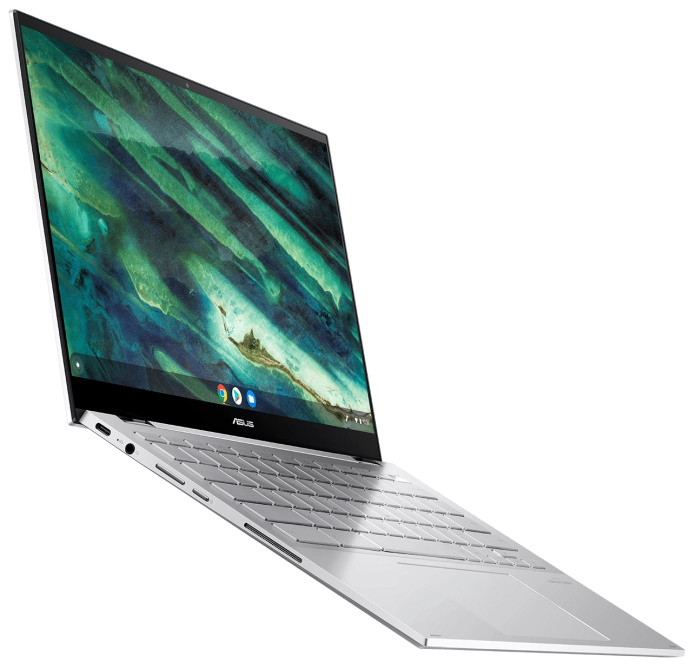 To meet Project Athena's demanding specs, we had to incorporate some of the fastest hardware in a Chromebook, period. We armed the C436 with three different CPU options: Intel's 10th Gen Core i7-10510U, Core i5-10210U, and Core i3-10110U, all with Intel UHD Graphics. You'll find this Chromebook Flip with either 8GB or 16GB of LPDDR3 memory, and a 128GB, 256GB, or 512GB M.2 SSD. A dual-band Wi-Fi 6 radio and Bluetooth 5.0 cover wireless connectivity, while a pair of USB 3.1 Gen 1 Type-C ports handle add-on peripherals.
In the unlikely event that you run out of local storage, a microSD card on the side can handle memory cards as large as 2TB. And of course, there's always the option to use Google One's cloud storage plan.
Stay mobile, stay productive, stay secure
Despite a long list of top-shelf specs, the Chromebook Flip C436's three-cell, 42Wh battery delivers up to 12 hours of runtime as you browse the web, hammer out emails, or work in a spreadsheet.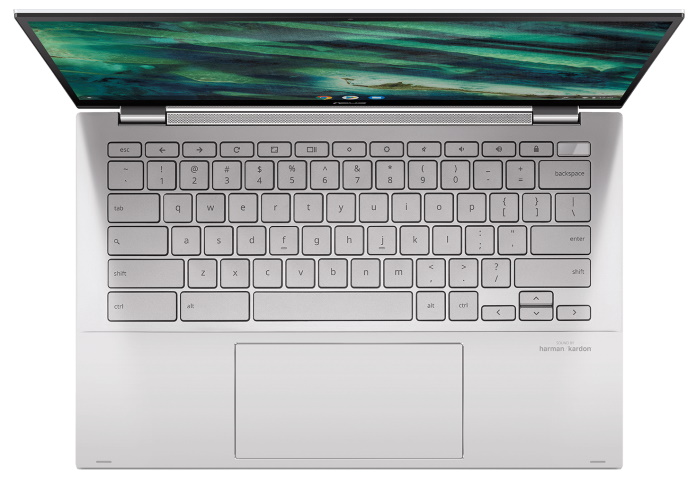 If you stretch the C436 to the limits of its battery, those long hours will be comfy thanks to a full-sized backlit keyboard that's both pleasant and accurate to type on. We gave the keys an extended 1.4mm of travel so you can feel confident with every keystroke. If you tire of typing, flip the display into tablet mode and start writing or drawing with any optional USI-compatible stylus. The C436 supports up to 4,096 levels of pressure to convey your vision on-screen.
A fingerprint sensor built into the power button could make you feel like a special agent when you unlock the device. But the C436 offers much more than just a feeling of security. On top of its automatic updates and built-in resilience against malware and viruses, Chrome OS benefits from Google's diligence about enforcing two-step verification, checking for third-party app access, logging device sessions, and alerting you about security issues. With the C436, you can be sure your data is in good hands.
Chromebook Flip C436
CPU
Intel® Core™ i7-10510U Processor
Intel® Core™ i5-10210U Processor
Intel® Core™ i3-10110U Processor
Display
14-inch four-sided NanoEdge display with only 4.9mm slim bezel and 85% screen-to-body ratio
OS
Chrome OS
Graphics
Intel® UHD Graphics
Main memory
LPDDR3 8GB/ 16GB (2133MHz)
Storage
128GB/ 256GB/ 512GB PCIe Gen3 x2 NVMe M.2 SSD
Wireless
Dual band Wi-Fi 6 (802.11ax)
Bluetooth® 5.0
I/O
2 x USB 3.2 Gen 1 Type-C (Full function)
1 x micro SD card (up to 2TB extension)
1 x audio jack COMBO
Battery
42WHr battery Li-Polymer, 3 cell
Dimensions
319.54 x 205.3 x 13.76 mm
Weight
1.1kg
Performance and portability like you've never seen from a Chromebook
With its good looks, prodigious power, and convertible chops, it's not a stretch to call the Chromebook Flip C436 one of the most luxurious Chromebooks out there. Its magnesium alloy chassis, premium finishes, compact dimensions, and immersive FHD display are just the beginning. Inside, 10th-gen Core CPU options, fast SSDs, plenty of LPDDR3 memory, and Wi-Fi 6 support keep performance snappy. All-day battery life is the icing on the cake.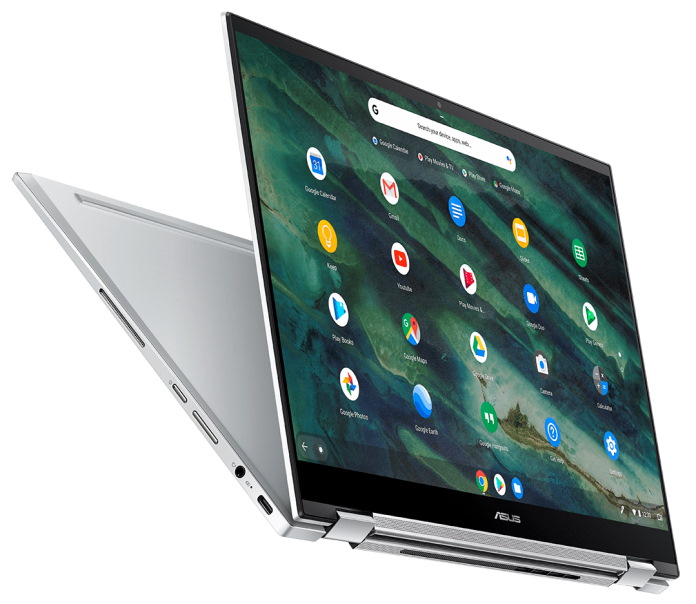 We'll be showing off the Chromebook Flip C436 as part of our CES 2020 showcase, located at the Planet Hollywood Las Vegas Resort and Casino. For more information about this event, or to learn more about pricing and availability of the C436, please contact your local ASUS representative.