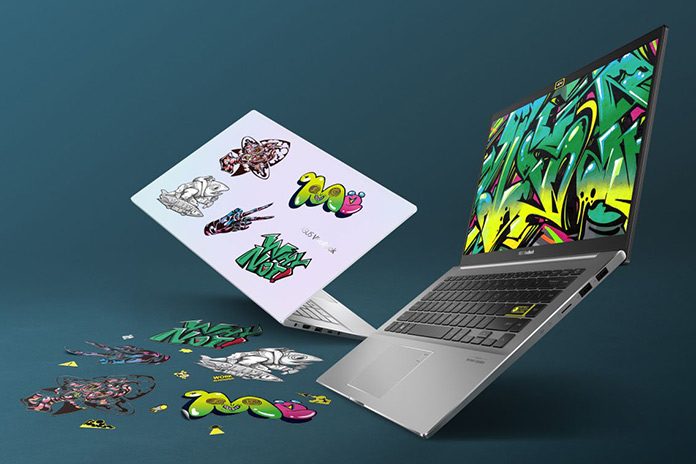 Like dress pants without pockets, a laptop that's stylish but underpowered is bound to be a disappointment. Our VivoBook notebooks have always deftly threaded the needle between personality and performance, and the latest models that we're debuting at CES 2020 carry on the tradition. Finished in a variety of bold colors, the latest VivoBook S laptops feature 10th-generation Intel Core processors, Wi-Fi 6 technology, and an updated chassis available with a 13″, 14″, or 15″ display. No matter what your needs may be, it's easy to find a VivoBook S notebook that's tailored just for you.
Turn heads with bold colors and eye-catching designs
Ordinary notebooks try to blend in with the crowd. VivoBooks stand out with bold designs that express your personality. To celebrate a new decade, we're debuting new colors for the VivoBook S lineup. Resolute Red is a bold color that will smolder on any desk, while Gaia Green is a softer color inspired by nature. Dreamy White exudes sophistication and sets off the notebook's accents. Finally, Indie Black makes a powerful statement with the contrast between its shadowy finish and bright display. As a final touch of expressive style, we color-block the Enter key on each VivoBook S notebook in yellow.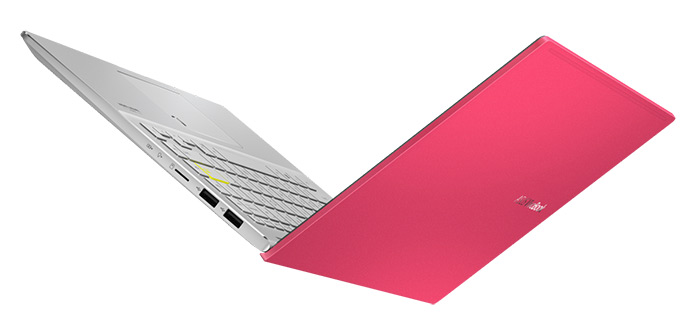 Whatever color it's dressed in, the updated VivoBook S chassis impresses with its sleek, modern design. Its precision-crafted all-metal chassis is not only sturdy and light, but a delight to hold. Diamond-cut edges mark the perimeter of each notebook with a bit of flair, and we use the same technique to engrave our logo into each notebook's lid.
A size for every user
The size of a person's notebook tells you a lot about how they use it. With its 15.6" display, the VivoBook S15 offers the most screen space, so it's the most practical choice for those who tend to multitask with two or more active windows on the screen at any given time. Its wider chassis also provides a more traditional typing experience. It's not a large notebook by any means, though. Slim NanoEdge bezels allow us to keep the footprint of the VivoBook S15 surprisingly small.
The VivoBook S13 is a traveler's dream. This notebook will sit on your desk all day if you insist. But it's really made to keep up with you wherever you go, whether you're hopping from class to class or juggling a full schedule of meetings and appointments. At only 14.9mm thin, the VivoBook S13 slips easily into a backpack or satchel and considering that it only weighs 1.2kg you'll barely notice it's there until you need it. 3.6mm-wide NanoEdge bezels frame the display, minimizing distractions and keeping you focused on your work.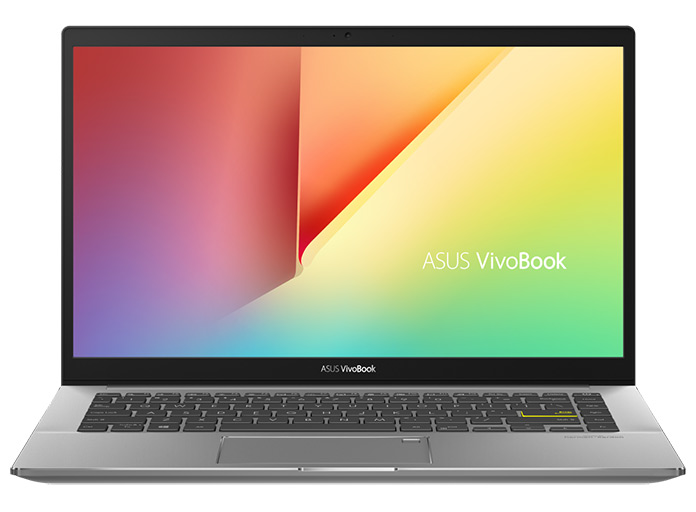 To split the difference between the spacious screen of the VivoBook S15 and the ultracompact VivoBook S13, we offer the VivoBook S14. This is a great all-around size for a wide variety of users. It only weighs 0.2kg more than the VivoBook S13, yet its display is a full inch larger measured along the diagonal. The chassis isn't quite large enough to comfortably accommodate a numpad, but we offer variants of the S13 and S14 that include the ASUS NumberPad 2.0, a touchpad that can do double duty as a touch-sensitive numpad when you need it for some quick data entry. For a better typing experience on all three models, we used larger keycaps than average for easy, comfortable, and accurate input.
Modern performance that doesn't break the bank
All three VivoBooks are powered by Intel's latest 10th-generation Core processors, ranging up to a Core i7. These processors provide lots of cores and threads for multitasking and highly parallel workloads, while also delivering the high single-threaded performance that's needed for a snappy, responsive machine. Pair one of these CPUs with up to 16GB of RAM, and you'll have a machine that handles complex spreadsheets, high-definition entertainment, or multitudes of browser windows without breaking a sweat.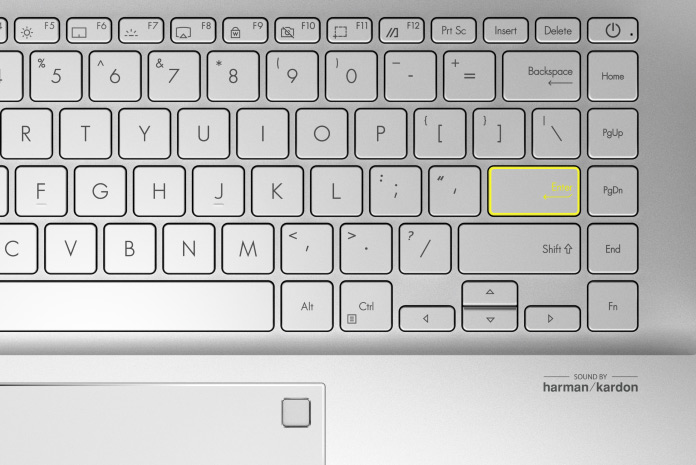 The latest VivoBook S laptops also include Wi-Fi 6 connectivity. This new standard delivers significantly improved performance in congested environments, so it's an ideal solution for households full of devices all vying for signal. Wi-Fi 6 offers improved performance for devices using older modems but lives up to its full potential when users pair up Wi-Fi 6 routers (like our affordable RT-AX58U) and Wi-Fi 6 clients in one network.
Intel's integrated graphics offer power-efficient video playback and all the 3D power one needs for getting basic work done, but VivoBooks aren't just about productivity. Those who want to venture a bit further into the realm of light gaming can option out select VivoBook S models with NVIDIA's GeForce MX250 discrete graphics processor for a big boost in 3D graphics performance.
A new decade, a new VivoBook
The VivoBook S13, VivoBook S14, and VivoBook S15 offer a compelling balance of practical performance, premium construction, and eye-catching good looks. Arriving in early 2020 in a variety of colors, sizes, and configurations, these stylish notebooks use the latest Intel processors to deliver all the modern performance, networking, and productivity that users demand.
VivoBook S13 S333
VivoBook S14 S433
VivoBook S15 S533
CPU
Intel Core i7-1065G7, 4C/8T, 1.3GHz
(8MB cache, up to 3.9GHz)
Intel Core i5-1035G1, 4C/8T, 1.0GHz
(6MB cache, up to 3.6GHz)
Intel Core i7-10510U, 4C/8T, 1.8GHz
(8MB cache, up to 4.9GHz)
Intel Core i5-10210U, 4C/8T, 1.6GHz
(6MB cache, up to 4.2GHz)
GPU
NVIDIA GeForce MX350
NVIDIA GeForce MX330
UMA
NVIDIA GeForce MX250
UMA
Display
13.3" four-way NanoEdge LED -backlit
178° wide viewing angles
14" four-way NanoEdge LED -backlit
178° wide viewing angles
15.6" three-way NanoEdge LED -backlit
178° wide viewing angles (optional)
Resolution
Full HD (1920x1080)
Memory
16GB 2666MHz DDR4
8GB 2666MHz DDR4
Storage
32GB Intel Optane + 512GB SSD
16GB Intel Optane + 256GB SSD

Networking
802.11ax Intel Wi Fi 6 (GIG+)
Bluetooth 5.0
Connectivity
1 x USB 3.2 Gen 1 Type-C
1 x USB 3.2 Gen 1 Type-A
2 x USB 2.0
1 x HDMI
1 x Audio combo jack
1 x MicroSD card reader
Color
Dreamy White
Indie Black
Dreamy White
Indie Black
Gaia Green
Resolute Red
Dimensions
12.0" x 7.87" x 0.59"
12.79" x 8.40" x 0.62"
14.17" x 9.2" x 0.63"
Weight
2.65lbs

3.08lbs

3.97lbs
Battery
50Wh
OS
Windows 10 Pro
Windows 10 Home
We'll be showing off the new VivoBooks as part of our CES 2020 showcase at the Planet Hollywood Las Vegas Resort and Casino. To see these laptops for yourself at CES, or to learn more about the models, configurations, and availability of these machines in your region, contact your local ASUS representative.