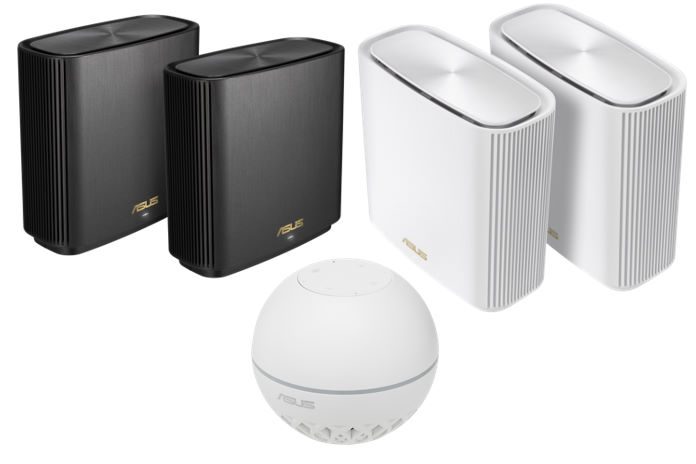 Anyone whose home suffers from obnoxious Wi-Fi dead spots needs mesh networking in their life. Our three latest ZenWiFi devices—the ZenWiFi AX, the ZenWiFi AC, and ZenWiFi Voice—are here to help. In a mesh topology, compatible wireless network devices cooperate to get information where it needs to go. Unlike traditional single-router networks, mesh networking allows you to add more wireless nodes where they're needed to light up the hardest-to-reach nooks and crannies of your house or apartment with strong wireless signals.
Our ZenWiFi devices give you both convenience and control when it comes to your mesh network. You can choose between a single SSID that appears throughout your home or set up separate SSIDs for each network band to provide maximum compatibility with all of your devices. Behind the scenes, each network node communicates over a dedicated backhaul link, shuttling data from phones and laptops on the network's edges through intermediate nodes and back to the router.
Every step of the way, performance matters. Each of our new ZenWiFi products uses our AiMesh technology to provide the best network performance possible, as well as some exciting new features.
The ZenWiFi AX delivers unparalleled AiMesh performance
The new ZenWiFi AX Wi-Fi System includes two of our latest Wi-Fi 6 routers in a ready-to-deploy mesh configuration for maximum coverage and performance. It achieves unprecedented throughput with Wi-Fi 6 support for both clients and inter-node communications. That's up to 6,600 Mbps across one 2.4GHz band and two 5GHz bands, yielding up to 2.2x more aggregate speed than a Wi-Fi 5-capable tri-band router. Classy yet subtle brushed-aluminum exteriors on both the router and node mean that you can keep the ZenWiFi AX system out in the open with ease.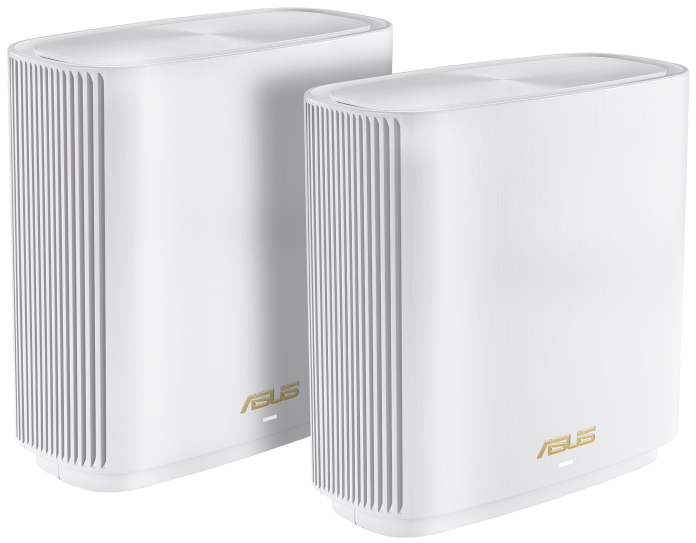 The two stylish AiMesh nodes shuttle data over a dedicated 4×4 Wi-Fi 6 backhaul at speeds up to 4,804 Mbps, while connected clients enjoy access to transfer rates with the potential to exceed the gigabit barrier. A full complement of Wi-Fi 6 features, including MU-MIMO and OFDMA, ensures that signals can reach further and reduce latency for connected Wi-Fi 6 devices, even in highly congested network environments like apartments, dorms, and dense urban districts. The ZenWiFi AX System automatically applies existing settings from the first router to the second router so users can quickly and easily set-up their mesh Wi-Fi solution.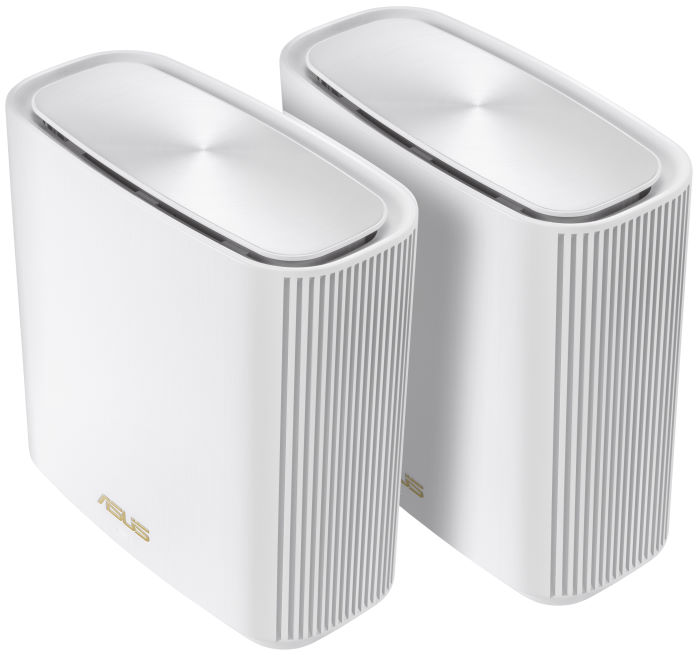 A special antenna design, isolated internal layout, and AiRadar 2.0 beamforming ensure that the ZenWiFi AX delivers both wide coverage and strong signals to each connected device. The router in the ZenWiFi AX system can use its 2.5G Ethernet port for high-speed WAN connections to your ISP, while the node's 2.5G port will automatically detect whether it's being used as a LAN or WAN connection.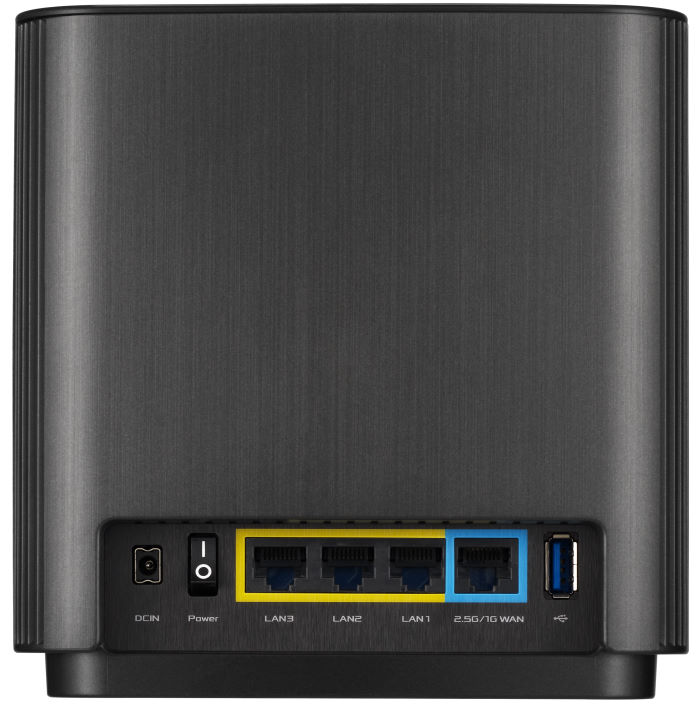 The ZenWiFi AX System includes a suite of security features to mitigate threats from the Internet. AiProtection Pro, powered by Trend Micro, stays up to date to filter restricted content categories. An activity dashboard shows you what's being looked at. And a scheduler helps you restrict online access during certain hours—an ideal option for parental control.
ZenWiFi AC upgrades your network with AiMesh
The ZenWiFi AC Tri-Band Whole-Home Mesh WiFi System pushes performance to new heights without looking out of place in your living room. If you'd rather your router not draw attention to itself, the ZenWiFi AC system pulls aesthetic inspiration from our high-end ZenBook notebook line for classy subtlety.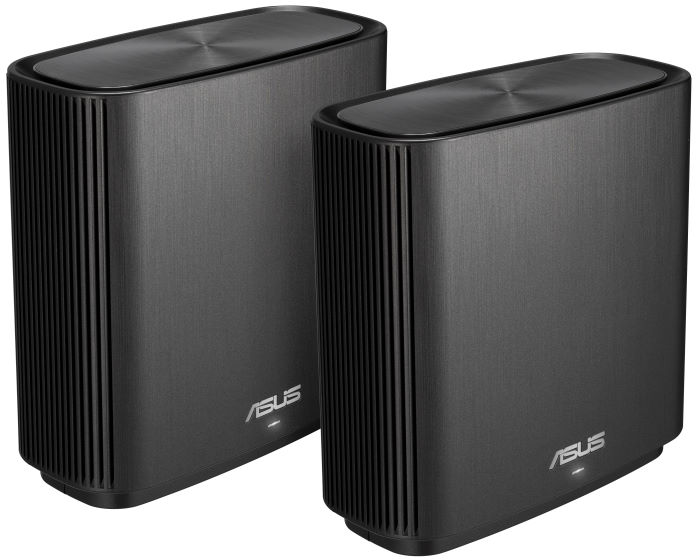 Each of the two AC3000 routers in our ZenWiFi AC kit supports the newest 802.11ac Wave 2 standard, along with 802.11n's 5GHz and 2.4GHz spectral bands. In aggregate, this system can achieve a data rate of up to 3000Mbps. An all-new enclosure wraps enthusiast-grade performance in a classy oblong shell that blends into any decor. Within, the ZenWiFi AC has a special antenna design like the ZenWiFi AX model. The result is a clean design, optimal antenna spacing, and the best possible coverage radiating in all directions.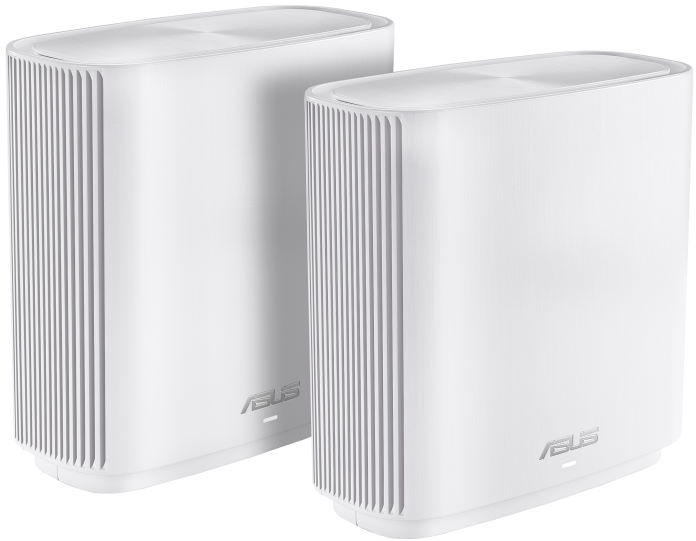 Each node in the ZenWiFi AC system is equipped with a quad-core CPU to handle heavy traffic loads, ensuring a strong and stable Wi-Fi signal in any part of your home. On the back of each router, you get one Gigabit Ethernet WAN port, three Gigabit Ethernet LAN ports, and one USB 3.1 Gen 1 port for nearby PCs, printers, networked storage, and direct-attached hard drives or USB flash drives.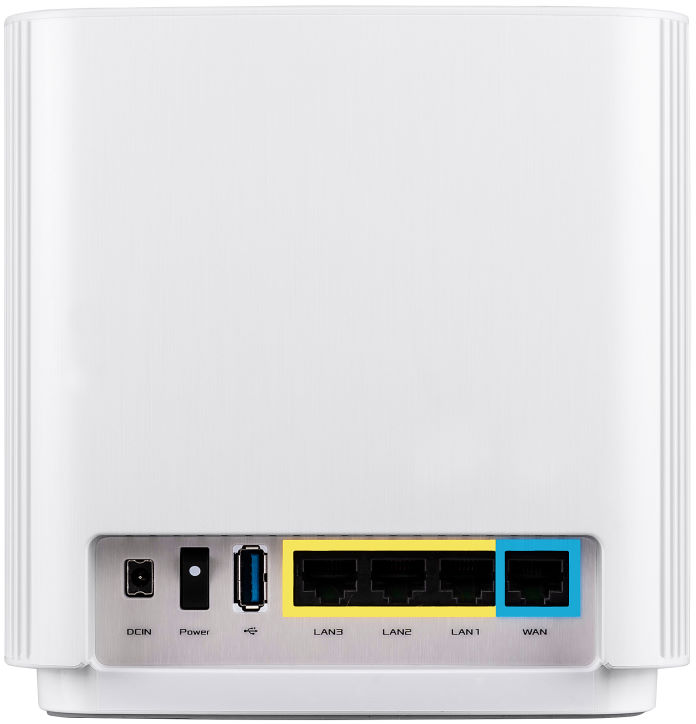 Setting up a wireless network can be a huge hassle, but the ZenWiFi AC is a snap to roll out and manage. You can control your network through our updated web interface, or download the ASUS Router app to your iOS or Android device. These tools allow you to deploy every node of your AiMesh network at once, rather than going through the setup process on each node. You can also run diagnostics, monitor traffic, and optimize your network right from your phone or browser. Like the ZenWiFi AX System, devices connected to the ZenWiFi AC nodes will stay safe thanks to AiProtection Pro technology.
There's a good chance your old ASUS gear will work as a node on the network when you upgrade to our new ZenWiFi systems. The list of our routers, bridges, and repeaters that are compatible with AiMesh technology is long and distinguished. If you already own one of our compatible networking products, you can repurpose it to stomp out stubborn dead spots even more thoroughly.
The ZenWiFi Voice fuses the power of Amazon Alexa and AiMesh
Amazon Alexa is a powerful voice service assistant that can perform a variety of tasks like answering questions, playing music, controlling smart home devices, and much more—all hands-free. Rather than creating a single-purpose wireless networking device, we thought it made more sense to integrate Alexa into a versatile and stylish mesh wireless router that can serve as a building block in your smart home.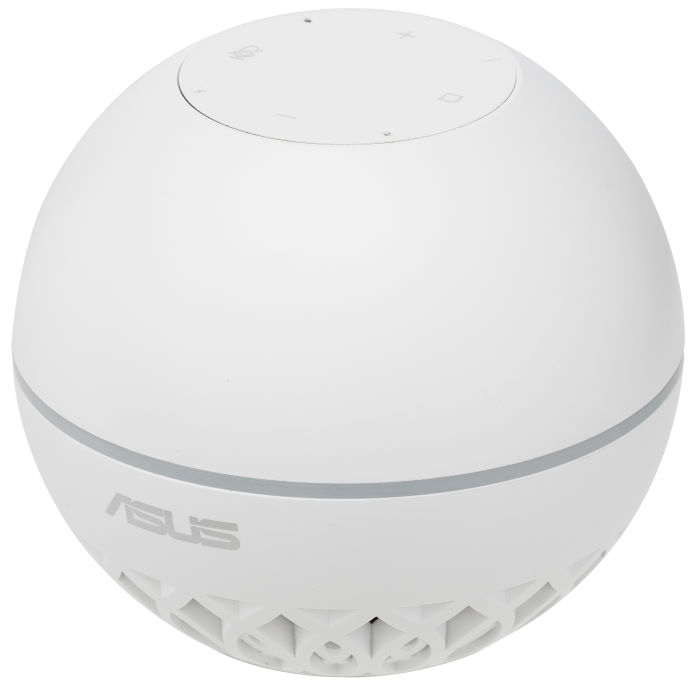 The ZenWiFi Voice offers an intuitive and familiar user interface with touch-sensitive volume controls on its top surface and a three-color LED light bar encircling the middle of its body to indicate when it's listening to you and processing voice commands. Because it supports AiMesh technology, you can use the ZenWiFi Voice as a standalone router, as part of a larger mesh network with other AiMesh devices, or to boost the signal of any wireless router in repeater mode.
As a standalone router, the ZenWiFi Voice delivers a smooth connection to your wireless devices, as well as access to Amazon's Alexa assistant. The ZenWiFi Voice supports Wi-Fi 5 speeds up to 1300Mbps in aggregate, and it offers support for Multi-User MIMO-compatible clients, allowing it to provide dedicated signals to each connected device for better stability and lower latency.
The ZenWiFi Voice doesn't just elevate the performance of your network. It can serve as the hub for your favorite streaming music services. A far-field microphone can recognize your Amazon Alexa voice commands even while music is playing, and a full-range, downward-firing speaker reproduces your music with satisfying fidelity and depth. The ZenWiFi Voice supports many popular streaming music services, and if you have a powered speaker system of your own that you'd like to integrate into your smart home, the ZenWiFi Voice's stereo 3.5mm jack allows you to pipe your music to practically any device with an aux input.
The ZenWiFi Voice really shines when it's a part of a larger mesh network. By combining with other AiMesh devices, it can expand your signal to every corner of a multi-story home. Plus, any room where you place a ZenWiFi Voice will have the power of Alexa
If you'd rather use the ZenWiFi Voice to extend your current router's signal, just place it in the part of your home that needs a boost. From there, the Voice can use its 5GHz and 2.4GHz bands to amplify the signal of any wireless router in parts of your home that might otherwise have a slow or spotty connection. When you roam around your house, your wireless devices will automatically switch between the ZenWiFi Voice and your router, depending on which one has the strongest signal.
To learn more about the ZenWiFi AX, ZenWiFi AC, and ZenWiFi Voice in person, you can visit the ASUS product showcase at the Planet Hollywood Las Vegas Resort and Casino during CES 2020. To arrange a media tour, or for more information on pricing and availability in your region, please contact your local ASUS representative.