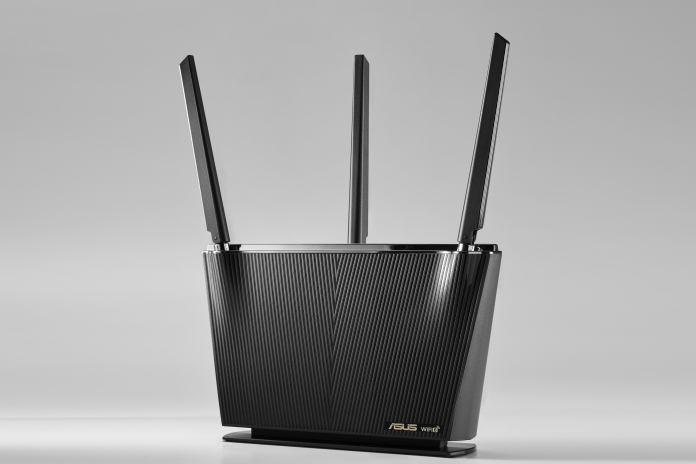 Make yourself a list of all the features you want from a WiFi router. Above all, it has to be fast, right? The real-time nature of distance learning, work-from-home conference calls, and after-hours streaming leaves no room for bandwidth blips or latency spikes. Copious connectivity—wireless and wired—is a must. And with the kids spending so much time online these days, it'd be great to have built-in tools for managing access to the network and proactively protecting them from malicious websites. Our new RT-AX68U WiFi 6 router, launching at CES 2021, packs all this functionality (and more) into a compact package that looks like a million bucks but won't break the bank.
WiFi 6 features promise more performance in congested households
WiFi 6, the latest wireless standard, delivers faster performance to individual clients, better handling of densely populated networks, and reliability improvements for demanding applications. Those technology advances are baked right into the RT-AX68U.
A big throughput upgrade is this router's most easily identifiable specification. On the 2.4GHz band, we can now move up to 861 Mb/s—a 44% speed-up compared to the previous generation. Meanwhile, wireless devices armed with 5GHz radios connect at up to 1,802 Mb/s. That's a 39% increase for quicker transfers.
Beyond the RT-AX68U's attractive bandwidth boost, WiFi 6 maintains more consistent performance as your wireless network grows. A new feature called Orthogonal Frequency-Division Multiple Access, or OFDMA, allows the router to communicate with multiple devices simultaneously. OFDMA divides slices of the frequency spectrum, called channels, into sub-channels, allowing packets from lots of clients to share the space previously monopolized by one device at a time. Older versions of the WiFi standard weren't as efficient, causing delays that became more severe on congested networks.
OFDMA is complemented by multi-user, multiple input, multiple output (MU-MIMO), another technology that lets the RT-AX68U talk to many devices at the same time.  MU-MIMO uses multiple transmit and receive antennas on both sides of the wireless connection to create spatial streams, which are collected and combined at each end. The RT-AX68U supports three such transmit and receive pairs for a 3×3 topology. The result is an efficiency boost compared to older WiFi standards. Since the RT-AX68U supports both MU-MIMO and OFDMA, we're able to drive higher data rates and make more of that extra performance usable.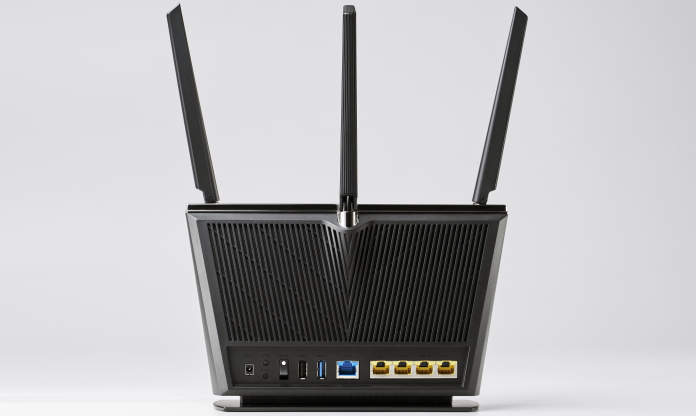 For PCs in Ethernet range of the RT-AX68U, you'll find four 1 Gb/s LAN ports on the router's rear panel. There's also a 1 Gb/s WAN port back there, along with USB 2.0 and USB 3.0 connectivity for shared storage or printers.
Instant Guard gives you the power to protect your privacy on the go
Our RT-AX68U supports WiFi Protected Access 3, the latest collection of security measures for foiling hackers. So when you're connected to the router's wireless network at home, you know it's legit. But out in the wild, all bets are off. Virtual private networks, or VPNs, defeat the methods most hackers use to sniff out sensitive information on public hotspots. Some of these services charge you monthly fees. Others may sell your information to third parties. And VPNs can be tricky to configure in general.
Using our Instant Guard app, you can easily create a free, secure connection between your iOS or Android mobile device and the RT-AX68U. The setup process is simple. After installing the ASUS Router and Instant Guard apps, you only need to enable one setting in the Router app, transfer the router profile, press one button in Instant Guard, and confirm the protected link. From there on out, all you need to do is open the Instant Guard app and select your RT-AX68U to establish its dedicated, private VPN connection.
No matter your degree of technical aptitude, Instant Guard takes all the guesswork out of configuring a VPN. In turn, you're able to shop online, pay bills, and compose emails from the road, connected to the RT-AX68U at home, without personal details falling into the wrong hands.
AiProtection Pro includes tools for keeping your family safe as they learn from home
The RT-AX68U also includes commercial-grade home network security in the form of AiProtection Pro. Powered by Trend Micro, AiProtection Pro is regularly updated to prevent common attacks, block access to malicious websites, and detect infected PCs on your network so they don't siphon your data off to some shady datacenter.
A comprehensive suite of parental controls puts you in control of what each device can access (and when). That's especially valuable functionality at a time when distance learning and working from home have us all glued to our screens in different rooms, making constant supervision a challenge. With a quick glance at the ASUS Router app, AiProtection Pro breaks activity down into peak times and content types. Then, it lets you group devices and schedule block times. Apply pre-configured profiles based on your children's ages or get more specific with content filters based on Trend Micro's Deep Packet Inspection Engine.
Be a part of something bigger with AiMesh whole-home mesh network support
The beauty of WiFi 6 is the freedom it affords to roam around and enjoy fast, reliable wireless connectivity. But as you attach new devices to the network and test its range, there may come a time when just one RT-AX68U isn't enough. Our newest routers maintain support for the mature AiMesh ecosystem, so you can add a second RT-AX68U to extend the reach of your WiFi network.
If you already own an AiMesh-capable device, keep it in service for an extra swathe of wireless coverage. Simply configure the RT-AX68U as your primary router, make sure your old hardware is running its most up-to-date firmware, and add the secondary AiMesh node to your network using the web-based ASUSWRT interface or ASUS Router app. Should you find yourself in need of a more substantial upgrade, the RT-AX68U readily joins up with any of our ZenWiFi-series mesh networking kits.
Packed with cutting-edge tech, management extras, and lots of room to grow
The latest cell phones, laptops, and desktop adapters are increasingly WiFi 6-capable. Now is the time to make sure your wireless network also supports WiFi 6, boosting its performance, extending its capacity, and tightening up its security.
While you're at it, choose a wireless router that puts you in charge of your privacy, protects your family, and paves the way to mesh networking when you find yourself in need of more coverage. The RT-AX68U is the perfect centerpiece for the modern home WiFi network. For more information on pricing and availability for this router in your region, please contact your local ASUS representative.