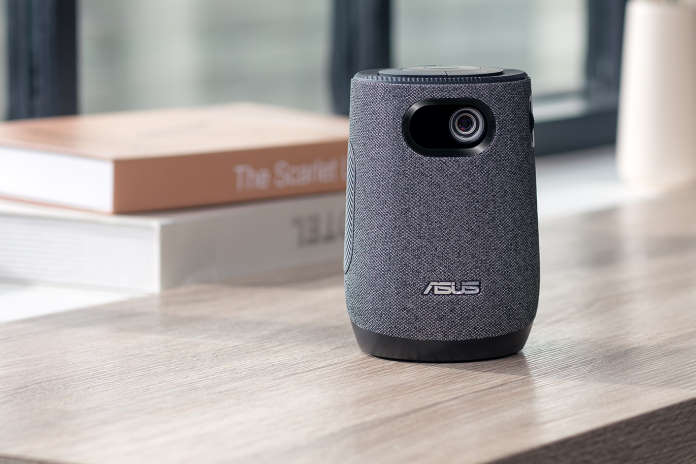 The ASUS ZenBeam Latte L1 projector, debuting at CES 2021, is a refreshingly portable way to get your media of choice on any spare wall in your home. Whether you're projecting your child's favorite YouTube videos on their bedroom wall or creating a big screen for that movie you want everyone to watch together, the versatile ZenBeam Latte L1 can serve up entertainment anywhere.
Watching videos and playing games are some of the most popular activities in many households right now, and that means everybody is in search of an open screen to watch or play on. TVs are the entertainment hot spot in any abode, but they're also tied down to one place and fought over by the whole family. You or your family have almost certainly been part of the eternal argument over who gets to play a game or watch a movie on the TV and how long they can do it before it's someone else's turn.
A big screen from a small package
We created the ZenBeam Latte L1 to let families alleviate some of this tension. It's a surprisingly compact projector that easily fits in the palm of your hand. Just by looking at it, you'd never guess that it can display a 720p image 120″ (3m) across at 300 lumens of brightness thanks to its LED light source, with a powerful integrated speaker to boot. When our designers began sketching out this projector, they took inspiration from the humble 16oz coffee cup—about the size of a grande from your favorite coffee shop. The fabric mesh that envelops the lower portion of the ZenBeam Latte is warmer and softer-looking than an aluminum or plastic shell, plus it allows the projector to discreetly blend in with modern decor.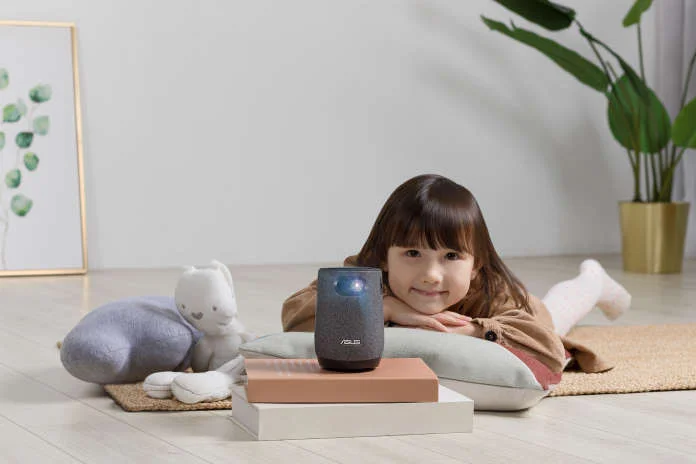 The fabric enclosure allows for efficient usage of the available space within, freeing the internal hardware from the constraints of a rigid enclosure. For starters, the fabric lets the main projection unit breathe easier than a conventional closed chassis, thereby allowing for whisper-quiet operation compared to conventional compact projectors. The speaker output is also clearer and louder as a result, since sound waves can travel more freely through the textile material.
Our internal Golden Ear audio design team took advantage of this free-flowing design to create a speaker system capable of producing 10W of rich sound in three tailored modes—movie, music, and gaming. That power comes courtesy of Smart Amplifier technology that delivers distortion-free sound even at the limits of the system's volume. We partnered with Harman Kardon to put the finishing touches on the overall sound of each profile. You can use the Latte as you would any other Bluetooth speaker to enjoy high-quality music, too.
Access all of your favorite services through Aptoide
It's clear by now that the ZenBeam Latte L1 is overflowing with pleasant surprises. Here's one more: this projector runs on the Aptoide TV media platform, a dedicated media-streaming ecosystem with over 2500 applications including YouTube, Amazon Prime Video, Hulu, and Netflix.* Integrated controls on the top of the unit or the included remote both you easily operate the ZenBeam and Aptoide, and there's an HDMI input and wireless mirroring capability should you wish to connect it to other external sources.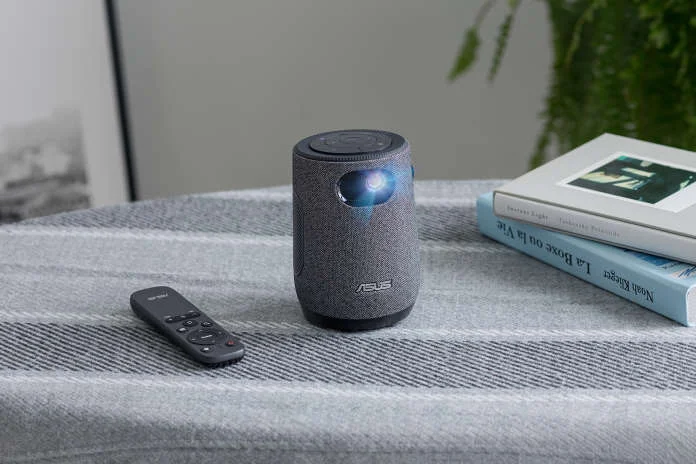 The compact size allows you to carry and place the ZenBeam Latte anywhere in your home. It needs but one meter of distance from a wall to cast a picture with a 40" diagonal, so it's a great fit for rooms both big and small. An integrated kickstand lets you easily direct the projector upwards, and there's even a tripod screw mount on the bottom in case you need the projector to work from an elevated position. The USB port can charge a connected device when the ZenBeam Latte L1 is turned on to keep the videos flowing from your phone or tablet.
When we say you can take the ZenBeam Latte anywhere with you, we mean it. There's a 6000 mAh battery inside that's good for up to three hours of projection in Eco mode. When you're just listening to music or a podcast, you can expect 12 hours of operation.
For more information on pricing and availability of the ASUS ZenBeam Latte L1 in your region, please contact your local ASUS representative.
*ASUS ZenBeam Latte includes features owned and operated by Aptoide TV, through which it provides YouTube, Netflix and other streaming services as of 4/15/2021. Please refer to the Aptoide TV official website for details on the availability of content, apps and period of streaming services provided. ASUS bears no responsibility for and has no control over the content available on Aptoide TV.