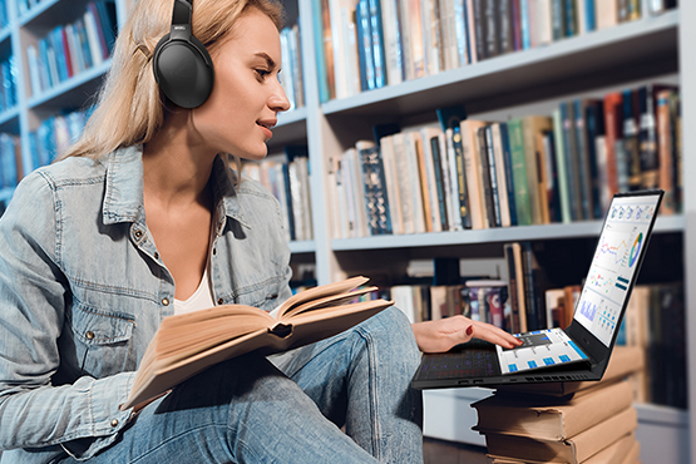 Do the students in your life have the tools they need to succeed? Back to School season is upon us again, and learners face a new year of challenges and opportunities. The technology available to them lets them go further as they pursue academic excellence, a rich social life, and rewarding creative pursuits.
The ways we use technology have changed so quickly in recent years that it's worth slowing down for a moment and assessing the needs and dreams of the student in your life. Collaborative document editing and video conferencing are now commonplace in education. Gaming has become a safe space for friends to socialize. Many activities like music production and video editing used to require professional studios, but now students can develop skills like these with hardware that they can slip into their backpack.
So let's take a look at some of the biggest trends among students and the hardware that will let them live their life to fullest. When you're ready to look more closely at specific gear, check out our curated Back to School selection of laptops, desktop PCs, monitors, peripherals, and wireless networking products.
How to shop for a student who games
It's long past time to drop the stereotype that gamers are isolated loners with a niche interest. Polls indicate that nearly 70% of Americans describe themselves as gamers, and that was before the pandemic. Gaming grew by leaps and bounds during the year of quarantine. Odds are, the student you're shopping for will at least wonder if their PC has the chops to play the latest online sensation with their friends, and it's very likely that they're already part of a passionate gaming community.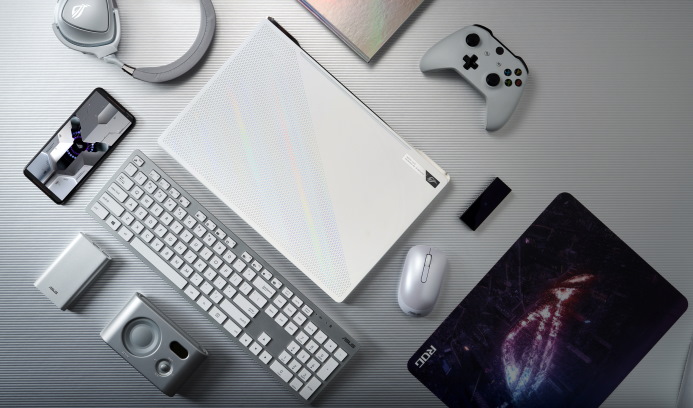 Back in the day, gaming PCs were primarily desktops. Now, you can find laptops that not only play the latest games on the market, but also slip into a backpack for a day of classes. Take the ROG Zephyrus G15, for example. This portable laptop is only 4.2lbs and 0.8" thick, it has a professional style that won't look out of place in class, and its battery is good for a day of classwork and collaboration on the go. But it's also a gaming powerhouse, thanks to its AMD Ryzen CPU and NVIDIA GeForce RTX 3080 GPU. That combo will let your student play any game currently on the market. Plus the G15's responsive, high-refresh-rate display is a competitive advantage for any fast-paced game.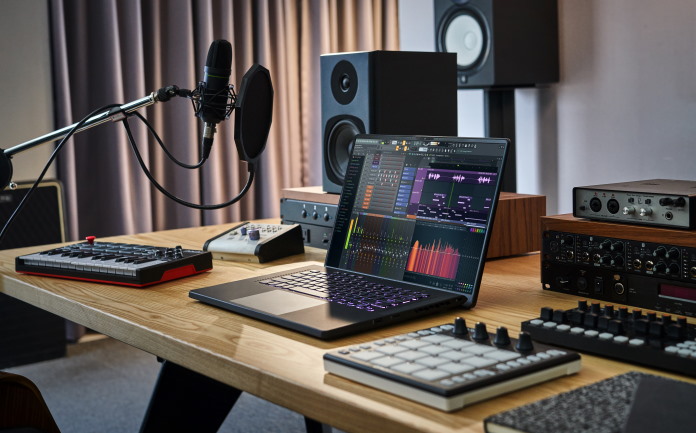 Gaming laptops can do more than just game. The specialized hardware that they draw on to render digital worlds in real time is a powerful asset for any student with a passion for 3D animation, video editing, or digital art. If you're shopping for a student who's just as passionate about their creative pursuits as they are about gaming, consider a laptop like the ROG Zephyrus M16. In a chassis that's the size more typical of 15" notebooks, it houses a 16" display that's primed for creative pursuits. It has a 16:10 aspect ratio that makes more room in creative apps for photos or videos and the toolbars or timelines around them. It's factory calibrated and PANTONE Validated for color accuracy, too, so it's an ideal canvas for fine-tuning artwork for sharing or publication.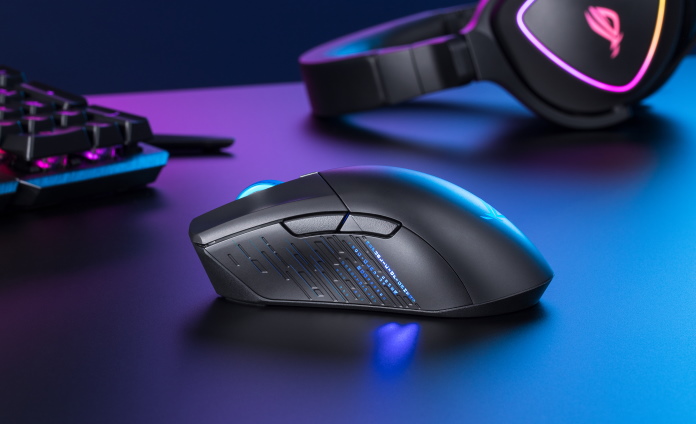 There's a wide range of peripherals, monitors, and wireless networking products that can be valuable gifts for a gamer heading back to school. The comfort, accuracy, and feel of gaming keyboards and mice make them welcome tools for competitive sports games, typing essays, and everyday computing alike. The ROG Falchion and ROG Gladius III make for a killer combo that leaves plenty of room on the tight confines of a dorm room desk. For a student who's setting up their first apartment away from home, consider a new WiFi 6 router. The ASUS RT-AX82U will let them easily set up a secure, high-performance network that won't choke and sputter even with several friends or roommates connecting their devices to WiFi.
How to shop for a student with creative talents
2021 is a fantastic year to equip a creator with the tools they need to pursue their dreams. Professional-quality software for producing music, editing video, and creating digital art is widely available. Some of it is even free. With an attainably priced PC and the right equipment, a student in your life can turn their room into a productive creative studio.
Many students need a quality display to take the next step in their creative journey. Think of the way that painters carefully select and blend their paints, or the way that photographers might spend hours waiting for the right quality of sunlight for their next shot. In the same way, artists working on a PC need a display that accurately reproduces the colors they're working with.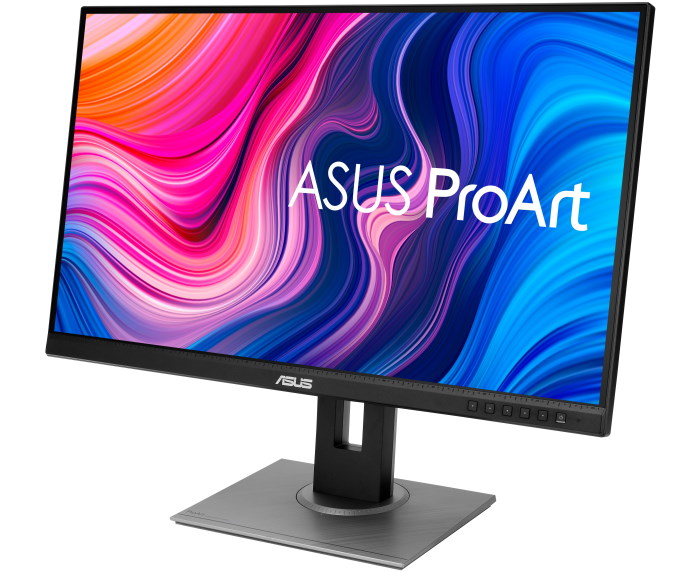 Our ProArt lineup of displays gives creators the specs they need to fine-tune their projects with confidence. The ProArt Display PA278QV is a great starting point. This affordable monitor covers 100% of the widespread sRGB color gamut, so it delivers true, expressive hues that let your student see their work as they envision it. It's factory-calibrated and Calman Verified for color accuracy, and it includes our ProArt Palette software so that your gift recipient can quickly tweak color parameters and manage their creative workflows.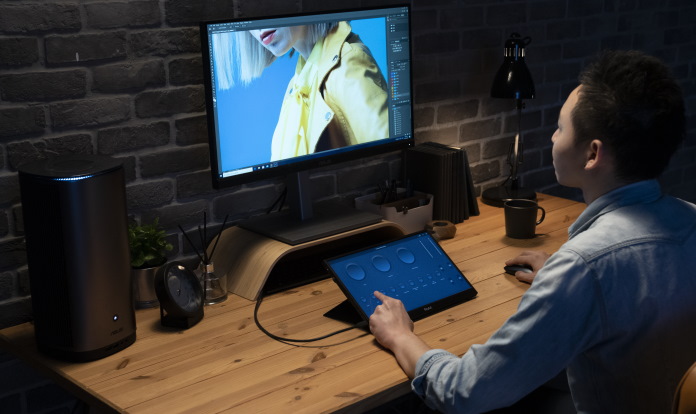 For some creators, a display is not just how they see their project—it's the very canvas on which they create their art. The ProArt Display PA148CTV is a thin, portable display with the color reproduction and accuracy that creators need, and it's also a versatile creative tool in its own right. Digital artists can reach out and manipulate their work directly thanks to 10-point multitouch support.
The ASUS Dial, a physical control located on the left edge of the monitor, works seamlessly with Adobe software and Microsoft Surface Dial-compatible apps to give your student customizable shortcuts for common tasks in their favorite creative apps. Finally, our Control Panel software turns the entire display into an intuitive touch interface for compatible Adobe software. It lets creators efficiently select tools and make key adjustments to their projects.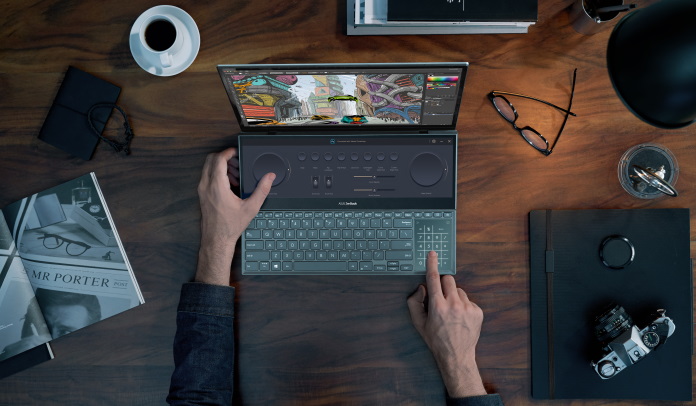 Creators find inspiration in unexpected places, so the student in your life might benefit more from having a studio that travels with them. The ZenBook Pro Duo 15 OLED packages the tools for creative work in a portable laptop with a flexible dual-screen design. The ScreenPad Plus, a secondary touch screen built right into the base of the laptop, rises up at an angle as the lid opens to create a friendlier viewing angle and to improve airflow to the powerful components inside. This extra screen space makes all the difference for anyone who multitasks as they create. For artists, it's a versatile surface for toolbars, shortcuts, browser tabs, and secondary applications. For video editors, it's a prime space for a video's timeline so that they can intuitively bounce around between different moments and get a better view of the current frame on the main display. For coders, it's a handy space to keep an eye on reference materials and social apps as they work.
How to shop for an on-the-go student
For students of all ages, a laptop of their own is a powerful asset. Today's teachers often supplement in-class work with group activities, self-directed projects, and online lectures, and it can be hard for students to stay on top of it all when they have to share a PC.
Chromebooks make it easy and affordable to give each student in your family a dedicated device. Many school districts already use Chromebooks as classroom PCs. Your student likely already knows the ins and outs of the intuitive ChromeOS interface, and the laptop is all but certain to be compatible with the websites that they'll need to access for their schoolwork.
Chromebooks also offer a lot of peace of mind to parents. Chrome OS automatically keeps itself up to date to prevent harm from malicious websites and software, and Google offers comprehensive and easy tools for managing screen time and controlling what apps and sites users can access. These features make Chromebooks an ideal first laptop for many kids.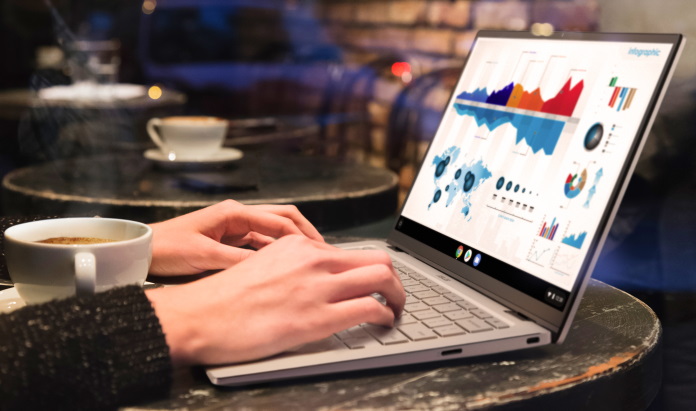 The Chromebook Flip C434 is a great all-around choice. This versatile notebook has a 360° hinge that will let the student in your life use it in clamshell, tablet, or tent mode—whatever best fits the moment. Its 14" FHD display has the resolution for a great multimedia experience, and since it's a touchscreen, young fingers can interact with it in the way they're used to from other devices like smartphones and tablets. An Intel Core CPU gives the device snappy performance, and its lightweight all-aluminum chassis is easy to carry and highly durable.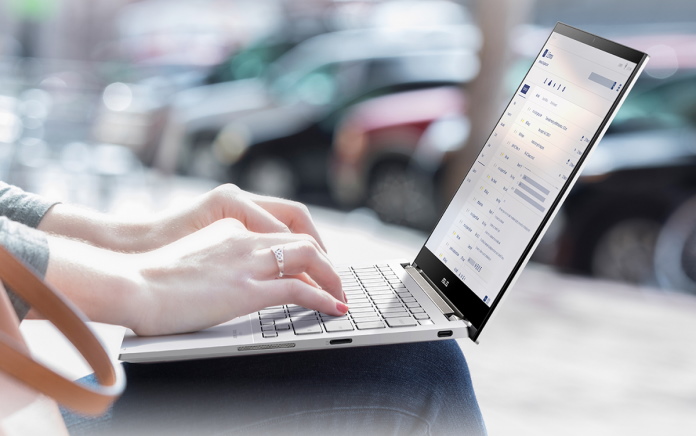 It's worth your time to do some future-proofing with a Chromebook purchase. Your student may well use it for years to come, and you want to make sure that it will grow with their needs. The Chromebook Flip C436 offers powerful features that will open possibilities for any student interested in art, gaming, or coding.
For starters, its all-metal design with dual-tapered edges gives it a sophisticated look that won't look out of place in college or at a first post-graduation job. It supports the latest USI standard so that your student can use an active stylus to take notes or create vivid digital art. And now that low-latency cloud gaming is a reality thanks to services like Google Stadia, the Chromebook C436 can be a capable gaming machine, as well.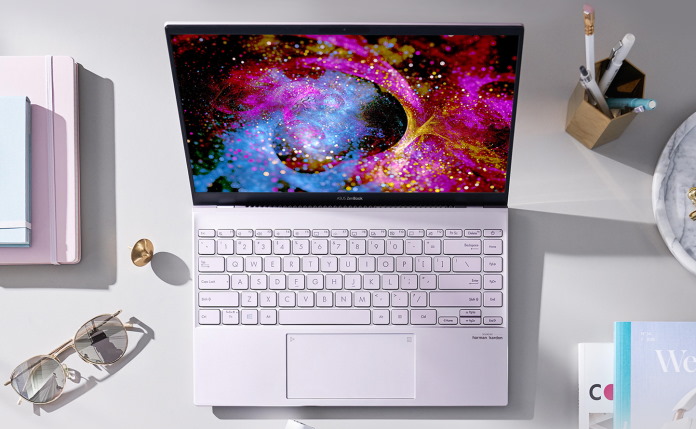 Chrome OS has many advantages, but there are still plenty of reasons to prefer a Windows PC instead. If the apps that the student in your life relies on require Microsoft Windows, consider the portable and powerful ZenBook 13 OLED. This laptop has a gorgeous 13.3" OLED display that will elevate everything your student uses a PC for. Its exceptional color reproduction and contrast make it ideal for entertainment and light gaming. An AMD Ryzen CPU makes easy work of everyday computing, and since it's a mere 2.51 lbs, this laptop is an able traveling companion.
The best tech for learners of all ages
Whether your student needs a new laptop, comfortable peripherals, a modern display, or a wireless router able to keep up with today's crowded home networks, ASUS has the devices they need. With the right equipment, the student in your life can not only excel academically, but pursue their dreams, develop their creative talents, and join their friends in the latest gaming sensations.
We have a full selection of Back to School gear that's ready to empower your student for the next school year. Check out the full list of products that we're highlighting this season, and find the tech that will open opportunities for your student for years to come.