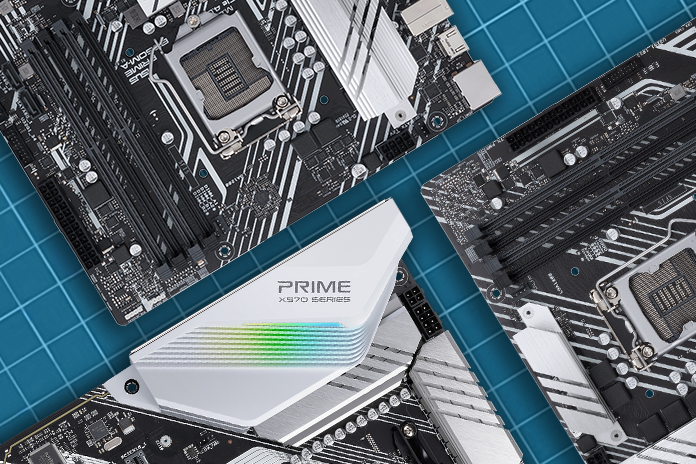 ASUS PRIME components make it easy to build capable and powerful DIY PCs suited to everything from productivity to content creation and even gaming after hours. We also design PRIME boards with clean, neutral white and silver color palettes that look great both by themselves and as part of coordinated builds with a dash of Aura Sync RGB LED lighting. If you're ready to start your PC DIY journey, this handy guide will walk you through building your next PC with ASUS PRIME components.
We've drawn from the accumulated wisdom of ASUS PC DIY enthusiasts the world over to come up with three builds spanning use cases from basic computing to an all-around champ that can handle work and play with equal aplomb.
For each build, we explain not only what components you'll need to buy but why we've chosen each one so that you can understand what capabilities to expect from your finished system build. Where it's relevant, we've sketched out alternate part choices to accommodate builders who might prefer a Ryzen CPU over an 11th Gen Core chip, for example, or a Radeon GPU over a GeForce card.
If you want to develop an even deeper understanding of how to pick components and to even more carefully tailor your system build to your needs, you can check out our dedicated guide to selecting most every component of a DIY PC. If you're just ready to build, read on for our parts lists.
The Launching Point
These days, phones and tablets handle many of our essential computing needs. Even so, a basic PC is still the most flexible way of getting work done. Whatever programs you need to install or whatever cloud resources you need to access, a PC can do it all with snappy performance and future upgradeability. And when you build with a PRIME motherboard as your system's foundation, you can be assured of a stable, reliable PC for years to come. Our Launching Point build is a great way to step back into PC DIY or to help introduce a new builder to the hobby.
CPU: Intel Core i3-10100
Intel's 10th Gen Core i3-10100 serves as the nerve center of our Launching Point. With four cores and eight threads boasting a single-core boost speed of 4.3GHz, this chip offers an ideal balance of resources for both light workloads and heavier multitasking. It's an ideal pick for our value-focused Launching Point not only because of its general-purpose performance but also because of its capable integrated graphics processor (IGP) and included CPU heatsink – both of which aren't necessarily included with higher-end parts.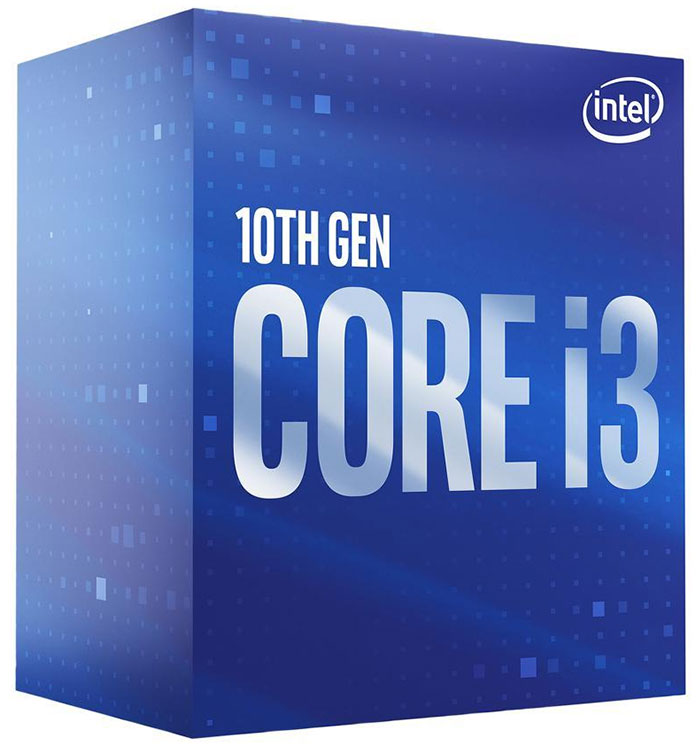 Thanks to those perks, this chip gets your build up and running today with room to expand down the line if you decide you need a discrete GPU for higher-end 3D gaming or video production purposes. All that comes for a street prices of just over $120, making the i3-10100 an easy pick for an entry-level CPU.
Motherboard: ASUS PRIME B560M-A
The PRIME B560M-A is an ideal foundation for our Launching Point. It's packed full of exclusive ASUS technology like our Digi+ VRM controller for stable power to the CPU, Fan Xpert 2+ control for a system that stays both cool and quiet, and our Energy Processing Unit for power-saving operation. Our award-winning, easy-to-use firmware interface gives you full control of all of those features and more.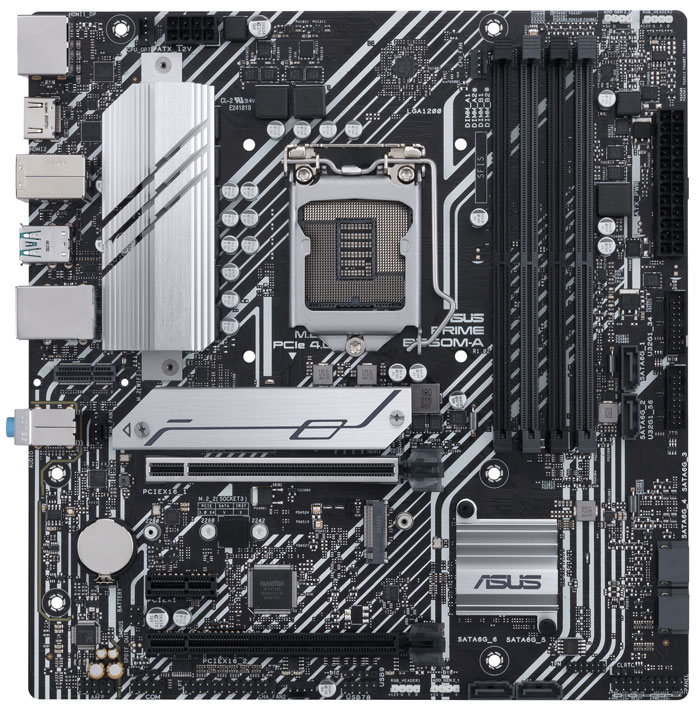 Six USB ports on the back panel, including USB 3.2 Gen 2 Type-A and Type-C ports, give you plenty of ways to connect your favorite peripherals. A single DisplayPort and two HDMI connectors allow you to create multiple-monitor setups with ease for better productivity.
Two M.2 slots and four SATA ports provide plenty of room for storage capacity, and three PCI Express slots (two physical x16, one x1) let you install any specialized expansion cards you might need down the line. You can even add flair to your build with two RGB LED strip headers: one compatible with four-pin gear, the other a Gen 2 addressable header.

As with all our motherboards, we build the PRIME B560M-A for many years of reliable service. Heatsinks on the CPU VRM and primary M.2 slot let you run heavy workloads with confidence, and if you choose to install a discrete graphics card down the line, SafeSlot Core reinforcement on the primary PCIe x16 slot ensures a reliable connection and a system that's more resilient against shocks and drops when it's being moved. No matter what you might ask of your Launching Point, the PRIME B560M-A helps it deliver.
Case: Cooler Master Q300L TUF Gaming Alliance Edition
The Cooler Master Q300L TUF Gaming Alliance Edition case provides a compact and configurable home for our microATX motherboard while leaving ample room for a discrete GPU down the line. Patterned mesh dust filters on the front and top of the case create subtle visual interest, and a transparent side panel lets you show off your components.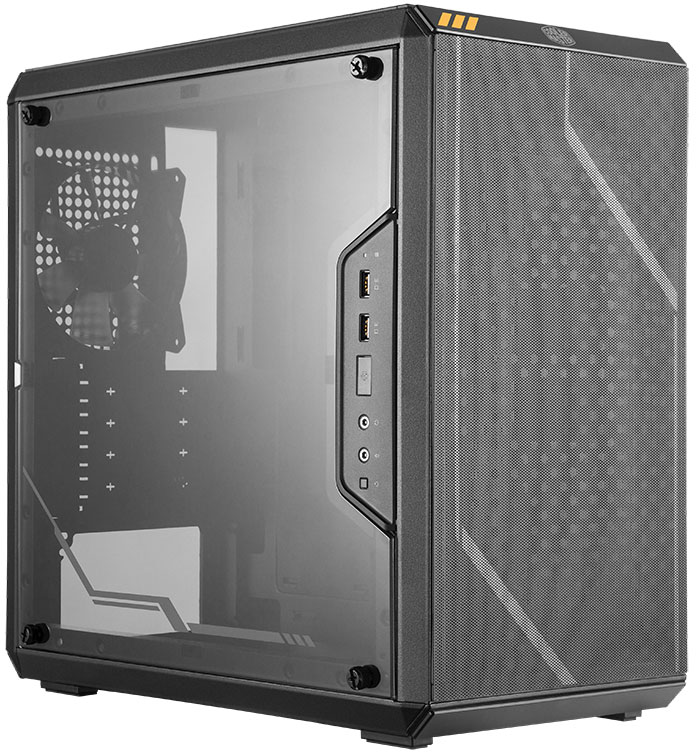 A side-mounted, modular I/O panel provides ergonomic access to USB and audio ports, and a pre-installed 120mm fan at the rear draws cooling air through perforated panels for optimal performance, with or without a discrete GPU.
RAM: G.Skill Ripjaws V DDR4-3000 CL15 16GB (2x8GB) kit
The B560 chipset allows memory overclocking to enhance system performance, even with our locked Core i3-10100 CPU. For extra integrated graphics performance today and enhanced gaming performance with a discrete GPU if needed, we've picked G.Skill's Ripjaws DDR4-3000 CL15 memory kit.

In addition to high speeds and low latency, this kit sports smoked silver heatsinks that will coordinate nicely with the PRIME B560M-A motherboard. 16GB of capacity provides plenty of room for hundreds of browser tabs, documents, or spreadsheets while laying the foundation for more demanding work or play down the line.
Storage: Western Digital Blue SN550 500GB NVMe SSD
Prices for advanced NVMe solid-state drives have fallen to the point that even attainable builds like our Launching Point can take advantage of their high performance and responsiveness. The Western Digital Blue SN550 is exemplary of this new breed, blending high performance in the most common workloads with prices per gigabyte that are competitive to slower SATA storage.

The 500GB SN550 we've chosen for this build balances cost with useful capacity, offering plenty of room for your operating system, documents, and media files or games. Its M.2 form factor lets it slot right onto the PRIME B560M-A motherboard for a cleaner-looking system, too.
Power supply: TUF Gaming 550W Bronze
The power supply is the most essential component in any build, and a durable, reliable model is critical for both performance and system longevity. Our TUF Gaming 550W Bronze model is built for the task with military-grade capacitors, a long-lived dual-ball-bearing fan, and a printed circuit board with a protective coating to ensure that moisture, dust, and debris can't affect operation.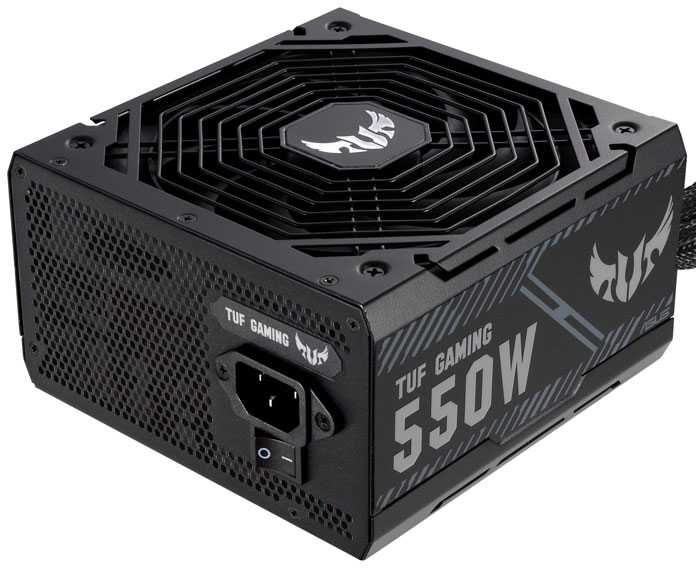 0dB fan control allows this PSU to operate silently under light loads, and a fan built with our advanced Axial-tech design provides a directed blast of cooling air when it's needed without unduly noisy operation. 80 PLUS Bronze certification ensures that the TUF Gaming 550W Bronze efficiently supplies power to your system, too.
Monitor: ASUS VA24EHE
Our Eye Care VA24EHE display offers a crisp Full HD resolution with a higher-than-average 75Hz refresh rate for smoother, more responsive computing as you scroll through documents and play games. The bright, contrasty IPS panel offers wide viewing angles and vivid colors, and Adaptive-Sync support stands ready to provide tear-free and responsive gaming experiences with a compatible discrete GPU if you add one to this system in the future.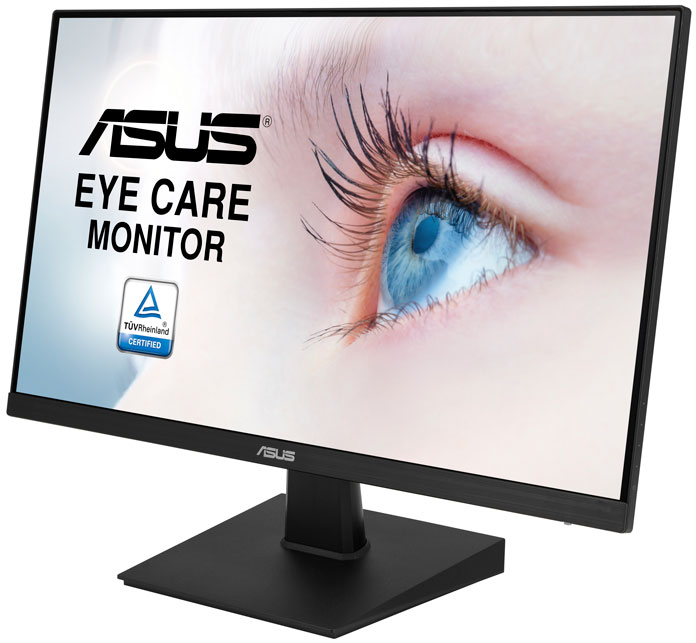 This display's full suite of Eye Care features, including control over blue light emissions and flicker-free backlight brightness adjustments, ensure that you'll have a comfortable computing experience over time, too.
Peripheral loadout: TUF Gaming K1 keyboard, TUF Gaming M3 mouse, and TUF Gaming H3 headset
You may already have a keyboard, mouse, and headset that you can use with your new PC, but if you're shopping for new gear, the TUF Gaming K1 keyboard, TUF Gaming M3 mouse, and TUF Gaming H3 headset come together for a ready-made combo of peripheral goodness.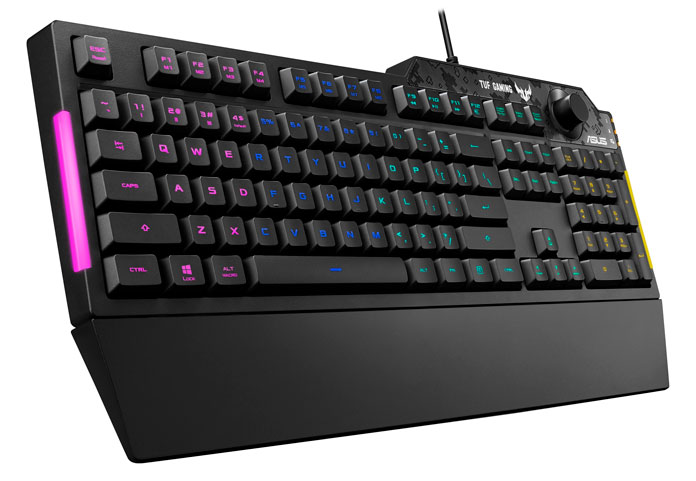 The TUF Gaming K1 keyboard is built to last thanks to a durable outer coating and a spill-resistant design that can keep on going even after that inevitable soda or coffee spill. Five-zone RGB LED lighting and twin light bars enhance both style and visibility for your build, and a dedicated volume knob in the upper right corner teams up with media keys to give you full control over music, movies, and games.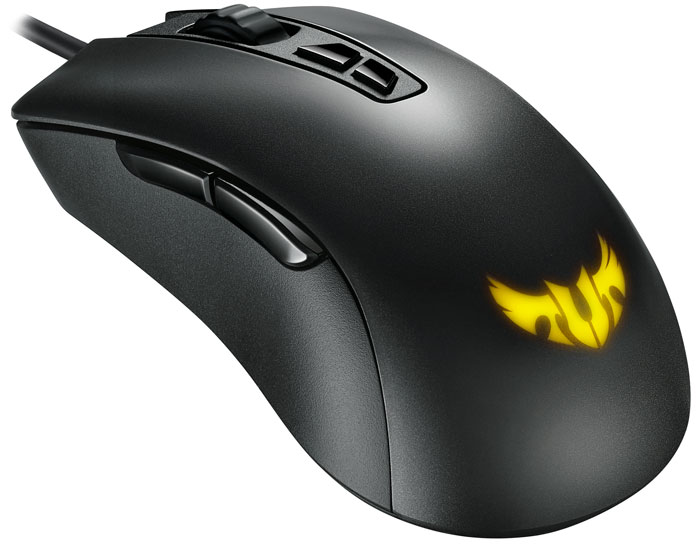 The TUF Gaming M3 mouse is ready to perform in both gaming and productivity apps. A 7000DPI optical sensor offers accurate tracking for a wide range of play styles. Dedicated forward and back buttons under your thumb speed up both web browsing and in-game commands, and a total of seven programmable buttons let you tune your inputs to taste in Armoury Crate. Aura RGB lighting behind the TUF logo on the palm rest adds an extra touch of style to your setup.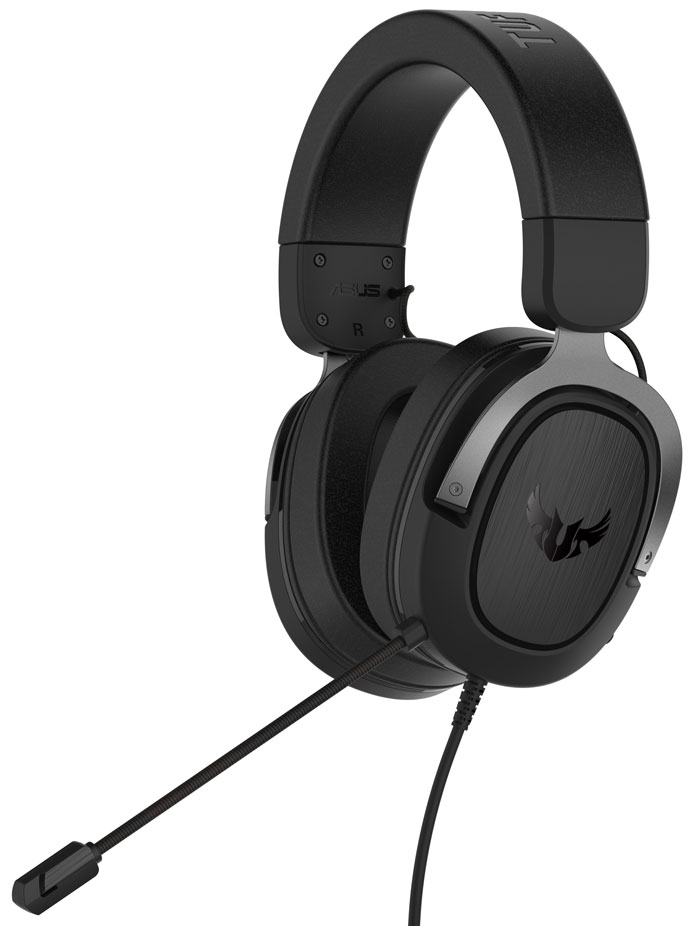 Finally, the TUF Gaming H3 headset delivers clear audio input and output. Comfortable, generously padded ear cups house our 50mm Essence drivers in a closed design for crisp in-game sound and punchy listening for music and media. The stainless steel headband and yokes are both built to last as you put on and take off the headset as part of your gaming sessions. The unidirectional boom mic easily reaches just the right position to capture your voice, and a dedicated mute button on the earcup lets you cut comms whenever radio silence is needed. Broad compatibility with the PC, PS4, Nintendo Switch, Xbox One, and any other device with a headset or headphone jack means that the H3 can provide audio across systems and anywhere you need to be.
Launching Point alternatives
We know that some builders will prefer to go with an AMD platform for reasons of features or personal preference. We're ready to serve those folks with a pair of alternative components that you can substitute for the CPU and motherboard combo above.
CPU alternative: AMD Ryzen 3 3200G
The AMD Ryzen 3 3200G APU boasts four Zen+ cores with a boost clock of up to 4GHz, and its potent Vega 8 integrated graphics can credibly run popular esports games.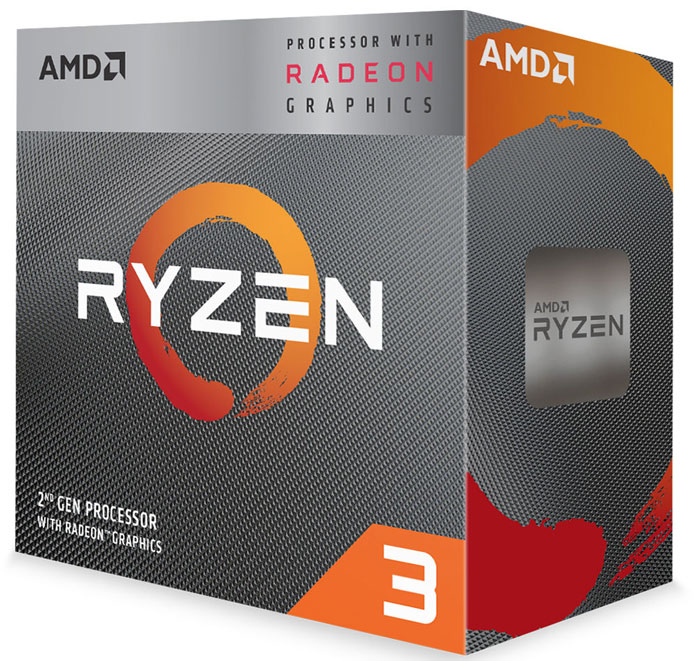 If you prioritize gaming performance now and don't mind trading away a bit of general-purpose CPU snappiness versus our Intel system, the Ryzen 3 3200G can get you into some of today's most popular games at a budget-friendly price.
Motherboard alternative: ASUS Prime B450M-A II
A Socket AM4 motherboard like the PRIME B450M-A II is required to get our Ryzen 3 3200G up and running.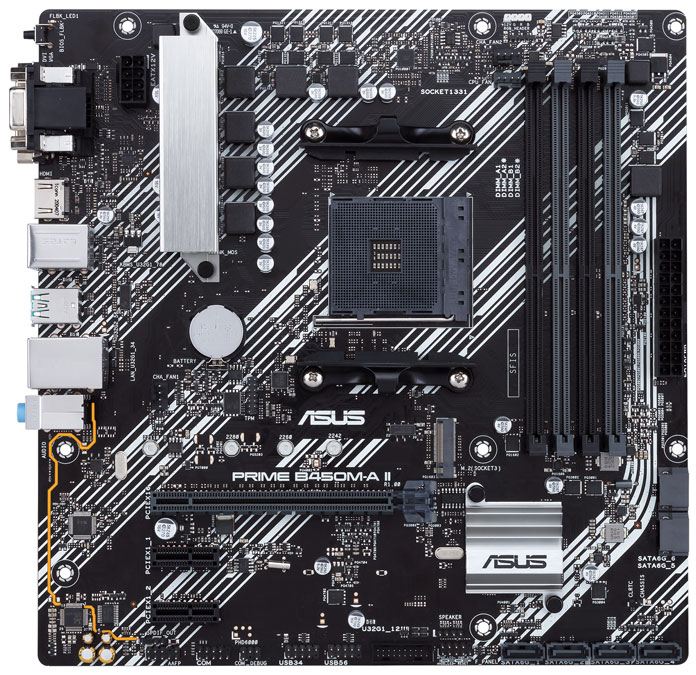 This board trades the USB 3.2 Gen 2 Type-C port of its Intel B560 cousin for two such Type-A ports, and it upgrades to four USB 3.0 ports at the back panel. Large heatsinks on the VRM and B450 chipset ensure reliable operation, and six SATA ports provide storage configuration flexibility alongside a single M.2 slot.
The All-Arounder
If you're already into PC DIY and seeking a more powerful upgrade from an existing system, our All-Arounder build deserves a look. This system brings more muscle to bear for users who need higher performance in more demanding productivity and creative tasks. This build is also ready to run more demanding 3D games for users or family members who like to dive into the latest titles after hours.
CPU: Intel Core i5-11400
The 11th Gen Intel Core i5-11400 brings six cutting-edge cores and 12 processing threads to the All-Arounder thanks to the latest Rocket Lake desktop architecture.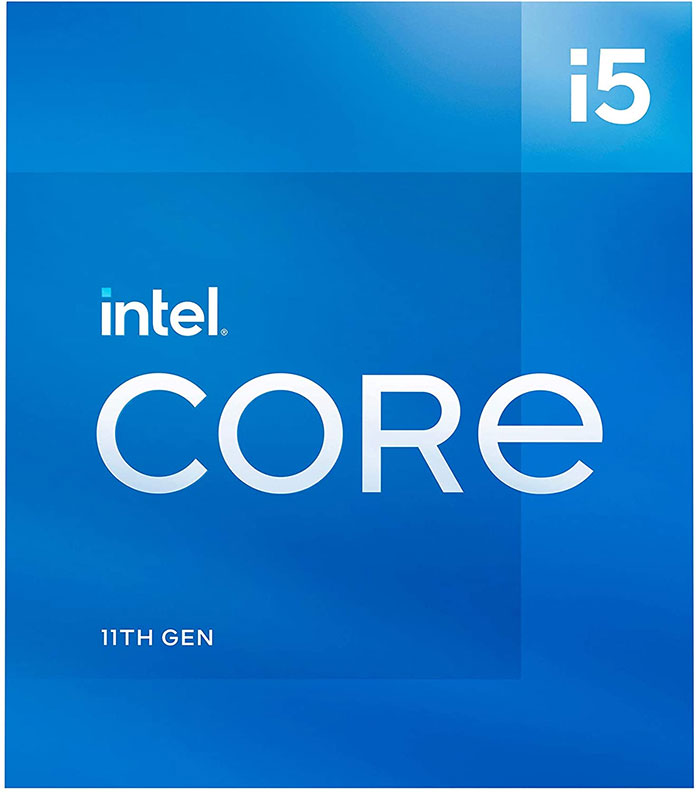 A brisk 4.4GHz peak Turbo Boost speed and a maximum all-core clock speed of 4.2GHz ensure consistently high performance from each of those cores. Those extra resources enable faster and more responsive performance when juggling multitasking workloads, as well as better overall performance in applications that can occupy the entire CPU. The Core i5-11400 also enables cutting-edge PCI Express 4.0 connectivity for compatible M.2 storage devices, graphics cards, and more.
Although the i5-11400's onboard UHD Graphics 730 graphics processor goes unused as a pixel-pusher in the All-Arounder thanks to the discrete graphics card in our parts list, this IGP can be repurposed as a high-quality accelerated video encoder for today's ubiquitous live streams and video recordings through applications like OBS. If you'd rather save a few dollars, you can forgo the IGP by selecting the otherwise identical Core i5-11400F.
CPU heatsink: Cooler Master Hyper 212 EVO V2
More cores and more threads mean more heat-generation potential. The Core i5-11400's 65W TDP hardly demands an exotic cooler, but a build like the All-Arounder isn't just about higher performance—it's about refinement. Enter the Cooler Master Hyper 212 EVO V2.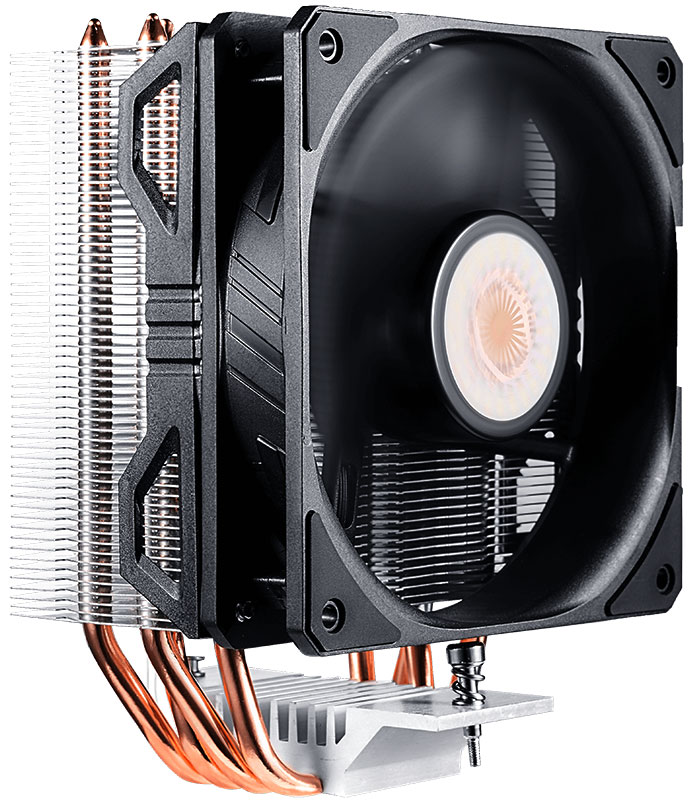 This iconic heatsink has developed a deserved reputation as a value winner for both cooling performance and quiet system operation, thanks to a tall main cooling tower that gets its airflow from a single 120mm fan that's easy to clip right on. Four heat pipes milled for direct contact with the CPU ensure optimal heat transfer, and the wide speed range of the PWM fan lets the Fan Xpert 2+ control logic of our motherboards work its magic most effectively. Thoughtful touches like an offset tower design for RAM compatibility and an easy-to-use mounting system make the Hyper 212 EVO V2 a fine jumping-off point for those looking for an improvement over stock heatsinks.
Motherboard: ASUS PRIME B560-PLUS
In addition to its more powerful CPU, the All-Arounder graduates to the ATX PRIME B560-PLUS for more expansion flexibility over time and a similarly rich set of connectivity options compared to the Launching Point's B560M-A board. Like all of our motherboards, it features an easy-to-use and award-winning firmware interace that gives easy access to features like our energy-saving EPU and Fan Xpert 2+ controls for a quiet system that stays cool under load.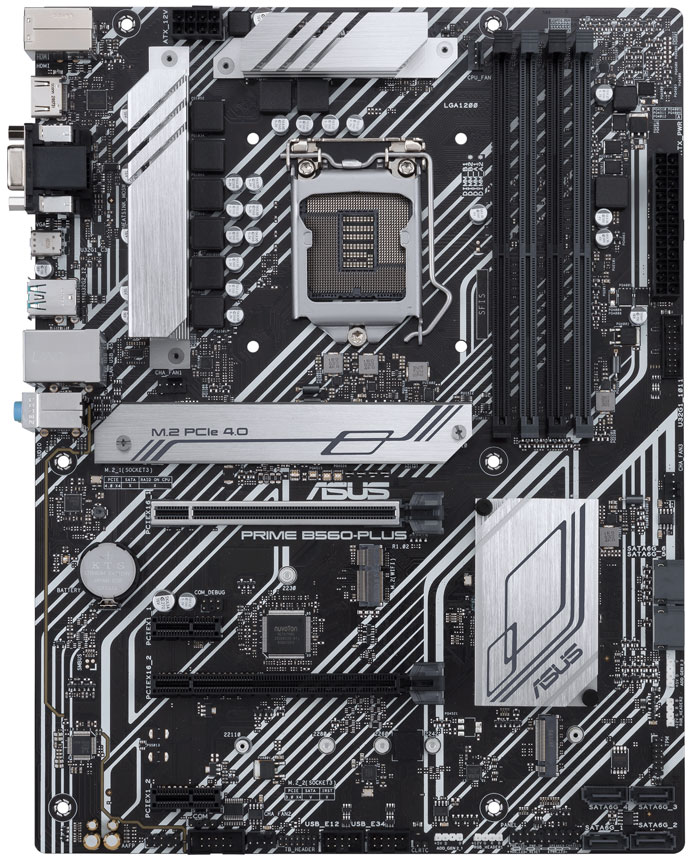 Like its microATX cousin, the PRIME B560-PLUS is built to deliver reliable performance over time. VRM heatsinks on all of the primary power components, as well as a flexible SSD heatsink that can be moved between the primary or secondary M.2 slots, both ensure that the powerful Core i5-11400 and connected storage devices will both enjoy high sustained performance.

Diverse connectivity includes four USB 2.0 ports, two USB 3.2 Gen 2 Type-A ports, and a reversible USB 3.2 Gen 1 Type-C port ready for a wide range of supported devices. Gigabit Ethernet ensures swift wired connectivity, and a carefully shielded analog audio path with dedicated PCB layers lets you enjoy crisp audio playback for work or enjoyment. Twin M.2 slots and six SATA ports make large storage arrays a snap. And a pair of RGB LED strip headers—one four-pin, the other Gen 2 addressable—make it easy to spice up your build with Aura Sync illumination.
Graphics card: ASUS GeForce Dual GTX 1660 SUPER EVO
A discrete GPU is a requirement for our All-Arounder's goal of high performance for every type of user—not just gamers. The ASUS Dual GeForce GTX 1660 SUPER EVO is powered by NVIDIA's advanced Turing architecture, enabling high performance for Full HD gaming and accelerating content creation tasks like video and photo editing and 3D rendering with aplomb.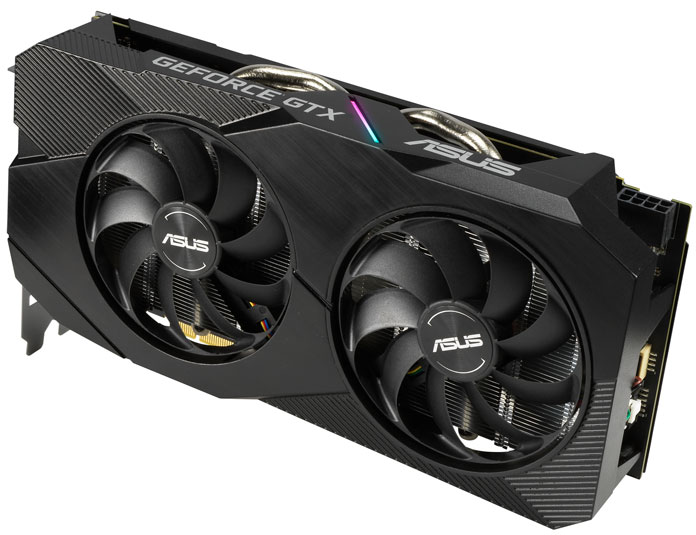 We bring many years of expertise designing custom graphics cards to the ASUS Dual GeForce GTX 1660 SUPER EVO. This card keeps its cool thanks to a pair of fans using our advanced Axial-tech fans, which focus cooling airflow on a high-capacity 2.7-slot heatsink built with our DirectCU II design. A 0dB mode at idle stops the fans for the lowest possible contribution to system noise levels. All that cooling gear comes wrapped in a stealthy black shroud with a dash of RGB LED illumination for just the right amount of visual interest. A full-length alloy backplate adds rigidity and all-around style.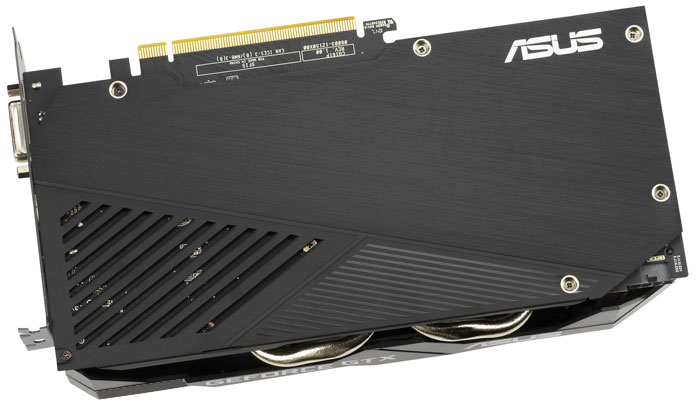 Like the other components in our All-Arounder, the Dual GeForce 1660 SUPER EVO is built to last thanks to our fully automated Auto-Extreme assembly technology, which reduces thermal strain on delicate components and creates a more attractive finished PCB. In addition, we put each finished graphics card through a 144-hour validation program at the factory to further ensure that every one is ready to perform at its best over time.
Case: Corsair 4000D Airflow White Edition
With contrasting white, black, and silver components, the All-Arounder deserves a case that completes the aesthetic theme. The Corsair 4000D Airflow in white coordinates well with our other components, offering clean lines and a recurring triangle motif that's both eye-catching and functional. The triangle mesh front panel allows large amounts of cooling air to flow in thanks to the pair of included 120mm fans, ensuring optimal performance from our CPU and GPU alike.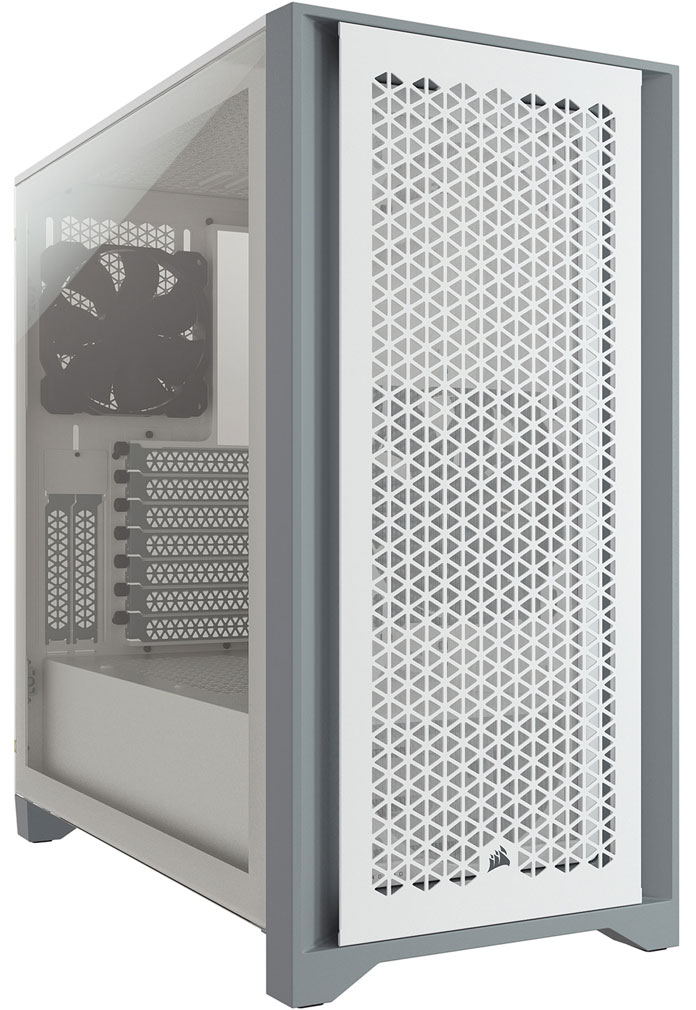 A large tempered glass side panel puts those coordinated parts on prominent display, and a full-length PSU shroud at the bottom of the case conceals both extra cabling and storage devices for a refined overall impression. Extensive cable management options behind the motherboard tray further organize your build, and a well-provisioned front I/O panel lets you connect both USB Type-A and Type-C devices alongside an all-in-one headset jack. Mounting options for both 2.5″ SSDs and 3.5″ hard drives keep our build clean as can be.
Memory: Crucial Ballistix 16GB (2x8GB) DDR4-3200 White kit
Adequate RAM is essential to keeping plenty of programs and data responsive, and Crucial's Ballistix 16GB White kit spreads its generous capacity over two 8GB DIMMs for optimal dual-channel operation.

The clean white heat spreaders stand out against our motherboard's black PCB, but they don't sacrifice function thanks to a low-profile design that fits under our CPU heatsink with ease. High 3200MHz speeds enable the best performance from our Core i5-11400 CPU.
Primary storage: Western Digital SN550 1TB
The All-Arounder takes the balanced performance of the WD SN550 in our Launching Point and doubles the capacity to 1TB.

In addition to accommodating the operating system and your primary programs, this extra capacity is handy for large collections of multimedia, holding the ever-increasing installed sizes of today's most popular competitive shooters, or keeping multitudes of indie games from the latest Steam sale at hand.
Power supply: TUF Gaming 650W Bronze
The higher core count and discrete GPU of our All-Arounder both require a step up the power-supply ladder, so we move up to the TUF Gaming 650W Bronze PSU. Like its 550W stablemate, this 650W version is built for the job with military-grade capacitors, a long-lived dual-ball-bearing fan, and a printed circuit board with a protective coating to ensure that moisture, dust, and debris can't affect operation.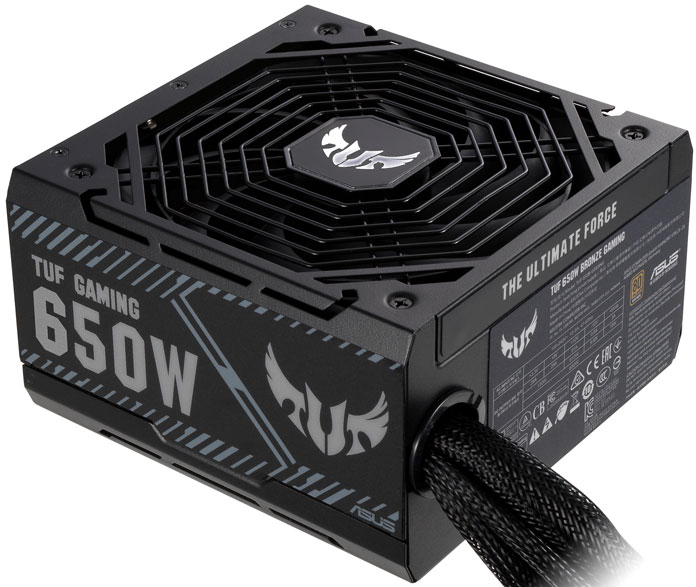 0dB fan control allows this PSU to operate silently under light loads, and a fan built with our advanced Axial-tech design provides a directed blast of cooling air when it's needed without unduly noisy operation. 80 PLUS Bronze certification ensures that the TUF Gaming 650W Bronze efficiently supplies power to your system, too.
Display: ASUS VA27AQSB
A higher-resolution display lets you put more windows in view on your desktop and ultimately get more done. The ASUS VA27AQSB monitor takes us from the Launching Point's Full HD vista to the broader 2560×1440 canvas of Quad HD, and its 27″ diagonal size keeps those extra pixels readable.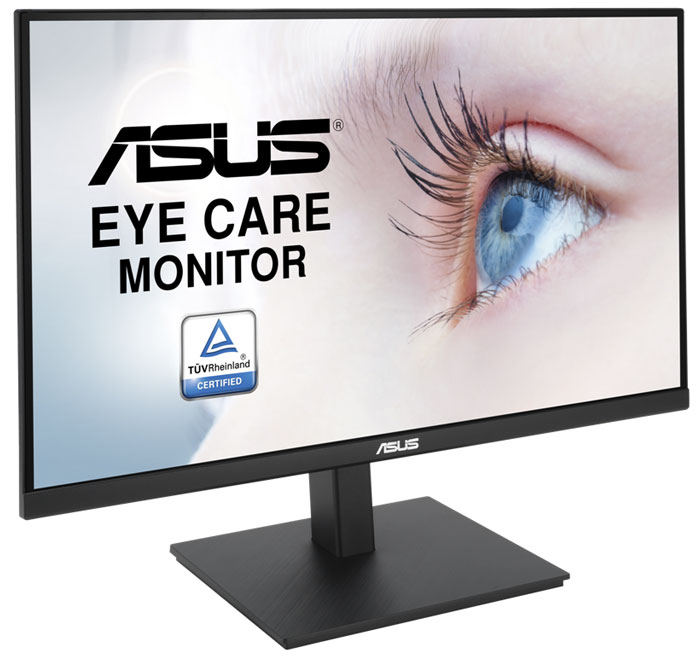 Narrow bezels keep the focus on your content, and IPS panel technology ensures vivid colors and wide viewing angles. A 75Hz refresh rate with Adaptive-Sync variable refresh rate technology provides smoother motion than the average 60Hz monitor and can keep your games more fluid and responsive, too. We top all that off with Eye Care tech that allows for lower blue light emissions and flicker-free backlighting for a comfortable viewing experience that can be tuned to protect your delicate circadian rhythm.
Peripheral loadout: ROG Strix Scope RX keyboard, ROG Chakram Core mouse, ROG Delta Core headset
Much like we did with our Cooler Master Hyper 212 EVO heatsink, the All-Arounder gives us the opportunity to explore higher-end peripherals from our Republic of Gamers (ROG) family. We've selected a mouse, keyboard, and headset that will enhance every minute you spend with this build.

The ROG Strix Scope RX gaming keyboard puts a full 104-key layout on a rock-solid frame that's been trimmed down to occupy as little space on your desktop as possible. Our in-house ROG RX Optical Mechanical switches are developed from the ground up for a smoother, more stable typing experience than other mechanical key switches, and central RGB LED illumination shines evenly through the keycaps above for a uniform, easy-to-see typing experience.
The alloy top plate and optical switches combine for an IP56 dust and moisture resistance rating, meaning that spilling a drink on the Scope RX doesn't spell the keyboard's doom. Gamer-friendly features like five onboard profiles, extensive reprogrammability through Armoury Crate, and a Stealth key that can hide all open windows and mute your audio give you all the tools you need to enjoy the All-Arounder's gaming prowess in your off hours.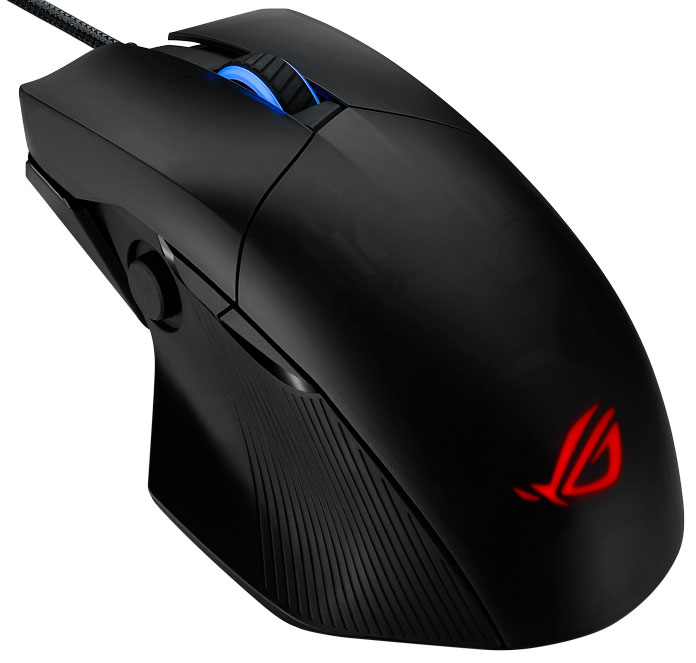 The ROG Chakram Core gaming mouse brings precision, versatility, and long life to your desk for both work and play. The 16000 DPI optical sensor tracks accurately for precise work like photo and video editing, and its performance remains consistent even during large mouse movements more typical of gaming.
Pre-tensioned main buttons ensure that no movement is wasted every time you click, and included adjustable weights allow you to tune the in-hand feel of the mouse for your individual preference. The Chakram Core also puts a versatile dual-mode joystick under your thumb that can be used for both analog and digital control across games and apps. The Armoury Crate application controls all of the Chakram Core's functionality alongside its Aura RGB LED lighting zones for further personalization.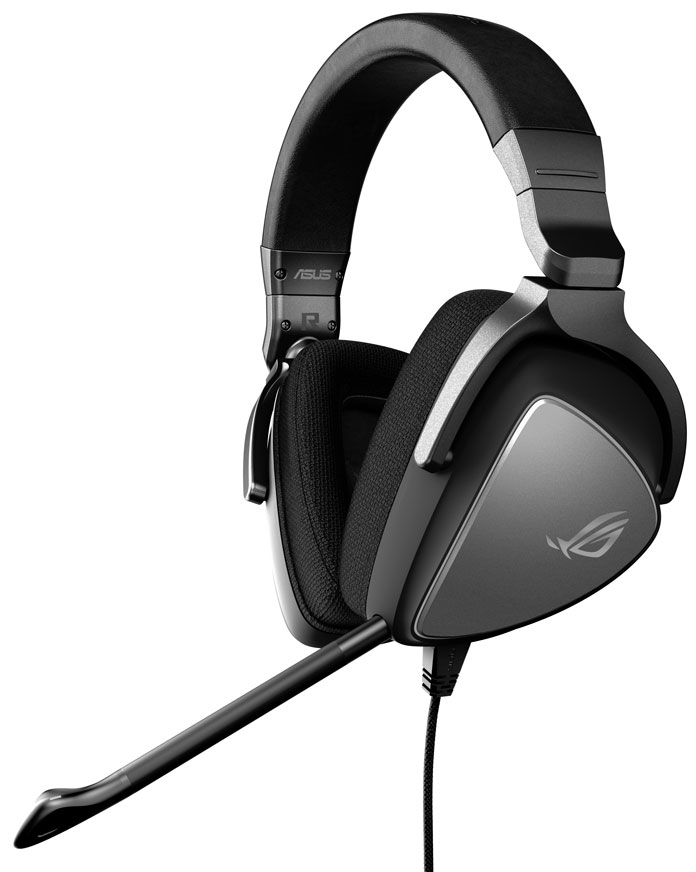 The ROG Delta Core headset plugs right into the headset jack on the front of our Corsair 4000D case. A closed design and large ASUS Essence drivers deliver accurate, full-range sound for productivity, music, and games alike, and dedicated volume and mute controls give you direct control over those key settings. Two sets of ergonomic D-shaped ear cups—one mesh, the other a plush protein leather—let you pick the on-the-head feel that's right for you. The detachable unidirectional boom mic carries your voice loud and clear for easy communication with coworkers during the day and squad members after hours.
All-Arounder alternatives
CPU alternative: AMD Ryzen 5 5600X
The AMD Ryzen 5 5600X offers an exceedingly well-balanced package for those not interested in the iGPU or dedicated media encoder available from the Core i5-11400.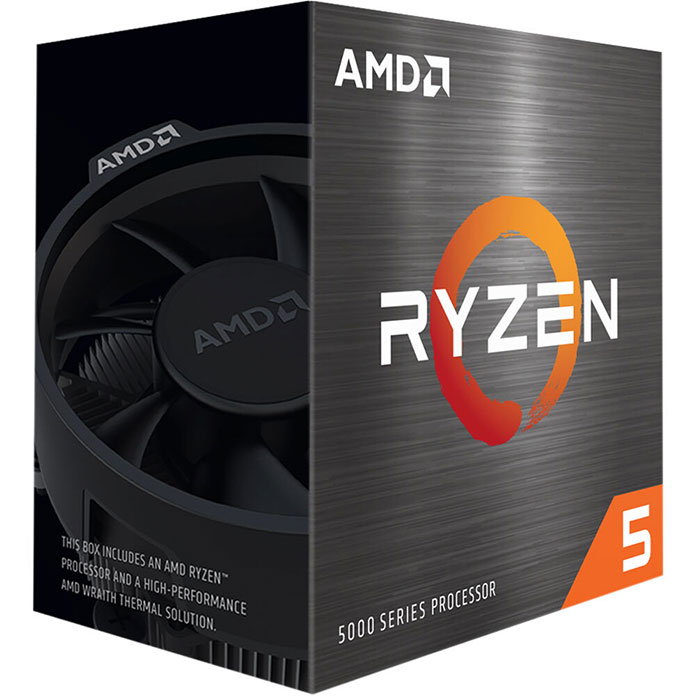 This chip's six high-performance Zen 3 cores and 12 threads can boost up to 4.6GHz for snappy performance both on the desktop and in games, and a generous 32MB of L3 cache can enhance gaming performance. Because the Ryzen 5 5600X lacks an onboard GPU, you will need to pair a discrete graphics card with it in order to assemble a complete system.
Motherboard alternative: ASUS Prime B550-PLUS
Should you choose the Ryzen 5 5600X as your All-Arounder's CPU, you'll need a compatible motherboard to go with it. We've selected the PRIME B550-PLUS as the home for the 5600X in this parts list.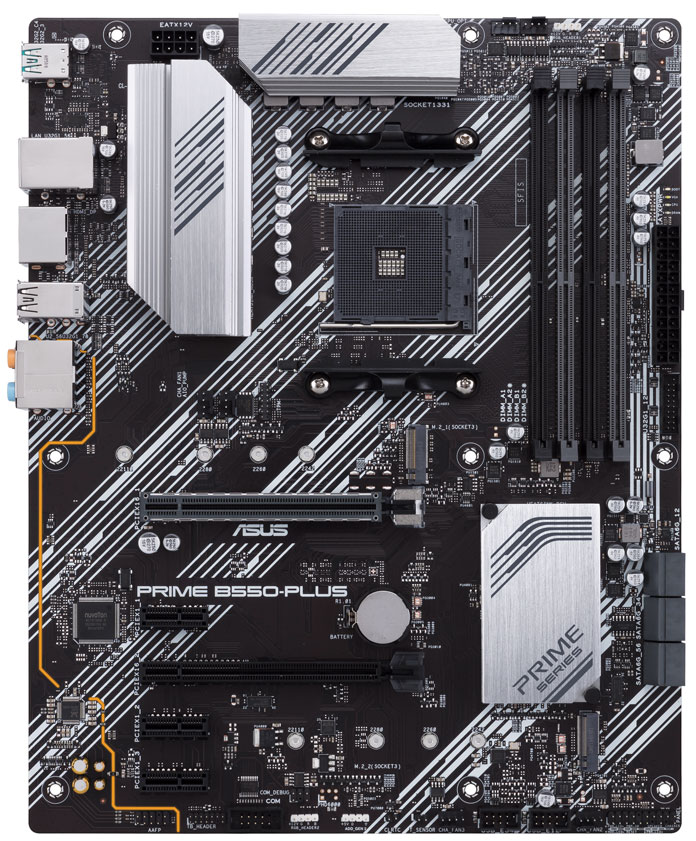 Like the PRIME B560-PLUS on the Intel side of the aisle, the ATX PRIME B550-PLUS offers more expansion slots to grow into over the long term. PCI Express 4.0 connectivity on the primary M.2 slot and PCI Express x16 slot allow next-gen graphics cards and SSDs to enjoy full performance in tandem with the Ryzen 5 5600X. This board's power delivery hardware also comes fully heatsinked for sustained CPU performance.

The PRIME B550-PLUS offers rich connectivity on its back panel thanks to a pair of USB 2.0 ports, four USB 3.2 Gen 1 Type-A ports, and USB 3.2 Gen 2 Type-A and Type-C ports. Gigabit Ethernet allows for fast wired networking, and both analog and digital audio output options give you plenty of ways to pipe sound to speakers, headphones, or A/V gear. An LED-illuminated audio path adds a touch of onboard flair, while four-pin and Gen 2 addressable RGB LED headers let you extend lighting control to your case or other RGB LED-equipped gear via Aura Sync.
GPU alternative: ASUS Dual Radeon RX 5500 XT EVO 4GB
For AMD fans in need of an attainable discrete graphics card, we suggest the ASUS Dual Radeon RX 5500 XT EVO with 4GB of VRAM.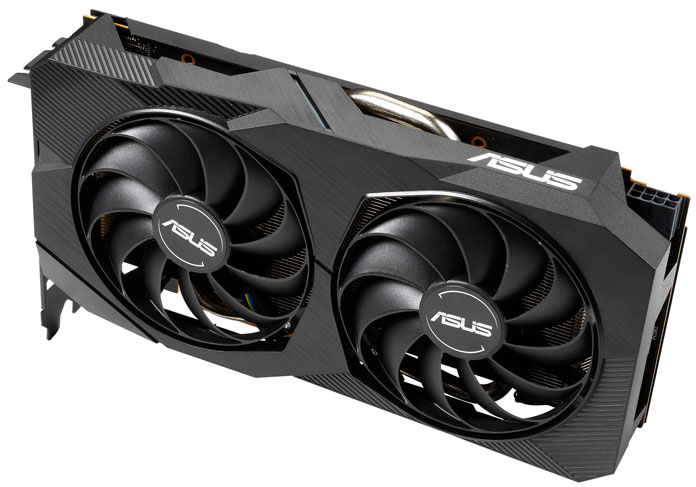 This card offers solid all-around gaming and productivity performance, and we put our own spin on it with dual Axial-tech fans blowing through a compact, high-surface-area heatsink that makes this card easy to install. A subtle RGB LED strip and a full-length alloy backplate add refined style to the All-Arounder, and a 0dB mode at idle keeps our build easy on the ears, too. Auto-Extreme assembly technology and a 144-hour validation cycle at the factory ensure this card is ready to perform for the long run.
The Optimized PRIME
If you're like many PC DIY enthusiasts, your PC is your constant companion for both important work and relaxing play. It might be chewing through complex data analysis or content creation tasks during the day and churning out frames for the latest triple-A gaming titles after hours. In both cases, you need a system that has power, reliability, and connectivity to spare.
Our PRIME family has the range to serve not only attainable and midrange builds but also more demanding enthusiast use cases like this one. Our Optimized PRIME build demonstrates this range with high-end motherboards on both Intel and AMD platforms.
CPU: AMD Ryzen 7 5800X
AMD's Ryzen 5 5800X CPU is an enthusiast favorite for good reason. Its cutting-edge Zen 3 cores can boost up to 4.7GHz in lightly-threaded applications and games that don't use every CPU core or thread, and 32MB of shared L3 cache delivers even more performance. It boasts enviable performance-per-watt thanks to an industry-leading 7nm production process.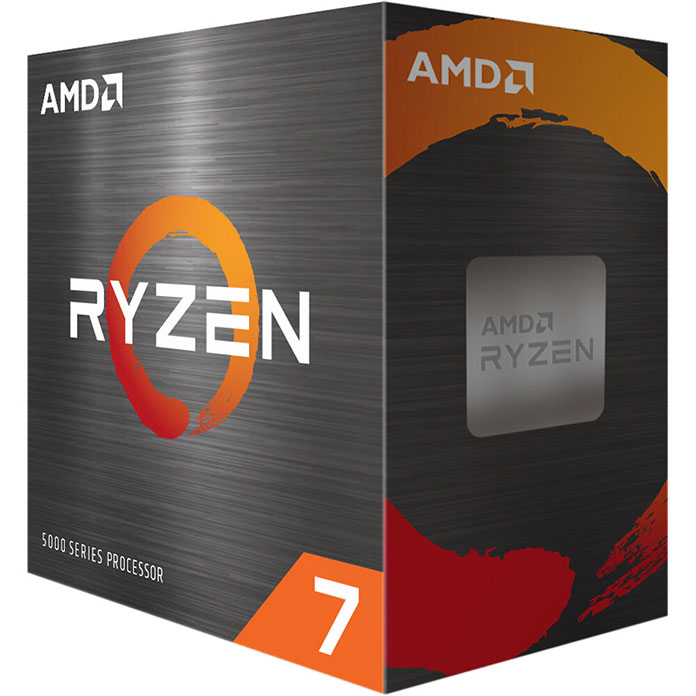 Eight CPU cores and 16 processing threads offer even more parallel processing power for intense multitasking or full-bore content creation compared to six-core, 12-thread CPUs. This headroom opens up the possibility of demanding workloads like same-PC gaming and live streaming to services like Twitch, among other potential use cases.
Motherboard: ASUS PRIME X570-PRO
The Ryzen 7 5800X drops into the ASUS PRIME X570-PRO motherboard. Thanks to a 12+2 phase DrMOS VRM and large heatsinks, the PRIME X570-Pro helps deliver high sustained performance from our CPU over time. More heatsinks on the chipset and the main M.2 slot ensure that our Optimized PRIME build can deliver all the speed of PCIe 4.0 without annoying throttling.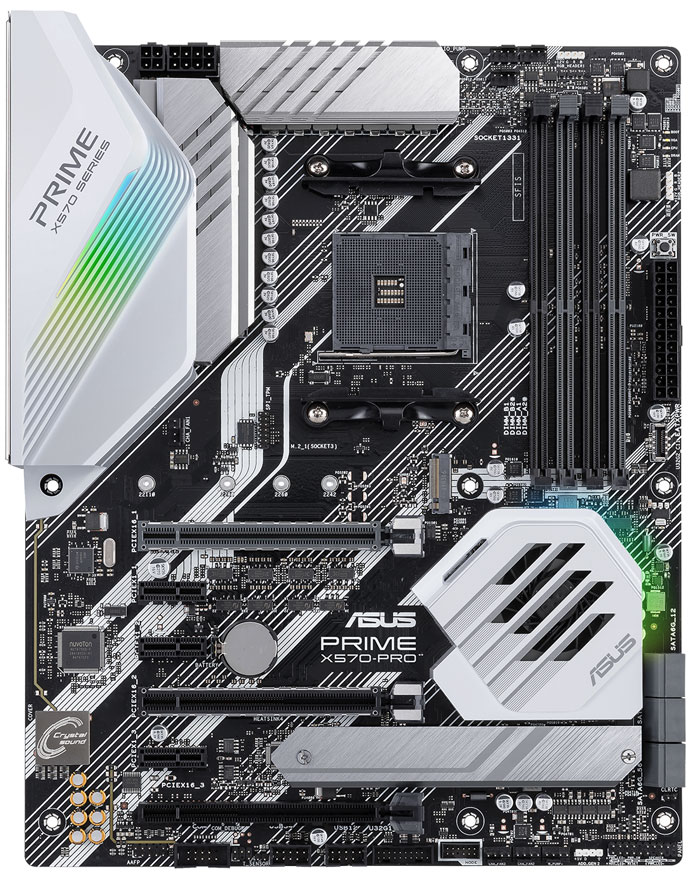 Every PCI Express slot and M.2 slot on this motherboard features next-generation PCIe 4.0 connectivity for double the bandwidth, lane for lane, compared to PCIe 3.0. This universal high-bandwidth connectivity is ideal for connecting not only graphics cards but also high-performance SSD RAID arrays using add-in cards like our Hyper M.2 X16 Gen 4 card.

The PRIME X570-PRO's back panel offers four high-speed USB 3.2 Gen 2 ports—three Type-A and one Type-C—alongside four more USB 3.2 Gen 1 Type-A ports for exceedingly flexible peripheral connectivity. USB 3.2 Gen 2 speeds extend to the front panel with a dedicated header, and high-quality analog audio makes for clear communication and entertainment.
RAM: Corsair Vengeance RGB Pro SL 32GB (2x16GB) DDR4-3600
For maximum performance with our Ryzen 7 5800X and a coordinated style with our white build, we've turned to Corsair's Vengeance RGB Pro SL 32GB DDR4-3600 kit.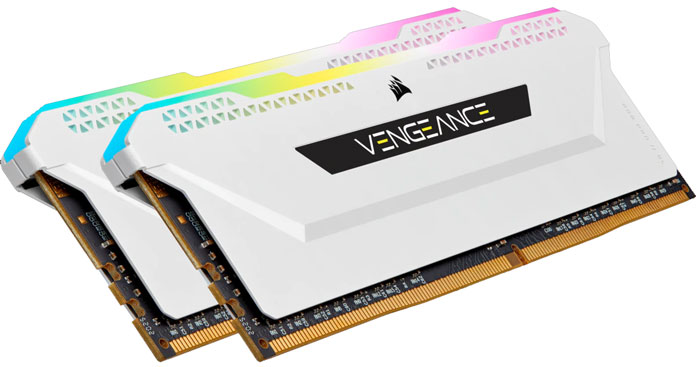 White heat spreaders topped off with addressable RGB LED lighting complement the RGB LEDs on our motherboard, CPU cooler, and case, while a low-profile design ensures maximum compatibility with the other components around the CPU socket.
CPU cooler: ROG Strix LC 240 RGB White Edition
To get the most out of our Ryzen 7 5800X CPU, we tap the ROG Strix LC 240 RGB White Edition all-in-one liquid cooler. This powerful system uses a proven Asetek pump as its foundation. We cap it off with a sleek cover featuring an Aura RGB LED-illuminated Republic of Gamers logo.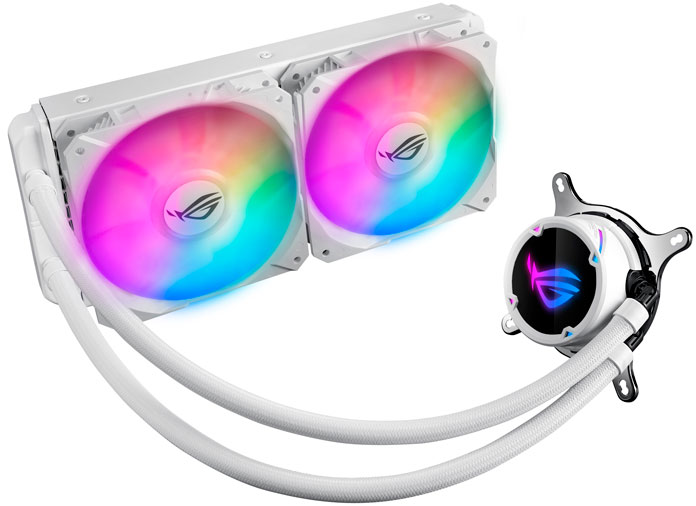 The white pump cover, hoses, radiator, and fans all coordinate seamlessly with the other components in our build. Our custom-designed ROG radiator fans are optimized for high CFM rates and static pressure for optimal performance on the heat exchanger, and they add to the customizability of our system with addressable RGB LEDs in each fan hub that can be linked to our motherboard's Gen 2 header for full Aura Sync control.
Graphics card: ASUS Dual GeForce RTX 3060 Ti or TUF Gaming GeForce RTX 3070 Ti
If your goal is all-around competence in workloads that benefit from GPU acceleration and you don't have a 4K monitor, the NVIDIA GeForce RTX 3060 Ti is a perfect pick for the Optimized PRIME build. It delivers highly competitive performance in creative applications and has more than enough power for 2560×1440 gaming at 100 FPS or more, on average.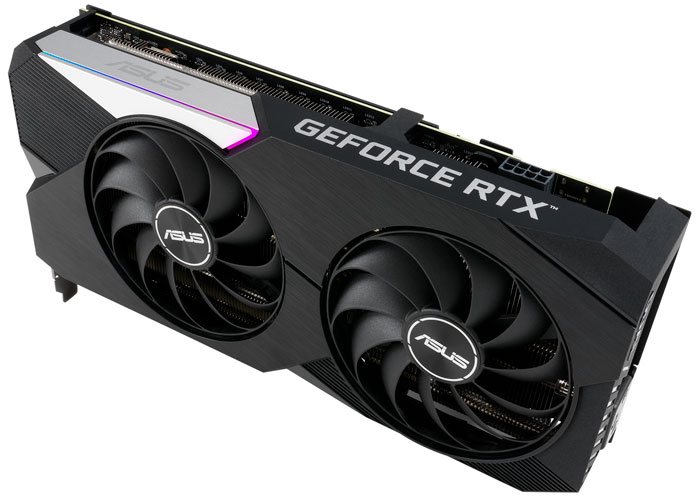 The ASUS Dual GeForce RTX 3060 Ti uses a twin-fan design for high performance in a 2.7-slot footprint that's shorter than the average triple-fan cooler. We use a pair of Axial-tech fans to maintain high airflow and low temperatures even in this smaller form factor. Those fans can stop at idle for a quieter system at rest. A clean black-and-white aesthetic set off with subtle RGB LED accents fits well with a professionally oriented build like the Optimized PRIME can be.
If you intend to ask more of your PC through 4K gaming and intense video editing, or you're looking to the near future when 240Hz+ 2560×1440 monitors are becoming the norm, we recommend stepping up to the NVIDIA GeForce RTX 3070 Ti.

The TUF Gaming take on this card features a stealthy industrial design with a black-anodized alloy shroud and backplate. Three counter-rotating Axial-tech fans focus airflow on a massive 2.7-slot heatsink, and they can stop at idle for lower system noise levels overall. Independent heatsinks for the GPU and memory ensure that temperatures for these performance-critical components remain as low as possible.
Storage: Seagate FireCuda 510 1TB M.2 PCIe 4.0 SSD; Seagate Barracuda Compute 2TB 7200RPM HDD
More demanding users need more storage space, so our Optimized PRIME build offers 3TB of storage spread across a fast 1TB NVMe SSD for the operating system, primary programs, and frequently played games alongside a 2TB 7200RPM hard drive for bulk storage.

The Seagate FireCuda 510 is the highest-performance PCIe 3.0 NVMe SSD in the company's lineup. With blazing sequential and random performance, it's a great example of what's possible from advanced SSDs nowadays.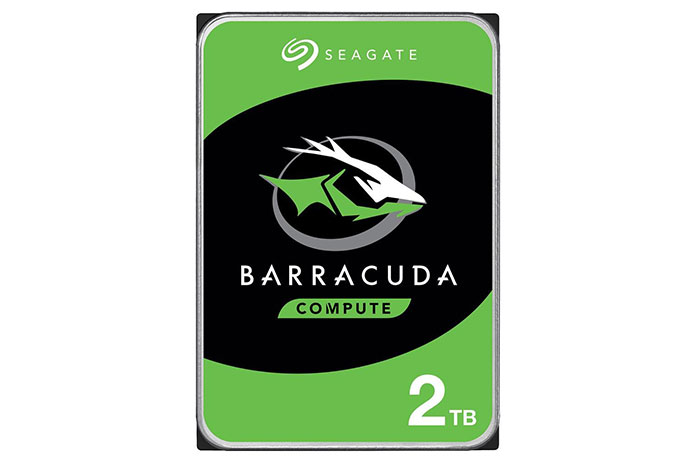 For bulk storage, the Seagate Barracuda Compute 2TB 7200RPM hard drive offers everything we could want: solid performance, a high rotational speed, and a large 256MB cache, all at a relatively low price.
Power supply: TUF Gaming 750W Bronze
Our more powerful CPU and GPU options for the Optimized PRIME build both require a step up the power-supply ladder. Enter the TUF Gaming 750W Bronze. Like its 550W and 650W siblings, this unit is built for the job with military-grade capacitors, a long-lived dual-ball-bearing fan, and a printed circuit board with a protective coating to ensure that moisture, dust, and debris can't affect operation.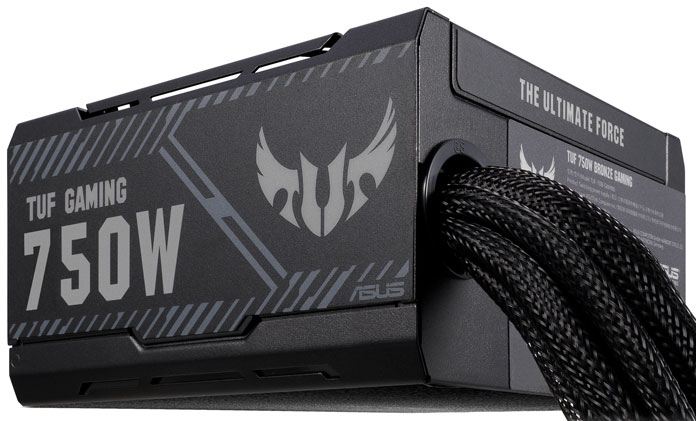 0dB fan control allows this PSU to operate silently under light loads, and a fan built with our advanced Axial-tech design provides a directed blast of cooling air when it's needed without unduly noisy operation. 80 PLUS Bronze certification ensures that the TUF Gaming 750W Bronze efficiently supplies power to your system, too.
Monitor: ASUS VP348QGL
Ultrawide displays can both increase productivity and boost your sense of immersion in games. For a true does-it-all build like the Optimized PRIME, we suggest pairing it with the ASUS VP348QGL gaming monitor, a 34″ ultrawide with a balanced 3440×1440 resolution that pairs well with either of our graphics card options.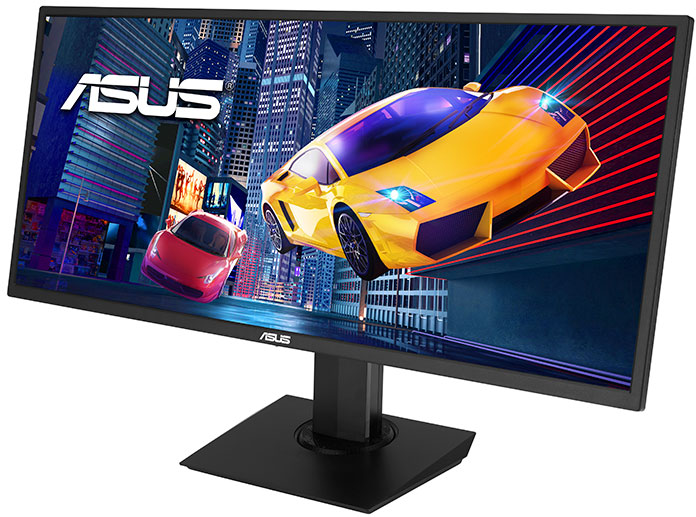 The VP348QGL's 75Hz refresh rate and Adaptive-Sync variable refresh rate technology ensure fluid and responsive motion both in daily use and in gaming. The VA panel has a high native contrast ratio for punchy images, and Eye Care technologies give you easy control over blue light emissions and flicker-free dimming for comfortable viewing at any brightness level.
Optimized PRIME alternatives
CPU alternative: Intel Core i7-11700K
If our AMD CPU choice is unavailable, or if you simply prefer Intel platforms, the 11th Gen Intel Core i7-11700K is a potent alternative. This chip can boost as high as 5GHz in lightly-threaded workloads, and an all-core Turbo Boost clock speed of 4.6GHz lets it chew through highly parallel tasks with ease thanks to an eight-core, 16-thread loadout. Intel's leading-edge Cypress Cove desktop architecture lets the i7-11700K trade blows with the Ryzen 7 5800X core for core.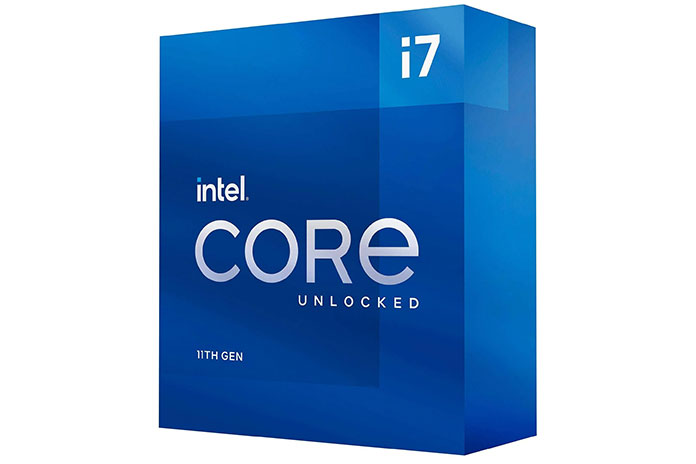 Like its Core i5-11400 cousin, the i7-11700K comes with a capable and modern UHD Graphics 730 integrated GPU that can drive extra monitors or serve as an accelerated media encoder for common video-processing apps like Handbrake and OBS. If you stream gameplay to the world and don't want to give up any GPU performance to encoding that feed, for example, the i7-11700K has plenty to recommend it.
Motherboard alternative: ASUS PRIME Z590-A
The Core i7-11700K will be right at home in the PRIME Z590-A, our highest-end PRIME board for this platform. Though this board may look businesslike thanks to its white and silver palette, its DNA will satisfy demanding enthusiasts thanks to high-end components and advanced software features.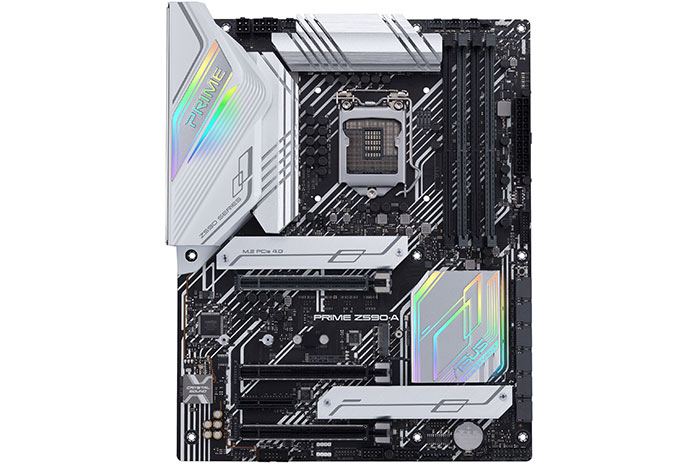 We build the PRIME Z590-A around a 14+2 DrMOS VRM with integrated power stages for maximum efficiency and cap those components with high-surface-area heatsinks for powerful sustained performance from Intel 11th Gen Core CPUs. Two more heatsinks on the board's primary and tertiary M.2 slots ensure maximum performance from connected storage devices.

Rich connectivity on the back panel comes standard thanks to three USB 3.2 Gen 2 Type-A ports, one USB 3.2 Gen 2×2 Type-C port capable of 20Gbps speeds, and another USB 3.2 Gen 2 Type-C port. Four more USB 2.0 ports offer a hook-up for devices that don't need blazing speed. We round out this complement of connectivity with a 2.5 Gigabit Ethernet adapter for next-gen wired networking performance. Even more demanding users can add a Thunderbolt 4 card down the line thanks to an onboard header.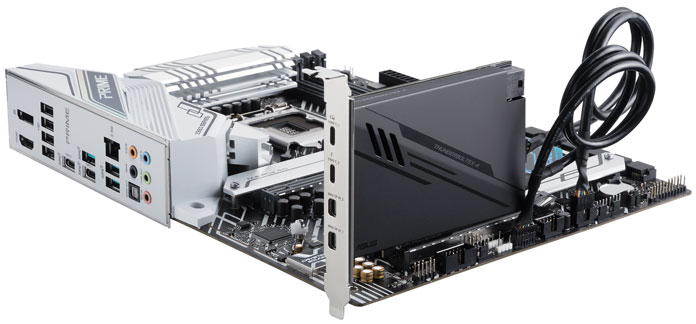 The PRIME Z590-A taps PCIe 4.0 connectivity from the Core i7-11700K for its primary and secondary PCIe x16 slots, as well as its primary M.2 SSD slot. We make it easy to install SSDs on this board thanks to our tool-free Q-Latch system, which requires only a turn of a retaining clip to secure an SSD in any of the three onboard M.2 slots. Six low-profile SATA ports make clean cabling easier than ever, too.
The PRIME Z590-A's clean style serves as a fine canvas for splashes of RGB LED lighting on the rear I/O shroud and chipset heatsink. Three Gen 2 addressable Aura RGB headers and a fourth four-pin RGB header let you extend Aura Sync control to even the most complex lighting schemes.
Regardless of your budget or workload, we hope this guide to building with ASUS PRIME components has helped you to pick a parts list that's right for you. For more resources, be sure to check in on our PC DIY portal regularly for more builds, community activities, and more.