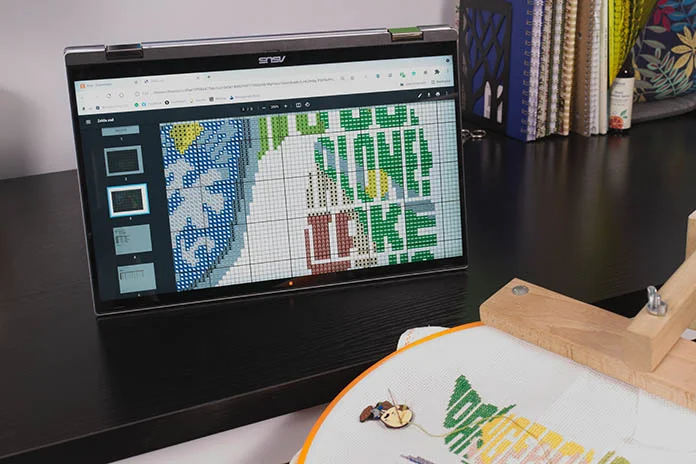 When my family needs to pick up a PC around the house, it's to use a web browser. Whether we're shopping online, posting on social media, or just looking up who that actor is in the movie we're watching, the Chrome browser is usually all we need. For a portal to the web that everybody can use, a Chromebook is a natural choice. For the last couple of weeks, my family and I have been sharing the ASUS Chromebook Flip CX5 as our go-to PC.
The Chromebook Flip CX 5 runs Google's Chrome OS, a lightweight operating system with Chrome at its center. Getting onto the internet is never more than a click away with the world's most popular browser. There's plenty of power under the hood, too. Our Chromebook has an 11th Gen Intel Core i3 processor, 8GB of memory, and 128 GB of solid-state storage, so no matter who is using it, it never lags or stutters even with dozens of browser tabs open at a time.
Chromebook Flip CX5
Model
CX5400FMA-DN388T-S
Where to buy (USA)
Amazon
The mobile companion
Most importantly, the Chromebook Flip CX5 is easy to use anywhere. At just over three pounds, this notebook is easy to hold in one hand. I most often cradle it in one arm in tablet mode. When I hold it in portrait orientation, the 14", Full HD display can show plenty of text and images while I browse the web from the couch. The on-screen keyboard is great for searching or entering web addresses in tablet mode.
For more intense writing, or even posting online, it's easy to flip the display back around and use the Chromebook Flip CX5 like a traditional laptop. The backlit keyboard is bright enough to see clearly in any light, and the keys still have plenty of travel despite the Chromebook Flip CX5's slim chassis. The full-sized keys feel good under my fingers, and I have no problems typing at full speed.
I normally use the Chromebook Flip CX5's touch screen to tap on links and scroll pages when I browse the web, but I also appreciate the system's generous trackpad when I want to use a mouse pointer. The trackpad's integrated buttons give plenty of feedback when I press down to open an app or click a link. The pad provides plenty of space for performing Chrome OS's gestures, like swiping with four fingers to the right to see all the open apps or up and down to flip between workspaces.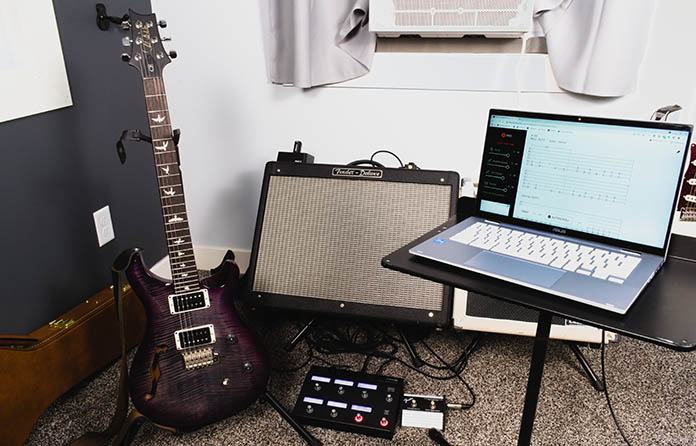 When I'm not surfing the web on the couch, I'm often practicing and playing my guitar. The Chromebook Flip's portability and convertibility have made it an ideal way to learn new songs. Firing up a tutorial video or looking up tablature online is a snap with such a lightweight laptop. I've been setting it down next to my guitar amp, playing back a part of a song in a video and trying to play along. While a computer is no substitute for actual talent, I find myself using it quite a bit.
While I'm not really an artist, I am a note taker. I use the Chromebook Flip CX5's stylus to make notes to myself, and this is handy when I'm practicing. Typing with a guitar in my lap isn't very easy, but I can take a screenshot with Ctrl and the window button on the top row of keys and immediately write down a thought. When I need to write something down quickly, the stylus is always there garaged in the Chromebook Flip CX5.
Our daughter has also picked up the guitar, and she's also taken to using this Chromebook as her learning companion. YouTube is full of song tutorial videos, and there are plenty of tablature websites with songs written out that she can pull up. The Chromebook Flip CX5 can get to any of those resources in a flash, so it's become an essential part of our practice regimen.
The Harman/Kardon-certified speakers in the Chromebook Flip CX5 are plenty loud for listening to voices or watching videos online, and they even sound good for music. When I need more volume to keep up with our guitar amps, I can quickly connect the system to external speakers using the headphone jack and crank up the music. If wireless is your game, the built-in Bluetooth capabilities will also let it connect to wireless speakers with ease. And when I'm practicing with a full-screen video, the touchscreen lets me drag the play head around on the timeline without putting my pick down.
Fun for the whole family
Ever since I brought the laptop home, my entire family has taken to using the Chromebook Flip CX5 as our shared system. Thanks to Chrome OS's multi-user capabilities, each of us can log into our own Google accounts when each of us picks it up. That means my browsing history, bookmarks, and open websites can be easily kept separate from my wife's and our daughter's data.
Switching between users is fast and simple, so we can all use the system the way we want. Chrome OS can keep multiple users logged in at the same time, so nobody ever has to lose their place just because somebody else is logging in. We can just pick it up and go. Chrome OS has child safety features that can restrict access to websites our daughter shouldn't visit, and she can sign in with her school's Google Workplaces for Education account. That makes me feel confident about leaving the Chromebook Flip CX5 out as our shared PC.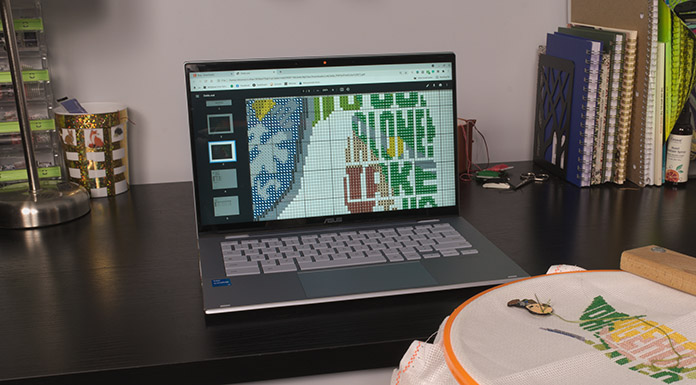 Each member of our household has found a different way to use the Chromebook Flip CX5. My wife has an automated cutting machine that has an online design app for Android. Because the Chromebook Flip CX5 can run Android apps from the Google Play Store, she can fire up the app on the Chromebook, connect to the cutter with Bluetooth, and set it to work cutting out her designs. The big, bright touchscreen is perfect for zooming in on various craft designs like cross-stitch patterns to see the fine details. She also uses it for everything from social media to online videos in the browser or using her other favorite apps from Google Play.
Our daughter is in middle school, and our school district has a one-to-one device program. Those school-issued systems are fast enough to get her schoolwork completed, but she prefers the Chromebook Flip CX5 at home. The display is bigger, the system is just as lightweight as her school-assigned system, and thanks to the 11th Gen Core i5 inside, it's just plain faster. Because she can log into both machines with her Google Workspace for Education account, her data seamlessly follows her from place to place. So much of her schoolwork has moved online that being comfortable at her computer is important. Responsive performance and fast WiFi 6 connectivity means she can get her schoolwork done quickly at home, and that leaves more time for family activities or play. The Chromebook Flip CX5 integrated right into our home network which has an RT-AX3000 configured as the main router and a second RT-AX3000 as an AiMesh node.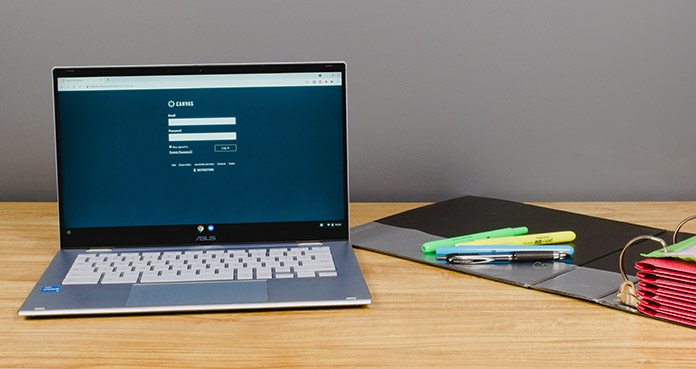 Speaking of play, Google Play access on Chrome OS means that all the books, movies, and apps that are available on Android smartphones run on this laptop as well. All three of us use different apps on the Chromebook Flip CX5 in our downtime. Our daughter likes to use the big screen to play mobile gaming mainstays like Genshin Impact, Down the Mountain, and Candy Crush. I've taken to streaming my Steam library using the Steam Link Android app, which instantly lets me fire up and stream any game in my library from my desktop PC.  I can play those games from anywhere in the house over our AiMesh-powered WiFi 6 network.
I never really thought of Chrome OS as a gaming platform, but there's plenty of fun available for download. I've spent quite a bit of time planting crops and tending to my farm in Stardew Valley, which runs great on the Chromebook Flip as an Android app in full-screen mode. Pointing and clicking or tapping on the screen to select a place to walk makes the game feel a bit more peaceful and intuitive than using the WASD keys in the PC version. Streaming from Steam over my WiFi 6 network looks great on the Chromebook Flip CX5's high-definition screen, and I don't feel any perceptible lag, either. I no longer have to be camped out in front of my powerful desktop PC to play Cyberpunk 2077; I just fire it up on the Chromebook Flip CX5 and I'm right back in Night City where I left off.
Even as we pass the Chromebook Flip CX5 around, the battery lasts a surprisingly long time. Over the course of a day, the three of us each account for two to three hours of use, and we typically get two days or so out of the battery before the system needs to go back on the charger. On the weekends when everyone is home and has more free time, it still lasts all day before it needs to be plugged in. The included 45W USB Type-C charger can get the battery over 50% full in under an hour, and it only takes about two hours to get to 100%.
Chromebook Flip CX5
Model
CX5400FMA-DN388T-S
CPU
Intel Core i3-1110G4
Display
14" FHD 100% sRGB
GPU
Intel UHD Graphics
Memory
8GB LPDDR4X
Storage
128GB SSD
I/O
1x USB 3.2 Gen 1 Type-A
2x Thunderbolt™ 4
Micro SD card reader
1x audio combo jack
Dimensions
32.1 x 20.7 x 1.57 cm (12.6" x 8.1" x 0.62")
Weight
1.40 kg (3.09 lbs)
Battery
48Wh
Where to buy (USA)
Amazon
The perfect family laptop
Each member of my family has a desktop PC of their own, but our active home lives mean that we don't want to be tethered to a desk. Whenever we need to look up something online or make a quick post, the Chromebook Flip CX5 lets us handle it right on the spot. That's especially true when we're trying to show something to someone else. It's much harder to share a funny post or memorable video with everyone on a phone than it is on the Chromebook Flip CX5.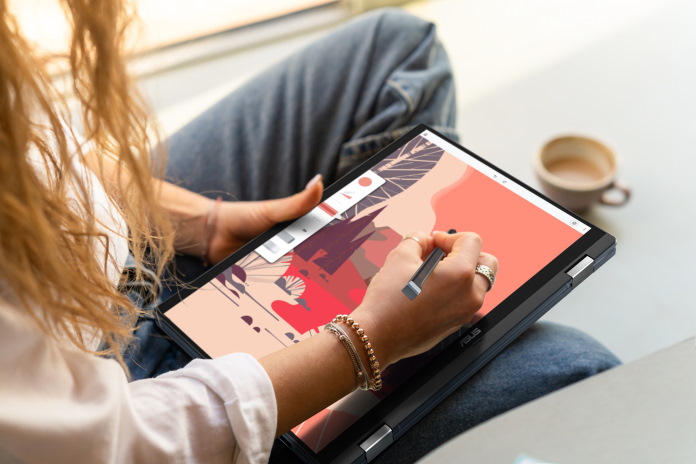 Given how often this laptop passes from hand to hand in my household, I can see myself making another Chromebook available at some point for everyone to use. Since the ASUS Chromebook Flip family includes several options with a range of features and price points, I can do that without breaking the bank. The Chromebook Flip CX3 offers the same Intel Core CPU, garaged stylus, and flexible 360° ErgoLift hinge as the Chromebook Flip CX5, but it's available at a more affordable price due its durable plastic chassis.
Whether we needed a companion for music practice, playing games on the couch, or just looking up information online, a Chromebook is all the PC we need. The Chromebook Flip CX5 adds a flexible form factor, light weight, sharp-looking screen, and plenty of battery life to that equation. That really does make it the perfect family computer in our household.