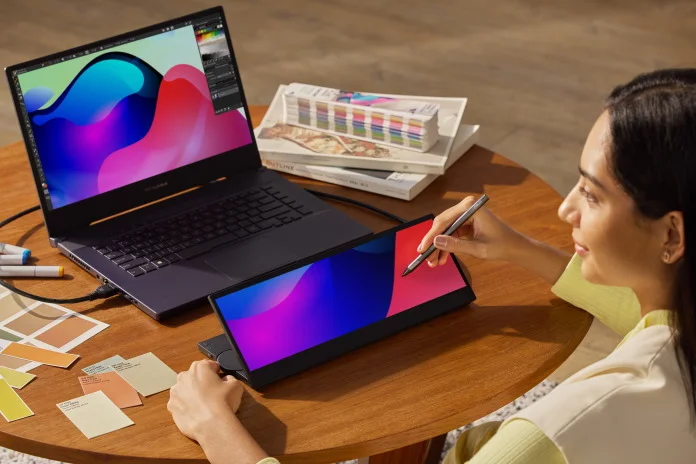 A mouse and keyboard can get a lot of tasks done, but when you're working on a creative project, those familiar peripherals aren't always the right tool for the job. Sometimes you need the precision and control of a stylus. Sometimes you need a new dedicated button, not a new key combination to memorize. Sometimes, you need a physical control under your fingertips. Enter the ProArt Display PA147CDV.
This monitor is a portable control interface that opens up a wide range of tools for creators. Connect it to your laptop or desktop PC, and it'll augment your efficiency and creative possibilities with its secondary touchscreen, stylus support, the intuitive ASUS Dial, and the powerful and customizable Control Panel app.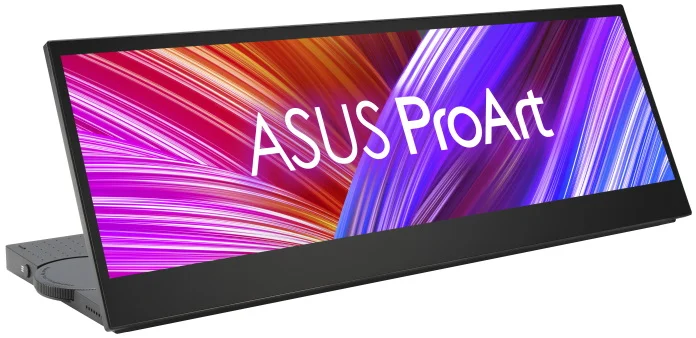 The PA147CDV houses a 14" IPS touchscreen with a 1920×550 resolution. Its wide 32:9 aspect ratio allows it to fit easily on your desk between your keyboard and display—or between you and your laptop—all without putting your keyboard and mouse out of reach. Like all ProArt monitors, it's tuned for professional use. It covers 100% of the Rec. 709 and sRGB color gamuts, and it's factory calibrated and Calman Verified to achieve a △E of less than two. Right out of the box, it'll deliver the color accuracy you need to show your project as you envision it.

Our patented mechanical kickstand lets you adjust the display to the perfect angle. The PA147CDV supports Microsoft Pen Protocol 2.0, so might you do some sketching with the screen laid flat on your desk. You might tilt it up nearly vertically and use it to track the timeline in your video editing app. The flexible stand gives you the control to find the right angle for the task at hand.
The upgraded ASUS dial sits on the left-hand side of the display's base. This highly customizable tool gives you convenient access to many functions in commonly used creative apps like Adobe Photoshop or Lightroom Classic. With a quick spin of the ASUS Dial, you can change the hue of your palette, select a different tool, increase brush size, or many other functions, all without digging around in toolbars or menus. The ASUS Dial can also control any application that's built for Microsoft's Surface Dial controls.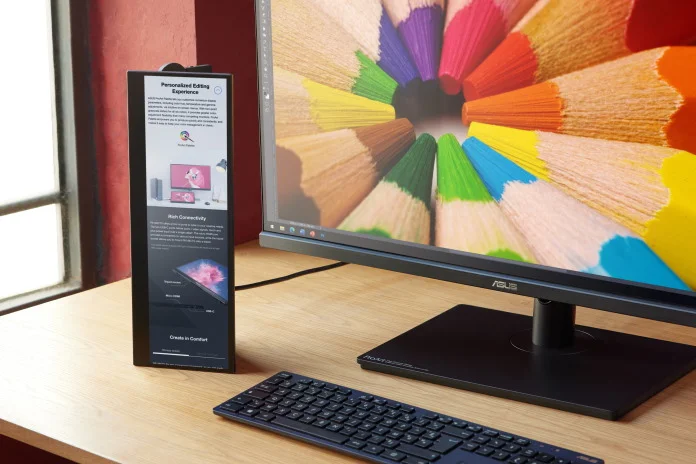 With the ASUS Creator Hub app installed, you can access the powerful and customizable Control Panel app when you're working in Adobe Photoshop, Lightroom Classic, Premiere Pro, or After Effects. Control Panel turns the PA147CDV into an intuitive interface for accessing your most commonly used functions. Since it's a 10-point multi-touch display, you'll be able to easily reach out and switch tools, spin a dial to get the exact color you're looking for, or adjust a key parameter for the tool you're using. The app has prebuilt panels ready to go, but you can fully customize the interface with virtual dials, buttons, scroll wheels, and sliders, and then link those elements to your most commonly used software functions.
Three free months of Adobe Creative Cloud
Adobe products are central to creative work in many industries. We've partnered with Adobe to empower your workflow with the renowned Creative Cloud suite of apps and services. With your purchase of a ProArt Display PA147CDV in select regions, you'll enjoy a free three-month subscription to Adobe Creative Cloud. Not only will you have access to over 20 apps, including Photoshop, Premiere Pro, and After Effects, you'll have 100GB of cloud storage on tap.
Redemption is easy, and you can apply the Creative Cloud subscription to a new or existing account. You can use the MyASUS app on your ASUS laptop or head over to the registration site to redeem this offer. Check out the full details for this program here.

In one slim, portable enclosure, the ProArt Display PA147CDV empowers your creative work with an accurate, calibrated display, the intuitive ASUS Dial, and customizable software controls. Inside your studio or out wherever inspiration strikes, this versatile touchscreen will streamline your workflow and give you the most precise tools for any creative task.
To learn more about the pricing and availability of the ProArt Display PA147CDV in your region, please contact your local ASUS representative.