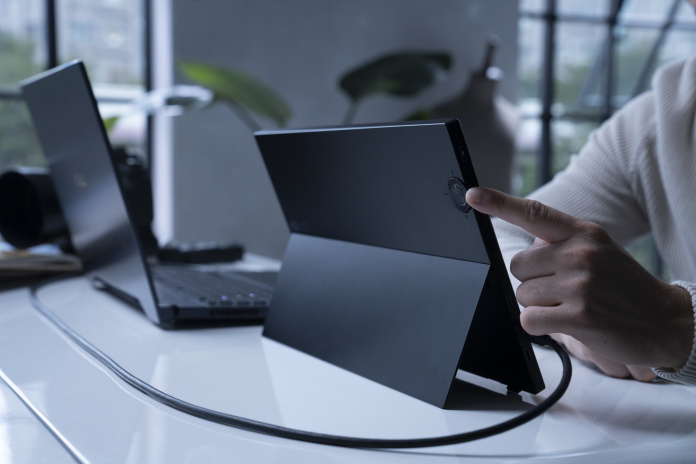 Inspiration happens on its own schedule, so creators everywhere need portable devices that let them work on their projects whenever and wherever inspiration strikes. A portable monitor is one way to greatly expand that potential when you're away from your home office or studio. The new ProArt Display PA148CTV portable monitor, launching at CES 2021, is so much more than a display. In addition to providing an accurate picture of your work, this thin and light monitor is our first with the powerful ASUS Dial and our Control Panel software. This convenient combination of software and hardware tools turns up your creative output in the most popular content-creation apps.
Intuitive, customizable controls for your favorite Adobe apps
The ProArt PA148CTV gives creators an accurate, portable display that's easy to connect to a laptop or desktop PC, but it has more tricks up its sleeve. The integrated ASUS Dial and virtual control panel let creators use the display as a powerful, customizable interface for controlling popular Adobe apps.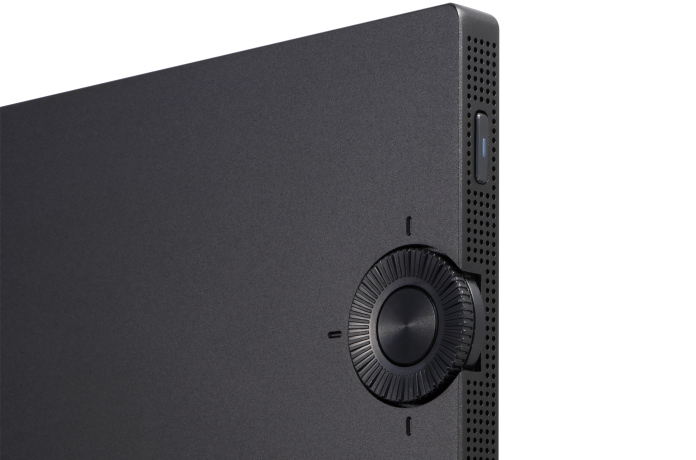 The new ASUS Dial is a physical control built into the back panel of the PA148CTV. Its wheel extends past the left edge of the display just enough for you to quickly spin it and access user-defined shortcuts. It's a quick and easy way to access the tools you use most. These tools are compatible with Adobe Photoshop, After Effects, Lightroom, and Premiere Pro. The ASUS Dial can also control any application that's built for Microsoft's Surface Dial controls.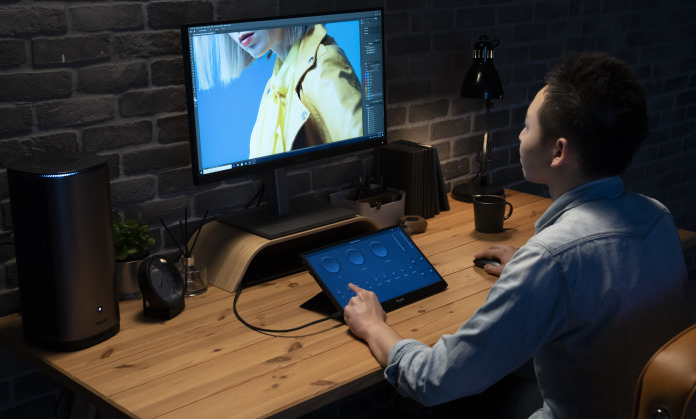 The Control Panel software interface takes advantage of the PA148CTV's 10-point capacitive multi-touch display to offer creators even more tools for working within Adobe apps. You can populate the interface with virtual dials, buttons, scroll wheels, and sliders, and then link those elements to your most commonly used software functions. With a simple tap on a button, you can bring up a tool, or with a spin of a dial you can get the exact color you're looking for. Users of the Control Panel may want to have the display nearly flat on their work surface, so the ergonomic metal kickstand opens wide enough to make the PA148CTV comfortable to use either as a display or a control interface.
A professional display that travels anywhere
The ProArt PA148CTV is light and slim enough to slip inside a laptop bag, yet it's equipped with all the specs that professionals demand for creative work. This 14" FHD display houses an IPS panel for wide viewing angles and excellent color reproduction. Even if it's placed off to the side of your laptop and you're looking at it from an off angle, the image will be bright and color-accurate.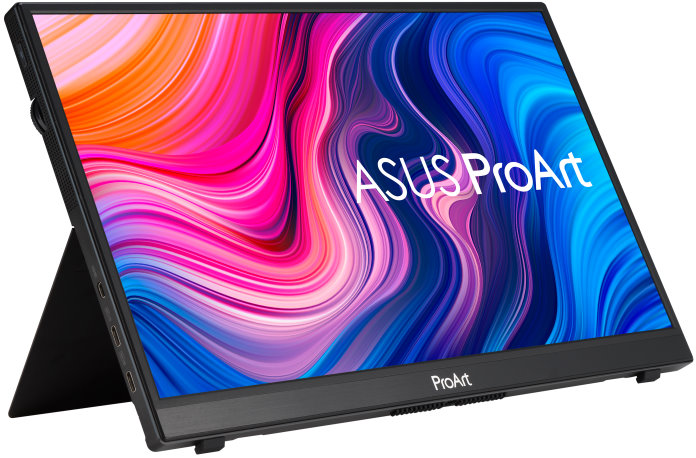 Indeed, accuracy is paramount for digital art, photography, and videography, and the PA148CTV delivers what creators in those fields need. It covers 100% of the common sRGB and Rec. 709 color gamuts, and it's factory-calibrated and Calman Verified to achieve an average Delta E value of less than 2. From  the moment you open the box, this display is ready to go to work.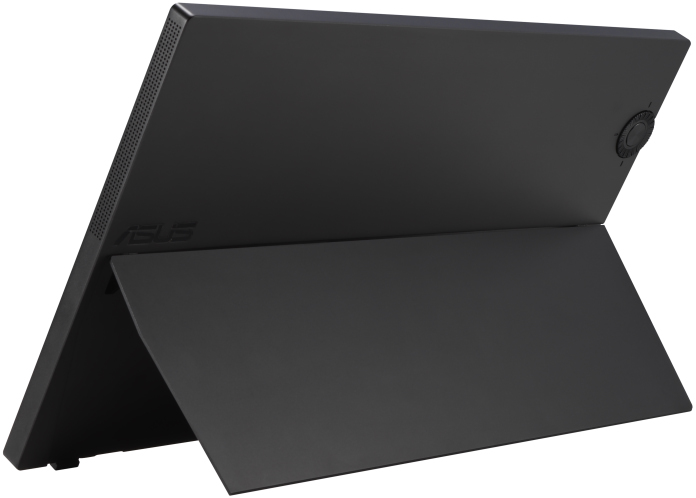 The PA148CTV is easy to set up anywhere you're inspired to create. It accepts a video signal from your PC through its Micro-HDMI port or either of its USB Type-C ports. The touch signal for the display uses a USB Type-C connection. Whether you're touching up a photo at the coffee shop, editing a video in the fresh air on your back porch, or creating digital art from a hotel room as you travel, the PA148CTV will deploy in an instant and give you the extra screen space you need.
The ultimate display for creators on the go
The ProArt PA148CTV is a versatile tool that's invaluable both on the road and in your home studio. It provides the accurate color reproduction you need for creative work, yet it's slim enough to slip in your bag alongside your laptop when you travel. Its built-in ergonomic kickstand lets you deploy the monitor anywhere from a coffee shop table to a hotel room desk. And its versatile ASUS Dial and Control Panel interface lets you set up customizable controls for popular Adobe apps. Wherever you're working, the PA148CTV will be the creative partner you need.
To learn more about pricing and availability of the ProArt PA148CTV display in your region, contact your local ASUS representative.