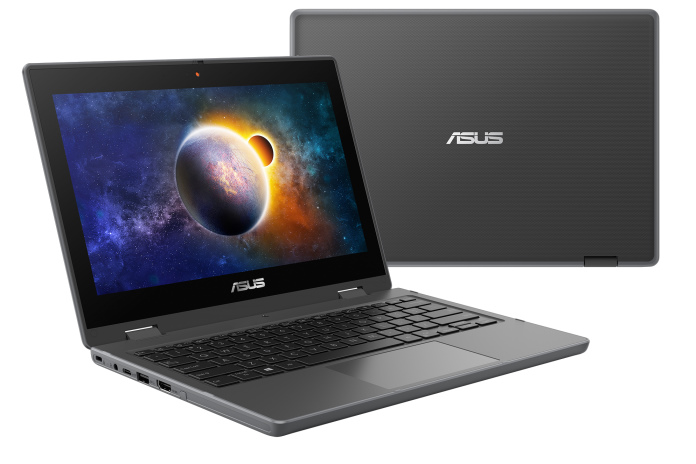 If distance learning has taught us anything, it's that technology done right can enhance the classroom experience in a big way. Our new ASUS BR1100 family of education-focused laptops, launching at CES 2021, puts students at the front of the class with multiple options for getting connected, an all-day battery, and plenty of other features that 2020-hardened parents will appreciate.
Rugged components stand up to the rigors of youthful energy. Even still, accidents do happen. That's why we engineered the laptop to surpass military-grade MIL-STD-810H standards and kept the design modular, simplifying repairs to minimize downtime. The ASUS BR1100 also plays its part in promoting health at home. Antimicrobial surfaces suppress bacterial growth, while a TÜV Rheinland-certified display limits high-energy blue light to reduce eye strain.
Given its attainability and emphasis on education, you might be surprised at the ASUS BR1100's capable hardware specifications. There are even options to upgrade the BR1100 over time, allowing this laptop family to grow with your student's needs.
A responsive platform for learning
In today's world, your student's PC is a portal into the classroom, not just a tool to complement in-person learning. That means you need more processing horsepower, memory, and storage to support multiple applications running at the same time—video streaming, word processing, web browsing, at the very least.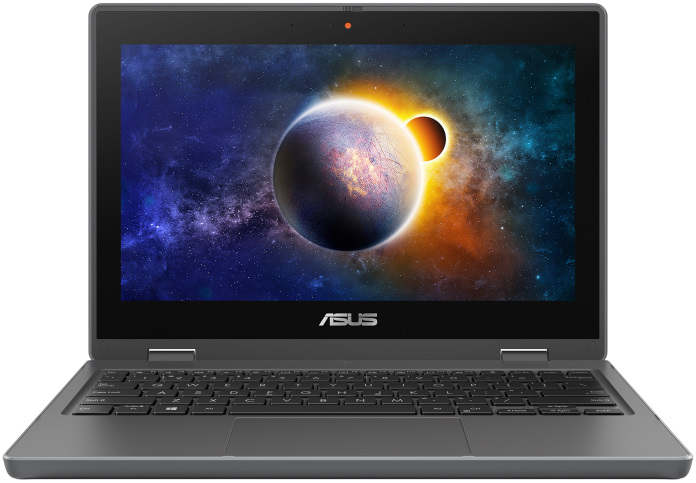 The ASUS BR1100 is a Windows-based system that ships with dual- and quad-core CPUs, at least 4GB of DDR4 RAM, and 64GB or more of onboard solid-state storage. It's loaded with connectivity, including a USB 3.2 Gen 2 Type C connector with charging support, USB 3.2 Gen 1 Type-A, and USB 2.0 Type-A ports. There's an RJ-45 port on one side of the chassis for wired Internet, and the family also supports WiFi 6 wireless networking at speeds up to 2.4Gbps, along with Bluetooth 5.0 through Intel's Integrated Connectivity feature. In environments where ample WiFi bandwidth isn't always guaranteed (think crowded daycare centers), the ASUS BR1100 can also keep kids online using optional 4G LTE.
Flexible configuration options abound. The BR1100 is available with up to 16GB of onboard memory for the most demanding workloads. And if you think you or your students will need more than 64GB of eMMC storage, we also have 64GB and 128GB options available. Should the embedded SSD reach its capacity, parents or IT departments can simply drop a new SSD into the open M.2 slot.
Loaded with features that complement distance learning
After a year of turning dining room tables into school desks, using gaming headsets for synchronous learning, and trying to troubleshoot tech issues without a dedicated IT department, the ASUS BR1100 is ready to make your life a little easier.
To start, they're small and light, measuring less than 12" across and weighing under three pounds. Your distance learner can set up shop in their room, in the kitchen, or even on a coffee shop patio, then pack up and move without a hassle. A generously sized 42Wh battery provides up to 10 hours of running time for all-day mobility.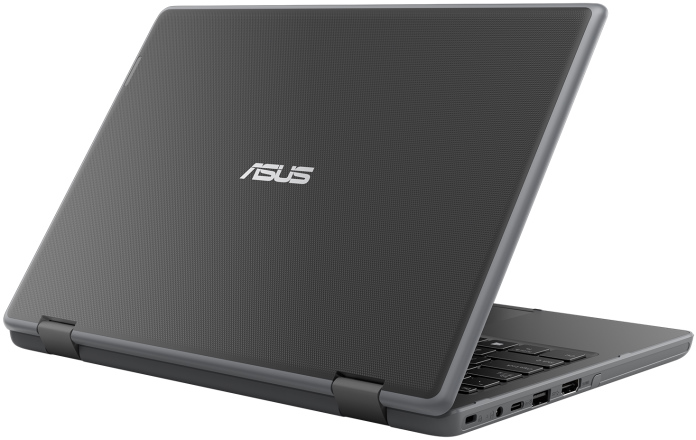 When it comes time to participate in class, a built-in noise-canceling microphone leverages artificial intelligence to filter out background noise. When it's time to listen, AI-powered processing keeps output clean and clear, and a hardware mute button prevents accidental broadcasting to classes or classmates. A front-facing 720p webcam employs its own noise reduction functionality for crisp picture quality during school hours. Once class is dismissed, slide the camera's privacy shield closed for an extra layer of protection from prying eyes.
Kids have enough to absorb without learning a new operating system, so they'll appreciate the ASUS BR1100's familiar Windows 10 environment. The same goes for parents, many of whom already have experience diagnosing hiccups on their own workstations.
Microsoft helps our hardware work at its full potential by exposing features like the "good-to-go LED indicator." When this light on the laptop's outer lid is illuminated, all is well. When it starts blinking slowly, the battery has less than 20% of its charge remaining. Fast blinking indicates a connection issue. The BR1100 also supports Microsoft's Cortana personal assistant, which you can use to answer questions or perform basic tasks.
IT departments (and parents) love the ASUS BR1100 for its durability and serviceability
Back when we were first introduced to distance learning, parents had to choose between lending their own laptops to the cause or using school-assigned systems. Kids can be tough on technology, so that decision wasn't easy. The ASUS BR1100 is built to shrug off rough treatment in most situations, and it's easy to field-strip for repairs should the need arise.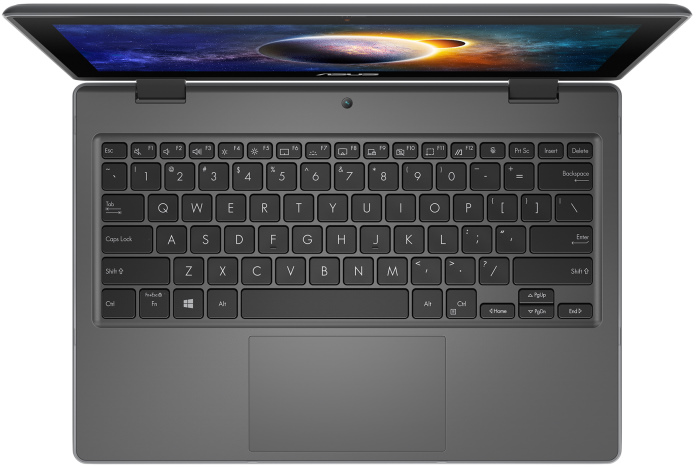 A rubber bumper around the BR1100's outer edge is a good first line of defense against falls from the height of most desks. A special texture applied to the laptop's other vulnerable surfaces resists nicks and scratches. Tamper-resistant key caps are firmly anchored against rough typists and curious fingers. The keyboard is also spill resistant to help make sure that one accident with a drink doesn't take the laptop out of commission.
On the BR1100, many common wear items are reinforced and tested for enhanced durability. The hinge, for example, might normally endure 20,000 open and close cycles. We test the ASUS BR1100's hinge for 30,000 cycles, just to be sure it'll hold up to life in smaller, less patient hands. The RJ-45, USB Type C, USB Type A, and power DC power ports are fortified internally with steel brackets. Then we put most of the I/O connectors through 5,000 insertion cycles. The USB Type-C port has it even harder: it has to survive 10,000 of these cycles.
Alas, there is no such thing as an indestructible laptop, so we've implemented a variety of technologies to ease the repair process and reduce the total cost of ownership. First off, the ASUS BR1100 uses a modular design. Replacing the entire motherboard is a seven-step process. A damaged 11.6" LCD can be swapped out in eight steps. Both the keyboard and I/O board are even easier to repair if necessary. The bottom lid is held in place with captive fasteners to help make sure that none are lost during a repair. Finally, Windows Autopilot allows IT staff to set up and configure the device remotely without actually needing to sit down with it.
Keeping the next generation safer while they learn from home
Health and hygiene are prime concerns for everyone these days. Little hands are often grubby, so in between scrub-downs, the ASUS BR1100 passively suppresses bacterial growth with an antimicrobial agent that's applied to its keyboard and palm rest. This ASUS BacGuard treatment has been scientifically proven to reduce the growth of bacteria by 99% over a 24-hour period.
We're also sensitive to the fact that distance learning has students spending more time in front of electronics than ever before, exposing them to higher levels of the blue light wavelengths thought to disrupt sleep patterns and cause eye strain. To reduce the impact of this part of the visible spectrum on sleep and comfort, the displays on ASUS BR1100 notebooks satisfy TÜV Rheinland's certification process for low blue light output.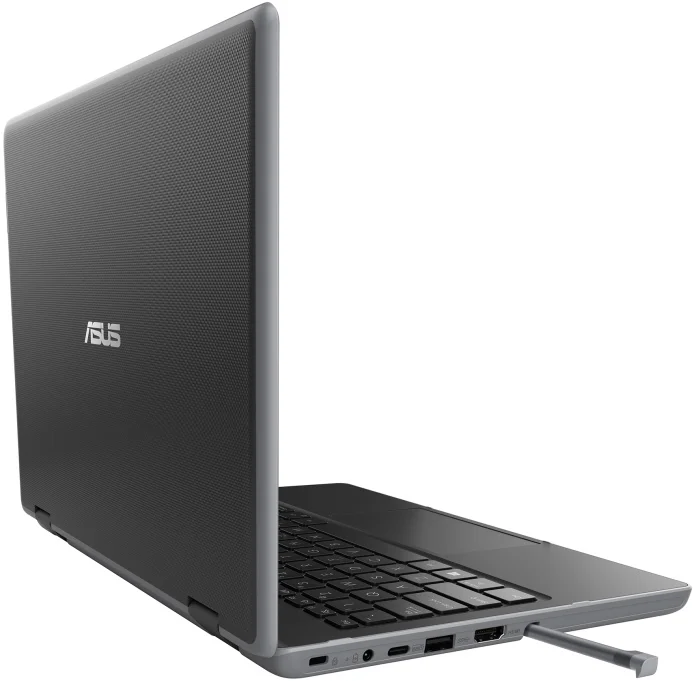 You'll find the ASUS BR1100 in two form factors: the traditional clamshell design of the ASUS BR1100CKA, and the versatile, convertible ASUS BR1100FKA. The convertible gets a touch-enabled IPS display  and a world-facing 13-megapixel camera. If stylus input is on your checklist, consider the BR1100FKA. Its display supports 4096 levels of pressure sensitivity, and the device can be configured to include a stylus housed inside the laptop itself.
ASUS BR1100
Model
BR1100CKA
BR1100FKA
CPU
Pentium Silver N6000
Celeron N5100
Celeron N4500
Display
11.6" HD
11.6" HD
Touchscreen
GPU
Intel HD Graphics
Memory
Up to 16GB DDR4
Storage
Up to 1TB SSD
I/O
1x USB 3.2 Gen 2 Type-C
1x USB 3.2 Gen 1 Type-A
1x USB 2.0
1x HDMI 1.4
1x RJ45
1x audio combo jack
Dimensions
294.6 x 204.9 x 19.95mm
Weight
1.26kg
1.4kg
Battery
42Whr
Ready for classroom action – Pilot the Future
Alongside the launch of the ASUS BR1100, ASUS North America will kick off the Pilot the Future Campaign on Monday, January 18 to provide schools the opportunity to win a class set of 30 clamshell ASUS BR1100 laptops. With the latest technology, students and teachers can learn with ease whether in-class or remotely. Faculty will be able to submit a video telling us how the laptops can promote learning in their schools. Select submissions will then advance to a community voting round to determine a winner. More terms and conditions about the campaign will be announced on January 18.
For more information regarding the pricing and availability of the ASUS BR1100 family of notebooks in your region, please contact your local ASUS representative.