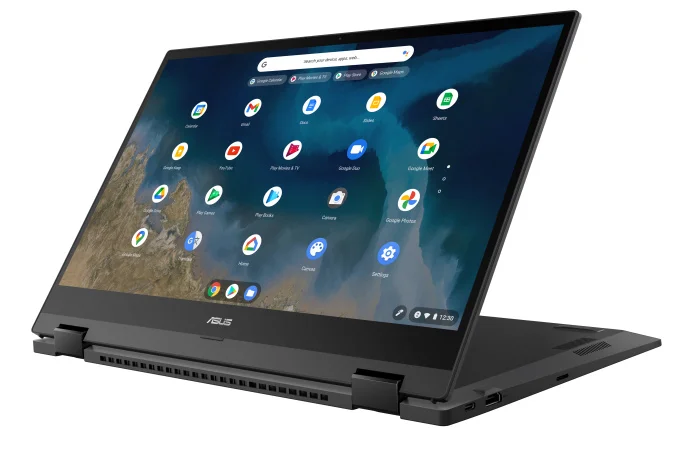 For many of today's students and fresh graduates, their Chromebook is more than just a tool for getting assignments done. It's their primary device for watching their favorite streamers and YouTube channels. It's their go-to platform for playing mobile games with their friends. And it's the screen they use when they want to get away from the hustle and bustle of the family room. The Chromebook Flip CM5 uses an AMD Ryzen processor to provide the versatile, portable power these users need.
Striking looks and a vivid display
The Chromebook Flip CM5 is a slim, lightweight laptop that's easy to tuck under your arm and take with you. The Mineral Gray finish of the aluminum lid offers purposeful, professional style, and it offers a subtle contrast to the matte black of the base. The material under your palms has a soft-touch finish that resists fingerprints and is comfortable to use even over the long term. For a light touch of personality, vivid orange highlights peek out through the CM5's vents and around the WASD keys.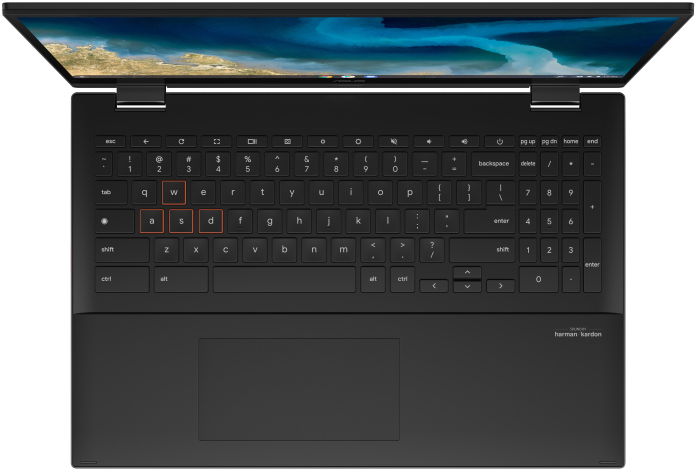 The CM5 boasts a 15.6" FHD display, a size that offers a compelling balance of portability and screen space. It's big enough that when you arrange two windows side by side, you can read both without squinting. That's a real asset for getting big school projects or complex spreadsheet work done. The display is surrounded on three sides by narrow NanoEdge display bezels. This reduces the overall footprint of the CM5, giving you a 15" laptop that's more similar in size to 14" notebooks of yesteryear.
Entertainment of all kinds is more immersive, too. Your online opponents in mobile games might be peering at a smartphone screen, but you'll have the screen size and resolution to see the battleground clearly. The IPS panel offers excellent contrast and viewing angles, so if you're sitting with a friend you can both see the screen without any loss of fidelity. Great entertainment experiences need clear, immersive audio, too. The dual-speaker array, certified by Harman Kardon, will draw you into your favorite shows and games.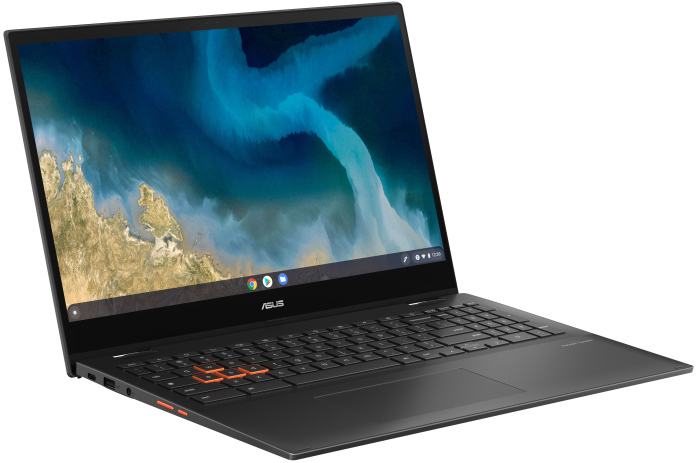 On top of all that, the display is a touchscreen with USI stylus support. Bring your own compatible pen, and you'll find it's a great pairing with Chrome OS. Many Play Store apps are designed first and foremost for a touch interface. More importantly, it gives you powerful options for creativity and productivity alike. With a stylus in hand, it's easy to sketch out a quick idea, create stunning class projects, or craft detailed digital art.
Bringing AMD Ryzen power to bear on Chrome OS
To make sure the Chromebook Flip CM5 delivers great experiences in games and creative apps, we equipped it with potent hardware. AMD processors ranging up to the four-core, eight-thread Ryzen 5 3500C power this line. They provide snappy performance in all your everyday tasks, and they have enough multithreaded muscle to handle the most demanding Chrome OS work. We pair these CPUs with up to 16GB of RAM for heavy multitasking, and with up to 512GB of SSD storage, you'll have high-speed access to a large library of Google Play apps and files. The 57Wh battery will give you up to 10 hours away from the CM5's charging cable.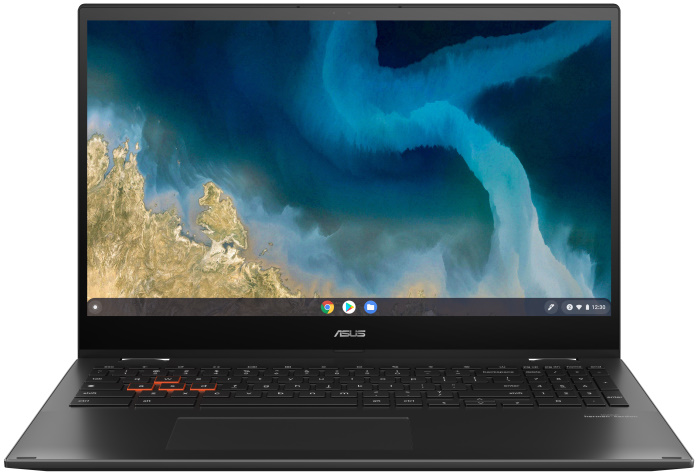 The Chromebook Flip CM5 isn't just powerful—it's comfortable to use. It has a full-sized keyboard with a dedicated numpad, and the palm rest region bears an Obsidian Velvet texture that's soft and soothing to the touch. With its backlit keys and specially styled WASD buttons, it's easy to position your hands with confidence, even in a dark room.
The keys have a generous 1.4mm of key travel, long enough for a responsive feel under your fingertips but short enough for quick actuation. The wide 5.6" glass-covered touchpad is easy to reach for hands both large and small. And as a 2-in-1 convertible, you can flip the CM5 around into the position that makes the most sense for where you are and what you're doing, whether that's clamshell, tablet, or tent mode.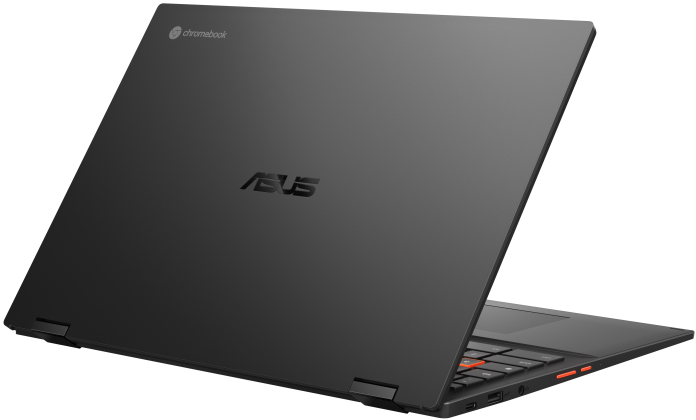 Excellent connectivity gives you plenty of day-to-day options. A WiFi 6 radio lets you take advantage of the latest wireless networking technologies. An HDMI 1.4b port lets you drive an external 4K display. A pair of USB 3.2 Gen 2 Type-C ports give you access to high-speed peripherals, and a USB 3.1 Gen 2 Type-A port makes it easy to keep using your older peripherals and flash drives. There's an audio combo jack for wired headsets, and a microSD slot makes it easy to access files from devices like your camera.
Chromebook Flip CM5
CPU
Ryzen 5 3500C
Ryzen 3 3250C
Display
15.6" FHD
Touchscreen
GPU
AMD Radeon Graphics
Memory
Up to 16GB DDR4
Storage
Up to 512GB SSD
I/O
2x USB 3.2 Gen 2 Type-C
1x USB 3.2 Gen 2 Type-A
1x HDMI
1x MicroSD card reader
1x audio combo jack
Dimensions
357.6 x 240.8 x 18.5mm
Weight
1.89kg
Battery
57Wh
A capable Chromebook with a distinct edge
The familiar simplicity and hassle-free maintenance of Chrome OS makes it a favorite for many people today, especially students who grew up with Chromebooks in the classroom. The Chromebook Flip CM5 takes the platform to the next level with powerful AMD Ryzen processors. Whether you're crafting your final projects for your college classes, putting the final touch on your latest creative endeavor, or kicking back with your friends in an online game, this versatile Chromebook will give you the performance you need.
For more information about pricing and availability of the Chromebook CM5 in your region, contact your local ASUS representative.