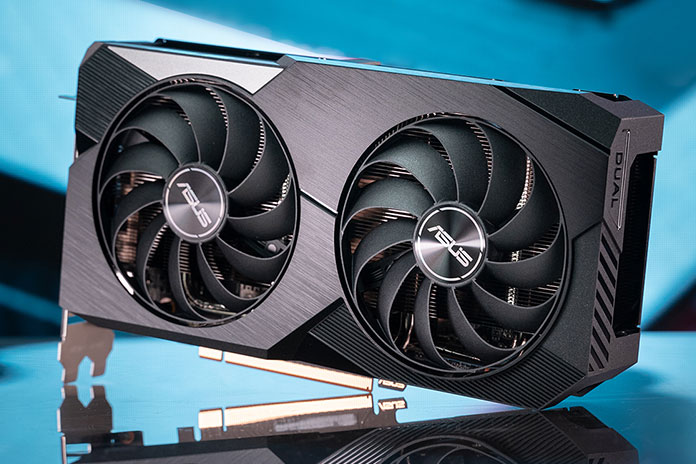 AMD's Radeon RX 6600 graphics card brings the power of the RDNA 2 GPU architecture to more gamers than ever. With cutting-edge DirectX 12 Ultimate technology like accelerated ray tracing and the performance-boosting power of FidelityFX Super Resolution, the RX 6600 has all the features that gamers need to enjoy the latest in image quality and performance. To help DIY PC builders get the most out of this mainstream graphics card, we've created the ASUS Dual Radeon RX 6600. It incorporates all of our latest tech into a straightforward package that's ready to power up any DIY build without fuss.
The Dual Radeon RX 6600 XT cools the GPU at its heart with a high-surface-area heatsink comprising three heat pipes running through a generous fin stack. Twin fans built using our tried-and-true Axial-tech design move plenty of directed airflow through the fins beneath while keeping noise levels lower at a given RPM. A zero dB mode further reduces system noise levels by stopping the fans entirely when your system is idling at the desktop.
The fans and heatsink lie within an attractive outer shroud with angular chamfers, contrasting black and silver finishes, and a full-length aluminum backplate decked out with subtle graphics. Thanks to this tasteful treatment, the Dual Radeon RX 6600 draws attention without clashing with other system components or RGB LED lighting schemes. A polished stainless steel mounting plate ensures that this card adds a touch of class to every corner of your system. The card's 2.5-slot overall volume achieves an ideal balance of case compatibility and cooling capacity.
The Dual Radeon RX 6600 isn't just cool-running and attractive. It's built to perform over the long haul. Auto-Extreme technology, used across our graphics card lineup, precisely places and cleanly solders surface mount components without human intervention of any kind, resulting in a higher-quality final assembly. And a 144-hour validation program at the factory stress-tests each Dual Radeon RX 6600 to ensure that it's ready to go right out of the box.
For more information regarding pricing and availability of the ASUS Dual Radeon RX 6600 in your region, please contact your local ASUS representative.