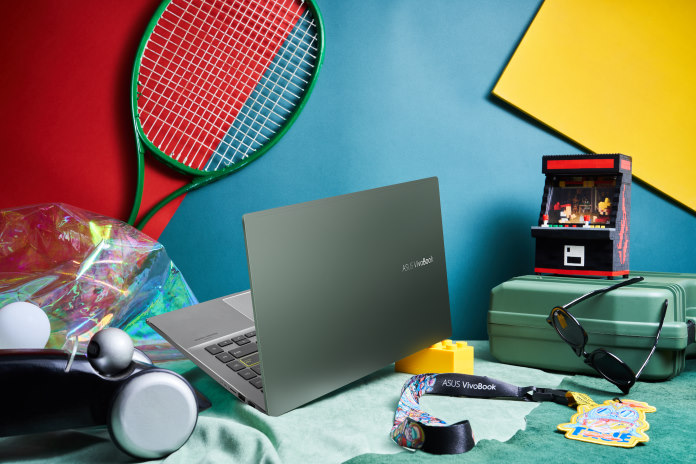 Need an everyday laptop that checks off everything on your list? The new VivoBook S14 S435EA, launching at CES 2021, provides all the performance you need in a cheerful thin-and-light chassis. An 11th Gen Intel processor with the latest Iris Xe graphics keeps the S14 light on its feet as it powers through your day. And with its enduring battery life, dual Thunderbolt 4 ports, and Wi-Fi 6 support, this Intel Evo-verified laptop has the full complement of features you need for swift, responsive computing for years to come. 
A stunner everywhere it goes
The VivoBook S14 proves that you don't have to break the bank to get a lightweight laptop that looks sharp. Thanks to its aluminum frame and compact design, it's just 2.87lbs and 15.9mm thin. It's easy to keep on hand for whenever you need it.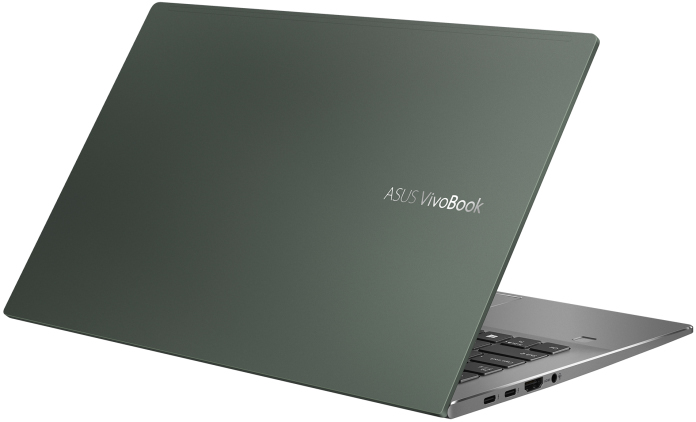 We complement the S14's easy portability with a design that bursts with personality and thoughtful touches. The lid bears a calming Deep Green finish that coordinates well with the silvery aluminum beneath. The backlit chiclet-style keyboard is set off with a dash of yellow around the Enter key. That color-blocked key adds a touch of satisfaction every time you issue a command.
With the S14's lid open, the color-blocked Enter key isn't the only thing that'll draw attention. The bright and colorful display will also draw your eye. This Full HD IPS-level panel is surrounded with razor-thin NanoEdge bezels on all four sides. That slim frame keeps the overall size of the laptop down, letting you enjoy a 14" display in a chassis sized more like the 13" machines of yesteryear. The screen can reach a 400-nit peak brightness, so you can use it comfortably and see on-screen content clearly even in bright environments.
Power to wow
There's no need to put up with an old laptop that makes you wait at every turn. The VivoBook S14 comes equipped with all the hardware you need for responsive performance. It bears one of Intel's latest 11th Gen processors, ranging up to a Core i7. The high per-core performance of these chips makes light work of the apps you use the most. The high-end processors in this line also deliver the benefits of Intel's new Iris Xe graphics to double the performance available from the last generation. This integrated GPU lets you join in on some of today's most popular games without compromising on weight or battery life.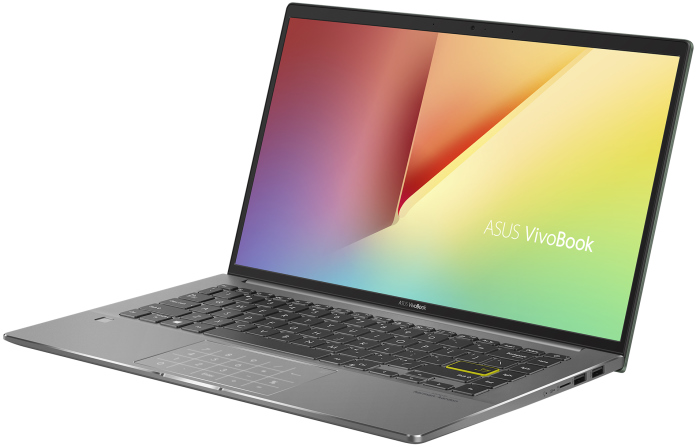 Thanks to ASUS Intelligent Performance Technology, you can adapt the performance of the VivoBook S14 to any task you're likely to encounter during the day. Choose between Performance Mode for all-out speed, Balanced Mode for plenty of power in everyday tasks, or Whisper Mode for a focus on quiet operation in hushed surroundings. 
The VivoBook S14 also has the storage space and battery life you need for a worry-free computing experience. 512GB of fast PCIe SSD storage gives you plenty of room for apps and files, and loads them up promptly when you need them. The laptop's capable battery can power the S14 through a full day of work and play. Between the S14's powerful and efficient CPU, spacious storage, and up to 17 hours of battery life, it's always ready to go when you need it.
The convenience factor
A host of features make the VivoBook S14 easy to use day in and day out. When it's time to connect peripherals, the S14 has you covered with a pair of Thunderbolt 4 USB Type-C ports. These ports are good for charging both the S14 and other devices like your smartphone thanks to USB Power Delivery support, and they'll also make it easy to connect a second display when you need it.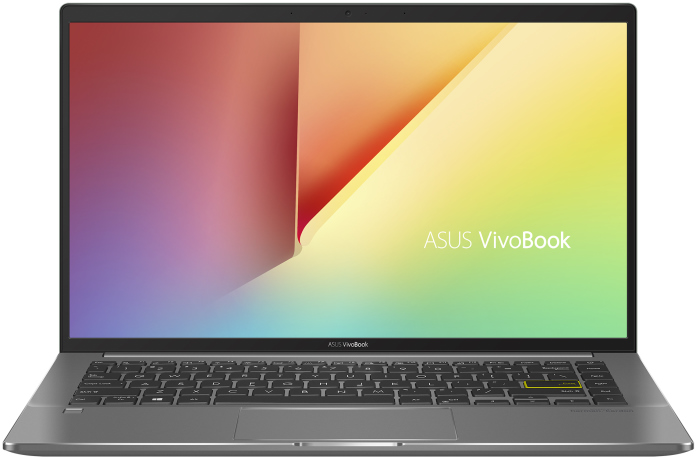 There's a microSD card reader nestled into this laptop, so it's easy to transfer media like photos to and from the S14. Need to enter some data into a spreadsheet or crunch some numbers for an online math course? Activate the ASUS NumberPad with one touch, and an illuminated ten-key will appear on the S14's spacious glass clickpad. It offers all the convenience of a full-size keyboard in a compact chassis.
Unlocking your laptop and connecting to Wi-Fi should be a seamless experience, so we equipped the S14 with a fingerprint sensor. It'll only take one press to log in to your Windows account. The Wi-Fi 6 adapter inside will ensure the best wireless internet experience as you upgrade your router and other devices to the latest standards.
VivoBook S14
Model
S435EA
CPU
Core i7-1165G7
Core i5-1135G7
Display
14" FHD
GPU
Intel Iris Xe Graphics
Memory
Up to 16GB LPDDR4X
Storage
Up to 1TB SSD
I/O
2x Thunderbolt 4 USB Type-C
1x USB 3.2 Gen 1 Type-A
1x USB 2.0
1x HDMI
1x MicroSD card reader
1x audio combo jack
Dimensions
322 x 204 x 15.9 mm
Weight
1.3kg
Battery
67Wh
An exceptional experience for everyone
The VivoBook S14's crisp screen, responsive performance, long-lasting battery, and excellent connectivity all combine to help it claim its place as an Intel Evo laptop. You'll get more done with its swift processor and large battery. The Full HD display and Iris Xe graphics in select models mean the S14 will keep you entertained and creative. And with robust connectivity and next-gen Wi-Fi 6 networking, the S14 is ready to fit right into your connected lifestyle.
For more information on pricing and availability of the next-generation VivoBook S14 in your region, contact your local ASUS representative.