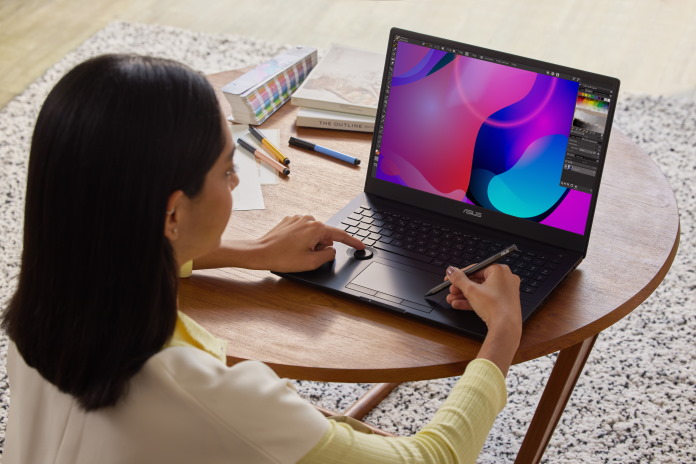 Next-gen OLED displays are a clear choice for creators. These panels produce color that's more saturated than ever and highly accurate all at once, allowing creative professionals to show their work just as they envision it. Whether you're an architect, filmmaker, animator, professional photographer, or illustrator, a new ASUS ProArt Studiobook Pro 16 or ProArt Studiobook 16 laptop equipped with an OLED display will give you a complete and powerful studio in a portable package. Their high-performance components, versatile ASUS Dial, and accurate, vivid displays will empower your efficiency and creativity wherever your work or art take you.
Precise, vivid visuals for creators of all kinds
The ProArt Studiobook 16 series empowers creators with screen options ranging up to a 16" OLED panel. Standard displays illuminate the screen with a single LED backlight that can't respond to changes in what's on screen. An OLED panel, on the other hand, offers precise control over the brightness of every single pixel. This arrangement greatly increases contrast and clarity, making these notebooks a natural fit for professionals developing high dynamic range (HDR) content.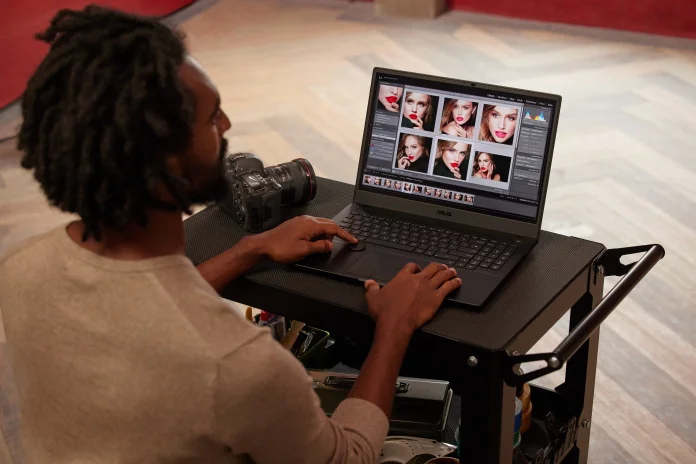 The displays in the ProArt Studiobook Pro 16 and ProArt Studiobook 16 laptops are VESA DisplayHDR 500 True Black certified, so you can trust that vivid highlights in your work can shine bright without the light bleeding into nearby pixels. You'll also enjoy deep shadows and blacks that are truly black. If you're a creator with an HDR workflow, an OLED panel is a game-changer that lets you see your content correctly right from the start of your process. Your work will always look its best even when you're showing a project to clients or checking out your shots on set.
Color-sensitive projects require wide color gamut coverage and professional-grade accuracy. The ProArt Studiobook 16 series' displays cover 100% of the cinema-standard DCI-P3 color gamut, so your work will appear consistent across a wide range of systems and monitors during client review or collaboration. Furthermore, these displays have the color accuracy you demand for creative work. They're PANTONE Validated and Calman Verified to achieve a ΔE of less than 2. The moment you pull one of these laptops from the box, it'll reproduce a lifelike range of color with an accuracy that you can count on as you start to edit photos, perform color corrections on your latest footage, or create digital art.
Increasingly, game developers need to produce assets for games that feature HDR content. Like other artists, these developers need accurate and reproducible color, and they also need monitors that can display fast-paced action without blur. ProArt Studiobook 16 screens have an ultra-low 0.2ms response time, so each pixel can rapidly transition from one color to the next. Even when you're carefully scanning a rapidly moving sequence, you'll be able to make the fine adjustments that you need to.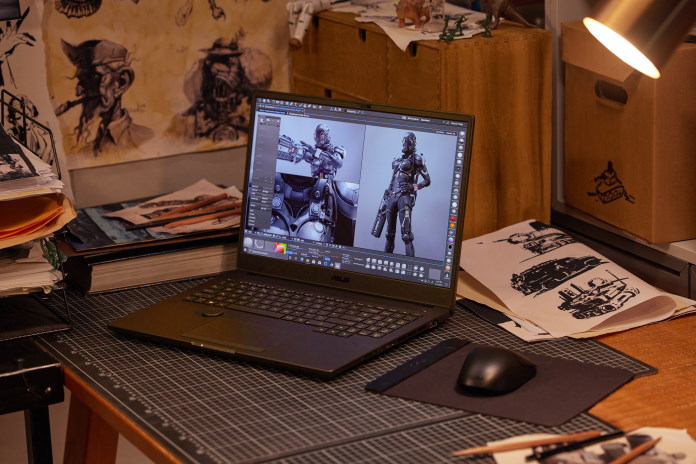 The OLED displays in the ProArt Studiobook 16 series of laptops offer a roomy 4096×2400 resolution that brings out all the detail in photos and video and allows you to arrange multiple windows on the screen without losing clarity. We selected a 16:10 aspect ratio for these displays to provide you with more vertical space for easier work in pro apps. Whether you're editing a video, working in a CAD program, or just browsing the web, the extra vertical space affords more room for toolbars and menus so that you can see more of the content you care about the most.
As an alternative to the 4K OLED panel, some laptops in the ProArt Studiobook 16 series have an IPS-level display option instead. This 2560×1600 panel still offers plenty of detail for its 16" diagonal, and it provides the color gamut coverage and accuracy that you demand for creative work.
Fine-tuned creative controls at your fingertips
Laptops in the ProArt Studiobook 16 series boost your creative efficiency with versatile physical controls and customizable software. This hands-on control starts with the integrated ASUS Dial. Built right into the chassis at the upper left-hand corner of the touchpad, this intuitive tool gives you quick access to the most commonly used functions in your favorite creative apps.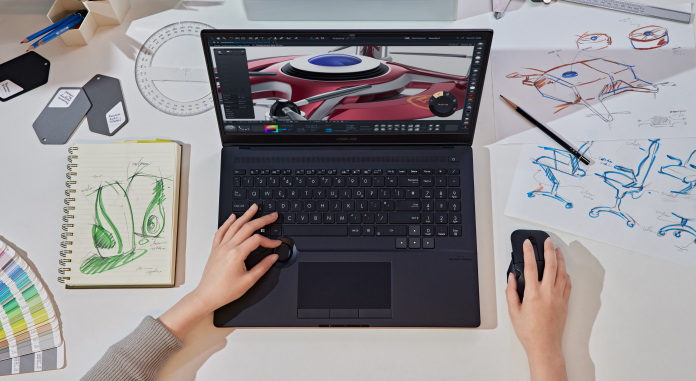 Turn the ASUS Dial clockwise or counterclockwise, and a circular on-screen menu will pop up. Select the function you need and press in on the dial, and you'll be able to spin it to adjust the related value precisely. It's a quick and easy mechanism for changing tools or parameters without losing focus on the task at hand, and it's ready to streamline your workflow in Adobe After Effects, Photoshop, Premiere Pro, and Lightroom Classic. In the ProArt Creator Hub app, you'll find premade templates for popular creative programs, but you can also fully customize the ASUS Dial's functionality based on your personal preferences.
That's not the only trick in the Creator Hub's sleeve. In addition to helping you configure the ASUS Dial, this app helps you monitor vital hardware stats like processor load, fan status, and memory usage. It includes tools for calibrating the color accuracy of the display, and it lets you toggle Rendering Mode, which optimizes the CPU, GPU, and memory performance to help you quickly finish your finalized projects and move on to the next task.
The touchpad and keyboard are tailored for creators. The oversized touchpad supports stylus input with 1024 levels of pressure sensitivity, giving you natural-feeling input for drawing or writing on an integrated section of the laptop. Since many 3D designers need a middle button to access functions like pan, rotate, or orbit, the touchpad includes three discrete buttons to put these important controls under your fingertips. Finally, you can customize the function of two of the buttons on the bottom row of the keyboard to give yourself quick access to important tools in your workflow.
Exceptional performance for creative workloads
Data engineers, architects, animators, and graphic designers all tend to make use of powerful PC hardware for their projects, but not all of their needs are the same. The ProArt Studiobook 16 series offers a range of options so that you can get just the performance you need from your notebook.
The ProArt Studiobook Pro 16 OLED notebooks offer high-end CPUs from Intel or AMD and the latest NVIDIA A-series GPUs. For creators whose workloads have no tolerance for error, the ProArt Studiobook Pro 16 OLED W7600 boasts an Intel Xeon W-11955M CPU and an NVIDIA RTX A5000 GPU. This GPU has the throughput to help you quickly turn around projects, the enterprise drivers you need for worry-free performance, and ISV certifications that give you the confidence to work in high-stakes environments. The ProArt Studiobook Pro 16 OLED W5600 pairs the proven high performance of the AMD Ryzen 9 5900HX with an NVIDIA RTX A2000.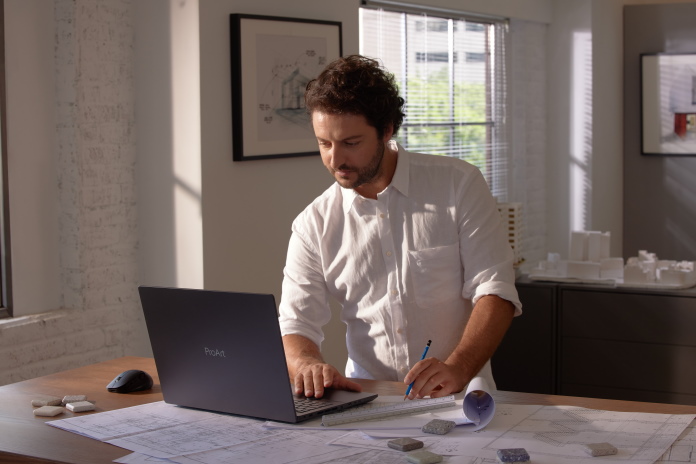 Many creative pursuits don't require enterprise-level drivers and certifications. For creators in these lines of work, the latest GeForce RTX GPUs from NVIDIA are more than up to the task. The ProArt Studiobook 16 OLED H5600 harnesses up to an AMD Ryzen 9 5900HX and up to an NVIDIA GeForce RTX 3070, while the ProArt Studiobook 16 OLED H7600 pairs up to an Intel Core i9-11900H and up to an NVIDIA GeForce RTX 3060.
In all ProArt Studiobook 16 laptops, we pair these high-performance CPUs and GPUs with the rest of the tools you need for high sustained performance. The quiet ASUS IceCool Pro cooling solution keeps the laptop's vital components operating comfortably without throttling. Up to 64GB of 3200MHz DDR4 empowers you to multitask freely, construct projects with high-resolution assets, and work with large datasets. Large, fast storage arrays up to 4TB are available to minimize any delay in loading your apps and projects while giving you ample onboard storage.
An extensive I/O selection makes sure that you have the connectivity you need for your7600 workflow. The ProArt Studiobook Pro 16 OLED W7600 and the ProArt Studiobook 16 OLED H7600 notebooks feature Thunderbolt 4 USB Type-C ports equipped for high-speed transfers, VR, and 100W power delivery. USB 3.2 Gen 2 Type-C ports on all models give you a flexible option for charging the laptop or other devices, connecting to an external display, or transferring files. An HDMI 2.1 port allows you to connect to cutting-edge displays up to 10K at 60Hz, while an SD Express 7.0 card reader gives you high-speed access to the footage from your dedicated camera.
Three free months of Adobe Creative Cloud
Adobe products are central to creative work in many industries. We've partnered with Adobe to empower your workflow with the renowned Creative Cloud suite of apps and services. With your purchase of a ProArt StudioBook Pro 16 or ProArt StudioBook 16 laptop in select regions, you'll enjoy a free three-month subscription to Adobe Creative Cloud. Not only will you have access to over 20 apps, including Photoshop, Premiere Pro, and After Effects, you'll have 100GB of cloud storage on tap.
Redemption is easy, and you can apply the Creative Cloud subscription to a new or existing account. The first time you power on your PC, a window will pop up to walk you through the steps. Alternatively, you can use the MyASUS app or head over to the registration site at any time. Check out the full details for this program here.
The professional creator's dream
ProArt Studiobook 16 series laptops integrate a brilliant OLED or IPS display, powerful components, and the intuitive ASUS dial in a complete, portable package. Whether you're working on set, fine-tuning your creations in your home office or studio, or demoing final projects to clients, your ProArt Studiobook 16 laptop will show your work as you envision it and give you the power for the task at hand.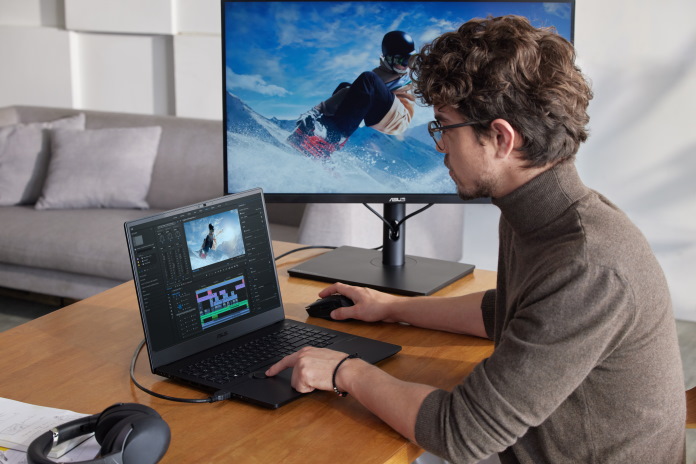 For more information on pricing and availability of the ProArt Studiobook Pro 16 and the ProArt Studiobook 16, please contact your local ASUS representative. Click here to learn more about the best ASUS laptops for creators.