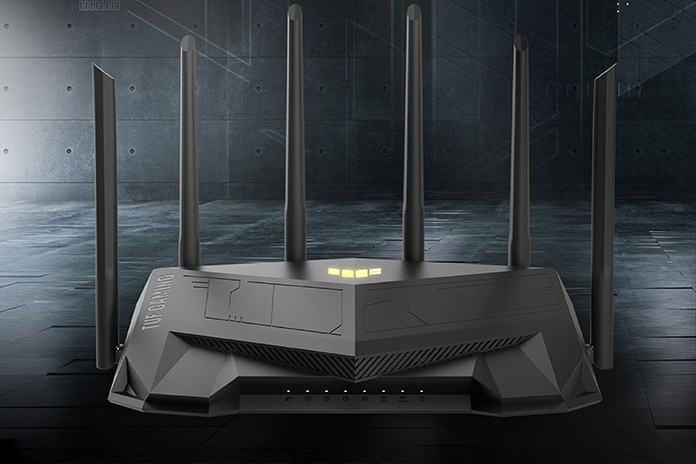 When you choose a TUF Gaming motherboard, graphics card, CPU cooler, case, or peripherals for your build, you aren't just choosing a set of components that are battle-tested to work well together. They form a unified aesthetic whole, making your system look clean and coordinated with no extra effort. We're bringing the latest TUF Gaming DNA to wireless networking with the TUF Gaming AX5400, a WiFi 6 router that's built to keep you in the game and styled to slot right into your larger TUF Gaming arsenal.
The TUF Gaming AX5400's style is of a piece with the other recent products in the TUF Gaming family. Angular lines and subtle etched patterns on the shell of the router draw the eye without clamoring for attention. Once your eye has settled on this router, you'll notice the interplay between its matte shell and the glossy TUF Gaming logos embossed atop it. It's stylish and stealthy all at once.
Modern connectivity, precise control
Aesthetics are only skin-deep, of course. It's what's inside that counts for performance. The TUF Gaming AX5400 is built to bring all of the range-boosting and latency-reducing benefits of WiFi 6 to your network. Thanks to a 4×4 antenna array and support for 160Hz channel widths with compatible devices, the TUF Gaming AX5400 can move up to 5400Mbps of traffic simultaneously—574Mbps on the 2.4GHz band and 4804Mbps on the 5GHz band. Support for the latency-reducing OFDMA and performance-boosting MU-MIMO technologies help maintain high speeds even in networks with many connected devices.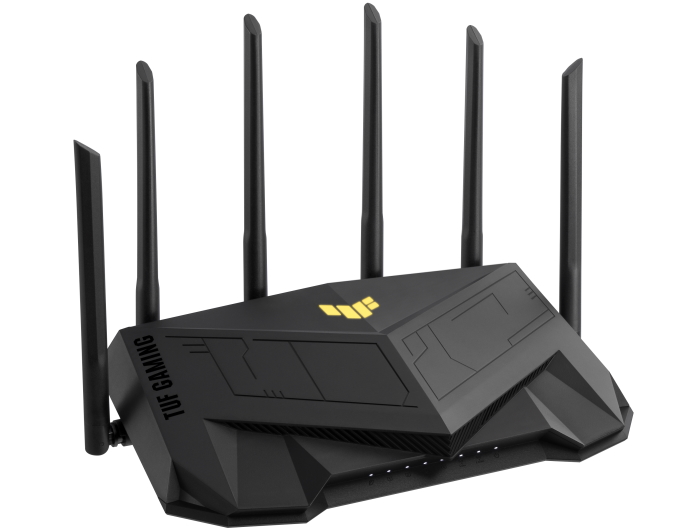 A triple-core CPU and 512MB of RAM swiftly process this river of data for consistent and reliable performance. We cool all of the thermally sensitive components inside the router with dual aluminum heatsinks protected by a nano-carbon coating for long life and effective heat dissipation. Fixed antennas ensure a steady, stable wireless connection no matter how you position them.
Raw performance is even better with precise control, and our firmware gives you plenty of options to tune your network's behavior just how you want it. Adaptive Quality of Service features allow you to identify types of network services that the TUF Gaming AX5400 should prioritize and those that can wait. For example, you might tell the router to prioritize gaming packets above all so that network-intensive services such as media streaming and file transfers don't interfere.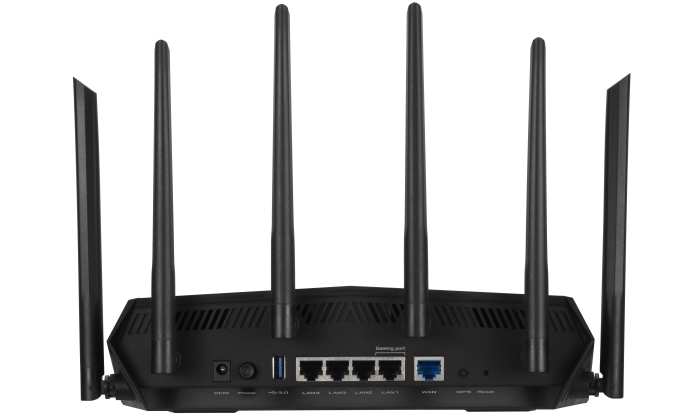 If you prefer to hook your gaming desktop up to the router using an Ethernet connection, the TUF Gaming AX5400's dedicated Gigabit Ethernet gaming port always gets first crack at the available bandwidth to ensure that other PCs and devices on the network don't interfere with your ping. Three more Gigabit Ethernet ports and a gigabit WAN port make plenty of room for wired devices. And if your ISP offers service that's faster than a gigabit per second, link aggregation for both WAN and LAN ports lets you harness those speeds both inside your network and out.
Easy port forwarding, solid security, and VPN Fusion keep you in the game
Many gamers know the frustration of attempting to set up a private server on their local networks, finding the right port to forward, and associating it with the right device. The TUF Gaming AX5400 makes this process a snap through its firmware interface. Just select the game that you're making a private server for, tell the router which device on your network is running it, and activate port forwarding. You and your friends can dive right into that private round of your favorite online shooter rather than spending precious time waiting for someone to figure out the magical combination of settings that will get port forwarding working.
No matter what you're doing on the Internet, our connected world is full of malicious software and Web sites that can threaten your devices' data and your privacy. That's why we build the AiProtection Pro security suite right into the TUF Gaming AX5400. This tool draws on Trend Micro's constantly updated threat intelligence to scan incoming and outgoing traffic for malicious activity and stop packets that pose a potential threat to your network. Even if your PCs and phones don't have security suites installed, AiProtection Pro can block malicious website access to prevent inadvertent malware infections or data theft. It can also monitor your local network devices for suspicious behavior and cut off connectivity entirely for devices that may be infected or otherwise pose a potential threat. To further enhance the TUF Gaming AX5400's security, we implement support for the WiFi Protected Access 3 (WPA3) protocol to make sure that every client's connection is strongly encrypted.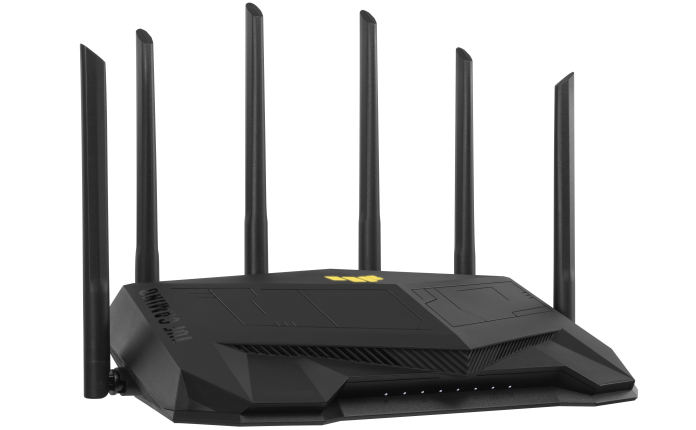 For families or housemates who work, play, and learn together at home, each user's needs for network connectivity are different. Some might need to connect to a virtual private network (VPN) at their place of work to ensure secure access to sensitive information, while others might be trying to game or stream media at the same time over the public Internet.
Less sophisticated routers might tunnel all traffic from a home network through a VPN connection, causing issues with in-game ping times and potentially inconsistent network performance. The TUF Gaming AX5400 avoids this problem thanks to our VPN Fusion tool. This feature allows you to create VPN connections only for the clients that need them while allowing other users on the network to access the Internet normally.
Last but certainly not least, there's no need to box up and put away the TUF Gaming AX5400 when you upgrade your network to the latest ASUS routers. Thanks to its AiMesh support, you can convert this router into a node on a mesh network to extend wireless connectivity and enhance performance across a larger area of your home.
TUF Gaming AX5400
Model
TUF-AX5400
Operating Frequency
2.4G Hz / 5 GHz
Transmit/Receive Antennas
2.4 GHz 2 x 2
5 GHz-2 4 x 4
Data Rate
802.11a : up to 54 Mbps
802.11b : up to 11 Mbps
802.11g : up to 54 Mbps
WiFi 4 (802.11n) : up to 300 Mbps
802.11ac (1024QAM) : up to 4333 Mbps
802.11ax (2.4GHz) : up to 574 Mbps
802.11ax (5GHz) : up to 4804 Mbps
Processor
1.5 GHz tri-core processor
Memory
256 MB Flash
512 MB RAM
Ports
RJ45 for Gigabits BaseT for WAN x 1
RJ45 for Gigabits BaseT for LAN x 4
USB 3.2 Gen 1 x 1
The TUF Gaming AX5400 makes a rock-solid foundation for your network
Modern TUF Gaming style and WiFi 6 performance come together in the rock-solid TUF Gaming AX5400. Accessible QoS features, the plug-and-play Game Port, and easy port forwarding keep you and your friends in the game. VPN Fusion, our AiProtection security suite, and the latest WPA3 encryption ensure that everybody can connect securely. And AiMesh support means this router can help extend your home network's coverage and performance even as you upgrade with time.
For more information on pricing and availability of the TUF Gaming AX5400 in your region, please contact your local ASUS representative.