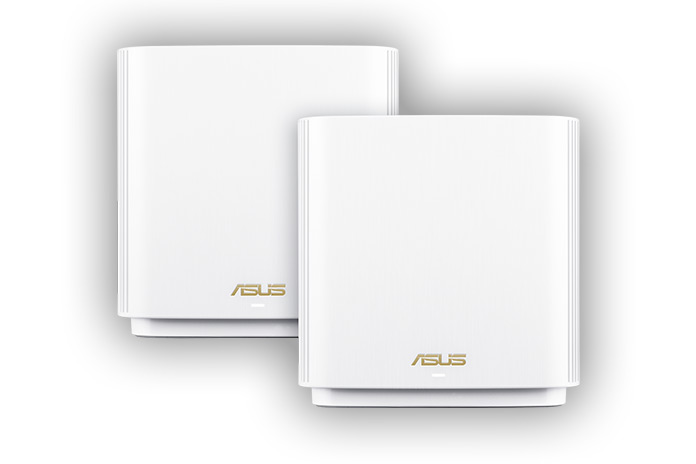 The prime 6GHz spectrum of the new WiFi 6E standard unlocks a wide new frontier of wireless airspace. It promises better performance even as more and more wireless devices connect. And because only devices compatible with the WiFi 6 protocol can communicate in this new spectrum, users can trust that all of their WiFi 6E gear will cooperate to achieve better networking performance. ASUS ZenWiFi networking systems with AiMesh technology make it easy to spread fast wireless coverage over large spaces, and the new ZenWiFi ET8 blends that class-leading ease of use with all the performance of WiFi 6E.
WiFi 6E for the networks of today and tomorrow
The dual-node ZenWiFi ET8 system supports three wireless bands to deliver its leading mesh networking performance. In addition to 2×2 arrays for 2.4GHz and 5GHz communications, 4×4 WiFi 6E transceivers in each node link up to deliver 4804Mbps of speed. In aggregate, each node can move up to 6600Mbps of data across your network—significantly more traffic than even tri-band WiFi 5 routers can handle.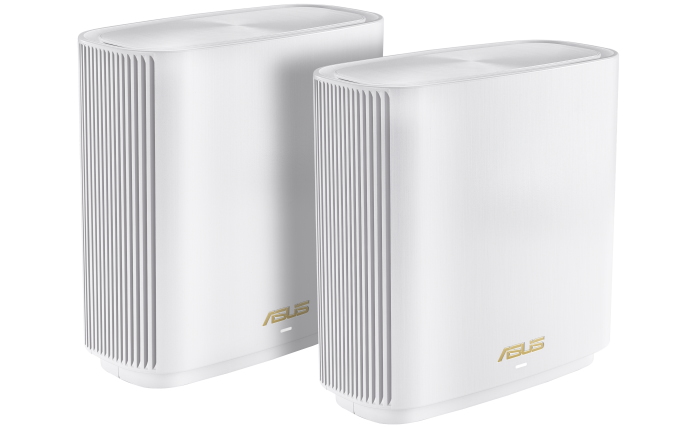 Since WiFi 6E is such a new standard, only a few compatible PCs and phones can communicate in 6GHz airspace. We saw an opportunity to take advantage of this new and uncrowded airspace right away by devoting the ZenWiFi ET8's 4×4 WiFi 6E radios to backhaul out of the box.
Because all of the communication between the nodes takes place on the 6GHz band by default, the large number of 5GHz-only WiFi 6 clients in use today can use every available 5GHz channel to connect to the front-haul network. This clean division of fronthaul and backhaul traffic allows for the most efficient utilization of precious wireless spectrum for clients and mesh networking system alike.
As more WiFi 6E-compatible devices replace existing ones over time, the ZenWiFi ET8 system can intelligently convert its 6GHz backhaul to fronthaul service to deliver full performance for both client and inter-node communications. If you'd like to unleash the full performance of the ZenWiFi ET8 system's radios for wireless clients, you can simply connect both nodes using an Ethernet cable using one of the three Gigabit Ethernet ports on each base station. The ZenWiFi ET8 also stands ready for the most advanced ISP service tiers with a 2.5 Gigabit Ethernet WAN port. Even as Internet service soars beyond gigabit speeds, the ZenWiFi ET8 will still give you full access to that incredible bandwidth.
Easy to set up, easy to secure
You don't need to be a network engineer to take advantage of all of this cutting-edge tech. Both ZenWiFi ET8 nodes are pre-synced out of the box, so all it takes to get your mesh network set up is to take each node out of the box, place them near each other, and plug them in. You can then use the ASUS Router app on iOS or Android to configure key information for your new wireless network. In less than five minutes, you'll be up and running with the latest WiFi standards and performance.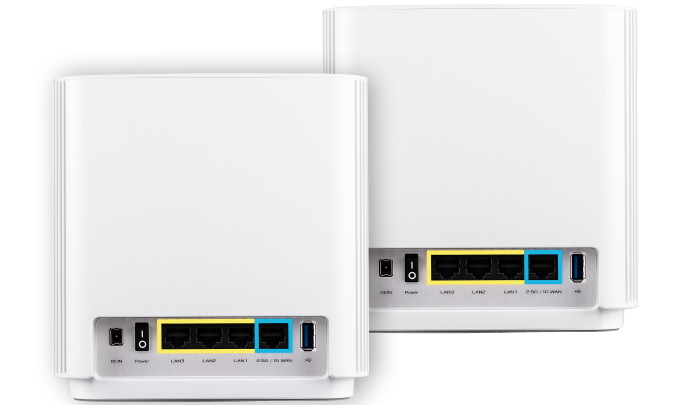 We realize that security is paramount for your devices and data in today's universally connected world, so we've built the latest protection right into the ZenWiFi ET8. The AiProtection Pro security suite, powered by Trend Micro's constantly updated threat intelligence, scans incoming and outgoing traffic to prevent malicious packets and common attacks from causing chaos on your network. It can automatically block access to malicious websites, saving you and your family from inadvertently infecting a device with malware or losing personal information. AiProtection Pro can even sense when an infected device is trying to communicate on your network and sever its network connection entirely.
Network security doesn't end at your front door with the ZenWiFi ET8. Our new Instant Guard software allows you to create a personal VPN between your phone and your ZenWiFi ET8-powered home network that's safe from the prying eyes of potentially hostile users on public WiFi. And if you've enabled our AiProtection Pro suite, your Instant Guard traffic will be protected from external threats in the same way that your devices at home are. And with support for the most recent WiFi Protected Access 3 (WPA3) encryption standard, the ZenWiFi ET8 will keep the communications of each device on your home network private and secure.
Level up your mesh
For the best wireless mesh networking performance today and full compatibility with the clients of tomorrow, the ZenWiFi ET8's versatile and wide-ranging coverage will keep your entire home happy. As you upgrade your devices and Internet service over time, the ZenWiFi ET8 system stands ready to let you enjoy its full performance for years to come. And all of your wireless communications will remain private both at home and on the go thanks to our AiProtection Pro suite, Instant Guard ecosystem, and the latest WiFi security technologies.
For more information on pricing and availability of the ZenWiFi ET8 system in your region, please contact your local ASUS representative. To learn more about ASUS ZenWiFi mesh systems, please visit our dedicated landing page.