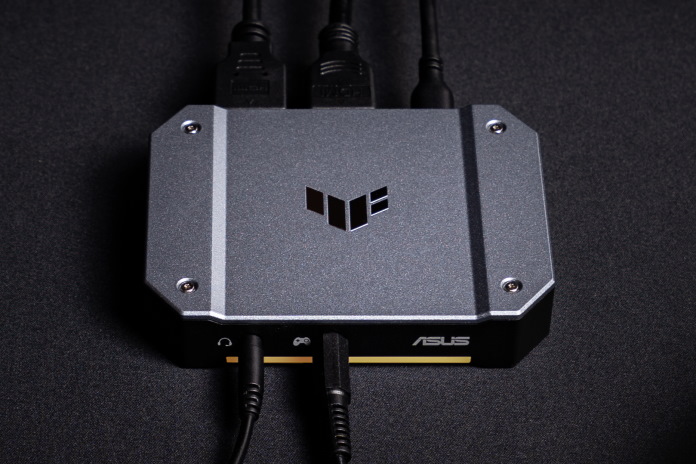 Gaming no longer has to be a solitary activity. Fire up a live stream of your favorite title on Twitch, YouTube, and Facebook, and it's a fair bet that you'll soon have a chat full of like-minded players cheering you on. To make it easy to dive into streaming on both console and PC platforms, we created the TUF Gaming Capture Box CU4K30. It's a powerful, reliable, and easy-to-use tool for sharing live gameplay with the world and saving your best moments for later.
Cool and composed
In keeping with its TUF Gaming DNA, the Capture Box CU4K30 is a compact, all-in-one unit that's passively cooled through its durable alloy outer shell. Because there's no fan inside, the TUF Gaming Capture Box has no moving parts, both improving reliability over time and keeping the noise floor in your gaming space as low as possible. You can also slip the TUF Gaming Capture Box into a backpack or camera bag without taking up tons of space or adding bulk.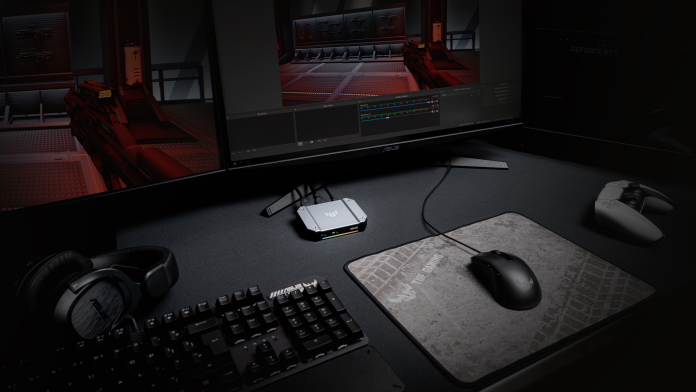 An RGB LED light bar on the Capture Box's front panel adds visual interest to your setup, and it blends both flash and function. The light bar provides an at-a-glance view of the device's status using easily identifiable colors and animations. For example, a breathing rainbow spectrum indicates that your capture is up and running, while a flashing yellow indicator warns you that your HDMI input signal has been interrupted. Thanks to these indicators, you won't have to wait for your community to tell you that there's a problem with your stream setup. You can quickly respond to those issues in the event that they arise.
Plug and play
Firing up multiple applications and fussing over each one takes all the fun out of streaming. That's why we built the TUF Gaming Capture Box as a USB Video Class (UVC) compatible device. Plug it into a compatible PC using a USB 3.2 Gen 1 port, and you can immediately begin using its output to stream and record with your favorite software—no extra drivers or utilities required.
The TUF Gaming Capture Box is certified for use with Open Broadcaster Software (OBS) Studio, and you can also use it as a source within Xsplit Gamecaster, Streamlabs OBS, and most any other streaming application that can accept a video source. Using USB 3.2 Gen 1, the CU4K30 can transfer uncompressed SDR 4K video at up to 30 FPS, or 2K or 1080p video at 60 FPS, for streaming and recording via your compatible PC and preferred streaming application. You can even plug in a mirrorless camera or DSLR to instantly create a high-quality webcam.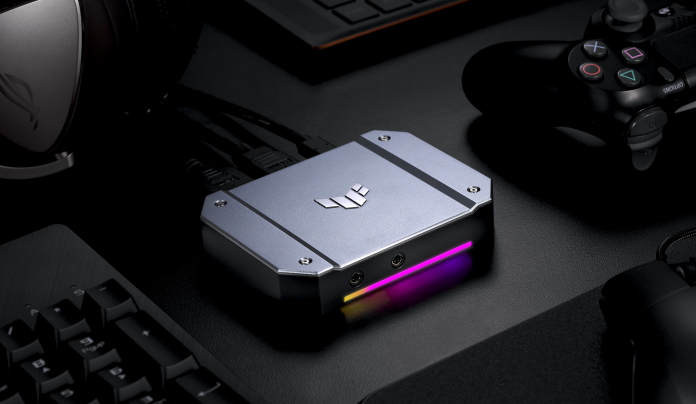 Input lag is the last thing that gamers need to fight on the battlefield, so we built the TUF Gaming Capture Box to seamlessly integrate with the rest of your display chain. Using HDMI 2.0, it passes through 4K signals at up to 60Hz, 2K signals at up to 144Hz, and 1080p signals at up to 240Hz so that you can still enjoy your console or PC's output on high-refresh-rate gaming monitors, all without adding annoying input lag.
If your input source can generate high-dynamic-range (HDR) content, the TUF Gaming CU4K30 will pass those signals through to your compatible display to maintain full immersion, even while it transfers SDR content to your PC for streaming and recording. HDR pass-through works with all of the Capture Box's pass-through resolutions and refresh rates.
Party on
To further simplify your streaming and capturing experience, the TUF Gaming Capture Box makes it easy to add commentary to your game using your headset and to record console party chats for a fuller sense of your group's gameplay experience. Its dedicated 3.5mm combo input allows you to listen and communicate with your group, and a second 3.5mm combo jack allows you to pass your audio through to your game controller, just as you would with a dedicated console headset.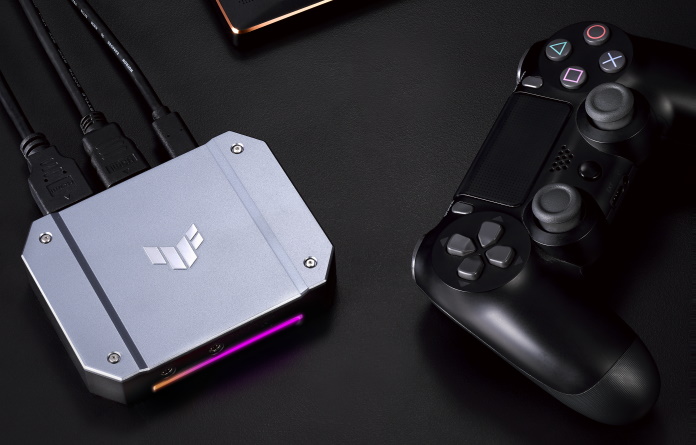 To ensure that the TUF Gaming Capture Box is ready to go right out of the box, we include all the cables you'll need for video, audio, and data. A high-quality HDMI cable for video input, a male-to-male 3.5mm cable for audio output to your console controller, and a USB Type-C to Type-A cable (with an included Type-A to Type-C adapter) make it easy to plug and play.
For more information regarding pricing and availability of the TUF Gaming Capture Box CU4K30 in your region, please contact your local ASUS representative.