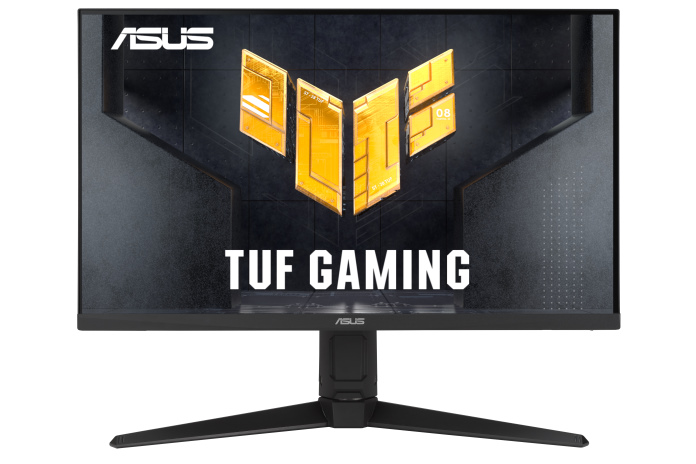 NVIDIA GeForce RTX 30-series and AMD Radeon RX 6000-series GPUs have raised the bar for graphics performance on the PC, and the mighty PlayStation 5 and Xbox Series X consoles have brought new levels of performance to even more gamers. In the recent past, and regardless of their chosen platform, gaming enthusiasts had to choose between high resolutions or high frame rates. In turn, gaming monitors used to have split personalities. You could get a 4K resolution or high refresh rates, but rarely both. These new GPUs and consoles let gamers enjoy the best of both worlds, and the attainable ASUS TUF Gaming VG28UQL1A, launching at CES 2021, brings a 4K resolution and 144Hz refresh rate to a wider audience than ever before.
The TUF Gaming VG28UQL1A's 3840×2160 resolution offers four times as many pixels as a 1920×1080 display, or the equivalent of a 2×2 array of Full HD monitors. The combination of a 28″ diagonal and the high resolution results in razor-sharp games, crisp movies, and pitch-perfect text and window elements. Since it's an IPS panel, it offers vivid color reproduction and wider viewing angles than average. The VG28UQL1A's panel can reproduce 90% of the cinematic DCI-P3 color gamut, or 125% of the more common sRGB range.
We're not done talking about brilliance just yet. High dynamic range, or HDR, imagery is the future of gaming and entertainment, and the TUF Gaming VG28UQL1A meets the standards of the VESA DisplayHDR 400 certification for a taste of this transformative tech. The high-bandwidth DisplayPort 1.4 inputs also support VESA Display Stream Compression (DSC), allowing the monitor to function at 144Hz while displaying full per-pixel color data. If you connect an Xbox Series X or PlayStation 5 using the HDMI 2.1 ports, you'll enjoy an automatic low latency mode, variable refresh rates, and refresh rates ranging up to 120Hz, plus HDR visuals in supported titles.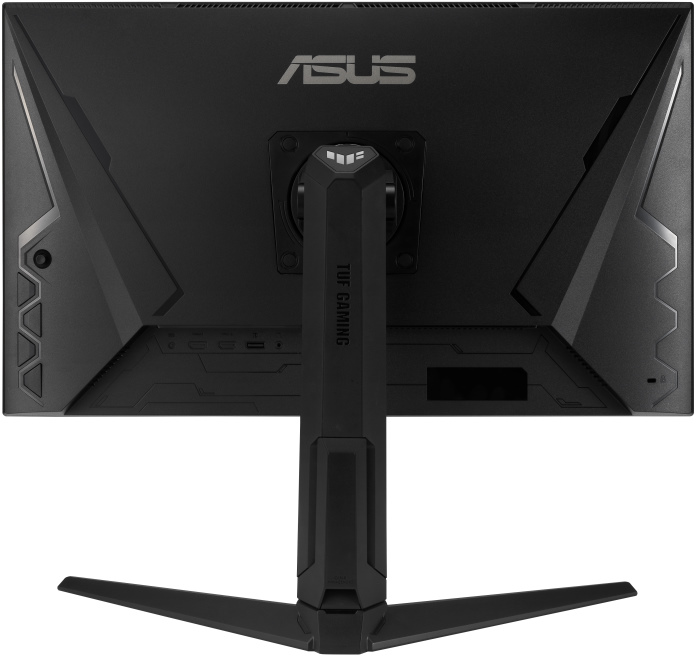 The high refresh rates available from the VG28UQL1A make for exceedingly fluid motion by themselves, but this display really comes alive when it takes input from components with the latest variable refresh rate technologies. The VG28UQL1A supports HDMI 2.1 Variable Refresh Rate and AMD FreeSync Premium Pro inputs, ensuring you can enjoy buttery smooth, tear-free gaming in HDR color regardless whether you own a contemporary graphics card or a latest-gen console.
The TUF Gaming VG28UQL1A has plenty more to offer for smooth gaming, starting with ELMB Sync, a feature that lets you enable Extreme Low Motion Blur (ELMB) feature while keeping variable refresh rates enabled. Displays that use some form of backlight strobing like ELMB are aplenty, but the downside is often the loss of variable refresh rate, meaning you get clear motion but also tearing and janky animation. With this monitor, you can enjoy the best of both worlds.
The latest and fanciest trick in the VG28UQL1A is support for Variable Overdrive. Most every gaming display offers overdrive, letting players enjoy a faster panel response time for clearer motion. A common problem, though, is that an overdrive setting that looks good on a game that runs at 60FPS isn't going to be ideal for a fast-paced title running at 140FPS, and vice versa. Even this tried-and-true functionality has evolved. We've recently introduced Variable Overdrive, a feature that lets the display dynamically alter its overdrive setting as frame rates fluctuate, for an optimal result no matter the game in play. You choose how strong you want the overall effect to be, and let the monitor take it from there. Less work, less ghosting, and more fun.
The TUF Gaming VG28UQL1A's straightforward design is exceedingly effective. The panel area has extra-thin bezels on three sides, just the ticket for multi-monitor setups. The wide, height-adjustable base offers steady support for the display even during the most frantic whiplash movements of competitive gaming. An OSD joystick around the back makes it easy to set up the display, sitting next to a quartet of shortcut buttons.
To support a wide range of connected devices, the TUF Gaming VG28UQL1A offers two HDMI 2.1 inputs, two HDMI 2.0 inputs, and a DisplayPort 1.4 connection. A set of USB ports and a headphone output jack round out this display's I/O. As with other monitors in the range, the VG28UQL1A includes ASUS-exclusive GamePlus and GameVisual firmware features, including multiple setup profiles, FPS counters, crosshair placement, and much more.
For more information on pricing and availability of the TUF Gaming VG28UQL1A gaming monitor in your region, please contact your local ASUS representative.