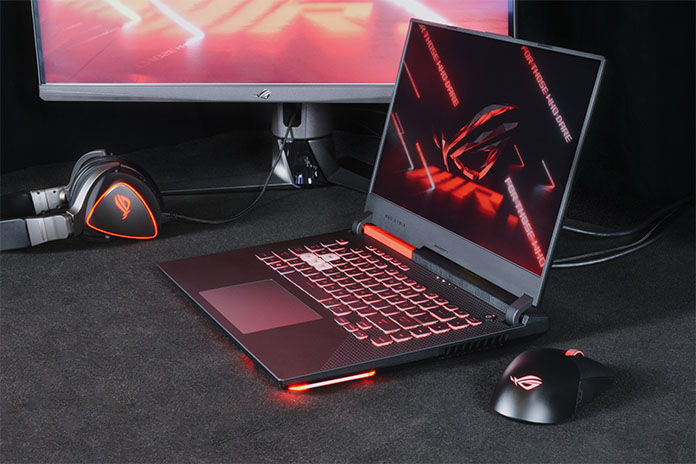 For many years, 1920×1080, sometimes referred to as FHD or 1080p, was the standard monitor resolution for gaming of all kinds. These days, it's become the domain of performance fanatics like professional esports players who push frame rates into the stratosphere on displays refreshing as fast as 300Hz or 360Hz. For many other gamers, we'd submit that 2560×1440 makes more sense as a baseline resolution. Also called QHD, WQHD, or 1440p, this resolution caters to those who prefer a balance of visual fidelity and speed. It lets you enjoy more detail in every frame. It gives you a sharper image compared to a similarly-sized FHD display, or it lets you step up to a larger display without sacrificing pixel density. And as we'll demonstrate shortly through in-game performance data, modern GPUs deliver excellent frame rates at 1440p.
We're leading the industry in bringing 1440p displays to gamers everywhere. Laptops like the ROG Zephyrus G15 and ROG Zephyrus S17 include an option for a 2560×1440 display that offers a fast 165Hz refresh rate, a low 3ms response time, variable refresh rate support, and wide DCI-P3 color gamut coverage. Your desktop PC can easily get in on the action, too. QHD monitor options like the ROG Strix XG27AQM abound. This display boosts your gaming experience with an incredibly swift 270Hz refresh rate, Adaptive-Sync, and an ultra-low 0.5ms response time.
In years past, you might have had to pick and choose which display specs were most important to you, like refresh rate, color gamut, or variable refresh rate support, in order to purchase a 2560×1440 monitor within your preferred budget. Now, you can get a QHD monitor for the desktop or in a laptop with all of the key tech that gives you a competitive advantage and more immersive gaming experiences, all without needing to invest in the highest-end GPUs. Whether you prefer the mayhem of a battle royale or the cinematic storytelling of a AAA adventure, now is a great time to get in on the higher-resolution action.
QHD without compromise
The ROG Strix XG27AQM is just one of a new breed of 1440p displays that offer a blazing-fast refresh rate and a full arsenal of gaming features to go along with their higher resolution. It only took one round of Counter-Strike: Global Offensive on this monitor to convince me that 1440p should be my new baseline going forward.
The 2560×1440 resolution produced crisper and more detailed renderings of iconic environments like the Dust II map, making it easier for me to pick out opposing team members from the background. And the lightning-fast response time kept each frame crystal-clear, even as I whipped my mouse around to draw a bead on an enemy sneaking up from behind. My CS:GO experience showed me how even a competitive game can benefit from a modern 1440p display's blend of higher resolution and high refresh rates.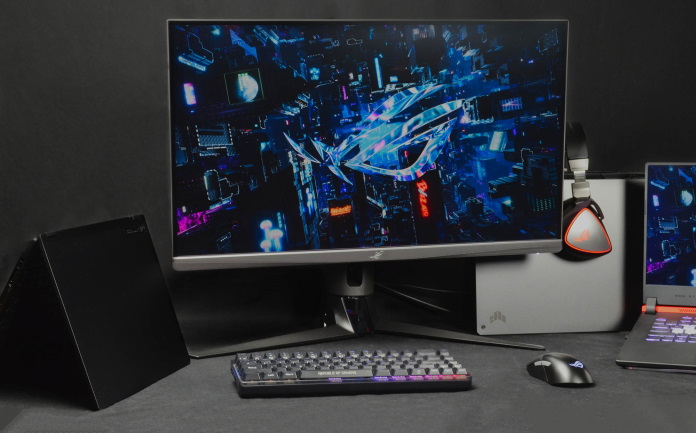 Under the hood, the XG27AQM has a host of gaming technologies that work together to give me a pristine image. Its 270Hz refresh rate allows it to display new frames at stunning speeds—over four times as many frames per second as a standard 60Hz display. Variable refresh rate tech synchronizes the refresh rate with the GPU's output to eliminate distracting tearing across an enviably wide 48Hz to 270hz refresh rate range. And thanks to an ultra-low 0.5ms response time, each pixel transitions to a new color so quickly that there's minimal blur, even in fast-paced sequences.
A great QHD gaming experience from a range of GPUs
If you're not sure whether your system can handle running games at QHD, worry not. Today's GPUs—even attainable mainstream options—are up to the task of rendering your favorite games at fluid frame rates with these displays.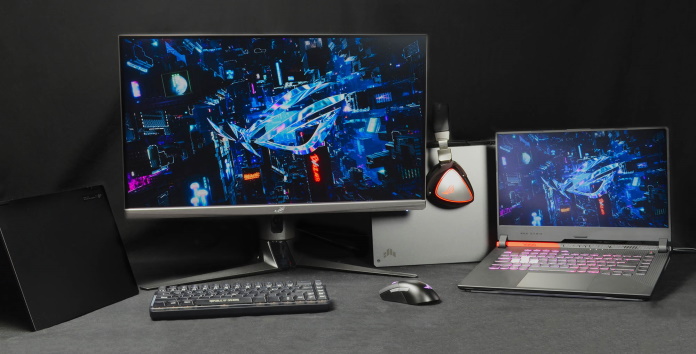 To prove the point, we paired the XG27AQM with three of our latest laptops, each with a different GPU. This scenario represents one vision of an ideal all-around gaming setup: laptops with fast displays that you can take on the road and a larger, lightning-quick desktop monitor that you can enjoy when you're at home.
We'll start our tour with the TUF Gaming F17. This attractively priced notebook harnesses an Intel Core i7-11800H CPU and an NVIDIA GeForce RTX 3060 GPU to give you solid gaming performance at a price that won't break the bank.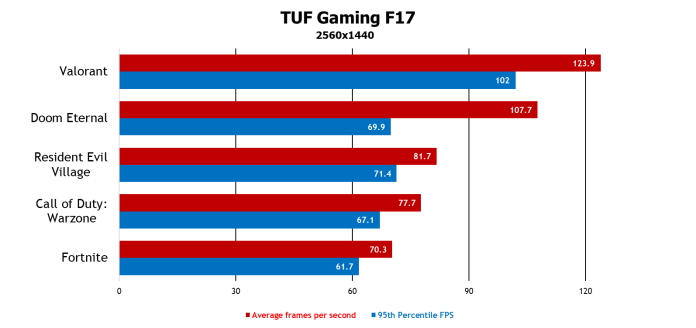 In every title of our five-game testing suite, the RTX 3060 in the TUF Gaming F17 proved that it can serve up a great gaming experience at 2560×1440. In addition to the impressive average FPS figures, the 95th percentile FPS numbers we've collected show that in each game, 95% of all frames produced during the benchmark arrived at a rate of 60 FPS or better. For many years, enthusiasts held up that bar as the gold standard for Full HD gaming, and today we're looking at mainstream GPUs that can meet that mark even at 1440p.
We tested Fortnite, Call of Duty: Warzone, and Valorant at their maximum graphics settings on the TUF Gaming F17, and this RTX 3060-equipped laptop delivered thoroughly enjoyable gaming at 1440p. The more immersive graphics ratcheted up the tension of scavenging for gear in Warzone and revealed unexpected moments of beauty on Fortnite's ever-changing island. Because the ROG Strix XG27AQM boasts G-SYNC Compatible variable-refresh-rate support, those titles always looked pristine and felt responsive, even at frame rates below the display's 270Hz maximum refresh rate. (The TUF Gaming F17 also boasts G-SYNC compatibility on its internal display, so I can enjoy the same variable-refresh-rate glory when I'm gaming on the go.)
If you'd like even higher performance in Fortnite, Call of Duty: Warzone, and Doom Eternal, the RTX 3060 can absolutely make that happen. We no longer have to reduce graphics settings to boost performance—we can use Deep Learning Super Sampling (DLSS) instead. Owners of an NVIDIA GeForce RTX GPU can use this AI-powered tech to substantially increase FPS with minimal loss to image quality. Simply put, DLSS uses AI computations to upscale lower-resolution input frames to the native resolution of your display. The performance benefit can be quite substantial. For example, at its Epic graphics preset at 1440p, Fortnite ran at a 118.2 FPS average on the TUF Gaming F17 when I enabled DLSS at its Performance mode. This one simple setting change boosted my FPS by almost 69% in exchange for hardly any noticeable effect on the quality of in-game visuals.
Doom Eternal reserves its highest "Nightmare" and "Ultra Nightmare" graphics presets for systems with more VRAM than the RTX 3060 has on tap, so we tested the game on each system at the Ultra preset. Make no mistake, though: Doom still looks amazing at Ultra. For Resident Evil: Village, we threw caution to the wind and tested at its Max graphics preset. Here, the RTX 3060 shows that it can play the latest games at high frame rates, even at 1440p with the most immersive graphics settings.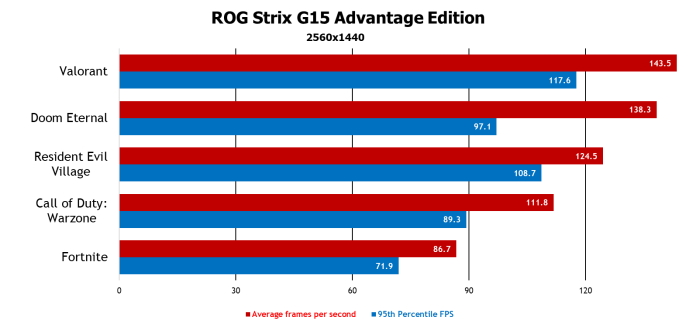 Mainstream GPUs like the RTX 3060 are more than capable of 1440p gaming, but there's still ample reason to step up to something more powerful. We tested the same games at the same settings on the ROG Strix G15 Advantage Edition, a higher-end laptop that offers incredible gaming value with its AMD Ryzen 9 5900HX CPU and AMD Radeon RX 6800M GPU, and the numbers don't lie: this system can push even more frames per second at 1440p than our TUF Gaming F17.
The G15 Advantage Edition proved its worth in Resident Evil Village in particular. This game truly comes alive at QHD. There's rich artistry in its menacing landscapes and grim architecture, and the RX 6800M immersed me in those fine details while maintaining a fluid and consistent frame rate. And had I wanted to boost that frame rate further, the game's support for AMD's FidelityFX Super Resolution upscaling would have allowed me to balance refresh rates and visual fidelity with even finer control.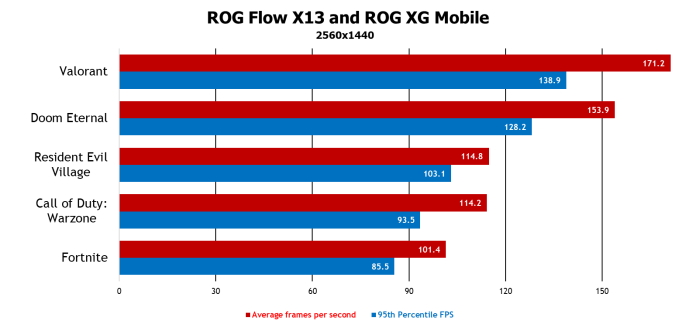 NVIDIA's top-of-the-line laptop GPU, the GeForce RTX 3080, is particularly adept at offering high frame rates even at higher resolutions. We tested its performance in the form of the ROG Flow X13, an ultraportable notebook that can tap the power of the RTX 3080 when it's connected to the ROG XG Mobile, a slim and lightweight eGPU, power adapter, and docking station. This system easily leads the 1440p pack in our testing suite, showing that gamers who demand the highest frame rates at QHD have a clear reason to consider the highest-end components.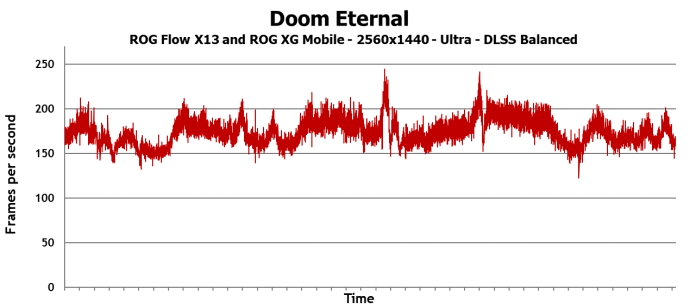 DLSS isn't just limited to more attainable GeForce RTX GPUs, of course. With DLSS Balanced enabled in Doom Eternal, I enjoyed an image quality so close to native 2560×1440 rendering that I'd be hard-pressed to tell the two apart, but DLSS increased performance to a 171.9 FPS average. A 12% performance boost with no visual downsides is nothing to sniff at.
To get the most out of a beefy GPU like the GeForce RTX 3080, it's best to have a high-refresh-rate display like my ROG Strix XG27AQM on hand. The plot of frame rates over time above shows the value of gaming on a screen with a large variable refresh rate range. Frame rates vary naturally over time depending on the complexity of the scene being rendered, so while Doom Eternal ran at a 171.9 FPS average, frame rates actually peaked much closer to 250 FPS. Since I was playing with the ROG Strix XG27AQM, the entirety of the run stayed underneath the monitor's maximum 270Hz refresh rate, and I never had to worry about screen tearing diminishing my experience.
1440p displays for every budget
When you're ready to live the high-resolution life, display options from our Republic of Gamers and TUF Gaming product families have you covered. If you're shopping for a gaming notebook, many models in our 2021 lineup include a 2560×1440 display option with a 165Hz refresh rate and a low 3ms response time. The ROG Strix G15 is a great all-around option, while the ROG Zephyrus G14 is a popular pick for people who put a premium on portability.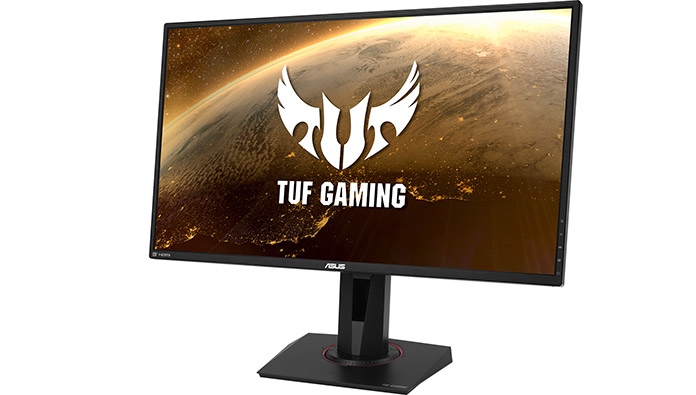 If you're shopping for an external display to connect to your laptop or desktop, we've got a broad selection of models at a range of price points. The TUF Gaming VG27AQ is a great starting point with an accessible price tag. This 27" QHD display offers a speedy 165Hz refresh rate, G-SYNC compatibility, and a low 1ms response time (MPRT). Its IPS panel offers wide viewing angles and vivid colors.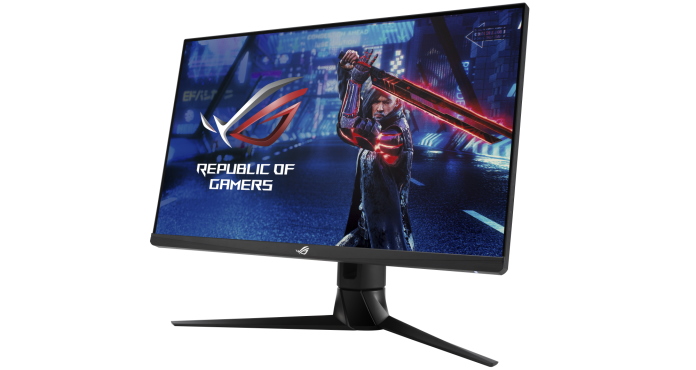 The ROG Strix XG27AQM uses Fast IPS technology to elevate your gaming experience even further. Its refresh rate can be overclocked all the way up to 270Hz, making it an ideal display for playing fast-paced esports games at QHD. Its 0.5ms response time (GTG) minimizes blur even when the action gets hot, and it has all the amenities you expect from a high-end display. The ergonomic stand offers a wide range of adjustments and provides convenient cable management solutions. Connect the included USB cable, and it'll serve as a handy hub for your favorite peripherals, too.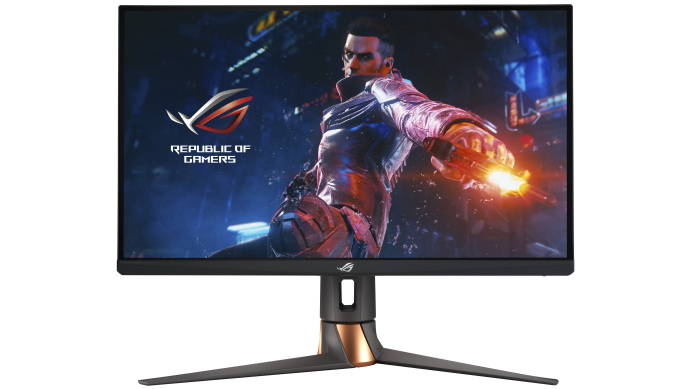 For the most competitive gamers, we offer the ROG Swift PG279QM. This 240Hz QHD display includes NVIDIA's Reflex Latency Analyzer, a built-in tool that provides an accurate measurement of system latency. For the first time, gamers can measure and diagnose system latency without an elaborate camera setup, giving them the confidence to step into battle knowing that they've fully optimized their rig for peak performance.
Step up to 1440p
Of all the ways to improve the visual fidelity of a game, increasing display resolution has perhaps the largest impact. It makes the gaming worlds you explore more richly detailed. They'll draw you in and immerse you like never before. 1440p displays have a higher pixel density than similarly sized 1080p displays, giving you a more realistic image with less pixelation. And if you've been itching for a larger display on your gaming desk, a 1440p monitor will let you go bigger without losing image clarity.
With a modern GPU, you can enjoy the benefits of 1440p gaming at high FPS. Gaming at 2560×1440 is more demanding on your system than gaming at 1920×1080, but today's mainstream GPUs from NVIDIA and AMD have the power that it takes to keep frame rates high at QHD. There's no reason to wait any longer—if you're gaming on modern hardware, you're ready to step up your game to 1440p. Find a display that meets your needs and join the next generation of gaming.