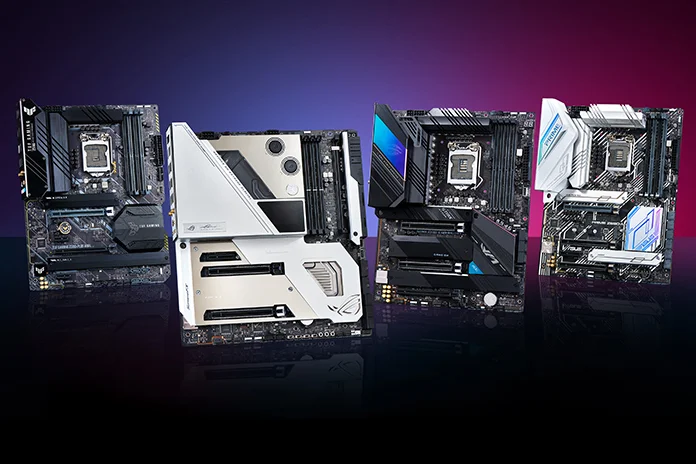 Intel's 11th Gen Core CPUs, code-named Rocket Lake, bring a cutting-edge microarchitecture to desktop PCs across up to eight processing cores and 16 threads. Per-core performance improvements ranging up to 19% over the prior CPU generation, available Xe integrated graphics processors for easy accelerated media encoding, and 20 lanes of PCI Express 4.0 connectivity for the latest SSDs and graphics cards make 11th Gen Core CPUs a thoroughly modern nerve center for enthusiast PCs. New CPUs beget new chipsets, and Intel is introducing the Z590 platform alongside 11th Gen Core CPUs. We're tapping everything that the Z590 chipset has to offer across ROG Maximus XIII, ROG Strix, TUF Gaming, and Prime families of motherboards. This Z590 motherboard guide helps you find the right foundation for your own build, whether you're after prim and proper Prime boards or the no-holds-barred, no-compromise approach of the ROG Maximus XIII series.
Builders who want a motherboard compatible with all the best features of 11th Gen Intel Core CPUs and don't need the CPU core overclocking capabilities of the Z590 chipset can instead take a look at our equally fresh H570 and B560 motherboard families. Stick around to learn more about all of the cutting-edge goodness we've crammed into our Z590 motherboard lineup.
Thoroughly next-gen
The Z590 chipset brings myriad peripheral and network connectivity improvements. The fun starts with Thunderbolt 4 support, which we included across the entire lineup. Thunderbolt 4 guarantees 40Gbps of peripheral bandwidth with compatible devices and also provides support for the next-gen USB4 protocol, all of which is baked into one USB Type-C physical port.
Thunderbolt 4 communicates across universal, reversible USB Type-C cables running up to two meters in length, and it ensures secure operation with connected devices by mandating protected access to system memory. Select ROG and ROG Strix boards include Thunderbolt 4 ports right on the back panel, while others include an onboard header for an optional expansion card.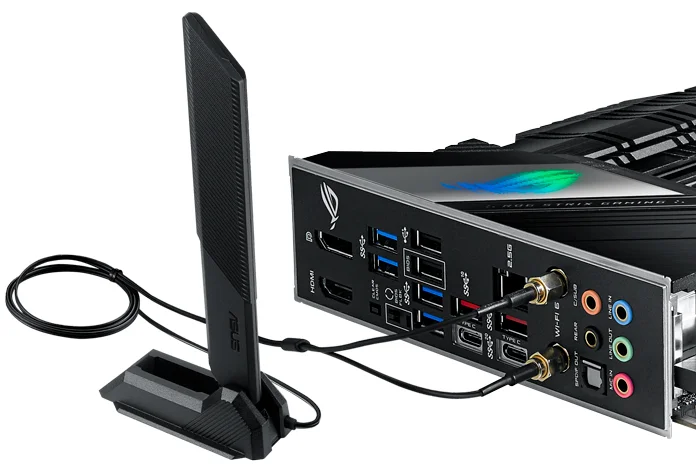 USB Gen 3.2 2×2 connectivity and its 20Gbps of bandwidth come standard on Z590, and we've deployed it across the lineup, too. Every board includes at least one such port at the back, and most have front-panel headers for more. External NVMe SSDs can already push data rates well past 10Gbps, so these new ports are ready for those drives and other ultra-high-speed peripherals still to come.
The Z590 chipset supports 2.5 Gigabit Ethernet controllers, and as a result, nearly every board in the lineup, even in the attainable Prime series, gets wired for 2.5Gbps at a minimum. If you prefer to go wireless, WiFi 6 support is likewise widespread for fast and efficient performance on compatible networks, even in crowded wireless airspace. Our fanciest Z590 boards go one step further with Intel AX210 WiFi 6E controllers that put the wide swath of soon-to-be-opened 6GHz spectrum to good use for extra bandwidth, lower interference, and improved signal stability.
Blazing performance, frigid temperatures
Firing up a lot of cores at the stratospheric clock speeds available from 11th Gen Core CPUs requires no small amount of power, and our Z590 motherboards are prepared to deliver the juice. Every single board in the lineup gets a VRM upgrade, ranging up to a massive 18+2 configuration on the ROG Maximus XIII Extreme.
Vast reserves of power are no good if motherboards can't deliver it without overheating, so our Z590 boards' heatsinks are significantly upsized. Our engineers are always on the lookout for new ways to improve onboard cooling, and this time around, they turned their attention to the unassuming I/O shield and made it part of the VRM cooling setup for added surface area. These higher-mass heatsinks are as much as 1.7x heavier and offer up to 1.6x as much surface area compared to the Z490 lineup.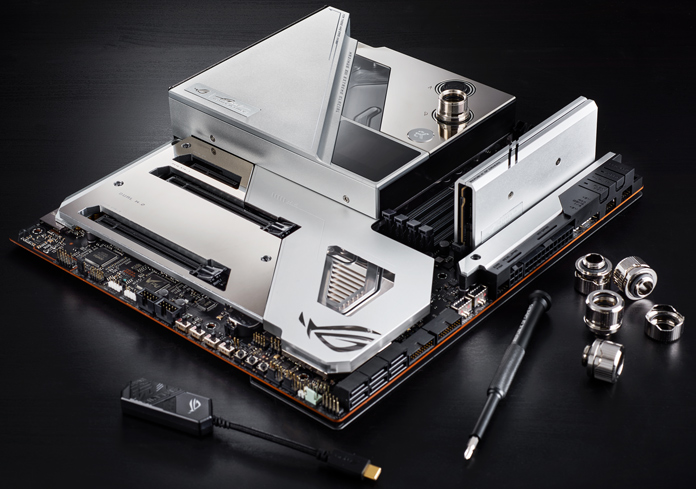 SSDs can get pretty toasty, too. Conventional heatsinks only cover the top side of a drive, leaving plenty of bare circuit board to be cooled by the whims of case airflow. To fully cool each M.2 SSD, we altered the design of our heatsink system to include a backplate under the drive to more efficiently whisk heat away. This new design is present across our ROG Maximus XIII line and in the majority of ROG Strix models.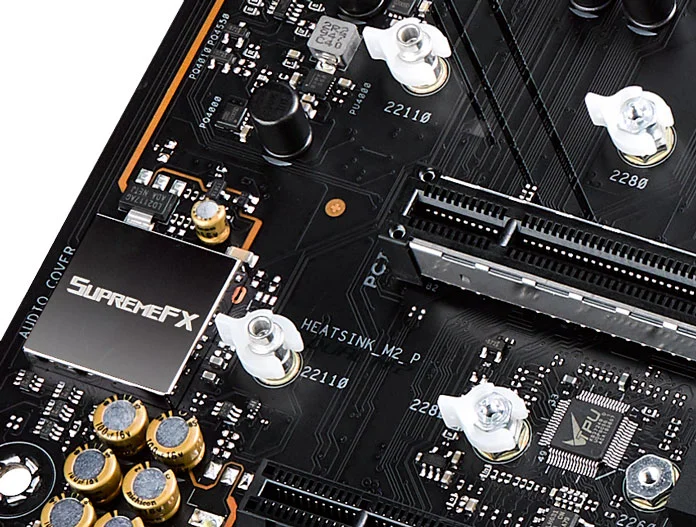 Speaking of M.2 devices, we know that builders hate dealing with tiny, easily lost M.2 screws. We've designed a new Q-Latch system that lets you secure an M.2 SSD with nothing more than your fingertips. This stress-reducing feature is available on most ROG Strix, TUF Gaming, and Prime models.
AI powers the future
PC builders love to tune their systems so that everything is just right. They want high CPU clock speeds, low ping times, and agreeable noise levels. Tuning each and every parameter in a modern PC's firmware takes valuable time, and getting perfect results can be rewarding, but that's time you could spend gaming or creating. Thanks to the rise of AI-powered technologies, our Z590 motherboards can do much of this hard work for you.
Many enthusiasts know the familiar rhythm of overclocking: enter the UEFI, bump the CPU clock speeds a little higher, test, and add voltage if it crashes. Repeat until more voltage no longer helps. AI Overclocking technology offers a better way. Working from a database of performance profiles that we glean from hundreds of individual CPUs, AI Overclocking can intelligently boost your CPU's single- and multi-core clock speeds while constantly monitoring stability, system temperatures, and cooling performance to maintain an ideal overclock over time. It requires just one click to enable, and our experience has shown that it gets you results within a hair's breadth of time-consuming manual overclocking.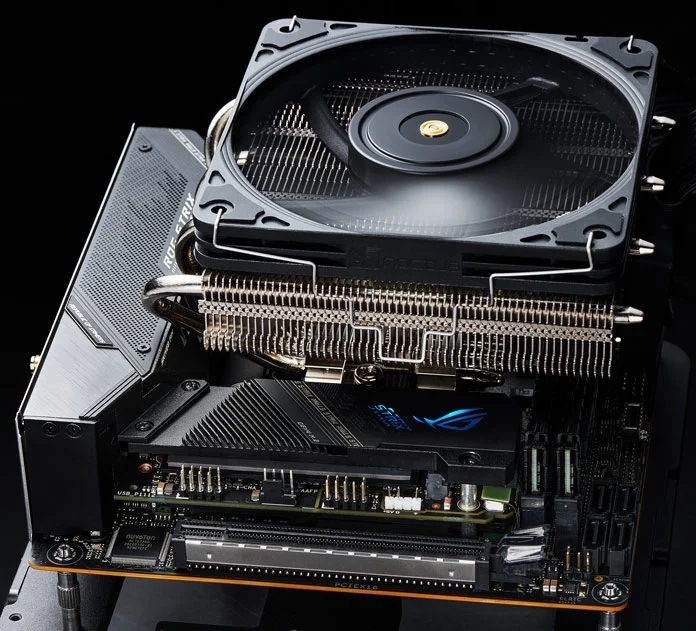 Meanwhile, AI Cooling ensures your PC is as quiet as it can be. Working in tandem with our Q-Fan controls, AI Cooling will dial down fan speeds when possible while keeping the CPU at a consistent temperature. This technology is present on ROG Maximus XIII and ROG Strix boards, and we've even added it to the Prime Z590-A.
Our AI Noise Cancelation technology got a significant boost this time around. Not only does it filter keyboard noise and background chatter from your own mic's input so your co-workers or teammates can hear you better, it now does the same to the signals you hear from everybody else. No more struggling to hear your teammates over barking dogs, crying babies, or noisy neighbors while you're trying to focus on the objective. This feature uses only a small slice of CPU resources. Yes, CPU. We purposely avoid any extra GPU load to keep all of its power available for the highest possible frame rates.
Finally, AI Networking powers our GameFirst VI utility's real-time traffic monitoring and prioritization. This feature draws from a comprehensive database of application network activity profiles and cross-references that data with your current network activity to prioritize the most important traffic at all times, all without annoying manual intervention.
Our ROG Maximus XIII and ROG Strix Z590 motherboards support all of these AI features, while Prime and TUF Gaming boards offer a select subset to enhance your experience.
Hail HydraNode
Even the best heatsinks can't do their job without airflow, and contemporary builds employ plenty of fans or even liquid cooling pumps to move heat away from key components. Beyond our usual loadouts of hybrid fan headers across the lineup, select Z590 boards' headers employ a new technology we call HydraNode. This ingenious feature lets you connect as many as three fans to one fan header using an off-the-shelf splitter, but unlike with older PWM headers, HydraNode still gives you full control and monitoring of each one—a perfect scenario for huge cases or complex liquid cooling setups.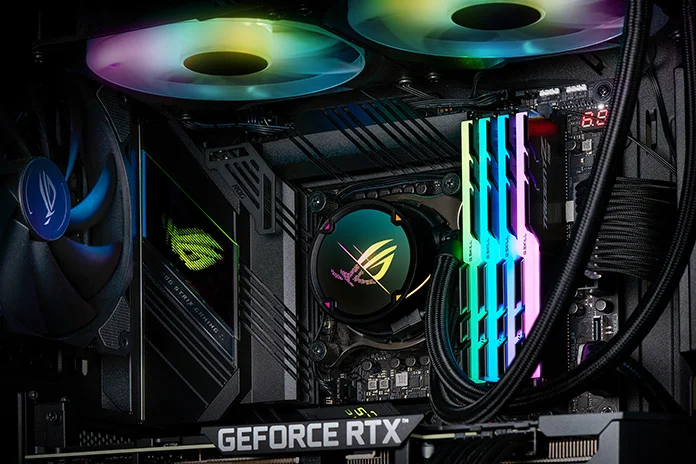 HydraNode control is fully integrated into our Fan Xpert 4 control panel and offers handy information that you can't get from traditional PWM headers, like each connected fan's model name and the number of power-on hours it's logged. We've already teamed up with cooling luminaries SilverStone and BitFenix to build HydraNode-compatible fans, and you can expect more with support for this unique technology soon. No matter what wicked cooling setup you can dream up, our Z590 motherboards can make it reality.
Dulcet tones and rowdy rumbles
Not everything in a 2021 motherboard has to be about Watts, Celsius, and Hertz. The audio circuitry is an often-underrated part. Sound is a key component in movies and games, and a powerful audio subsystem can provoke a visceral reaction that's hard for even the most astounding graphics to replicate.
That's why we've upgraded the audio chips on our higher-end boards. Most of the ROG Maximus XIII lineup combines the new SupremeFX ALC4082 codec with an ESS Sabre ESS9018Q2C front-panel DAC for pristine audio quality through audiophile headphones. ROG Strix models employ a new SupremeFX ALC4080 codec paired with a Savitech SV3H712 dedicated front-panel headphone amplifier. Whichever board you choose, your music, movies, and games will all benefit from immersive, high-fidelity audio.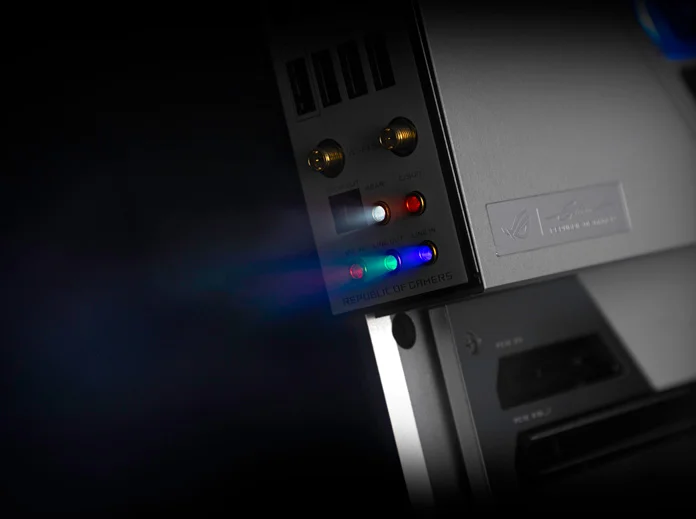 Our duo of Maximus XIII Extreme boards turns this obsession with sound quality up yet another notch. These boards both include the new ROG Clavis, a USB-C outboard DAC inspired by our highest-end gaming headsets. It uses four separate ESS converters to maximize signal-to-noise ratios and minimize any electrical interference from components inside a PC case. For exceedingly sensitive and discerning ears, the ROG Clavis brings our most advanced audio architecture to any headset or headphones.
A new sense of style
The refinements of our Z590 motherboards don't focus just on hardware features. The ROG Maximus XIII Extreme Glacial elevates elite custom PC builds with its striking silver aesthetic and full-coverage integrated waterblock. ROG and ROG Strix motherboards got subtle tweaks to their cybernetic-inspired styling. Builders into the ultra-clean look of white components will find ready companions in the ROG Strix Z590-A Gaming and the Prime Z590-A. Enthusiasts who want to project stealthy strength will find that the entire TUF Gaming motif has been completely redesigned for 2021 with sleeker lines, strong typography, and a bold new TUF Gaming badge.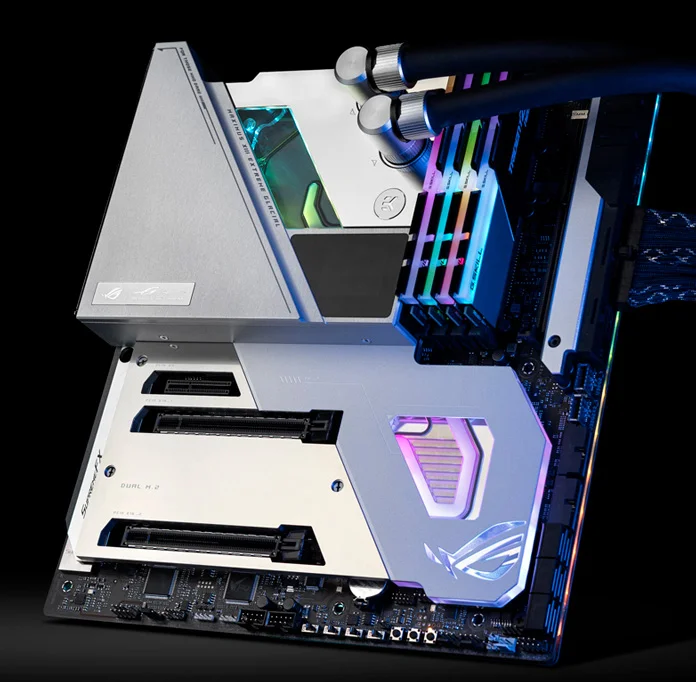 Graphics on the motherboard itself can only take you so far when it comes to customization. You need the proper mood lighting to complete the package, and we've got you covered. The Z590 lineup all include a minimum of four RGB LED strip headers. That count includes larger numbers of Gen 2 addressable RGB headers that offer per-LED light control, faster effects, and auto-detection functionality with presets.
The ROG Fan Controller bundled with ROG Maximus XIII Extreme boards offers six extra Gen 2 addressable RGB headers beyond those already on the board. We figure builders who pick the greatest boards will also want to run the most impressive light shows. Even across the wildest lighting setups, our proven Aura software always remains in command through our Armoury Crate software.
Attention to detail comes standard
When setting up a machine with one of our motherboards, you'll encounter many small touches that make your life a lot simpler. BIOS FlashBack™, available on many of our Z590 boards, lets you easily flash a new firmware without a processor or any RAM handy—just plug a USB stick in the marked port, hold a button, and go. This is quite handy when a new CPU line comes out, or just as a lifesaver in case your overclocking efforts get far out of hand. Our Armoury Crate software integrates overclocking, system monitoring, and Aura Sync controls all in one place for easing setup and maintenance. SafeSlot metal-reinforced PCIe x16 slots are prevalent across the Z590 offerings, too. As always, our award-winning UEFI makes both baseline and advanced system settings simple to manage.
Speaking of software, we're sweetening the deal for enthusiasts this time around. Select ROG Z590 motherboards now incorporate the widely-used MemTest86 utility right into the firmware interface, making it easier than ever for enthusiasts to check whether their memory overclock is reliable. Instead of preparing a bootable USB drive with MemTest86 and rebooting after a tuning session, enthusiasts and overclockers can streamline their workflow by configuring tuned memory settings and testing them right away. This integration makes for a smoother tuning process and ultimately makes it easier to get the most performance out of your system.
In addition to the integration of MemTest86 in ROG motherboards' UEFIs, we're also partnering with FinalWire to bring the popular AIDA64 utility to more enthusiasts. ROG Maximus XIII boards come with a free one-year subscription to AIDA64 Extreme, while ROG Strix buyers will get 60 days of access to the utility. AIDA64 includes a multitude of useful system monitoring and stress-testing tools, as well as an industry-standard suite of benchmarks that you can use to evaluate the performance of your system before and after overclocking.
A Z590 board for every builder
Our Z590 lineup covers a wide range of possible builds and budgets. ROG Maximus XIII mobos are loaded with cutting-edge hardware for builders who consider compromise a dirty word. ROG Strix boards take a healthy dose of features and style from the Maximus XIII series and wrap it up in a comprehensive package for enthusiasts who want to pledge allegiance to the Republic of Gamers at a more accessible price point. TUF Gaming models fuse stealthy style and proven reliability to strike a fine balance between amenities and affordability. The Prime line bookends the series and focuses on productivity with modern, unobtrusive styling, all at an enticing price.
If you want to jump right into the details for the individual models, you can click here for the Republic of Gamers lineup, the ROG Strix and TUF Gaming variants, and the Prime offerings.