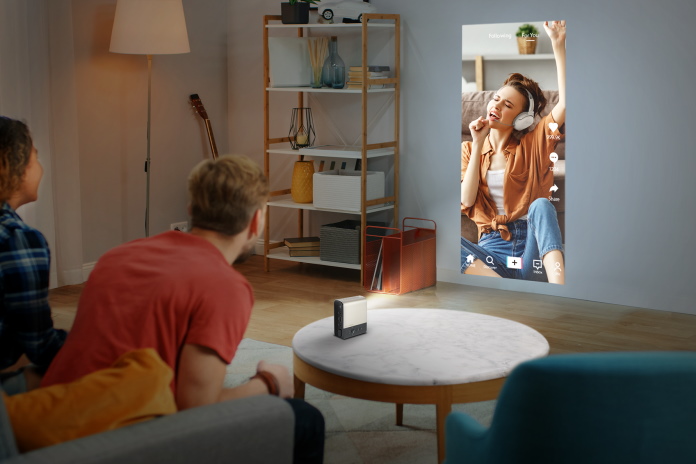 There's something special about sharing the content we enjoy on our smartphones. When we find a meme that makes us laugh, a musical performance that impresses us, or a video that's just too crazy to keep ourselves, we're quick to pull nearby friends and family over and show them what's caught our attention. Even the largest smartphone screen isn't really large enough for sharing comfortably, though, and the average phone's speakers don't offer all that much volume. The ZenBeam E2 portable projector makes it easy to put your favorite media up on a wall for everyone nearby to enjoy. And since it's battery-powered, you don't even need to have an outlet nearby to start the fun.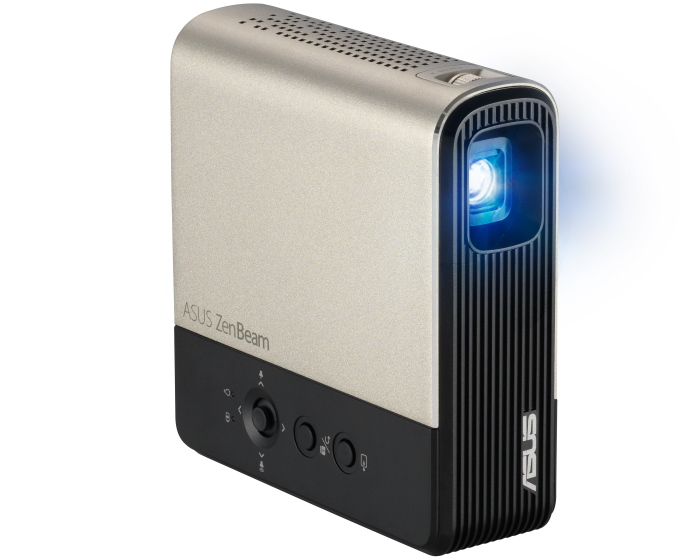 Online services like YouTube or Netflix tend to show content in a horizontal layout, but vertical video is becoming more common thanks to platforms like TikTok. The ZenBeam E2 handles both orientations without a fuss. When you're using wireless mirroring mode, its integrated G-sensor automatically projects images exactly as they're shown on your smartphone screen without requiring you to change a single setting. Simply turn the projector on its side and it'll take care of the rest.
Most projectors require an elaborate setup and connection process, but not the ZenBeam E2. Set it down a mere 2.8m away from your display surface, and it can project a large image with a 100" diagonal. This means that you're not limited to projecting in large rooms. You can set up the ZenBeam E2 in your bedroom, in a family room, or anywhere with an open stretch of wall. Set it down, connect a device, and you can enjoy the colorful, bright 300 LED lumen output.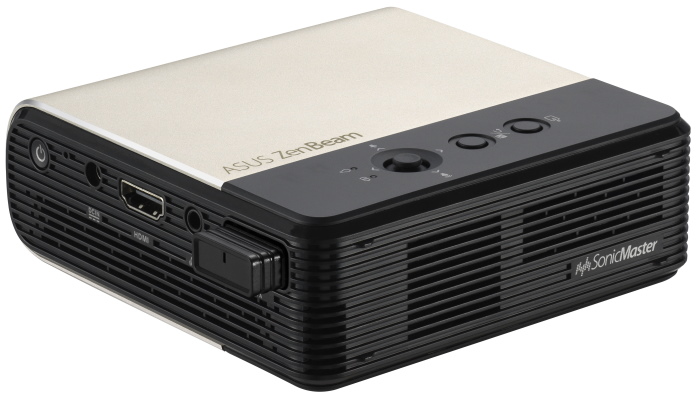 Speaking of connecting a device, the ZenBeam E2 makes it easy to share content from just about any source in your house. It supports wireless projection from Android, iOS, and Windows 10 devices. An HDMI port covers the rest of the bases. The ZenBeam projects at a resolution of 854×480 for an aspect ratio of 16:9. That's the most common aspect ratio for entertainment, so it'll display most content without letterboxing.
Video projection is only part of the story. The ZenBeam E2's integrated pair of 5W speakers makes sure that your friends and family can comfortably enjoy the audio, as well. Sonic master technology delivers clear and rich audio throughout a wide frequency range. If you're just playing music, you can run your device audio through the ZenBeam E2 through a wireless Bluetooth connection. If you're interested in a private audio experience, you can plug in a headset into the ZenBeam E2's audio jack.
The projector's small size lets you pack it up and take it anywhere, and its large 6000mAh battery makes sure that you have hours of entertainment away from an outlet. In Low mode, it provides up to four hours of video projection. A handy USB Type-A port lets you recharge a device even as you project content from it.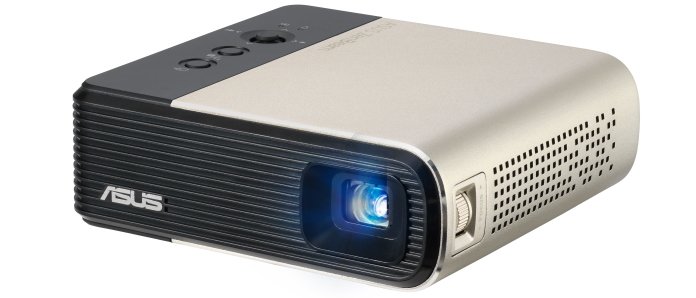 Sharing media from your smartphone or notebook with your friends has never been easier. In a portable, wireless package, the ZenBeam E2 lets you easily project the entertainment from your device for everyone nearby to enjoy. For more information on the pricing and availability of the ZenBeam E2 in your region, please contact your local ASUS representative.