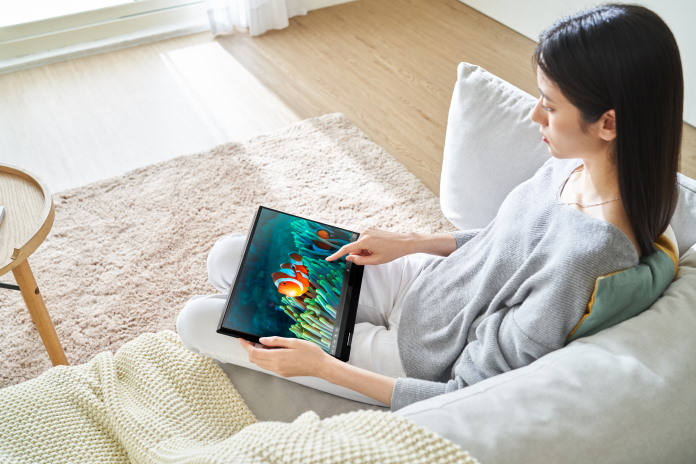 Your everyday laptop should be anything but average, and the new Zenbook 14 series has everything you need for an enviable everyday experience: gorgeous displays, sophisticated designs, and effortless portability. With their vibrant, high-contrast OLED screens and responsive performance, the Zenbook 14X OLED and Zenbook 14 Flip OLED give you all the power you need and all the elegance you desire.
Everything's better with OLED
Once you experience the OLED display on one of these notebooks, you'll find it hard to go back to another screen. OLED panels easily display vivid, lifelike colors with an accuracy and intensity that used to be the domain of expensive professional monitors. Unlike standard LCDs, which use a single light source to illuminate every pixel, each pixel in an OLED panel is an individual light source. This allows for contrast that LCDs just can't match. Black regions on the screen are truly black, while highlights are vivid and bold. Colors are clear even at sharp viewing angles, and on-screen movement is clear and blur-free due to each pixel's low response time.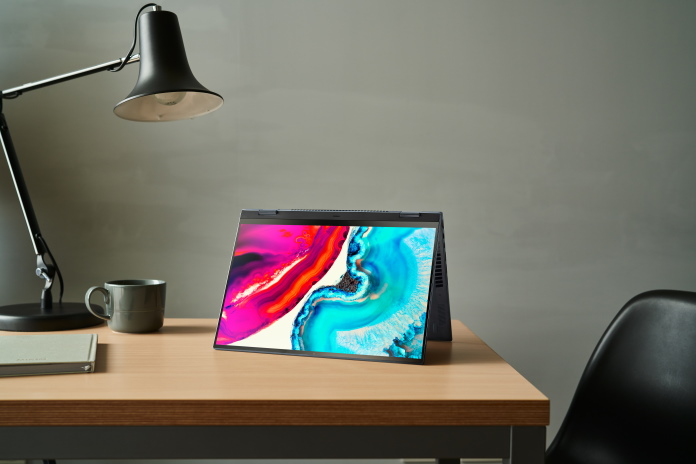 The displays in the Zenbook 14X OLED and Zenbook 14 Flip OLED don't just stand out for their contrast. Their color reproduction is off the charts. Think about a moment when you snapped a picture of a colorful scene or object with vivid hues. Looking back later, those images might have seemed flat or dull—not at all what you remembered in the moment. These new Zenbooks' OLED panels cover 100% of the wide DCI-P3 color gamut, so they reproduce the saturated reds, blues, and greens of the real world with startling intensity. The displays are PANTONE Validated for color accuracy, as well, so you can enjoy photos, videos, games, and more just as their creators intended.
These benefits shine through in everything you do with your PC. Browse your photographs and experience each moment like you were there all over again. Enjoy the clarity of fast-paced action in video or competitive games. Thanks to 550-nit peak brightness ratings, you can even enjoy your favorite entertainment on the back patio or in a room with plenty of natural light.
OLED panels even elevate your everyday web browsing, social media, email, and work. The Zenbook 14X OLED and Zenbook 14 Flip OLED both have 16:10 aspect ratios with a richly detailed 3840×2400 resolution. Text will be sharp and smooth at the scaling level you prefer, while the additional vertical space afforded by the taller aspect ratio will open up more space for the content you care about most. Whether you're touching up a photo, browsing the web, or developing a work project, the menu bars and ribbons of your software will take up less of the screen.
Effortless performance in a thin design
With their high-performance components, the Zenbook 14 Flip OLED and the Zenbook 14X OLED take the waiting out of your everyday computing.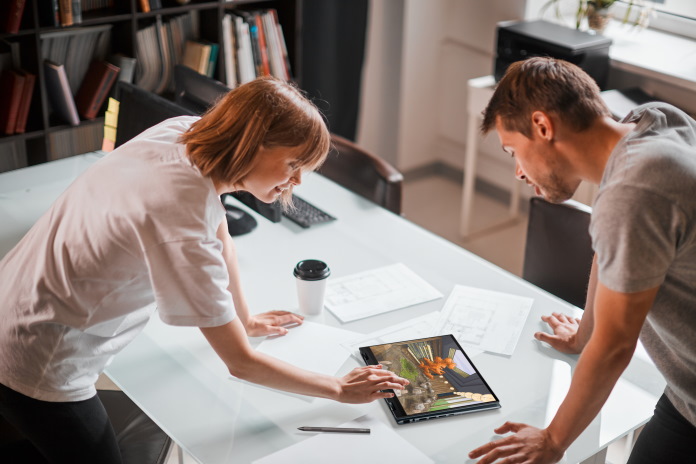 The Zenbook 14 Flip OLED is a versatile machine that's ready for anything. Equipped with up to an AMD Ryzen 9 5900HX CPU and 16GB of LPDDR4X RAM, it has the multitasking muscle to effortlessly keep up with you as you switch between open apps. A 1TB PCIe SSD provides both high-end speed and ample space so that Windows and your everyday apps will load in a snap and you'll have plenty of room to save projects and media. Its large 63Whr battery will keep you moving throughout the day without being tied to an outlet.
Plentiful connectivity options let you use the Zenbook 14 Flip OLED with all your favorite peripherals. It has a pair of USB 3.2 Gen2 Type-C ports that'll be your go-to options for recharging the battery and topping up your USB-C devices. These ports can connect to an external display for extra work space, and there's an HDMI 2.0b port that can further expand your desktop. A USB 3.2 Gen 2 Type-A port, an audio combo jack, and a microSD card reader round out the selection.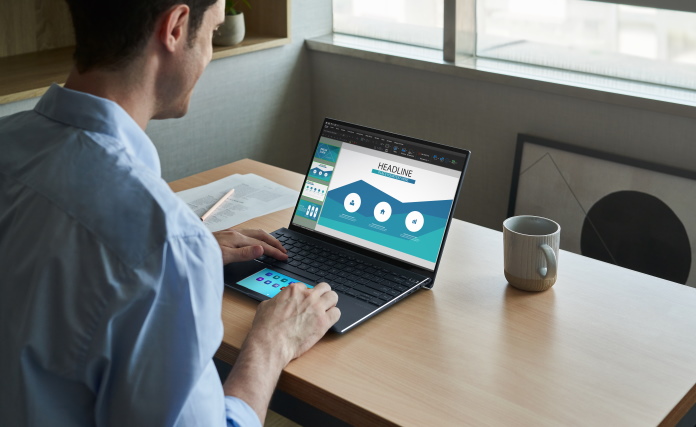 The Zenbook 14X OLED powers up your experience further with an Intel Core i7-1165G7 CPU and a discrete NVIDIA GeForce MX450 GPU. The discrete graphics processor gives you more power to enjoy swift content creation and light gaming. The Zenbook 14X boasts a 63Whr battery and a speedy 1TB PCIe SSD, and its pair of Thunderbolt 4 USB Type-C ports let you take advantage of high-performance peripherals, connect to an external display, recharge the notebook, or top off the battery of your other devices.
Both laptops are equipped with WiFi 6. This latest standard in wireless networking has key tech built in that can alleviate congestion in busy households with many connected devices. Pair the Zenbook 14X OLED or Zenbook 14 Flip OLED with a WiFi 6 router to experience what the next generation of wireless internet has to offer.
A seamless part of your everyday life
The Zenbook 14X OLED and Zenbook 14 Flip OLED complement their gorgeous screens and powerful components with convenient features that will make them a seamless part of your everyday routine. One press on the integrated power button and fingerprint sensor is all it takes to wake up your laptop and log in securely. The edge-to-edge keyboard layout takes full advantage of the horizontal space of the chassis, giving you comfortably sized and spaced keys in a device that's still compact and portable.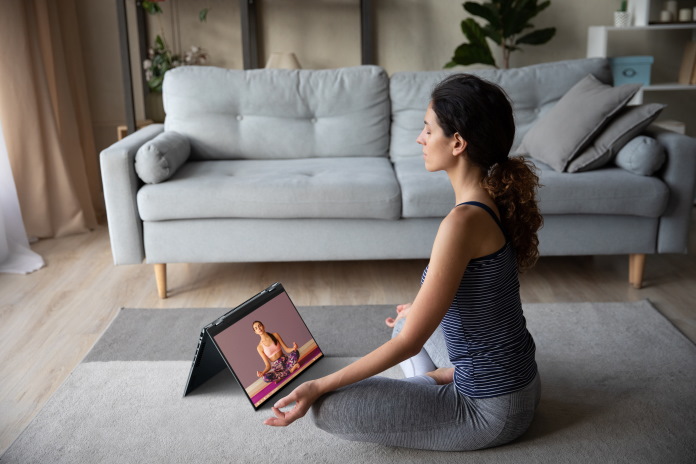 The Zenbook 14 Flip OLED is a lightweight and versatile companion. It's a mere 0.63" thin and is just 3.1lb, so it'll easily travel with you in one hand or in a lightweight satchel. Its 360° hinge lets you flip the display over and jot down notes with a stylus, curl up on the couch with your favorite show, or set up an impromptu presentation for clients. Need to quickly enter numeric data? A brief press in the upper right corner of the touchpad illuminates the NumberPad 2.0 inscribed on the glass surface for quick tenkey work.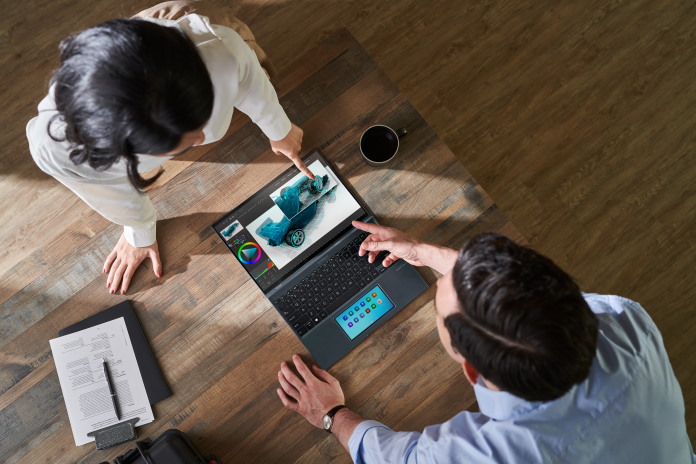 The Zenbook 14X OLED makes the most of its familiar clamshell layout. It's 0.67" thin and weighs in at 3.1lb. Ultra-narrow NanoEdge display bezels on all four sides let us fit in its 16:10 display while keeping the chassis compact. The display's 180º hinge lets you tilt it back until it's flat, making it easy to share the screen with clients and coworkers, or maintain a comfortable viewing angle while you're standing at your kitchen counter.
Rather than a normal touchpad, the Zenbook 14X OLED features an exclusive ScreenPad. This integrated touchscreen does everything a touchpad can do, but since it's also a display, it's a great spot for keeping an eye on email, social media, a music app, or reference materials while you work on the primary screen.
Effortless and elegant
It's never been easier to get everything you want from your everyday laptop. The Zenbook 14X OLED and Zenbook 14 Flip OLED pair vivid, high-resolution OLED displays with high-performance components, convenient design features, and all-day battery life. For information on the pricing and availability of the Zenbook 14X OLED and Zenbook 14 Flip OLED, please contact your local ASUS representative. Click here to learn more about these notebooks and all the other products ASUS launched at our Create the Uncreated event.