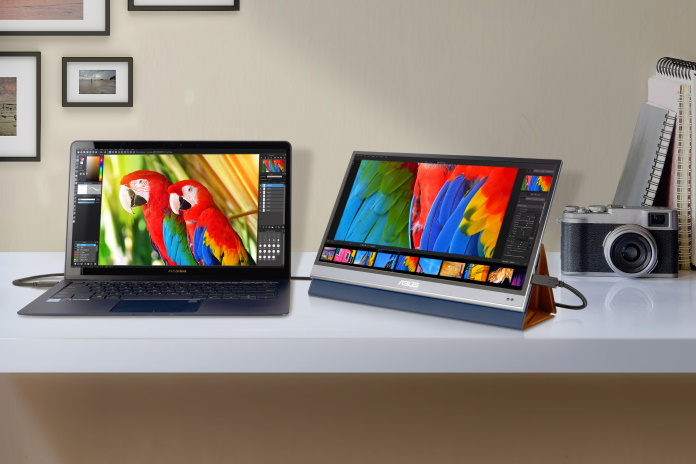 Across our Zenbook, Vivobook, and Studiobook laptop lineups, we're debuting new models with sizzling organic light-emitting diode (OLED) panels. These bright, vibrant displays elevate everything you do with your PC. Whether you're browsing photographs, catching up on the latest episode of your favorite show, or just browsing the web, an OLED panel gives you more lifelike color and practically perfect contrast.
If you're looking for a portable secondary monitor to pair with a new OLED-equipped laptop—or if you'd like to experience the benefits of OLED with your current notebook—the new ZenScreen OLED stands ready. This portable monitor gives you an OLED secondary display that's slim enough to slide in a satchel alongside your laptop. Both 13.3" and 15.6" models are available so you can pick the size that best fits your needs.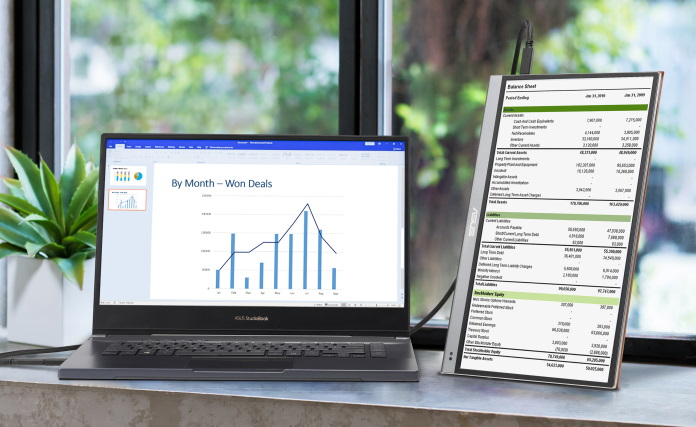 The ZenScreen OLED series can bring the advantages of OLED to just about any notebook. Connect it to your laptop through one of its three USB Type-C ports or its Mini HDMI port, and you'll be able to enjoy its lifelike colors and superior contrast. For flexibility and easy cable management, these ports are spread out on both sides of the display.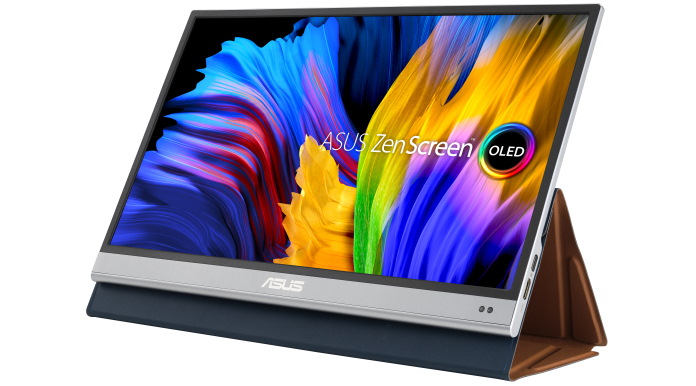 A standard display is limited in its capability to display true blacks due to its single LED backlight, but an OLED panel can achieve infinite contrast. Since each pixel in an OLED panel is its own light source, they don't just dim—they can turn off entirely. This full per-pixel brightness control lets you see the shadowy regions of pictures and videos as real shadows, and truly black content is truly black. This contrast makes the ZenScreen OLED a natural fit for high dynamic range (HDR) content. Its support for HDR-10 content attest to its capability to produce bright highlights and realistic blacks.
The ZenScreen OLED also offers vivid, lifelike colors. With its support for 10-bit color and 100% coverage of the cinema-grade DCI-P3 color gamut, it can reproduce saturated reds, blues, and greens that leap off the screen. It's highly accurate, as well. This display is calibrated to achieve a ΔE of less than 2, so you'll see professional media just as their creators intended.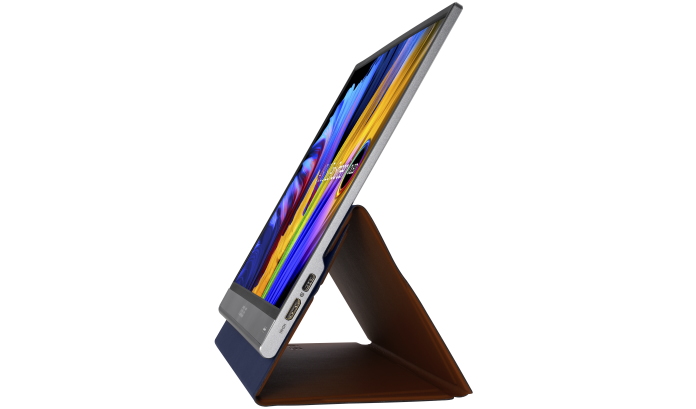 The display's thin-and-light design and versatile Smart Case make it an easy traveling companion. The 13.3" model is especially easy to tuck into a bag, as it weighs less than 500g. The ASUS Smart Case not only protects the display but also serves as an always-ready adjustable stand. For even more flexibility, the ZenScreen OLED has a threaded socket that's compatible with any standard tripod. To save power and reduce the possibility of image retention, an embedded Proximity Sensor dims the display when it's not in use.
A second display adds significant multitasking potential to your PC, and a portable model lets you take that convenience anywhere you go. The ZenScreen OLED adds to that formula with outstanding contrast, lifelike color, and an attainable price tag. For more information on the pricing and availability of the ZenScreen OLED in your region, please contact your local ASUS representative.