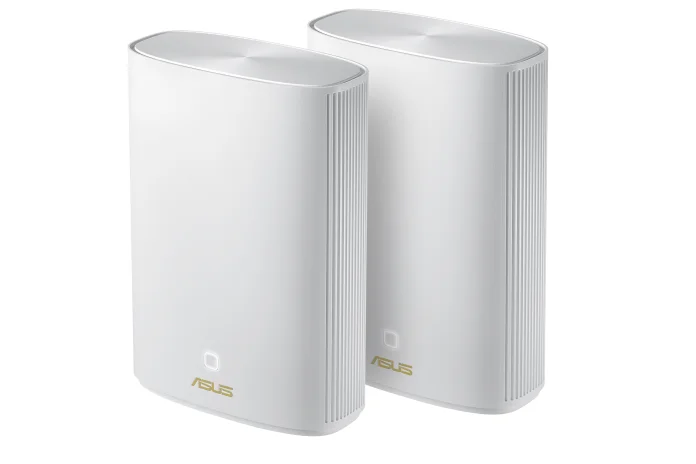 Thick walls are a blessing and a curse. On one hand, all that insulation is great when the weather takes a turn for the worse or for keeping things quiet the neighbors crank up their tunes. On the other, covering every room in a thick-walled house with fast, reliable WiFi can be a real challenge. Our new ASUS ZenWiFi AX Hybrid (XP4) mesh networking system, launching at CES 2021, is purpose-built for abodes with dense walls.
The two nodes of this system can communicate with each other wirelessly, over a Gigabit Ethernet link, or through powerline networking—a first for an ASUS ZenWiFi system. Together, they create an ultra-fast, ultra-reliable WiFi 6 network able to blanket up to 5,500 square feet of living space with coverage.
Powerline, WiFi, and Ethernet: Pick a backhaul technology, any backhaul technology
In a mesh networking setup, two or more nodes are connected over what is referred to as a backhaul. They use this behind-the-scenes link to extend wireless signals beyond where a single router or access point could reach on its own. The nodes present a unified network. As you wander around the house, your wireless device automatically connects to the station with the best reception.
As you might imagine, a stable backhaul connection is critical for consistent performance across the mesh network. If you place the nodes too far away from each other, their performance drops off. This issue is compounded in houses with seemingly impenetrable walls.
The best workaround is an Ethernet backhaul, which connects the nodes with a 1Gbps link and frees up the 2.4GHz and 5GHz wireless bands for client traffic. That's not always a convenient solution, especially if you don't already have the requisite wiring running through your walls. Running the necessary cable takes time, money, and expertise.
Fortunately, there's a third option: powerline networking. Even in homes with thick walls and no Ethernet infrastructure, we know you have AC power outlets in every room. The ASUS ZenWiFi AX Hybrid adds HomePlug AV2 support to create a backhaul link between nodes using existing electrical wiring.
This latest version of the HomePlug specification supports multiple-input, multiple-output (MIMO) and beamforming across the line, neutral, and ground wires of your outlets, extending the effective transmission distance within electrical wiring compared to previous versions of the HomePlug standard. It's also remarkably fast. Physical layer data rates of up to 1.3 Gb/s over the electrical wiring, and a quad-core CPU for signal processing ensure the ASUS ZenWiFi AX Hybrid's backhaul keeps ahead of any wireless client that joins your network.
The ASUS ZenWiFi AX Hybrid puts WiFi 6 front and center for next-gen wireless performance
Regardless of whether you use WiFi, Ethernet, or powerline networking for node-to-node communication, the ASUS ZenWiFi AX Hybrid is all about pushing WiFi 6 to every corner of your home. The dual-antenna configuration of each node offers up to 574 Mbps on the 2.4GHz band and a maximum of 1201 Mbps at 5GHz.
Both bands are faster than WiFi 5 systems, thanks to speed and consistency features baked into the latest WiFi standard. Orthogonal Frequency-Division Multiple Access, or OFDMA, for example, allows the mesh network to communicate with multiple clients simultaneously by dividing slices of the frequency spectrum, called channels, into sub-channels. As a result, data packets can share space that was previously monopolized by one device at a time, making WiFi 6 more efficient.
OFDMA is complemented by multi-user, multiple input, multiple output (MU-MIMO), another technology that lets the ASUS ZenWiFi AX Hybrid's satellites talk to wireless clients simultaneously through a pair of internal antennas. Again, the result is an efficiency boost compared to older WiFi standards, especially on congested networks.
A single WAN port gets this kit up and running on the Internet, while a pair of 1 Gb/s Ethernet ports can handle backhaul connectivity or nearby PCs with wired links. There's even USB if you'd like to share a printer on the network.
The ASUS Router mobile app keeps you in the driver's seat
With so many options for configuring the ASUS ZenWiFi AX Hybrid, full access to its settings through the ASUS Router mobile app is a real time-saver. Right out of the box, ASUS Router detects your new hardware and gets it set up. From there, you can glance at the app's Home screen to monitor network traffic in real-time.
The ASUS Router app serves as the command center for your ASUS ZenWiFi AX Hybrid system, so we put a lot of time into designing an intuitive interface, streamlining navigation, and integrating useful features. With just a few screen presses, you can restrict web access to specific devices or merely limit their upload/download bandwidth. Set up a temporary guest network to share Internet connectivity without giving out a personal password or compromising private data. You can also assign pre-configured profiles to each family member's device for age-appropriate content filtering.
The ASUS ZenWiFi AX Hybrid enjoys the same AiProtection Pro network security features available across our entire router lineup. Quickly glancing at the Insight tab tells you how many malicious websites were blocked, whether the two-way intrusion prevention system was triggered, or if there's an infected device on the network trying to phone home. AiProtection Pro bundle includes a lifetime subscription to updates from Trend Micro, so you'll always have an up-to-date list of restricted URLs and servers, too.
The new ASUS ZenWiFi AX Hybrid covers all your bases
In the right home, the ASUS ZenWiFi AX Hybrid's two nodes cover up to 5,500 square feet with WiFi 6 connectivity. But we know that not every user has the right home for optimal performance with a wireless backhaul. This system's combination of WiFi, Ethernet, and HomePlug AV2 powerline networking plugs those holes.
If you find that you need to extend the wireless mesh a little farther, connect another product from our AiMesh portfolio. You can recycle an older AiMesh-capable router if you have one, or pick up a single compatible ASUS router with the confidence it'll hook right up to the ASUS ZenWiFi AX Hybrid's network.
Support for three different backhaul options, the latest WiFi 6 standard, app-based management tools, and a lifetime subscription to our AiProtection Pro service make this one of the most well-rounded mesh networking systems available. For more information on pricing and availability of the ASUS ZenWiFi AX Hybrid system in your region, contact your local ASUS representative.