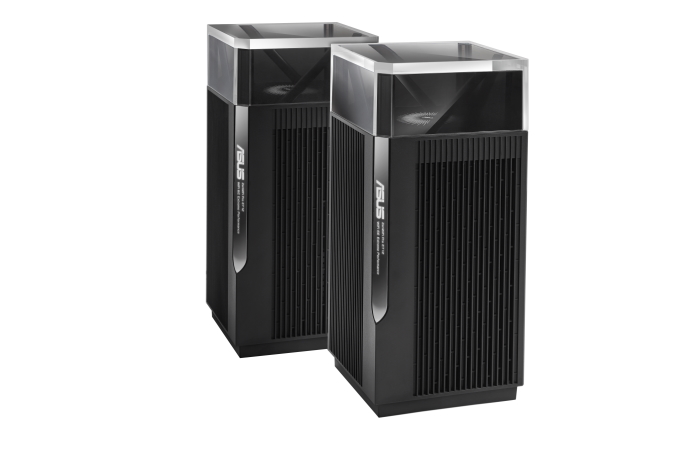 Today's highest-performing wireless networks need to serve more and more devices with more bandwidth than ever before. ZenWiFi Pro mesh wireless routers offer the most MU-MIMO capacity of any ASUS mesh system for the most demanding environments. The ZenWiFi Pro ET12 harnesses WiFi 6E to offer cutting-edge connectivity to compatible client devices, while the ZenWiFi Pro XT12 delivers a premium WiFi 6 experience.
The WiFi 6E-enabled ET12 uses a dual-band 4×4 antenna array to provide top-end speeds across the 2.4GHz and 5GHz bands and a dedicated 4×4 antenna array to 6GHz spectrum.  In select markets, it can also access the recently opened 5.9GHz band for premier speeds in this coveted slice of the spectrum. All told, it can provide an aggregate data rate up to 11000Mbps. The XT12 offers a double dose of 5GHz throughput with a 4×4 antenna array devoted to that band and a dual-band antenna to the 2.4GHz and 5GHz bands. Dual 2.5G Ethernet ports on both models let you take full advantage of the bandwidth potential of WiFi 6 and WiFi 6E.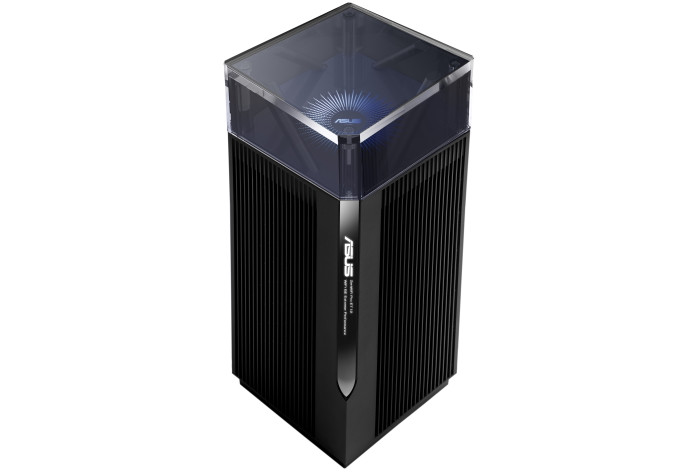 You shouldn't have to choose between fast WiFi and eye-catching aesthetics. With their sophisticated design, the ZenWiFi Pro ET12 and XT12 will complement the style of your home. Their professional finish, parallel lines, and vertical orientation calls to mind the practical elegance of modern skyscrapers. Transparent material on the top gives an inside look at the omnidirectional antennas beneath. These routers don't hide what they are. Their unique design uses the right balance of engineering and elegance to announce that these are no ordinary mesh WiFi routers.
The ET12 and XT12 are easy to set up and easy to use. With a ZenWiFi Pro system, you can set up a whole-home mesh network in mere minutes, and once they're up and running you can control them with a convenient smartphone app or with your Google Assistant or Amazon Alexa-enabled smart speaker. And with their no-fuss tools for security and privacy, the ZenWiFi Pro ET12 and XT12 make it easy to run a healthy home network that keeps your data and devices safe.
Check your six
The 2.4GHz band offers excellent range and broad compatibility, and the 5GHz band provides higher performance, but both are increasingly crowded with devices and can be prone to interference. The WiFi 6 technologies on the ZenWiFi Pro XT12 can alleviate congestion when it's managing a network of compatible WiFi 6 devices. Orthogonal Frequency-Division Multiple Access (OFDMA) allows the router to communicate with multiple devices simultaneously by dividing slices of the frequency spectrum into sub-channels. OFDMA is complemented by multi-user, multiple input, multiple output (MU-MIMO), which uses multiple transmit and receive antennas so that the router can talk to many devices at the same time.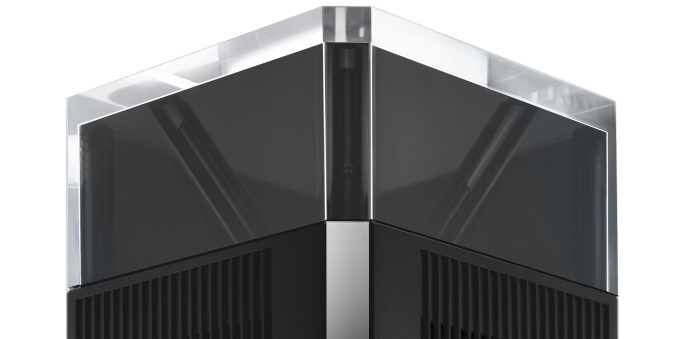 As a WiFi 6E router, the ZenWiFi Pro ET12 offers all the congestion-alleviating technologies of WiFi 6 with access to the wide-open spectrum of the 6GHz band as the cherry on top. To open a new frontier of wireless networking, the United States Federal Communications Commission (FCC) granted access to the 6GHz band. Because the congestion-management and latency-reducing features of WiFi 6 are mandatory for devices compatible with this spectrum, they'll enjoy low interference and top-end performance when they're connected to a network managed by the ET12.
Even if you don't have WiFi 6E devices yet, the ZenWiFi Pro ET12 offers compelling performance advantages. As a mesh networking system, the ET12 has two separate components that work in tandem to extend WiFi coverage to every floor and corner of your home. The 6GHz spectrum is ideal for the backhaul connection between the two units. It provides a low-interference connection with up to 4804Mbps of bandwidth that maintains a stable link for all your connected devices.
Many routers offer 5GHz connections, but not all 5GHz routers are built the same. The ZenWiFi Pro ET12 can access a high-power 160MHz slice of the 5GHz spectrum. Only recently made available for home WiFi in the United States, this 5.9GHz band is unaffected by radar signals, and it offers wider coverage than you've come to expect from 5GHz.
To make sure that the bandwidth potential of the ZenWiFi Pro ET12 and XT12 isn't bottlenecked by the connection to your modem, we equipped both routers with dual 2.5G Ethernet ports. Connect one port to your modem to give your network full access to the internet connection you're paying for, and use the other to give a 2.5GbE-equipped device like your gaming PC or network-attached storage appliance unfettered bandwidth. Alternatively, the 2.5G Ethernet ports can be used for a high-bandwidth wired backhaul. Two more Gigabit Ethernet ports on each node provide flexible options for connecting even more wired devices to your network.
Easy setup, convenient use
Long gone are the days when upgrading your home router involved a crash course in networking. The ZenWiFi Pro ET12 and XT12 streamline the entire setup process down to roughly three minutes. After you find the right spots in your home for each mesh networking node, plug them in, and set up the main router, they'll automatically sync up to create the wide coverage area afforded by mesh networking tech.
This ease of use continues even after initial setup. The convenient ASUS Router app makes it easy to access your mesh network system's functions, and you can also get hands-free access to quick network functions through your Google Assistant or Amazon Alexa-enabled smart speaker. With only your voice, you can turn your internet on and off, prioritize data transmission for a device, or toggle your guest internet for visitors.
Rock-solid security
Your router is your first line of defense against malicious attacks on your devices and data. The ZenWiFi Pro ET12 and XT12 give you commercial-grade security that's as effective as it is hassle-free. Powered by Trend Micro, AiProtection Pro is regularly updated to prevent common attacks, block access to malicious websites, and detect infected PCs on your network so they don't siphon your data off to some shady datacenter.
A comprehensive suite of parental controls puts you in control of what each device can access (and when). With a quick glance at the ASUS Router app, you can see network activity broken down into peak times and content types. From there, it lets you group devices and set a schedule for internet access. You can also apply pre-configured profiles based on your children's ages or get more specific with content filters based on Trend Micro's Deep Packet Inspection Engine.
The ET12 and XT12 support WiFi Protected Access 3 (WPA3), the latest collection of security measures for foiling hackers. WPA3 gives you peace of mind when you're browsing from the privacy of your own home. Instant Guard lets you enjoy that security even when you're out on the road. With this simple app, you can tap one button to create a free, secure VPN connection between your iOS or Android mobile device and your router back home. This lets you shop online, access sensitive data, and communicate with family and colleagues when you're out on the road without fear of your personal details falling into the wrong hands.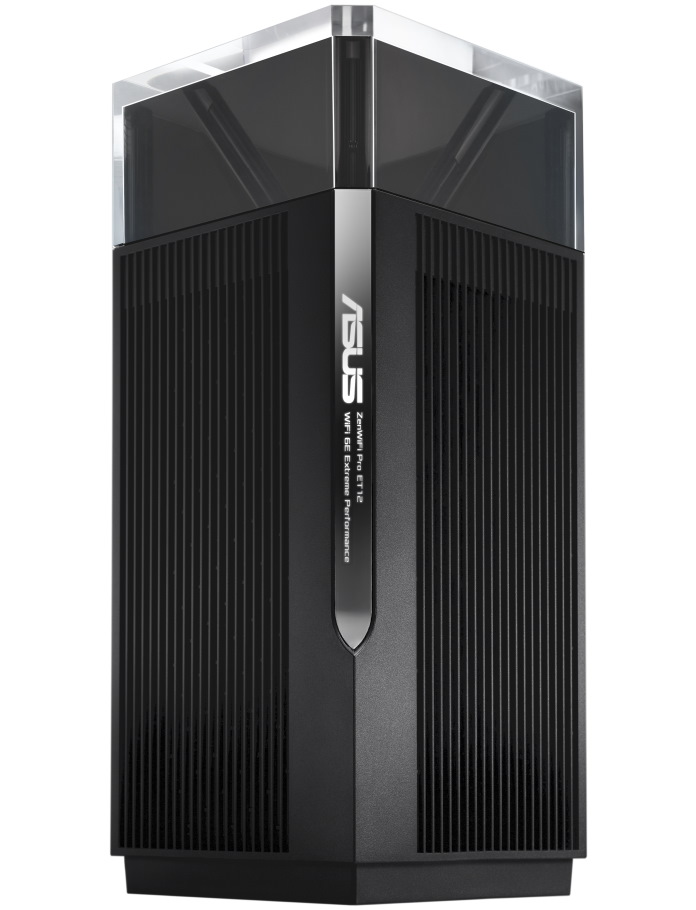 A new frontier of wireless performance
It can be hard to get the wireless performance you expect in today's hyper-connected homes. The ZenWiFi Pro ET12 and ZenWiFi Pro XT12 let all your devices enjoy the stable, high-performance wireless internet you demand. As mesh networking systems, these wireless routers make it easy to deliver that bandwidth to every corner of your home.
An easy setup process, comprehensive security options, and professional good looks complement the top-end performance of these routers. Unlock the full potential of your home internet connection for your work, games, and entertainment with ZenWiFi Pro.
The ZenWiFi Pro ET12 will launch exclusively in the United States, while the ZenWiFi Pro XT12 will be available in other regions. Contact your local ASUS representative for more information on pricing and availability.