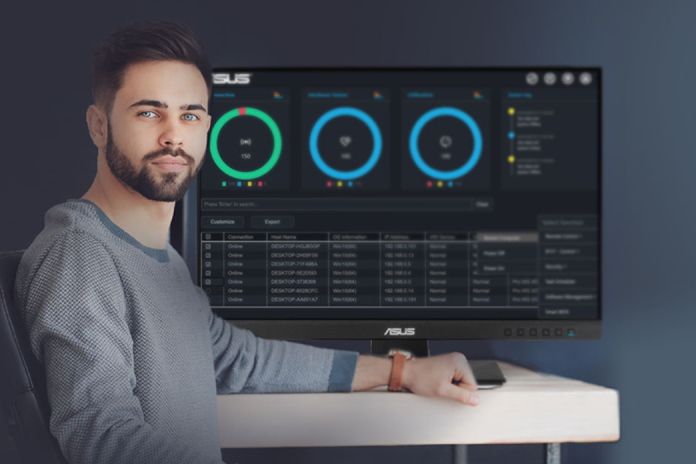 When you're looking for a long-term partner for your commercial motherboard needs, reliability, manageability, and security are paramount. As the world's largest and best-known motherboard brand, ASUS is uniquely positioned to provide the world-class after-sales service and guaranteed long-term availability that your enterprise or organization needs. ASUS commercial motherboards optimize the efficiency of your IT operations, provide robust security and management tools, and deliver the hardware features you need at an optimized total cost of ownership.
Our decades of experience manufacturing motherboards for a wide range of users and enterprises makes ASUS the premier choice for your motherboard needs. Beyond the trusted reliability of our products, two key factors set apart ASUS commercial motherboards from the crowd. First, the ASUS Corporate Stable Model (CSM) commercial program ensures that you have a stable supply of the motherboards with extensive product support and multiple packaging options. Second, the ASUS Control Center Express (ACCE) software suite provides a centralized IT management solution for enterprises, data centers, and small- and medium-sized businesses in any industry.
CSM ensures a stable supply of your ASUS commercial motherboards
Over 16 years, thousands of customers and solution providers in the United States and Canada joined our motherboard CSM program, making it the most well-established commercial motherboard program currently available. Now, we're ready to offer the advantages of this program to businesses around the world.
Our CSM program is built first and foremost to ensure that you have a consistently available supply of the motherboards you've chosen. Through our market leadership, we have exceptional material-supply flexibility that enables us to respond rapidly to forecast changes. With ASUS as your partner, you can operate with minimal concerns over material-supply gaps.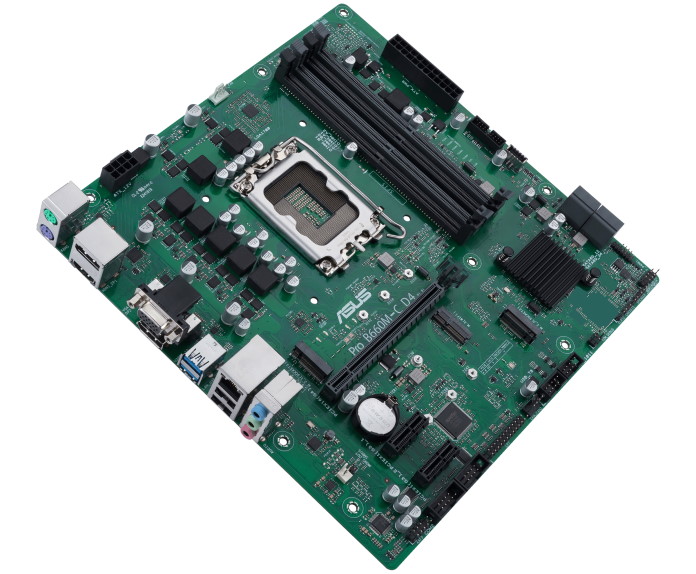 Our CSM product lineup gives you a wide range of options. We offer motherboard solutions for all major chipsets, including the latest high-performance options from Intel and AMD and value-oriented segments such as H110. Our motherboards are available in a wide range of form factors, and offer the comprehensive validations and certifications that you need.
Once you've selected the motherboard that best fits your organization's needs, you rightly expect an extended supply and timely communication about Engineering Change Notices (ECN) and end-of-life (EOL) notifications. Supply guarantees of up to 36 months are available with a confirmed purchase order and minimum order quantity. Before any product revision, you'll receive an ECN in advance, and we'll give your organization the lead time it needs for product transition with a Last Buy Order notice up to six months prior to EOL.
We're also prepared to offer the product packaging that best fits your enterprise's needs. If optimizing efficiency and reducing clutter is your priority, we offer bulk packaging for CSM motherboards in stacks of 10. All accessories that we typically include in a standalone motherboard box are included. For greater flexibility, we also offer standard retail packaging. No minimum order quantity is required, so you can order exactly what you need when you need it.
Reliable operation, easy management, robust security
Once your ASUS commercial motherboards are deployed on site, nothing matters more than their dependable operation. We build our CSM motherboards from the ground up for long-term performance with tailored power delivery systems and comprehensive cooling solutions. Our extensive reliability tests ensure consistent quality, and an available Anti-Moisture Coating prolongs the life of your motherboards with comprehensive protection against the negative effects of high humidity. Should one of your boards need service, built-in hardware features make the process easy for your IT stuff. Models with a 6-1 pin COM debug header allow for faster and more efficient troubleshooting. Through this port, IT administrators can view error and debugging codes to quickly plan recovery processes.*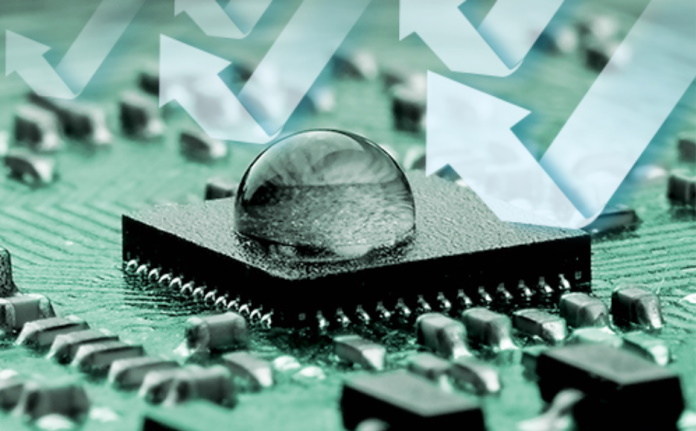 Remote management tools are vital for your IT staff's efficiency, especially for large organizations with multiple sites. ASUS commercial motherboards include a SMBUS header that allows you to connect a DASH LAN card for remote IT management. We have compatible ASUS DASH LAN cards ready for your CSM motherboard order. Additionally, ASUS Event Log is a built-in tool that enables easy troubleshooting by capturing useful system information. With a quick look in BIOS, your IT staff can find records of BIOS updates, abnormal power loss events, chassis intrusions, hardware changes, and more. Finally, we offer partial BIOS update solutions to speed up your production line. This allows your staff to apply fast and targeted updates, like branding your builds with customized boot logos or updating the Intel Management Engine, all without flashing the whole BIOS.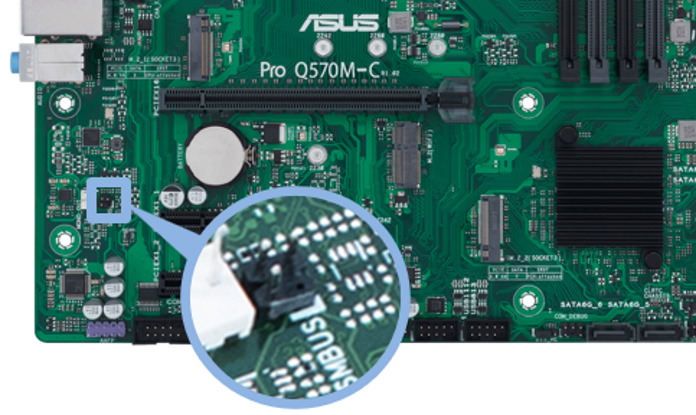 Robust security tools set ASUS commercial motherboards apart. With ASUS Self-Recovering BIOS, our motherboards automatically recover BIOS updates in the event of a crash. Through Secure Boot, ASUS Pro business motherboards check the firmware and signature of each piece of boot software. Need a supply of motherboards certified to stringent national computer security standards? Our products are certified for NIST SP 800-147 and NIST 800-193. Finally, you can ensure stronger data protection for your systems via a hardware-based TPM security device.**
Centralized IT management with ASUS Control Center Express
For enhanced security, increased productivity, and better protection against unauthorized access and data leaks, you can monitor and manage your ASUS commercial motherboards through our easy-to-use ASUS Control Center Express (ACCE) software. This centralized IT management app is designed to provide a convenient, effective, secure, and cost-saving solution for enterprises in any industry.
Real-time monitoring tools allow your IT staff to respond quickly to any situation. Smart dashboards provide rich insights and visualize key data so that your staff can track vital information at a glance. For better visualization of your hardware deployment, you can quickly set up and customize a floor plan view of all managed devices with status icons for each. And setup is easy thanks to automatic IP detection that quickly scans and maps the IP addresses of all available devices in your network.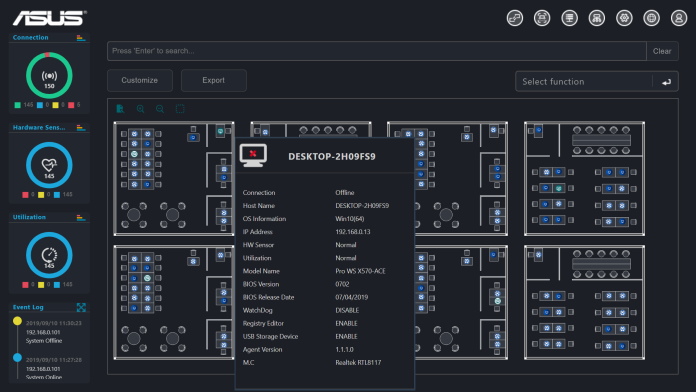 Rich real-time hardware and software monitoring tools let your IT staff use ACCE to remotely acquire the information they need for troubleshooting. Detailed hardware information, including system temperatures, fan speeds, voltages, and hardware statuses, is available at a glance.
Finally, ACCE enables easy and comprehensive device management. It gives your staff comprehensive software and hardware information with power, security, task scheduler, and reporting functions on all devices. It can even provide access to BIOS and OS reinstallation in hardware mode when devices are not in an OS environment, allowing your staff to remotely troubleshoot crashes or unexpected shutdowns***.
Get onboard with ASUS commercial motherboards today
ASUS commercial motherboards offer trusted performance, robust security tools, and the features your IT staff needs to operate efficiently and effectively. As the world's leading motherboard brand, we provide world-class after-sales service and guarantee the long-term availability of our products. When you partner with our CSM program, you set up your enterprise for peace of mind and smooth operation for years to come.
Contact our sales representatives to find the right motherboards for your organization.
*Third-party debug card sold separately.
**All Pro Business MB by default have a TPM header or TPM IC onboard. You can order TPM cards (TPM-SPI) from our sales representatives.
***Requires a connection to a management LAN port supporting RTL 8117 LAN IC for BIOS and OS reinstallation in hardware mode.