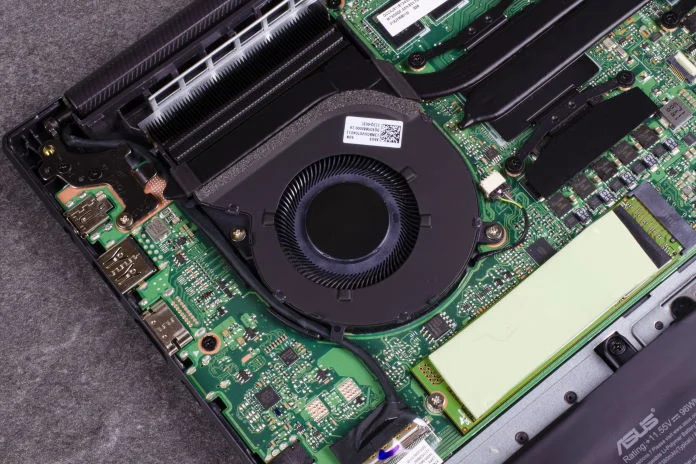 Exporting a video, rendering a large project, creating visual effects and motion graphics: creative work demands hardware that can keep up with intensive tasks. High performance components are vital ingredients in the recipe for a creative workstation, but exceptional cooling matters, too. The powerful CPUs and GPUs that accelerate content creation workflows produce more heat under load than the chips you might see used in everyday laptops. That's why it's crucial to consider a laptop's cooling system as you purchase your next content creation machine. If a notebook's thermal technology isn't up to the task of cooling its hardware, its CPU and GPU will throttle down their clock speed, preventing you from getting the performance you paid for. To make the most of your next hardware investment, look for a laptop equipped with our ASUS IceCool thermal tech. This system delivers the cooling power you need to get the performance that you're paying for.
Performance is a vital part of the equation, but it's not the only reason why a robust cooling system matters. An overworked cooling system typically spins up its fans to compensate for increased temperatures. Perhaps you don't mind a little fan noise while you work, but a laptop that makes a distracting racket is no fun to be around, for you or anyone sitting nearby. Cooling affects comfort, too: when a laptop's temperatures are kept in check, its keyboard stays cool under your fingers as you browse, create, and work.
We optimized the ASUS IceCool cooling solution for all three factors—unthrottled performance, unobtrusive noise levels, and comfortable surface temperatures. When you buy a laptop with our IceCool tech, you're buying a system that's fully equipped to deliver the performance and creature comforts you need for creative work.
A deep dive into the ASUS IceCool tech
You'll find our IceCool tech across a range of Vivobook Pro, Zenbook, and Studiobook laptops. To give you an under-the-hood look at how this cooling solution tames high-performance CPUs and GPUs, we opened up a particularly tempting option for college students or artists getting started on their creative journey: the Vivobook Pro 16X OLED. This model employs a dual-fan IceCool Plus system to keep its components operating at a comfortable temperature.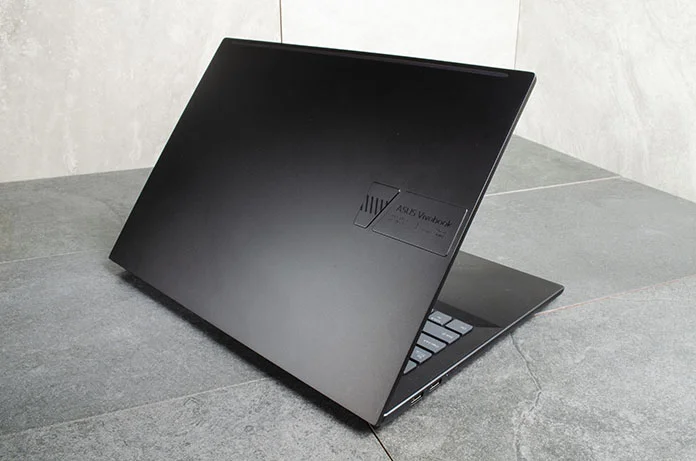 With its dazzling, high-resolution OLED screen, comprehensive selection of ports, and the exclusive ASUS DialPad, it gives creators an portable workstation that's ready for demanding workloads right out of the box.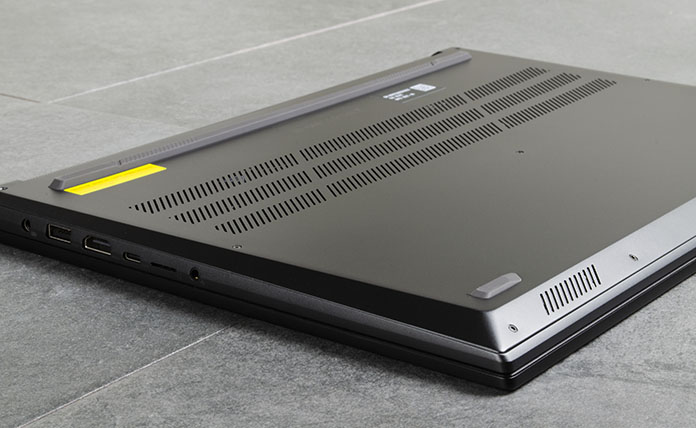 Since many content creation apps can take advantage of GPU acceleration and the sheer horsepower offered by today's high-end multi-core CPUs, the Vivobook Pro 16X OLED offers substantial processing power. The top configuration boasts an AMD Ryzen 9 5900HX CPU and NVIDIA GeForce RTX 3050 Ti GPU. These chips let you edit complex projects in real-time, breeze through lengthy exports, and multitask with ease.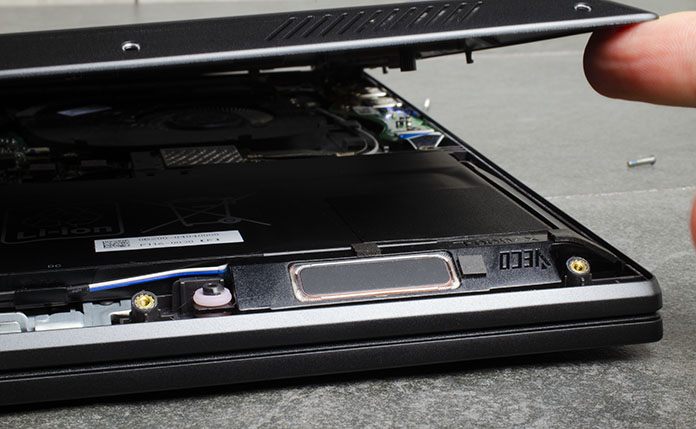 You'll find this CPU and GPU in competing laptops, but the same chips won't perform identically in different systems. Our IceCool tech makes sure these components can offer sustained performance, all without producing excessive noise or distracting you with uncomfortable surface temperatures.
Heat's first step on the way out of your laptop
One measure of a CPU or GPU's performance is its thermal design power, or TDP. Measured in watts, it expresses how much power the chip draws under load. A processor in a laptop that's tuned for everyday tasks like web browsing might have a 15W TDP. High-end CPUs from Intel and AMD that are better suited for the demands of content creation often have a 45W TDP. For you to access the greater performance that these chips are capable of, you need a cooling system that can efficiently expel the additional heat created by these higher power chips when they're under full load.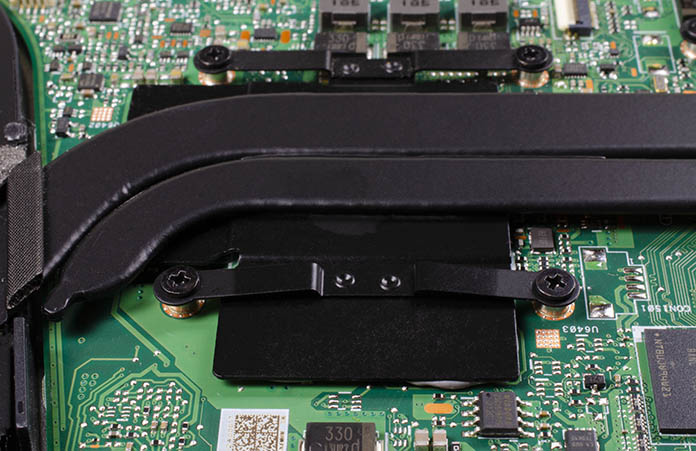 ASUS IceCool tech starts right at the surface of these chips. A thin layer of thermal paste and a cold plate, pressed firmly to the surface of each component, efficiently pulls heat away from the CPU and GPU.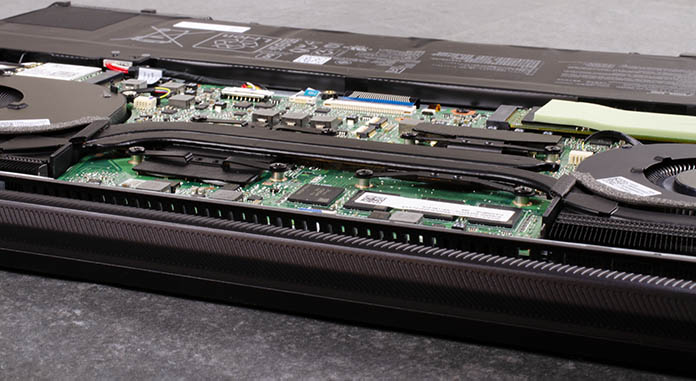 That heat has some distance to travel on its way out of the laptop, though. Long heatpipes transfer that thermal energy away from the CPU and GPU and away from the regions of the laptop where your hands are likely to rest, keeping you and these components comfortable. Constructed of thermally conductive metal, heatpipes are thin, hollow structures. Inside, a liquid absorbs heat and vaporizes. It travels along the pipe and transfers its energy into the heatsink, a dense array of ultrathin fins. Then, the vapor condenses back into liquid and wicks back towards the heat source, where the cycle begins again.
The Vivobook Pro 16X OLED offers substantial processing power for creative tasks, but select models in our Zenbook and Studiobook laptop lineups offer even more horsepower. Higher tiers of our ASUS IceCool tech use an increased number of heat pipes, among other elements, to handle the additional thermal workload.
Movin' out with next-gen fans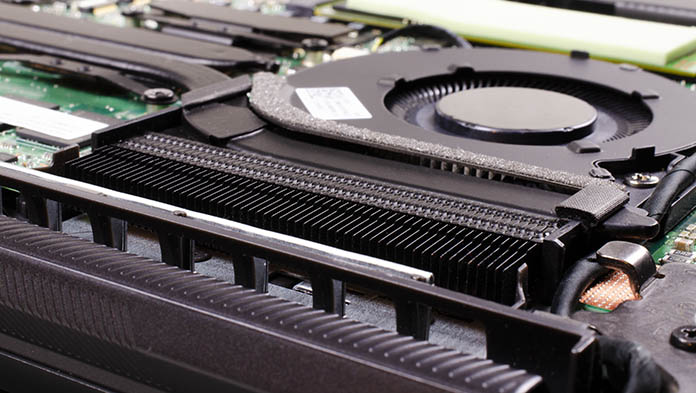 A steady stream of cooling air through the heatsinks expels the heat from your laptop. The Vivobook Pro 16X OLED uses a pair of fans and vents at either end of the machine to effectively dissipate the heat produced by its high-end components.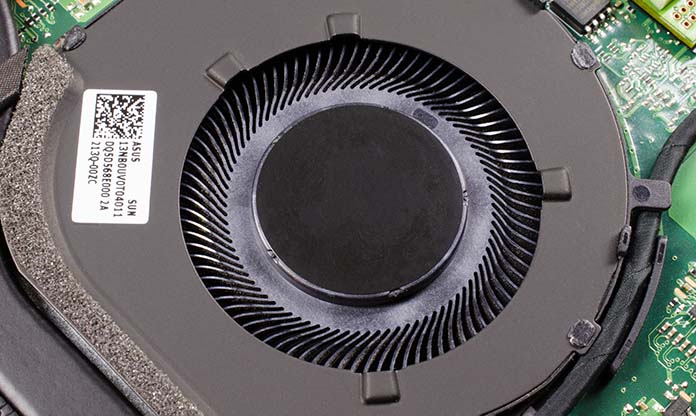 Not all fans are created equal, though. Fans with a large number of ultra-thin blades are best-suited for moving a large volume of air quietly. Our latest generation of fans boasts 91 to 102 blades, each varying between 0.15 to 0.2mm. Their special curve and variable thickness lead to lower flow vortex noise and increased fan efficiency.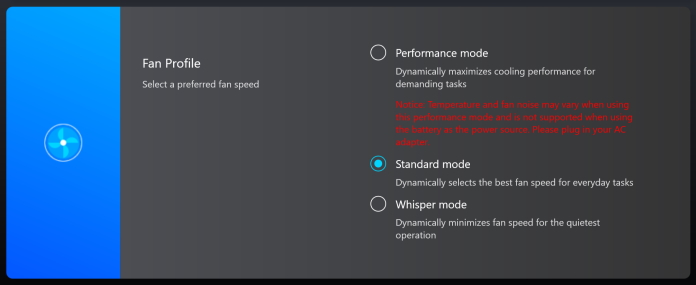 Different users have different needs when it comes to deciding between the right balance of performance and fan noise. That's why we make it easy to customize your fan profile through the MyASUS app. Do you need the maximum performance of your hardware for a demanding task? Toggle Performance mode when your laptop is connected to its AC power adapter. In situations where silent operation is more important than all-out performance, set the fan profile to Whisper mode, which restricts noise levels to 28dBA or less. Standard mode offers a balance of the two, dynamically adjusting fan speed for the needs of the moment.
Exceptional performance in a thin, portable design
The latest generation of chips from Intel, AMD, and NVIDIA stand ready to accelerate your creative pursuits. Whether you're a graphic artist, architect, game designer, or creative professional working with photos and videos, our laptops will free you to create wherever, whenever.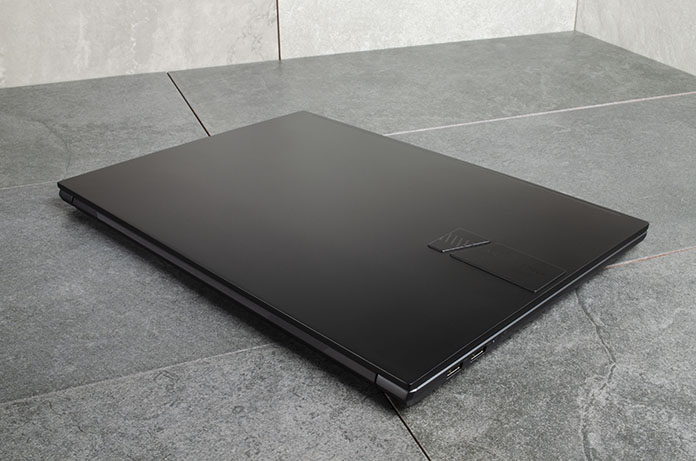 Not all laptops are equally ready to deliver the performance of these high-end CPUs and GPUs, though. Our exclusive ASUS IceCool thermal tech gives you the peace of mind that your laptop won't leave power on the table when you need it the most. And our precision-engineered fans deliver this cooling power at unobtrusive noise levels while keeping the laptop's skin comfortable under your fingers.
For creators who need a mobile workstation, we offer a wide range of laptops. Vivobook Pro laptops offer a compelling blend of features and performance at price points well within the reach of everyday creators. Our Zenbook lineup distills that essential performance into luxuriously thin and light designs constructed of premium materials. For professional creators who need top-tier hardware, innovative input methods, and supreme performance, our Studiobook series beckons. In all these models, you'll find an effective cooling system precision-tuned to offer the balance of performance and quiet operation that you require. Purchase an ASUS laptop today to take your creative journey to the next level.