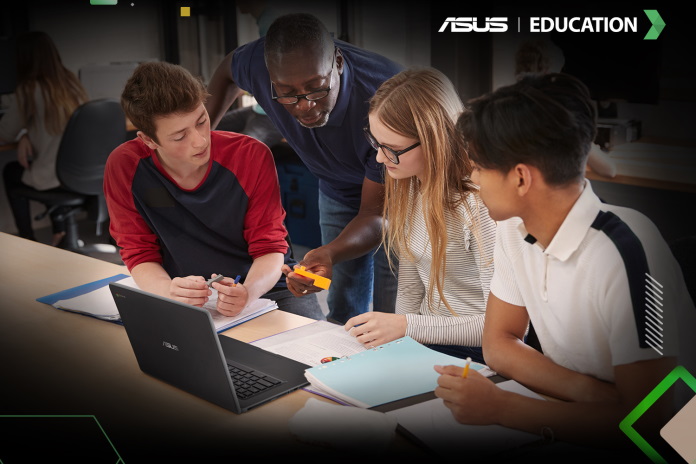 Even before the worldwide coronavirus pandemic, PCs were already an integral part of classroom instruction, preparing materials, and the day-to-day business of running an educational institution. The role of technology in education only increased as institutions adapted for the demands of remote and hybrid instruction. Yet even now, as in-person instruction has largely resumed for many, teachers and administrators are carving out a new normal that builds on the skills and expectations that students developed in recent years. In this new world of education, the right classroom technology matters more than ever. Our reliable, feature-rich solutions for education bridge the gap between students and computers in the classroom, giving today's educators a rock-solid platform for effective instruction.
To empower the next generation, we're dedicated to solving the unique challenges facing today's students and educators. Our comprehensive product range provides the tools needed for teaching or learning, ensuring that every child has the opportunities they need. Four distinct elements guide our process whenever we design a product for education. We cater to students from kindergarten to higher education, offer essential features for efficient learning, provide reliability in the classroom environment, and streamline IT workflows with easy-maintenance designs.
From early learning experiences to graduation
When a young student uses technology to learn about the world around them, the possibilities are endless. The world becomes accessible at their fingertips. That's why teaching students with technology enhances lessons and deeply connects students to the material through image, sound, and touch.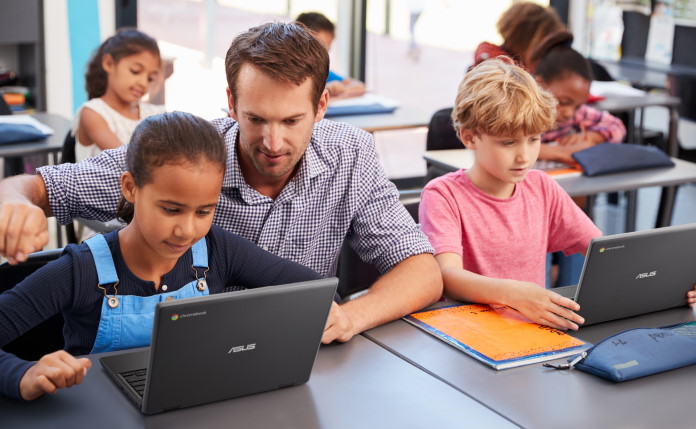 At ASUS, we pursue designs that meet the needs of learners from their first educational experiences in kindergarten all the way through their postsecondary education. From our rugged, touch-friendly laptops built for students still learning the basics of using a touchpad, keyboard, and mouse to our lightweight yet powerful laptops that serve students as they explore exciting career skills in content creation, 3D animation, architecture, and more, our full laptop portfolio includes options fine-tuned for every student. And our complete lineup of mini PCs, displays, peripherals, wireless networking products, and PC components stands ready to meet the needs of all of your learners as they advance in skill and knowledge.
Essential learning features
Maximum learning relies on minimum disruption. ASUS products for education offer the key features that students need as they explore, collaborate, and create. It starts with multiple remote-learning features, such as AI noise-canceling technology that intelligently and seamlessly minimizes background noise for clear communications. Even with a classroom full of students talking synchronously online, you can ensure that each learner will hear and be heard clearly.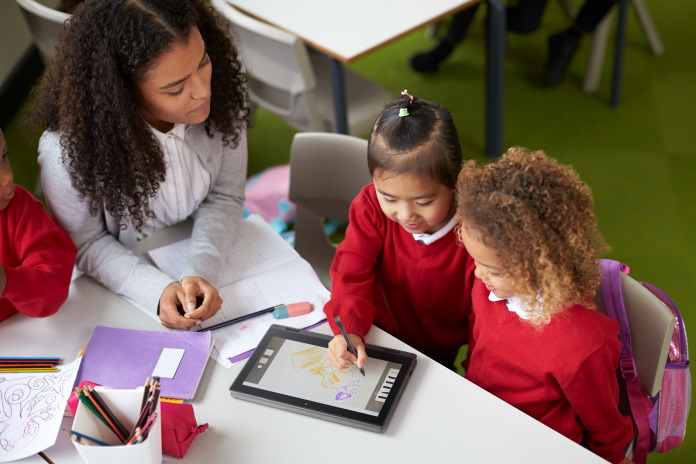 For our laptop family specifically, we make sure that they're available in a wide variety of forms. From the familiar clamshell form factors to versatile flip designs with a 360° hinge, we empower your classrooms with a wide array of options. Whether you need touchscreens, stylus input options, or models with a detachable keyboard, we offer the essential features you need for simple, enjoyable and effective learning.
Classroom-ready reliability
Reliable operation ensures that your students not only have the right features and design, but that they can depend on their laptops day after day. We build our education solutions from the ground up to go the distance.
We manufacture our laptops for education to meet or exceed military-grade standards for durability. These rugged machines proved their reliability during stringent testing procedures, so you can trust them to hold up under the incidental wear and tear of everyday classroom use. Our innovative engineering ensures that even our lightweight, portable options offer the durable performance your students need.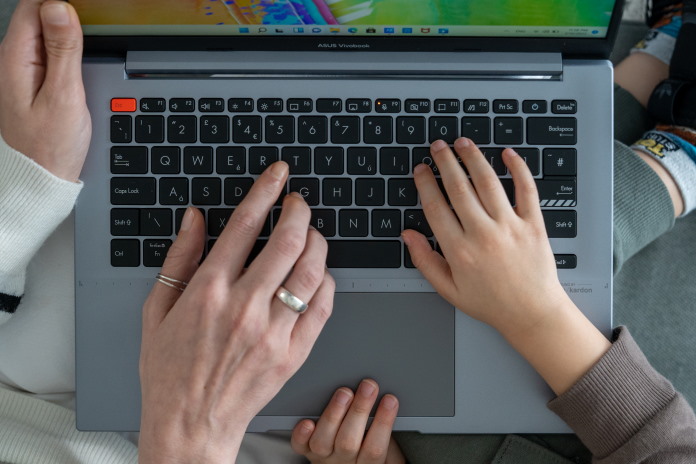 Today's schools deploy multiple solutions for protecting the health of their students. We think that technology should support student health, as well, especially devices that pass from hand to hand in the classroom. That's why often-touched surfaces on select laptops and displays now feature ASUS Antibacterial Guard. This laboratory-proven silver-ion coating inhibits the growth of bacteria on plastics and other non-porous materials by more than 99%.
Designed for easy maintenance
In a classroom environment, accidents happen. We understand that your educational institution needs laptops that are easy for your staff to service and maintain. That's why we build our devices for easy on-site servicing with reduced downtime.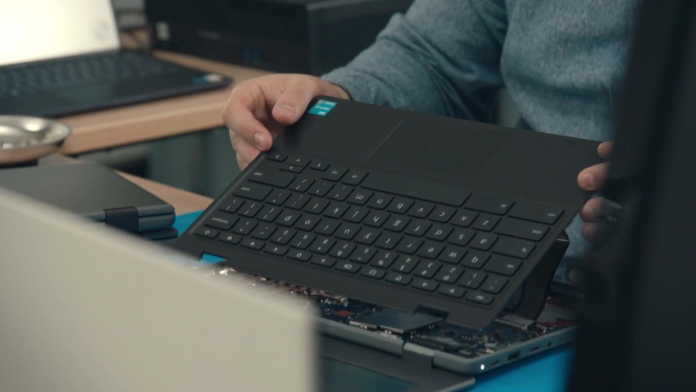 ASUS laptops for education employ a modular construction design to streamline maintenance and repair. Key components, including the keyboard, battery, thermal module, and I/O ports, can be replaced in minutes with simple tools. A damaged USB port or enter key doesn't have to end a laptop's useful lifespan—with ASUS products, you can empower your IT staff to quickly perform repairs and get your laptops back in the hands of students.
Proven partners for education
ASUS PCs and peripherals made all the difference for Scholars Collective. A small business run by educators, this organization works directly with local families and schools to provide convenient, high-quality educational enrichment for kids in Long Beach, California—with a special emphasis on helping youths without access to PCs the opportunity to develop skills and familiarity with this game-changing technology.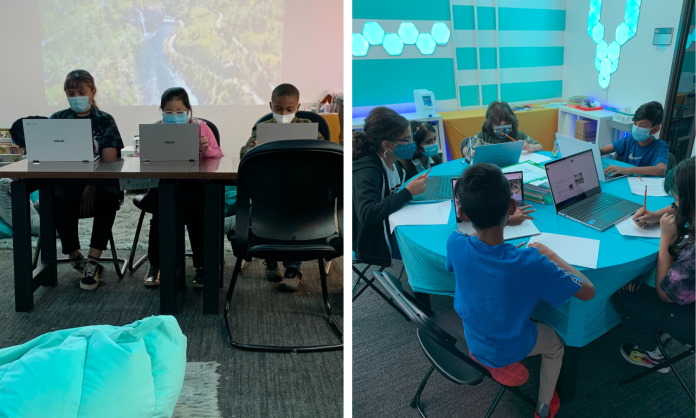 As a fairly new organization, one of the first challenges for Scholars Collective was finding the right mix of technology. They reached out to ASUS as they built their tech lab and homework help center. According to Angela Macias, the owner, "ASUS showed great commitment to what we are doing at Scholars Collective and this makes them a wonderful partner for us," Angela said. "We hope to do our small part in tackling the digital divide by allowing youth opportunities to learn new skills for both academic and personal use."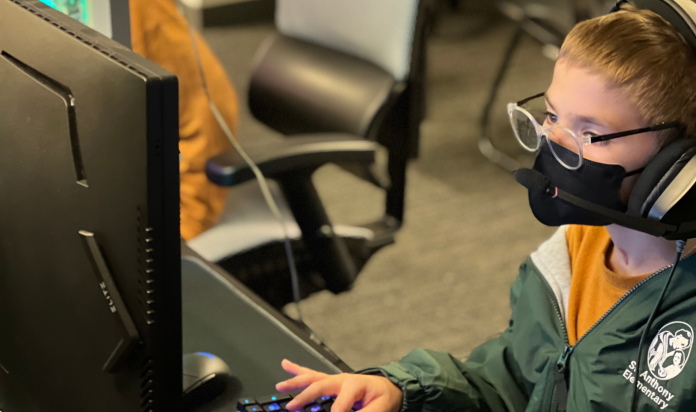 Students who participate in Scholars Collective's programs use ASUS PCs for a wide range of activities. Angela said, "Our after school program, classes, and camps allow youth to engage with computers in a wide range of activities such as studying and research, coding, content creation, game design, and esports." Students come to their programs with a passion for technology. Scholars Collective channels that enthusiasm into pathways that improve the students' chances for academic success.
K-12 laptops that do more
Our 2022 lineup of laptops for education includes a wide array of options engineered for the unique needs of K-12 educational institutions. It starts with rugged, versatile Chrome OS devices. Schools everywhere love the value, built-in security, and easy functionality of Chromebooks, and IT staff love the zero-touch enrollment feature that allows them to drop ship Chrome OS devices that will automatically enroll into enterprise administration as soon as the end user connects to the internet.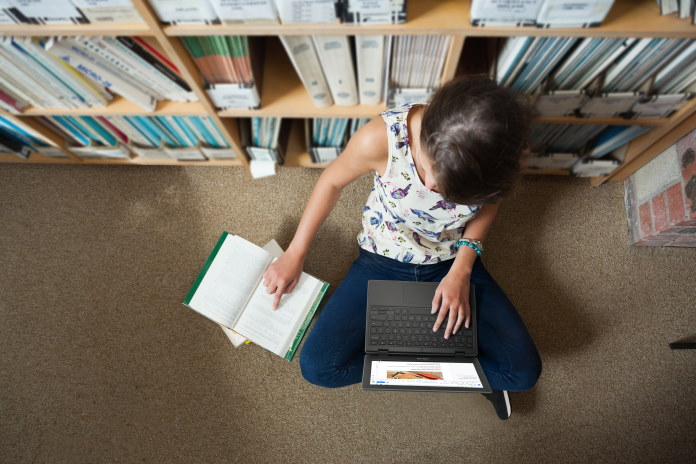 The ASUS Chromebook CR1 is a dependable option ready for a wide range of scenarios. Available in clamshell or convertible designs, this laptop is ready for a long lifespan of classroom use with its all-round rubber bumper, spill-resistant keyboard, and ultra-tough hinge. For even more versatility, consider the ASUS Chromebook Detachable CZ1. With its full-size detachable keyboard and built-in adjustable stand cover, it's a laptop, tablet, and everything in between, all in one device. A garaged stylus and world-facing camera give students the freedom to create, while its all-day battery life lets students explore and learn without limits.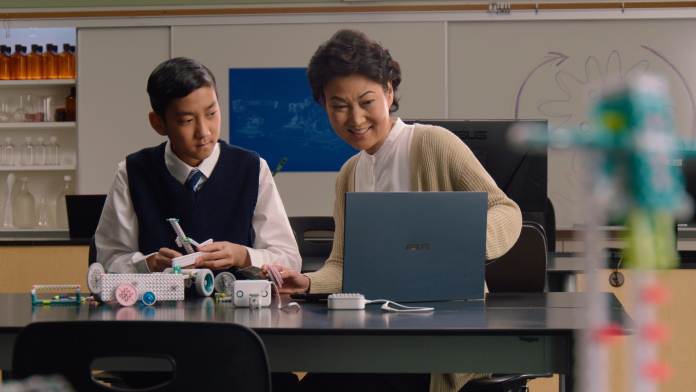 Of course, there's ample reason why your staff might request Windows devices, instead. Microsoft's operating system is the platform of choice for a wide array of applications. The ASUS BR1100F is an excellent starting point for a classroom Windows laptop. Its modular design and bottom-panel captive screws make them easy for your IT staff to service, while its rubber bumper, scratch-resistant cover, spill- and tamper-resistant keyboard, and rubber carrying bar make it a rugged, dependable partner for learning.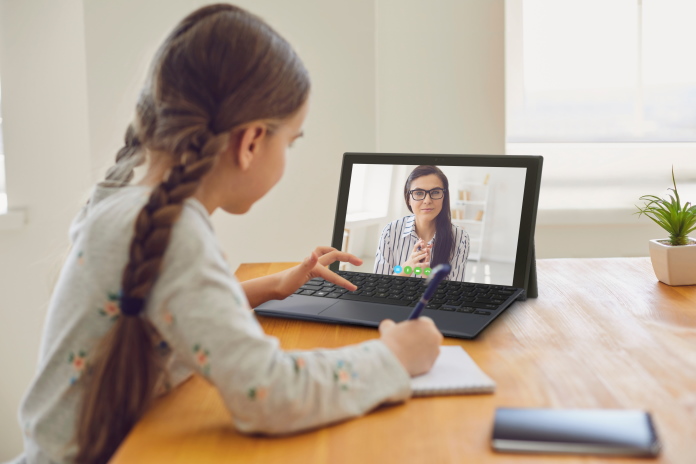 We're also pleased to offer a detachable Windows laptop for education, as well. The ASUS Expertbook B3 Detachable is built for education with its versatile detachable design, touchscreen, and garaged stylus. To support remote learning, it offers AI noise canceling technology, a noise reducing camera, and a dual camera array. And with ASUS Antibacterial Guard, a spill resistant keyboard, and military-grade durability, it delivers the rugged reliability that your classrooms need.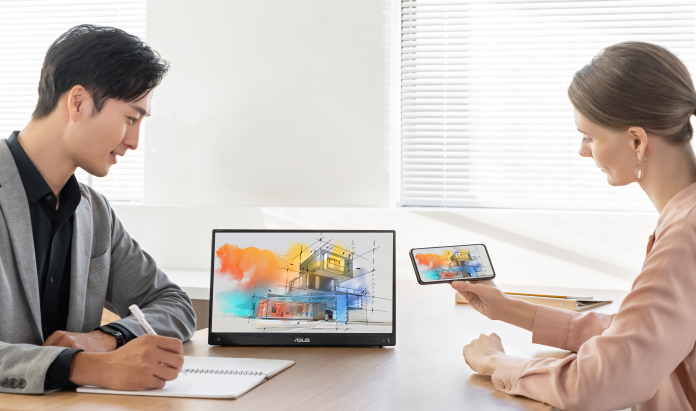 PC users everywhere take advantage of the multitasking power of additional displays. The ASUS ZenScreen Go MB16AWP gives students and staff the versatility of a second display in a slim, lightweight form factor that's just as portable as their laptops. Effortless wireless mirroring lets users quickly show others their work from their Android, iOS, and Windows 10 or 11 devices, while a pair of USB Type-C ports and a mini HDMI port provide standard wired connectivity for a broad range of devices.
Classroom-ready desktop PCs
The portability of laptops makes them an ideal choice for many scenarios, but they're not the only game in town. There are many reasons why your institution might be looking at desktop computers instead—perhaps you're building or upgrading a dedicated lab, for example, or maybe your priorities lean toward upgradability, easy repair and replacement of parts, and extensive connectivity options.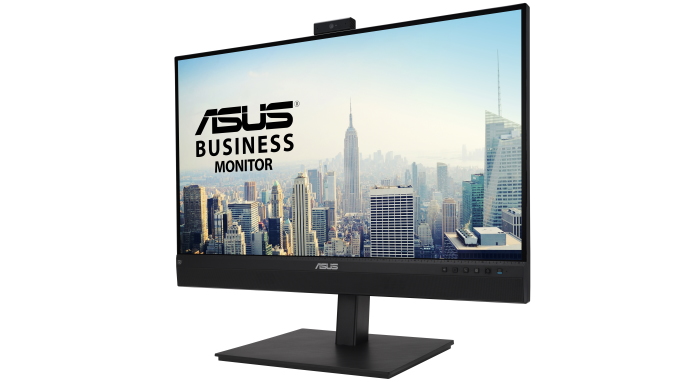 Here's a trio of products that make for easy, space-saving deployment. It starts with the ASUS BE278ACSBK monitor. This 27" display gives students and staff members a broad canvas for productivity and multitasking. As an ASUS Eye Care monitor, it provides mitigating measures against exposure to blue light and uses a flicker-free backlight—both essential features for protecting the health of young eyes. And with its integrated webcam and AI Noise-Canceling microphone, it's ready for seamless conferencing right out of the box.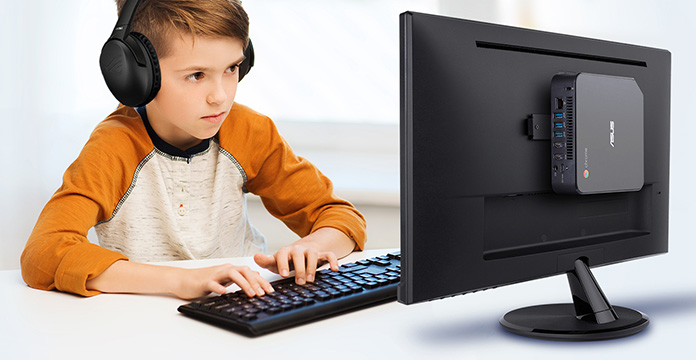 On the back of the BE27ACSBK you'll find a VESA mount—just the spot to attach a mini-PC like the ASUS Chromebox 4. Mounted this way, this petite PC won't take up so much as an inch of desktop space, yet it powers fluid computing experiences with its Intel Core or Celeron processor, WiFi 6 connectivity, and high-speed USB 3.2 Gen 1 Type-C ports wired for power delivery and DisplayPort signals. And it's all built on the familiar, easy-to-use, and rapidly deployable Chrome OS. Complete the set with the ASUS Chrome OS Keyboard and Mouse—an ultra-slim, compact and quiet keyboard and a comfortable ambidextrous optical mouse—and you've got a complete desktop PC solution.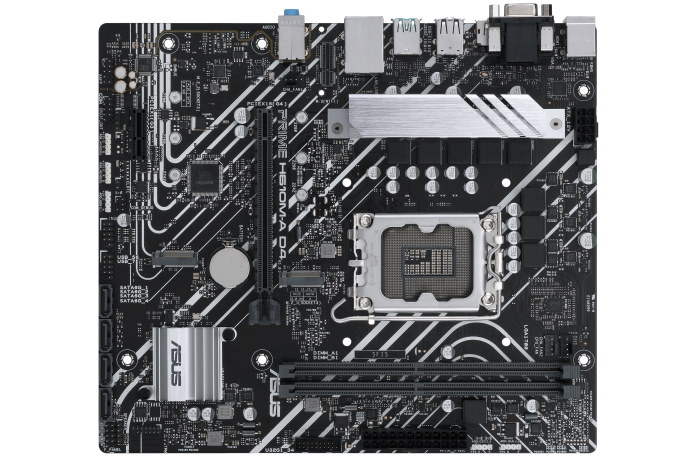 To give yourself total control over the features and performance of your institution's PCs—and maybe even give students invaluable PC building lessons in the process—perhaps you'd prefer to have your IT staff build your PCs. We've got your needs covered there as well. As one of the world's premier motherboard manufacturers, we have a wealth of options for your staff to consider as they select parts for your PCs. Just one option is the ASUS Prime H610M-A D4-CSM. This affordable motherboard is ready and waiting for Intel's latest 12th Gen CPUs. Comprehensive cooling assures a long product lifespan, and it's built from the ground up to optimize the efficiency of your IT operations, provide robust security and management tools, and deliver the hardware features you need at an optimized total cost of ownership. Click here to read more about our CSM motherboard program.
Prepped and ready for higher education
Students in higher education are ready to take the skills and knowledge they've acquired over years of study and apply it as they pursue their career goals and passion projects. Their work demands ever-more powerful devices with a broader range of connectivity. Yet in many ways, laptops for higher education need to have many of the same qualities as laptops for K-12 environments. Rugged designs, easy maintenance, and versatility are essential here, as well.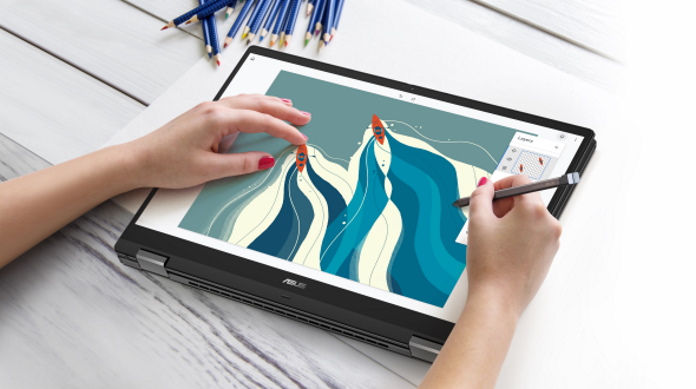 That's why we built the ASUS Chromebook Flip CX5 and ASUS Chromebook Flip CX3 on the same DNA as our other laptops for education. These thin-and-light Chromebooks offer military grade durability, long battery life, and a convertible design with a touchscreen and a garaged USI stylus. They're built to do more with the high-end performance of Intel Core processors, Intel Iris Xe graphics, and WiFi 6. Dual USB Type-C ports, a USB Type-A port, and a microSD card slot give students plentiful options for connecting peripherals, external displays, and storage media. And the additional world-facing camera on the CX3 lets students easily capture photos and videos in tablet mode.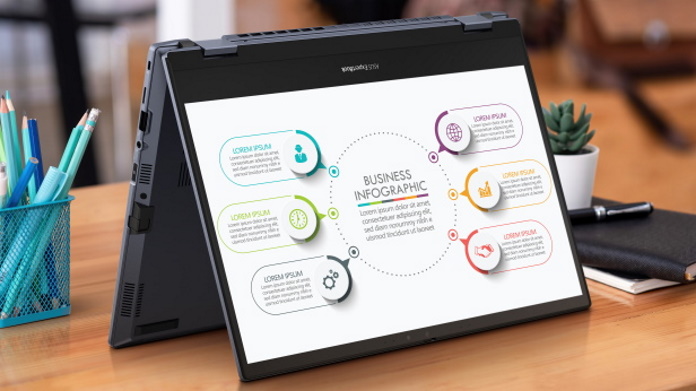 For cutting-edge performance that travels anywhere, the ASUS ExpertBook B5 Flip and ASUS ExpertBook B7 Flip give you exceptional power, security, and versatility in lightweight designs. These Windows laptops are designed for robust security with their fingerprint sensor integrated into the power button, IR camera built for facial recognition, TPM module, and physical webcam privacy shield. For a stable internet connection anywhere, the ExpertBook B7 Flip offers optional 5G connectivity. And these laptops offer a comprehensive set of ports, including HDMI, Thunderbolt 4 USB Type-C ports.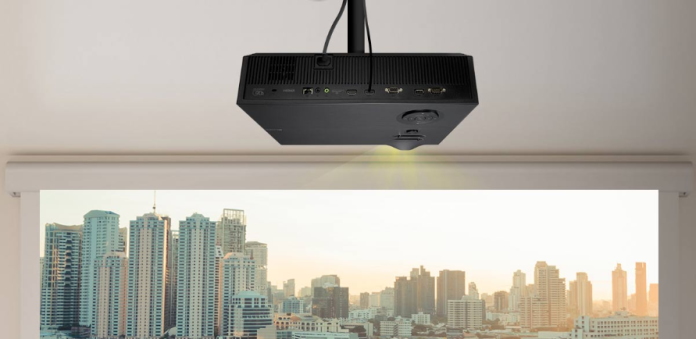 Some classroom tasks work best when everyone has their own device. Others work best when everyone is watching something together. The ASUS H1 LED projector can draw in an entire room of students with its exceptionally bright 3000 lumen output—and since it can project an FHD image with up to a 200" diagonal, those in the back row won't have to squint. 125% coverage of the sRGB and Rec.709 color gamuts means that it delivers accurate colors, and an RJ45 Ethernet port compatible with Crestron RoomView express enables easy remote management.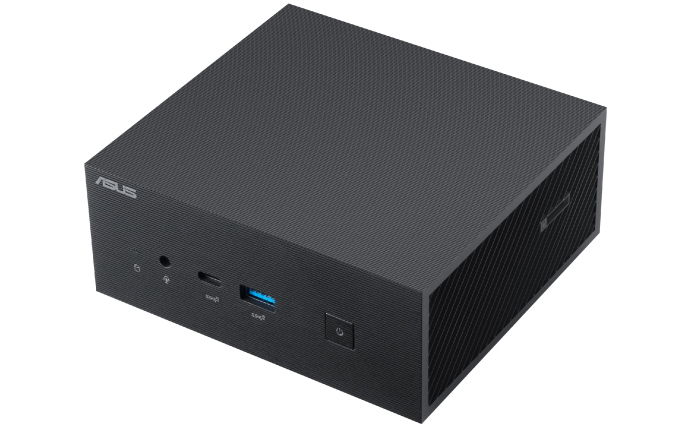 For a mini PC solution, the compact ASUS Chromebox 4 might give your institution everything it needs and nothing that it doesn't. Yet often, as students in higher grade levels pursue more specialized interests, the software they use requires the Windows platform. That's where the ASUS Mini PC PN63-S1 comes in. This ultra-compact PC doesn't demand much desk space, but it offers a substantial presence with its support for Intel Core processors, up to 64GB of DDR4 RAM, PCIe Gen 4×4 M.2 SSDs, and the latest WiFi 6E connectivity.
Many of today's students are passionate about content creation. From photo editing to video game design, from 3D animation to video production, there are many fields that are closely connected to their hobbies and interests but also real career possibilities down the road. One thing that all these fields have in common is the need for a professional-grade display. The ASUS ProArt Display PA279CV lets students create, fine-tune, and publish their work with confidence thanks to its richly detailed 4K resolution and 100% coverage of the sRGB and Rec. 709 color gamuts. It's factory calibrated and Calman Verified to achieve an average ΔE value of less than 2 for out-of-the-box color accuracy.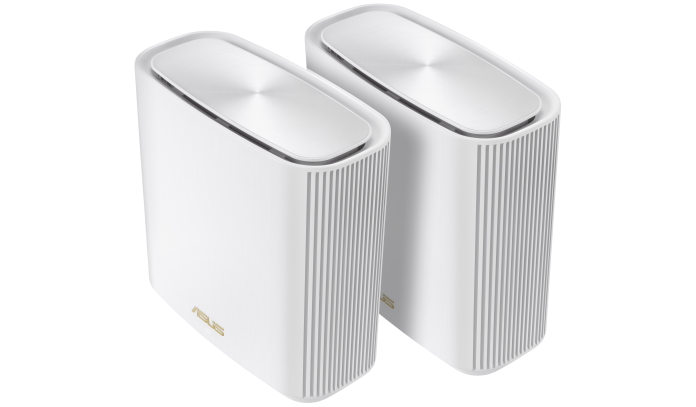 As students progress through their education, their bandwidth needs often increase, as well. To accommodate the connection needs of a classroom full of devices, consider the ASUS ZenWiFi ET8. This system uses mesh WiFi technology to help you easily expand the range of your network, and it boasts the latest WiFi 6E technology. For institutions in regions where the 6GHz spectrum has been opened for public use, the ZenWiFi ET8 can provide better connectivity and lower latency to compatible WiFi 6E devices than previous generations. If congested networks are a problem at your school, we have the solutions you need.
Learn more about ASUS education solutions at ISTE 2022
At ASUS, we develop technology that empowers today's classrooms, students, staff, and administrators. Our mission is to create innovative tools and solutions that meet the needs of modern classrooms and learners.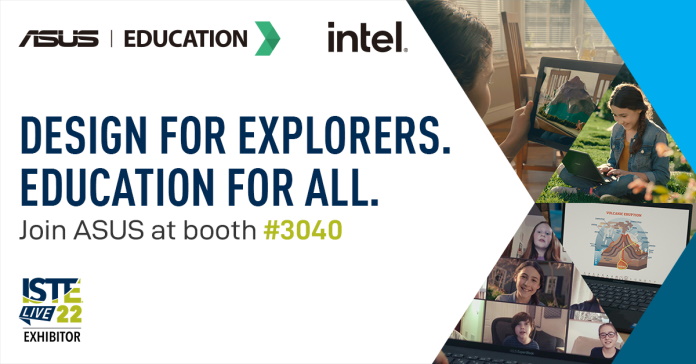 You can learn more about ASUS products for education at the annual ISTE Conference and Expo. Recognized the world around as the most comprehensive educational technology conference in the world, ISTE brings together educators and education leaders to engage in hands-on learning, exchange ideas and network with like-minded thinkers seeking to transform learning and teaching.
Between June 27th and 29th, join us in person at the Ernest N. Morial Convention Center in New Orleans to see our products in action in booth #3040. There, you can get hands-on experience with our latest products for education, participate in our ASUS Edu Passport activity for a chance to win awesome daily prizes, and meet our education experts and sales representatives in person. We will also host live sessions with industry thought leaders Monday, June 27th and Tuesday, June 28th between 2:00PM and 3:00PM CDT. Alternatively, you can register for an ISTELive 22 All-Access Pass to get access to digital resources including live-streamed sessions, expo hall demos, and recorded sessions.
Visit our event site to learn even more about our activities at ISTE 2022. Register here to receive more information about the event and our ASUS education solutions.