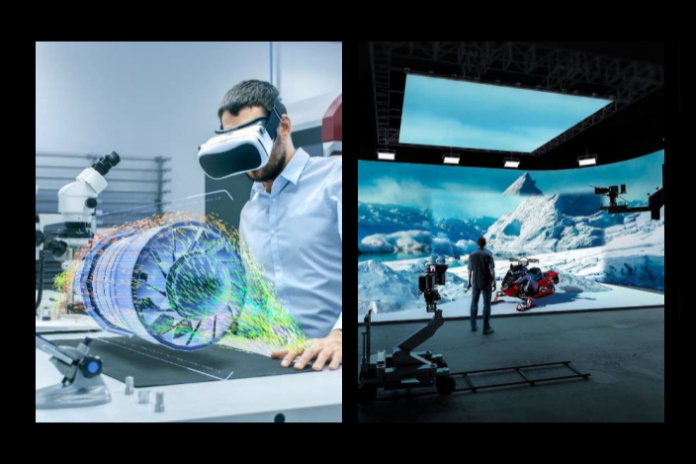 3D design is a team sport—and a very complex one at that. The engineers, designers, and artists on traditional 3D workflow teams often use incompatible tools, necessitating time-consuming import and export processes. Increasingly, these teams work remotely and interact with clients through teleconferencing. Data gravity is an increasingly difficult challenge, as well. Datasets for these projects are already massive, and they're only getting larger, making them much more difficult and expensive to store, move, and track. To address all these challenges, NVIDIA offers an interoperable and collaborative platform for 3D development: Omniverse. This exciting tool stands ready to streamline workflows in the architecture, engineering, construction, manufacturing, and entertainment industries, and ASUS solutions for Omniverse stand ready to help you or your organization move seamlessly to this new platform.
An important tool for many industries
Companies like Pixar pioneered the 3D design space to make their iconic children's movies. Today, studios all over the world create 3D media, not just for traditional movies, but for television, streaming, and video game development, as well. Media and entertainment companies are far from the only organizations who stand to benefit from Omniverse, however.
Consider the fields of architecture, engineering, manufacturing, and construction. Everything that these enterprises build in reality first gets built virtually. Sometimes, local teams construct  these digital twins for design, simulation, and visualization. But larger projects often require a global workforce collaborating remotely.

Visualization plays an increasingly important role in scientific research and healthcare, as well. Climate research, for example, leans on increasingly complex simulations of natural systems in order to glean invaluable insights about our planet and make the projections that our decision makers need.
Robotics and AI promise to revolutionize vital sectors of industry and public life—and these fields rely on 3D workflows, too. Before a robot or autonomous vehicle can be deployed into the real world, it needs extensive training in physically accurate virtual worlds. Omniverse gives the teams working in these fields and others an interoperable, cloud-native platform for collaboration.
On the cutting edge with Reallusion
Enterprises are already taking advantage of what Omniverse has to offer. 2D and 3D animation software and content developer Reallusion recognized their need for a platform that allowed them to collaborate with their global partners on 3D projects. In their workflow, they use iClone for character animations, Blender for the prop modeling, Unreal Engine for the scene, and Ominverse for the real-time rendering and updates. Importantly, Omniverse allows this workflow to be done simultaneously—they no longer have to wait for one another.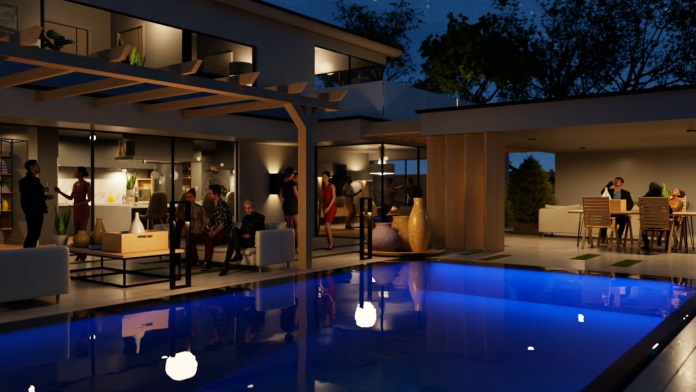 ASUS solutions for Omniverse make sure that Reallusion can operate efficiently while maintaining its standards for quality. For any project, whether a realistic character rendered video or a cartoon-like commercial project, its management always has a review process before releasing the final marketing materials. The rendering time here can be substantial—a regular PC can take up to two hours at the minimum to render a five-second arch-viz simulation video project, depending on the scene and visual quality. If there's any back and forth with file iteration, this re-rendering time can stack up quickly.
The result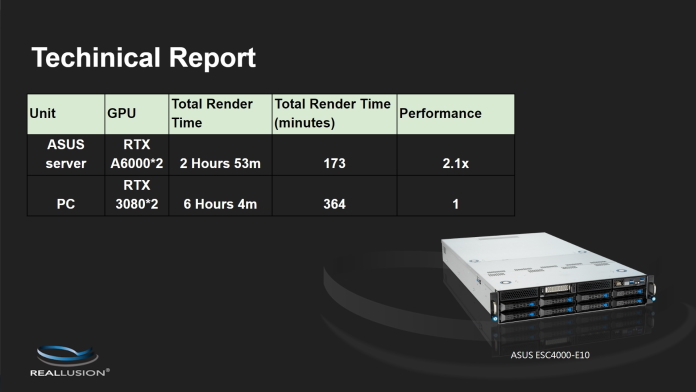 To measure the value of the ASUS servers they use, Reallusion loaded up a project on a PC equipped with a pair of NVIDIA GeForce RTX 3080 graphics cards. Total render time on this machine was 364 minutes. Using an ASUS ESC4000-E10 GPU server equipped with two NVIDIA RTX A6000 GPUs, the same render only took 173 minutes—over twice as fast. That performance allows Reallusion to be more nimble and efficient as they finalize projects for clients.
About Reallusion
Reallusion software is a platform for digital human character creativity and animation. Emphasizing character scalability for creative and industry projects, Reallusion real-time characters are populating across media and entertainment, the metaverse, digital Twin factories, architectural visualizations, and AI simulations.
ASUS GPU servers are ready for Omniverse
With over 25 years in the server business, ASUS has the experience and expertise to help enterprises take full advantage of everything Omniverse has to offer. Most design companies are small-to-medium businesses, so they need hardware solutions that not only fit their budget, but give them scalability down the road.
ASUS GPU servers offer the key features that these companies need. Dedicated airflow ensures optimal, sustained performance and a long product lifespan for the graphics cards. Our servers support a variety of graphics cards, allowing your team to select the features and level of performance that best fits your needs. And with both horizontal and vertical scalability, your ASUS GPU servers can grow alongside your business.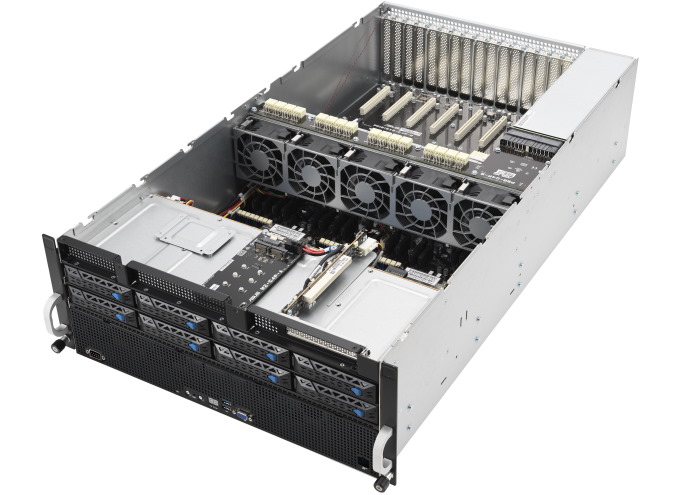 The ASUS ESC8000A-E11 is your best choice for Omniverse. This dual-socket GPU server can support up to 32 users with heavy workloads. Local users can identify their performance needs in Omniverse based on their workload or roles so that the system can utilize resources efficiently. Each unit supports up to eight dual-slot graphics cards and has eight hot-swappable drive bays that support NVMe, SAS, and SATA drives. Cybersecurity is vital, so this server has hardware root of trust support (PFR).
For a more mainstream solution, consider the ASUS ESC4000 GPU server. With its dual-socket design and 16 DIMM slots, it offers a compelling balance of processing performance and scalability for intense applications. It supports up to four dual-slot graphics cards, and has eight hard drive bays for SAS or SATA drives. The hot-swappable drive bay design allows downtime-free replacement.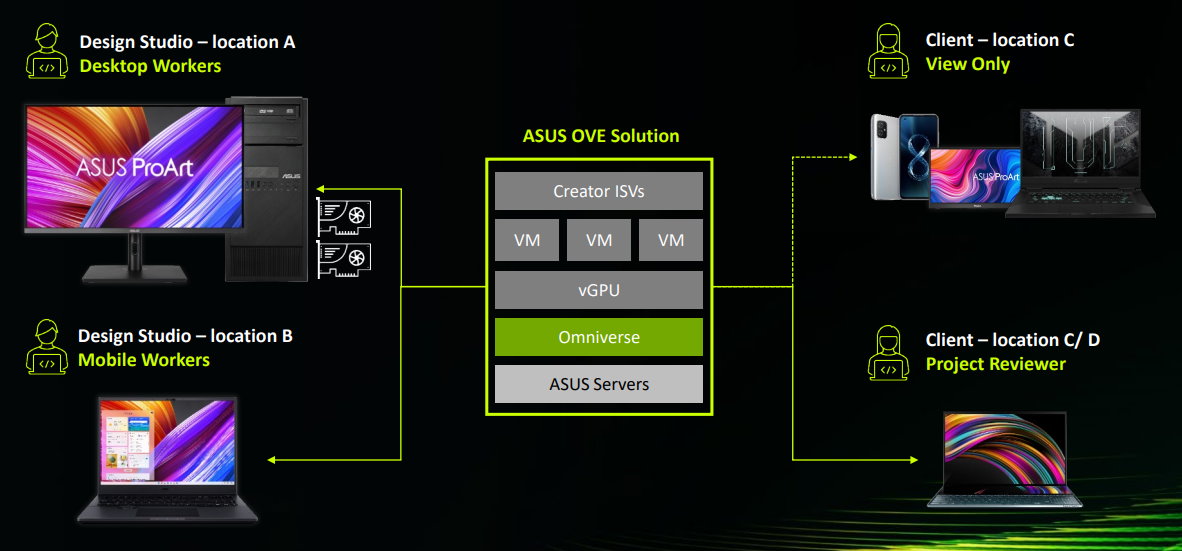 ASUS solutions for Omniverse give your organization a comprehensive package for Omniverse for Enterprise. This diverse portfolio allows us to tailor a package to be fully compatible with your design environment and needs. As our long-term partnership with NVIDIA and ISV certifications show, we're fully invested in the Omniverse ecosystem and ready to help our partners develop new segments on this exciting platform.
ProArt sets up creators and developers for success in Omniverse
It's not just global enterprises that are transitioning to Omniverse. Creators, developers, and small local teams are using Omniverse—available for free with an Individual license—to streamline their workflows and move efficiently from creating to sharing.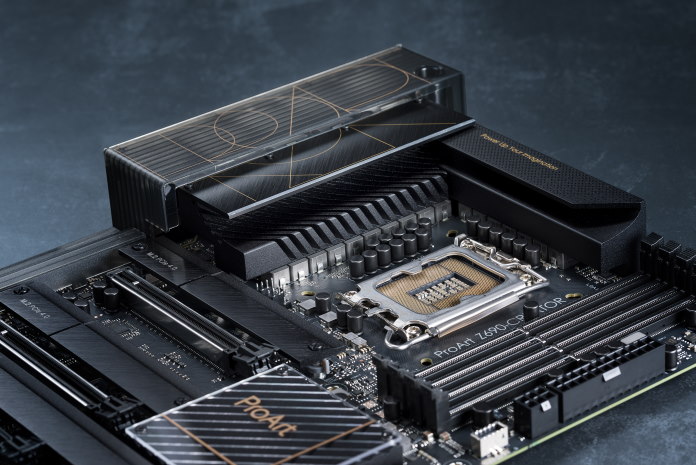 For these creators, a high-end desktop PC might be the best fit for their needs and budget. Our ProArt motherboard lineup provides the features that matter to you the most. We have options primed and ready for the latest cutting-edge CPUs from Intel and AMD and next-gen DDR5 RAM—not to mention PCIe 5.0 connectivity that's ready to support next-gen graphics cards. An exceptional selection of ports is vital for a creative workstation, so you'll find options with Thunderbolt 4 ports, front-panel USB Type-C ports with fast charging, Wi-Fi 6E, and dual-LAN designs that give you simultaneous access to fast data transfers to and from network-attached storage (NAS) and the internet. Click here to find the best ProArt motherboard for your needs.
When creators use Omniverse, they need consistently exceptional visual quality, no matter if they work in one large studio or remotely collaborate from several places. Whether you need a display with a high resolution, exceptional HDR capabilities, professional-grade color accuracy, wide color gamut coverage, or even all of the above, the award-winning ProArt display series has the perfect option to serve at the center of your Omniverse workflow.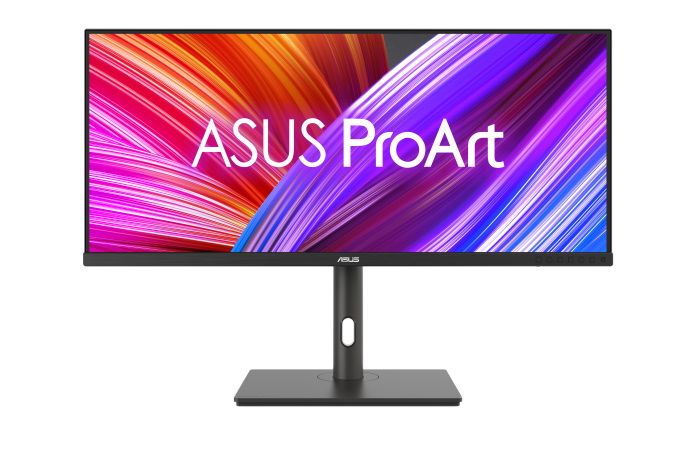 The ProArt Display PA348CGV caters specifically to the needs of creators working with 3D animation. Its ultrawide 34-inch panel gives you the room for the controls and menus of your favorite apps and space to see your projects in full detail—all in one display. The 120Hz refresh rate gives you smoother fast-rendering and every detail of your project in motion. And you get all this without compromising on accurate, vivid colors. The PA348CGV is factory calibrated and Calman Verified to achieve an average ΔE value of less than 2, and it offers 98% coverage of DCI-P3 color gamut, as well.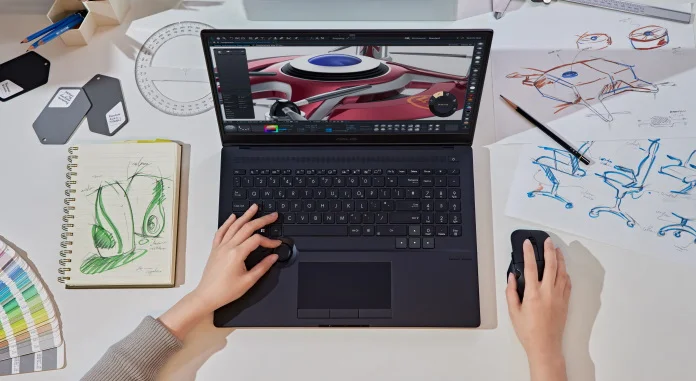 The ProArt lineup also empowers creators who need their work to travel with them. The ProArt Studiobook 16 OLED laptop combines the innovative ASUS Dial, high-end hardware, robust cooling solutions, and an OLED display with exceptional color accuracy. Its NVIDIA GeForce RTX 3080 Ti Laptop GPU delivers potent performance in GPU-accelerated apps. For those who need professional-level 3D graphics processing power, the ProArt Studiobook Pro 16 OLED boasts an NVIDIA RTX A5000 GPU. This GPU has the throughput to help you quickly turn around projects, the enterprise drivers you need for worry-free performance, and ISV certifications that give you the confidence to work in high-stakes environments.
Get started with ASUS solutions for Omniverse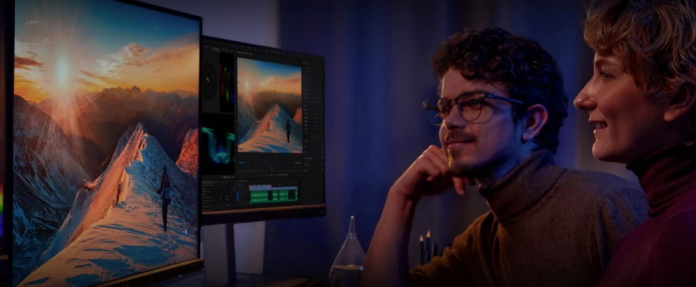 Whether you're setting up a GPU server for Omniverse for Enterprise or building a home workstation, the diverse array of ASUS solutions for Omniverse let you get the right mix of performance and scalability for your design environment. But it's not just about the diversity of our products. Through our close partnership with NVIDIA, we're able to support you every step of the way with our certified compatibility and proven reliability. Reach out to our sales staff today to learn more about ASUS and Omniverse can move your enterprise forward.
Learn more at SIGGRAPH 2022
Join us at SIGGRAPH 2022 for a virtual and digital event where we'll share the latest and most innovative ASUS hardware solutions. SIGGRAPH is an annual conference on computer graphics for enthusiasts and professionals who love 3D design, animation, and visual effects. This year for SIGGRAPH 2022, ASUS is partnering up with software developer Reallusion, VFX company MoonShine, and the NVIDIA Omniverse platform to showcase the most comprehensive virtual production solutions at the event.
Meet us in person at booth #933 at SIGGRAPH between August 9 and August 11 at the Vancouver Convention Centre, Canada.