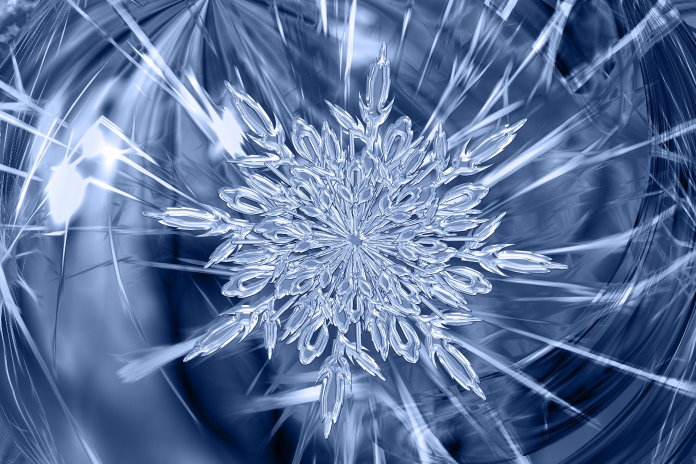 ASUS participates in several affiliate programs, including the Amazon Associates program, and may receive affiliate fees for qualifying purchases.
Creators of all kinds need hardware that's ready to do more. Whether you're shopping for a photographer or an architect, a 3D animator or a filmmaker, you have an opportunity this holiday season to help them take their work to the next level. We have what they need with our full lineup of creator-focused tech. With a powerful laptop or portable display, you can help them stay productive on the move, and our selection of PC components will give them the perfect foundation for their next creative workstation.
These devices represent just one part of our wide-ranging product portfolio. If you need help checking off other boxes on your holiday shopping list, click the links below for even more ideas.
Powerful, versatile laptops
Many creators simply can't afford to be tied down to an office desk. Whether you're shopping for a musician or photographer who finds inspiration in unexpected places, a filmmaker who needs a high-performance PC on their set, or a 3D animator who needs their projects to travel, you're looking for a highly portable laptop that expands their creative potential.
Zenbook Pro 16X OLED laptop
The Zenbook Pro 16X OLED wraps up professional-level processing power in an enviously thin and elegant laptop. Equipped with an Intel Core i9-12900H CPU and an NVIDIA GeForce RTX 3060 Laptop GPU, this notebook delivers the snappy, responsive performance and sheer multithreaded processing muscle that creators need.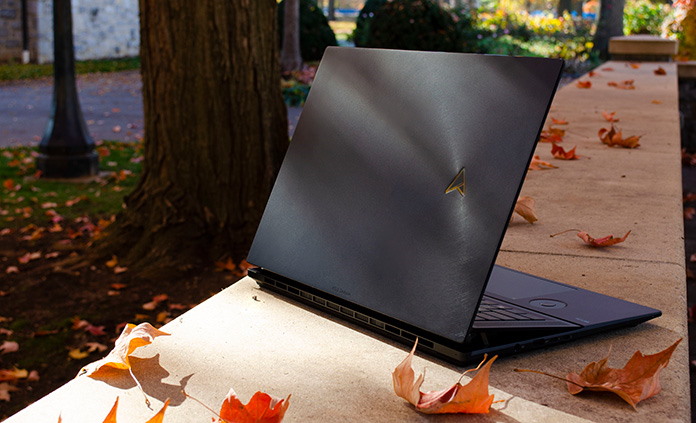 Our innovative AAS Ultra cooling system unlocks the potential of these chips. As the lid of the Zenbook Pro 16X OLED opens, a cunning hinge raises the back of the keyboard deck up to 7°, opening a spacious intake for cooling air. The rising keyboard offers benefits above and beyond cooling the powerful CPU and GPU. This arrangement will keep the laptop's all-metal chassis cooler underneath your loved one's fingers, and its angled position is more ergonomic for a more comfortable typing experience. Finally, the tilting mechanism directs the sound from the dual tweeters to create a better stereo image for enhanced listening pleasure.
The Zenbook Pro 16X OLED's stunning display empowers creative work of all kinds. Its 16:10 aspect ratio and 4K resolution across its spacious 16-inch diagonal lets creators see more of their work at a glance without scrolling. Creators working on color-sensitive projects will appreciate its 100% coverage of the cinema-grade DCI-P3 color gamut, and its VESA DisplayHDR True Black 500 certification attests to its ability to reproduce perfect, inky blacks and realistic highlights. With its ultra-low 0.2ms response time, fast action scenes and quickly-moving animation appear super-smooth.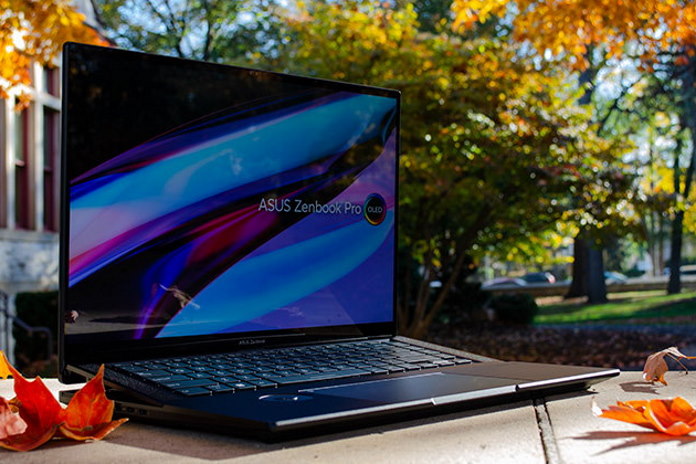 Innovative design elements make every moment with the Zenbook Pro 16X OLED effortless. The updated ASUS Dial, an intuitive physical rotary controller that gives instant and precise fingertip control over parameters in leading creative apps. The extra-large touchpad features haptic feedback technology to give you a consistent, premium experience. Per-key White-RGB keyboard backlighting, augmented by light bars on either side of the keyboard, enables a variety of smart interactive effects. Finally, a pair of Thunderbolt 4 USB Type-C ports stand ready to connect an external display, recharge the laptop or your other devices, connect high-speed peripherals, and more.
Zenbook Pro 14 Duo OLED laptop
Creative professionals of all stripes know the multitasking power of a secondary display. The Zenbook Pro 14 Duo OLED laptop will empower your loved one to do more with its integrated ScreenPad Plus secondary display.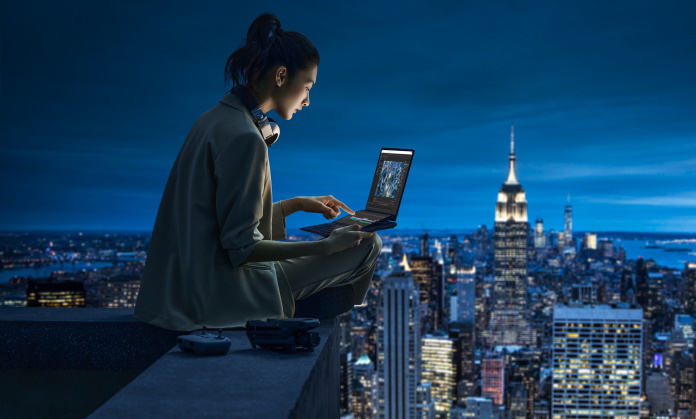 Its pair of dazzling displays uniquely equips the Zenbook Pro 14 Duo OLED for creative multitasking. The primary display offers a 2.8K resolution for detailed visuals, and its 16:10 aspect ratio provides more vertical space for creative work. This OLED panel is Pantone Validated for color accuracy, and offers 100% coverage of the DCI-P3 color gamut. And its speedy 120Hz refresh rate delivers smooth animation for rendering work and fast-paced video.
The next-generation ScreenPad Plus in Zenbook Pro 14 Duo OLED is a 12.7-inch, full-width secondary touchscreen with support for the latest high-precision styluses, such as ASUS Pen 2.0. The completely redesigned AAS Ultra tilt mechanism raises up the rear of ScreenPad Plus by up to 20mm, tilting it by 12° when the laptop is opened. This positions ScreenPad Plus at the ideal viewing angle for easy cross-screen operation with the main touchscreen, and it also enhances cooling by allowing 38% more airflow than the previous generation.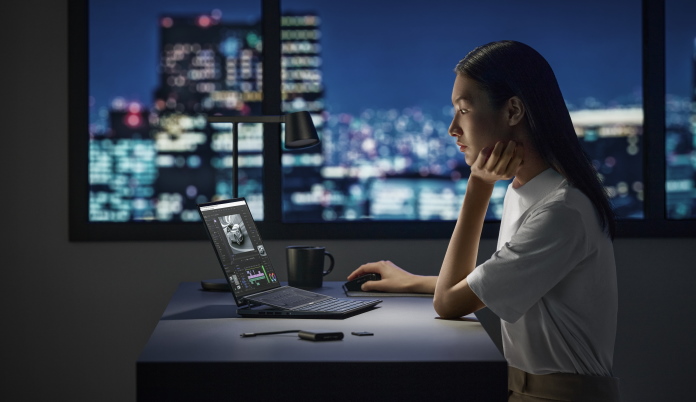 Exceptional components enable the Zenbook Pro 14 Duo OLED to deliver responsive performance in demanding creative apps no matter where inspiration strikes. The high-performance Intel Core i7-12700H makes light work of the CPU-heavy tasks common in creative projects, and the NVIDIA GeForce RTX 3050 Ti Laptop GPU stands ready for GPU-accelerated apps and tasks.
ROG Zephyrus Duo 16 laptop
For anyone whose interests span the worlds of content creation and gaming, there's truly no gaming laptop in the world that competes with the ROG Zephyrus Duo 16. The ROG ScreenPad Plus display adds a secondary screen for extra productivity real estate, game-streaming tools, or controls for creative apps. As the secondary screen rises up and meets the primary display with its 4-directional hinge, it also opens up wide AAS Plus 2.0 air intakes to deliver cooling air to the powerful AMD Ryzen 9 6980HX CPU and NVIDIA GeForce RTX 3080 Ti Laptop GPU, ensuring that these premium components can run all-out in demanding applications.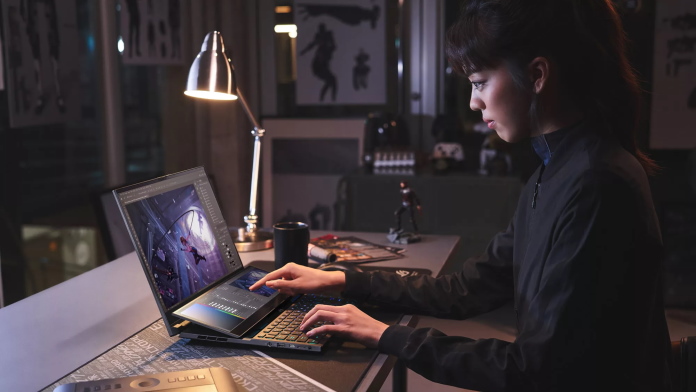 But it doesn't stop there. This model of the Zephyrus Duo 16 offers the ROG Nebula HDR display, which boasts all the premium tech built into our Nebula displays but with a Mini LED backlight boasting 512 individual dimming zones, able to reach 1100 nits of peak brightness for stunning levels of contrast and color. This QHD, 16:10 panel boasts a refresh rate of 165Hz and is VESA DisplayHDR 1000 certified for the ultimate HDR gaming and movie-watching experience. This is a display you have to see to believe.
ROG Flow Z13 gaming laptop
If you're shopping for a creator who finds inspiration in unexpected places, the lightweight and versatile ROG Flow Z13 laptop might be exactly what they need. Since it's the size of a tablet, it travels anywhere, and its touchscreen with stylus support makes it easy to sketch out new ideas.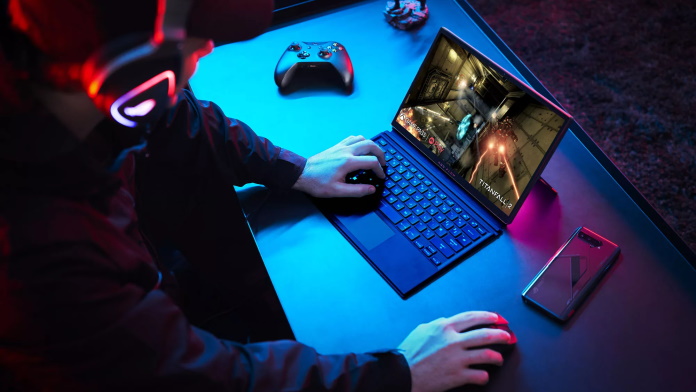 Unlike your average tablet, though, the ROG Flow Z13 provides the performance that creators need. Thanks to Windows 11, a 14-core Intel Core i9-12900H processor, an NVIDIA GeForce RTX 3050 Ti Laptop GPU, and 5200MHz LPDDR5 memory, this tablet packs plenty of horsepower into an ultra thin-and-light chassis. These specs are further bolstered by 1TB of PCIe SSD storage, a MUX Switch, custom vapor chamber cooling, and fast charging via USB Type-C.
Back in their home studio, your loved one can kick things into even higher gear with the ROG XG Mobile. This external GPU and docking station allows the Z13 to harness the top-end graphics power of a GeForce RTX 3080 Ti Laptop GPU. With one click, your gift recipient can connect to all their desktop peripherals and displays, recharge their laptop, and supercharge their graphics performance.
Displays ready for creative work and much more
Creators were among the first to recognize the potential of OLED displays. The list of all the advantages that OLED tech brings to the table reads like the checklist of a creator's dreams: perfect contrast, vibrant colors, minimized motion blur, professional-grade accuracy, and much more. With one of our OLED displays, you can equip the creator on your holiday shopping list to do so much more.
ProArt Display OLED PA32DC monitor
For creatives working with HDR content, there's no better monitor than the ProArt Display OLED PA32DC. This display's vivid OLED panel is finely tuned to meet the needs of creators working with HDR content. Unlike other OLED panels that use an RGBW or PenTile sub-pixel array, the PA32DC uses an RGB sub-pixel arrangement for the crispest on-screen images and text. Its generous 31.5" diagonal gives you a close and careful look at your work, while its 3840×2160 resolution brings out all the fine detail in your creations. Its ultrafast 0.1ms response time makes it a natural fit for mastering fast-moving HDR content, as each pixel can rapidly transition to a new color without visible blur.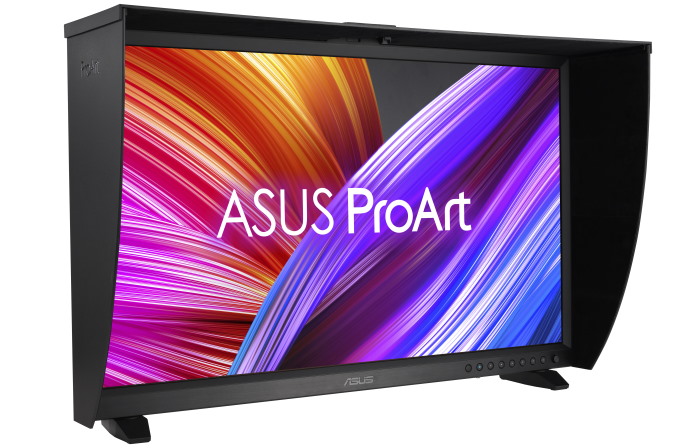 These characteristics by themselves would make the PA32DC a dream monitor for many professional artists, but that's just the beginning of what it offers. It offers true 10-bit color, and it covers 99% of the cinema-grade DCI-P3 color gamut. ASUS Smart HDR technology ensures compatibility with existing streaming video services and a growing list of HDR-enabled games. To maintain professional-level accuracy over the long term, the PA32DC has a built-in Auto Calibration tool, making it the world's first OLED display with such a feature.
ZenScreen OLED MQ16AH portable display
Here's an easy and fun way to augment a loved one's on-the-go multitasking power: the ZenScreen OLED MQ16AH. This professional-grade monitor is slim enough to fit into a satchel or laptop bag, yet it's fully equipped to deliver all the advantages of an OLED display. It delivers 100% of the cinema-grade DCI-P3 color gamut, and it's calibrated to achieve a ΔE of less than 2, letting your friend or family member create with confidence.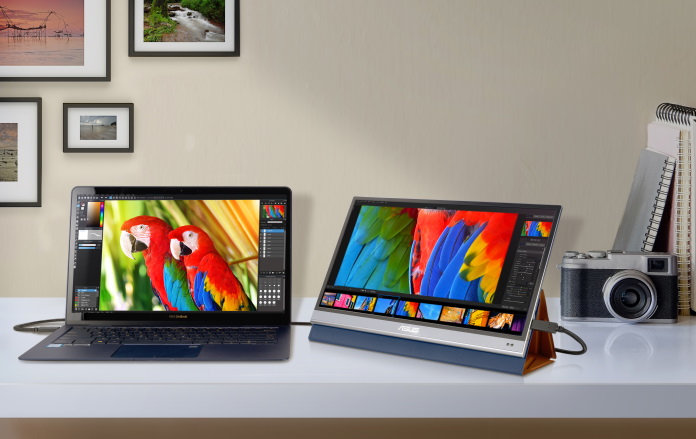 The display's thin-and-light design and versatile Smart Case make it an easy traveling companion. The ASUS Smart Case not only protects the display but also serves as an always-ready adjustable stand. For even more flexibility, the ZenScreen OLED has a threaded socket that's compatible with any standard tripod. To save power and reduce the possibility of image retention, an embedded Proximity Sensor dims the display when it's not in use.
The ZenScreen MQ16AH offers an impressive set of specs for creators—but it's ready for fun, too. Whether your loved one is browsing photographs, catching up on the latest episode of their favorite show, or just browsing the web, its OLED panel gives them more lifelike color and practically perfect contrast.
ProArt Display PA148CTV portable monitor
If the creator on your holiday shopping list focuses on photography, video editing, or graphic design, set them up with the ProArt Display PA148CTV. This slim portable monitor offers professional-grade color gamut coverage, and it's Calman Verified and factory pre-calibrated to achieve an average ΔE of less than 2 for exceptional color accuracy. With its embedded tripod socket, it's ready to serve as a go-anywhere reference monitor right out of the box.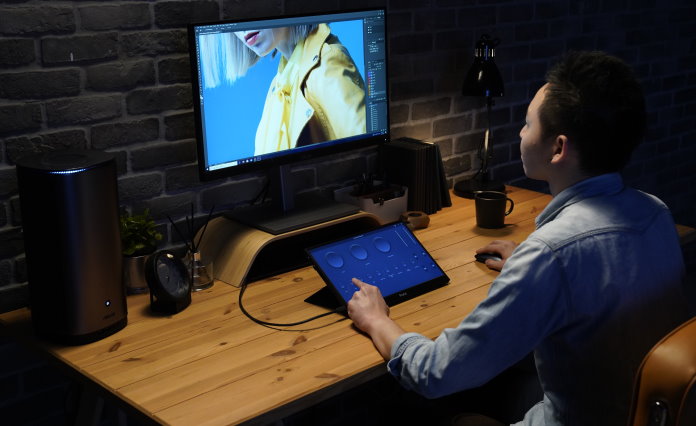 Yet there's so much more that the PA148CTV can do. 10-point touch support will let your loved one interact fluidly and naturally with creative apps. The built-in ASUS Dial provides quick access to customized shortcuts for compatible Adobe apps, letting users easily zoom in and out, adjust brush sizes, and much more. And our virtual Control Panel app will let your friend or family member customize their own intuitive interface for working inside Adobe Photoshop, Lightroom Classic, Premiere Pro, and After Effects. The PA148CTV is a versatile control device and professional-grade portable display—all in one device.
ROG Swift OLED PG42UQ gaming monitor
Like many of us, creators often enjoy kicking back in the evening with their favorite game. Creators often target different features than gamers do, but it is possible to find one display that offers the best of both worlds. The ROG Swift OLED PG42UQ combines all the crucial specs that build immersive gaming experiences with key specs that creators need for their work.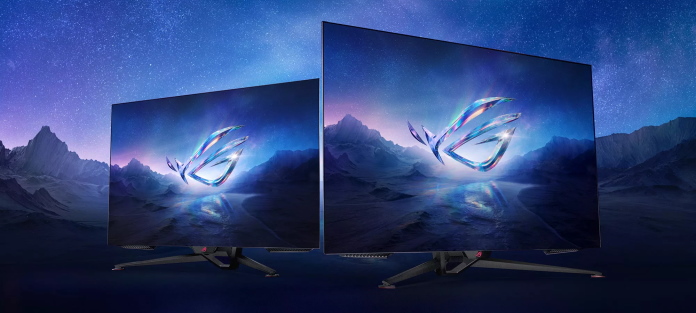 Large enough to be fully immersive, yet not too large for desktop use, the PG42UQ offers a sweeping 41.5-inch OLED panel that provides a breathtaking vista. Its 4K resolution brings out fine detail in game textures and keeps text and images crisp during regular use. For fewer distractions, it features an anti-glare micro-texture coating on the panel surface. And because it's an OLED panel, the PG42UQ is capable of producing exceptionally inky blacks and dazzling highlights, making it primed and ready for great HDR experiences. On top of all that, it's calibrated to achieve a ΔE of less than 2 so that your loved one can work with pixel-perfect accuracy.
Gaming-first features set the ROG Swift OLED PG42UQ apart from run-of-the-mill OLED TVs. For fluid animation, it boasts a refresh rate that can be overclocked up to 138Hz. It's G-SYNC compatible for responsive, tear-free gaming, and it offers a full complement of ports, including HDMI 2.1 and DisplayPort 1.4 options. For long-term performance, we built a custom heatsink for the PG42UQ that lowers its operating temperatures by up to 8%. This allows users to enjoy a brighter image for longer without auto-dimming.
Motherboards primed and ready for a creative workstation
This fall, new CPUs launched from both Intel and AMD. Odds are, the creator on your holiday shopping list has been mulling over just how much they'd stand to gain from a new build centered on one of these new processors. We have the motherboard your loved one needs to extract the full potential of their new CPU.
ProArt X670E-Creator WiFi
The ProArt X670E-Creator WiFi ascends to next-gen with an exceptional feature set. It starts with a sophisticated style rooted in clean lines, graceful angles, and precise symmetry. This motherboard accelerates creative work with support for high-bandwidth DDR5 RAM. With PCIe 5.0 connectivity, the ProArt X670E-Creator WiFi will give your loved one access to the fastest next-gen SSDs and GPUs. This motherboard boasts not just one, but two PCIe 5.0 x16 slots. Since many creative pursuits take full advantage of the fastest transfer speeds that they can get, we equipped this board with four onboard M.2 slots, two of which are wired for PCIe 5.0.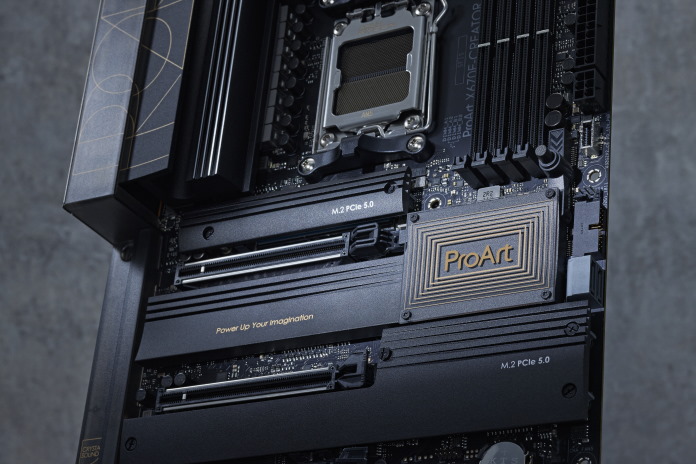 You'll also find a comprehensive selection of high-speed ports ready to connect a full creative workstation. There's a pair of versatile USB4® ports on the rear I/O panel, and there's a front panel USB 3.2 Gen 2×2 connector with support for Quick Charge 4+ for flexible front-panel connectivity.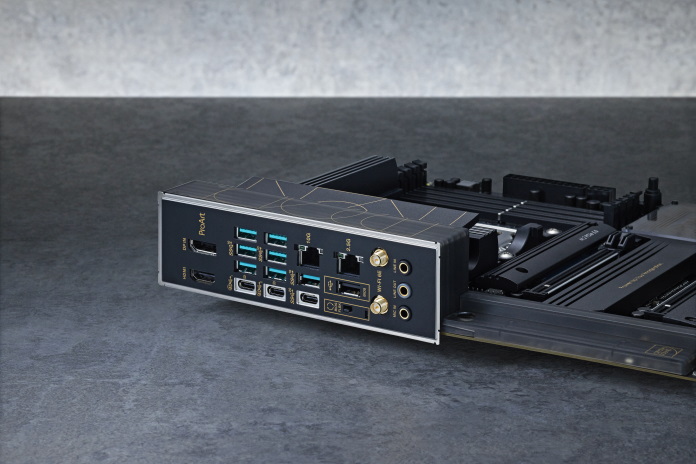 Exceptional networking options round out this board's feature set. With a compatible router, a WiFi 6E radio lets you tap the freshly-opened 6GHz spectrum in select regions for truly unhindered wireless connections. Intel 2.5G Ethernet provides rock-solid and reliable wired networking, while a Marvell AQtion 10G Ethernet port opens up even more options, such as connecting to blazing-fast network-attached storage.
The ProArt X670E-Creator WiFi is just one of our offerings for the AM5 platform—click here to browse even more options.
ROG Maximus Z690 Extreme
The ROG Maximus Z690 Extreme motherboard makes a compelling case for itself as the foundation for a creative build based on Intel CPUs. This EATX motherboard offers a dream team of features, and it's as easy on the eyes as it is to set up.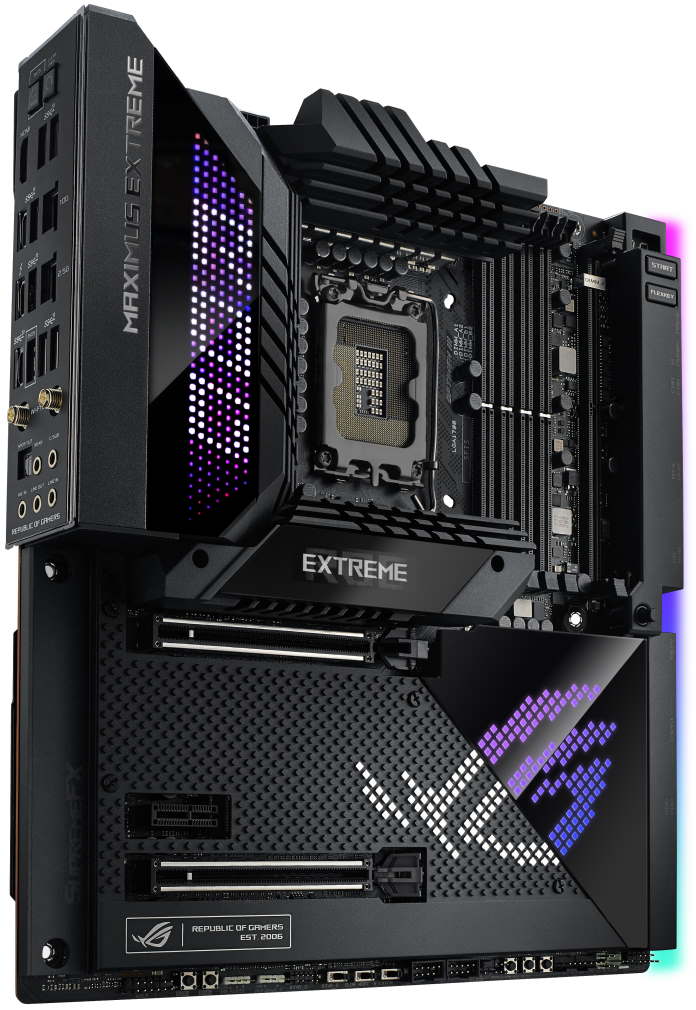 Dark hues dominate the surface of the ROG Maximus Z690 Extreme, drawing your eyes to the customizable AniMe MatrixTM display on the I/O shield. This array of 222 individual LEDs displays customized images and animations, and it can be configured to react in real-time to audio playback.
High-end features make every moment with the ROG Maximus Z690 Extreme a luxury. This motherboard features a massive 24+1 VRM topology with 105A integrated power stages ready to help your loved one take advantage of the full overclocking potential of Intel 12th Gen CPUs. It offers both an Intel-powered 2.5Gb Ethernet port and a Marvell 10Gb Ethernet connector to provide access to the fastest local network transfers.
Audiophiles will revel in the crystal clarity of music, gaming, and entertainment with the Realtek ALC 4082 codec and ESS SABRE 9018Q2C DAC. To feed a pristine signal to high-end headsets, we include the ROG Clavis USB-C external DAC with the ROG Maximus Z690 Extreme. With its four ESS converters each dedicated to discrete ranges of the audible spectrum, the Clavis produces an enviably high-fidelity output.
Excellent networking for seamless collaboration
Creators rely on their wireless network just as much as the rest of us—if not more. If you're shopping for a friend or family member that suffers from WiFi dead zones and unreliable internet connections, a home network upgrade might be the present that they need the most this year. The ZenWiFi AX (XT8) will deliver the plentiful bandwidth they need in an easy-to-deploy mesh WiFi system.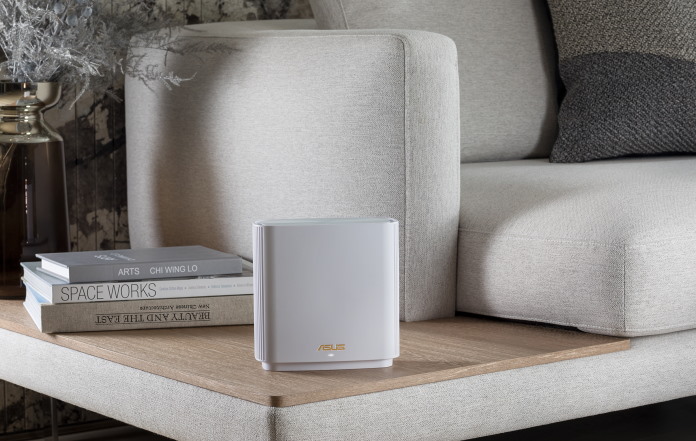 This award-winning tri-band system is perfect for a home of demanding creatives. Since it has two separate 5GHz bands, the ZenWiFi AX offers 6600Mbps of aggregate bandwidth, and it can use one 5GHz band for a dedicated backhaul and the other to communicate with devices. For even more reliable performance, your gift recipients can use a wired Ethernet backhaul as well. The ZenWiFi AX is one of the best mesh WiFi routers for larger homes, as well. Just two of these units provide whole-home coverage for 6+ rooms.
For even faster home internet, consider the ZenWiFi XT9. This mesh WiFi system takes the feature set of the XT8 and adds access to the recently opened 5.9GHz band for premier speeds in this coveted slice of the spectrum.*
Happy holidays from ASUS and ROG
This is just a small selection of the hardware that we offer to creators, but we hope that this list was able to help you find the right gifts for the loved ones in your life. Looking for some gift ideas from our other product lines? Follow the links below to explore all the exciting tech that we have to offer this holiday season.
*In select regions only.