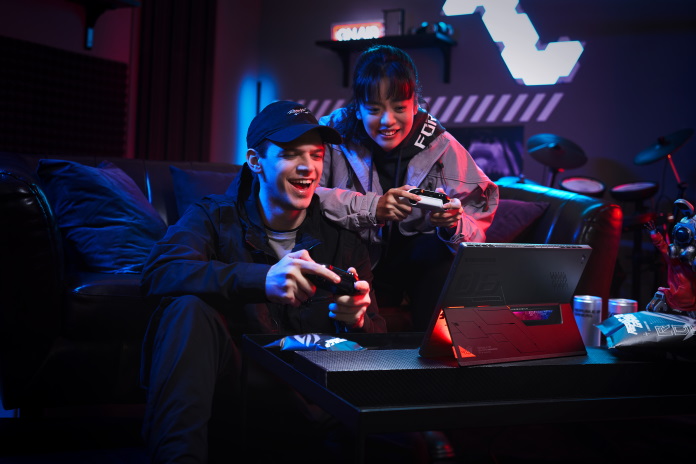 ASUS participates in several affiliate programs, including the Amazon Associates program, and may receive affiliate fees for qualifying purchases.
Odds are, there's someone on your holiday shopping list who loves to game. Many people turn to the latest games to hang out with their friends, blow off a little steam after work, and immerse themselves into unforgettable digital worlds. To help you find the best present for your loved one, we've assembled this holiday gift guide to show off some of our most exciting gaming products. Laptops, monitors, keyboards, routers—you'll find them all here, and much more.
Gaming devices are just one part of our wide-ranging product portfolio. If you need help checking off other boxes on your holiday shopping list, click the links below for even more ideas.
Exclusive gifts with exceptional style
Let's start this list with some gifts for that person on your list who seems like they already have it all. Maybe there's already a powerful PC on their desk or a gaming-ready laptop in their backpack. Don't fret—these can't-miss gifts will upgrade just about any gaming setup with sleek style.
ROG Delta S Animate headset and ROG Strix Flare II Animate keyboard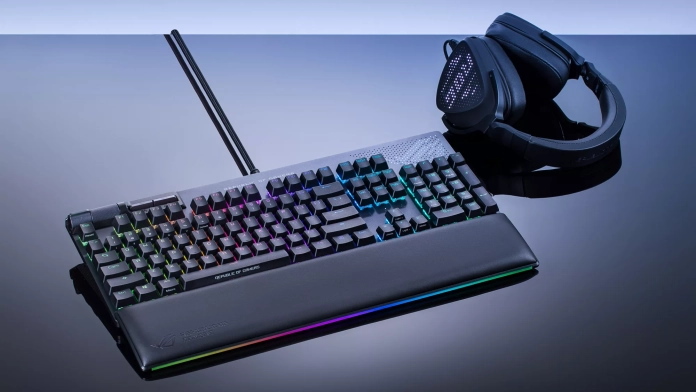 The ROG Delta S Animate gaming headset and ROG Strix Flare II Animate gaming keyboard offer unparalleled personalization. With their built-in AniMe Matrix displays, they'll let your loved one customize their gear like never before with eye-catching animations. The ROG Strix Flare II Animate complements its one-of-a-kind display with impeccable key switches—your choice of ROG NX or Cherry MX mechanical switches, topped off with ROG PBT doubleshot keycaps. The ROG Delta S Animate pairs its bold style and customizable AniMe Matrix display on the ear cups with a hi-fi ESS 9281 Quad DAC, an AI Noise-Canceling Mic, and ASUS Essence drivers.
ROG x Spalding Basketball
For the gamers who are just as likely to join a pickup game of basketball with their friends as they are to squad up for a few rounds of Valorant, may we introduce you to the ROG x Spalding Basketball.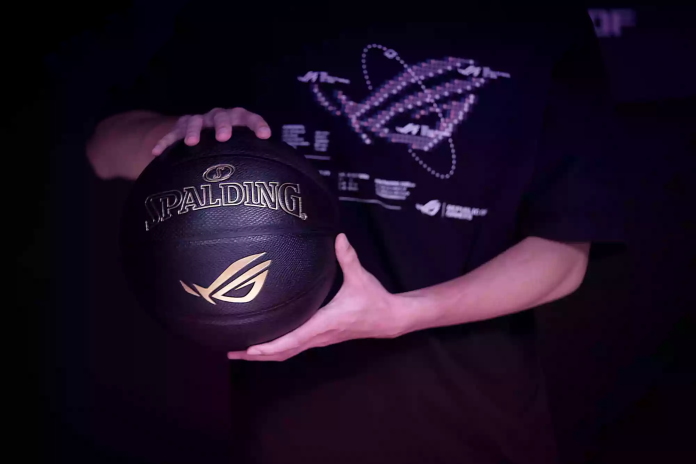 The snakeskin-embossed surface of the ROG x Spalding Basketball gives it a look of cool sophistication. Pixelated ROG markings show respect for the history of gaming, while our "Fearless Eye" logo asserts the indomitable spirit of ROG hardware. Constructed of a hand-bonded synthetic composite, this basketball is built from the ground up with materials that meet exacting ROG standards. An included ROG drawstring bag protects the ball when it's taken to and from the court, and its custom stand holds it securely when it's back on display back home.
| | Availability (U.S.) |
| --- | --- |
| ROG x Spalding Basketball | ASUS |
Great gifts for any gamer
Some gamers go all-in on one genre. Maybe they're passionate competitors in online first-person shooters. Perhaps they're always exploring new worlds and stories in single-player adventures. Other gamers love it all, and are just as likely to hop on Discord to pull some friends into a few rounds of squad-based multiplayer as they are to head to the digital track in the latest racing game. These sure-fire gifts cater to gamers with wide-ranging tastes—no matter what title has currently grabbed their attention, these laptops and peripherals will give them a great experience.
ROG Zephyrus G15 gaming laptop
For the full PC gaming experience in one package, it's easy to recommend the ROG Zephyrus G15. This laptop offers a 15" screen with top-tier hardware inside for gaming, content creation, and any other task you can imagine. An AMD Ryzen 9 5900HS CPU and NVIDIA GeForce RTX 3080 Laptop GPU power this lightweight monster, kept cool by Thermal Grizzly liquid metal and ROG's suite of Intelligent Cooling technologies.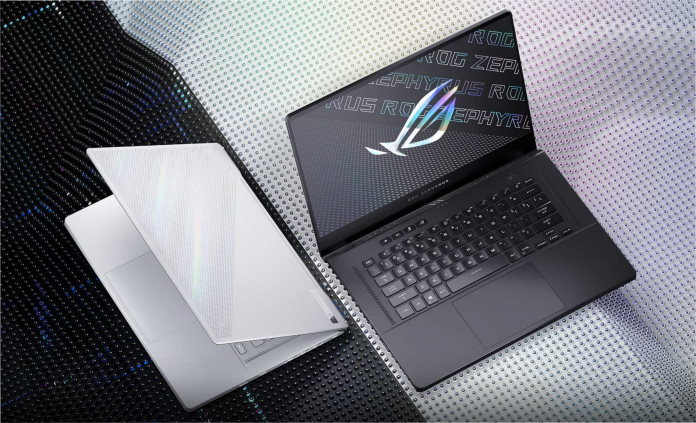 Its QHD 165Hz refresh rate monitor provides the best mix of high resolution and framerate alike, while Adaptive-Sync, Dolby Vision, and a wide color gamut keep images stunning and tear-free. Six speakers powered by Dolby Atmos create an enveloping soundstage. Your loved one can tap into portable power on the go with USB 3.2 Gen 2 Type-C ports with Power Delivery 3.0, and enjoy more reliable connectivity than ever with Wi-Fi 6E on this versatile powerhouse.
ROG Zephyrus M16 gaming laptop
The ROG Zephyrus M16 combines undeniable gaming prowess with professional style and the essential features for content creation. All that makes it an ideal gift for anyone on your list whose computing needs span the world of gaming, work, and artistic expression. The ROG Zephyrus M16 goes everywhere and does everything, with Windows 11 Pro, a 12th Gen Intel Core i9-12900H processor, and an NVIDIA GeForce RTX 3080 Ti Laptop GPU with a MUX Switch. Up to 2TB of PCIe Gen 4 SSD storage ensures that your loved one will have enough room for their games and content creation projects alike, with room for expansion—and up to 48GB of dual-channel DDR5 4800MHz memory ensures their visions are never bogged down.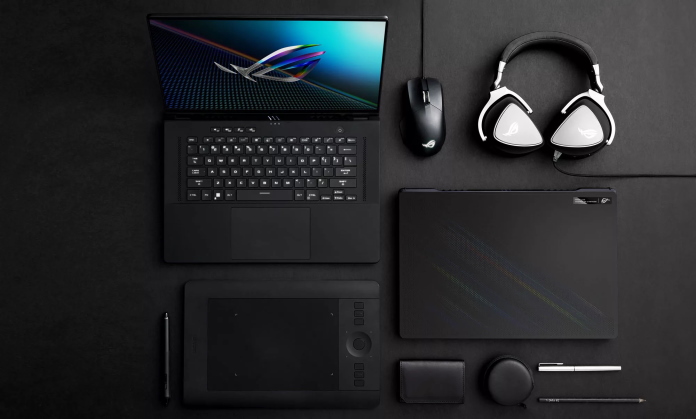 A gorgeous 16-inch display fits into an ultra-slim 15" chassis with an insane 94% screen-to-body ratio, sporting a dot matrix design on the lid with hints of prismatic film for a professional but unique look. A 16:10 screen at up to QHD resolution and 165Hz grants immersion for games and plenty of real estate for work, with Pantone validated colors that reach 100% of the DCI-P3 color space, perfect for content creation.
ROG Strix Scope RX keyboard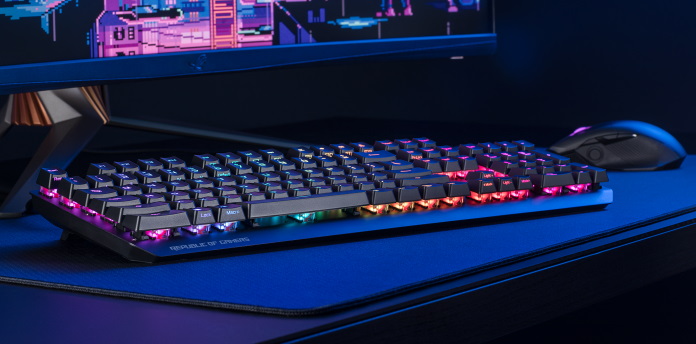 ROG RX Optical Mechanical key switches offer a typing feel that just can't be beat. Their hollow-stem design offers fast, wobble-free actuation for an exceptional typing feel and lightning-quick command of the battlefield. You'll find these exclusive switches in the ROG Strix Scope RX, a full-size gaming keyboard that combines a premium typing experience with dazzling per-key RGB LED illumination.
ROG Swift OLED PG42UQ gaming monitor
The excellent color reproduction, low motion blur, and outstanding contrast of OLED panels make them a great choice for gaming. But you won't get the full suite of gaming features you crave from any old OLED TV. To give someone on your holiday shopping list the best experience in a wide variety of games, the ROG Swift OLED PG42UQ is the superior choice.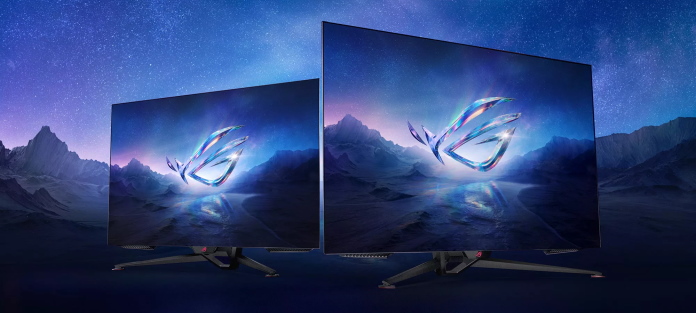 Large enough to be fully immersive, yet not too large for desktop use, the PG42UQ offers a sweeping 41.5-inch OLED panel that provides a breathtaking vista into gaming worlds. Its 4K resolution brings out fine detail in game textures and keeps text and images crisp during regular use. For fewer distractions during gaming sessions, it features an anti-glare micro-texture coating on the panel surface. And because it's an OLED panel, the PG42UQ is capable of producing exceptionally inky blacks and dazzling highlights, making it primed and ready for great HDR experiences.
Gaming-first features set the ROG Swift OLED PG42UQ apart from run-of-the-mill OLED TVs. For fluid animation, it boasts a refresh rate that can be overclocked up to 138Hz. It's G-SYNC compatible for responsive, tear-free gaming, and it offers a full complement of ports, including HDMI 2.1 and DisplayPort 1.4 options. For long-term performance, we built a custom heatsink for the PG42UQ that lowers its operating temperatures by up to 8%. This allows users to enjoy a brighter image for longer without auto-dimming.
ROG Rapture GT-AX6000 and ROG Rapture GT6 wireless routers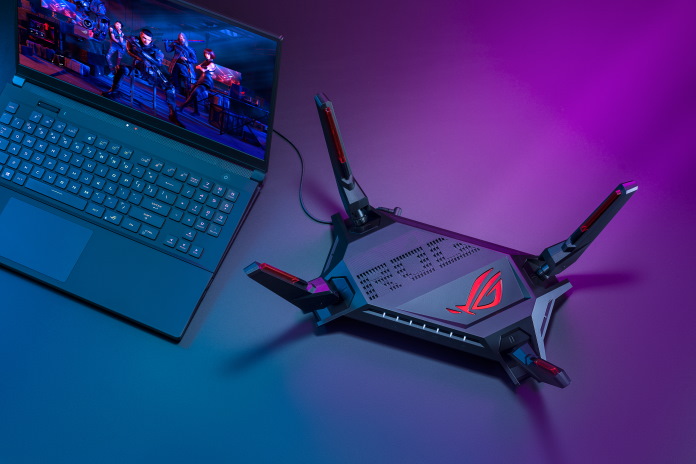 Reliable, high-bandwidth wireless networking is a must for any gamer's setup. Set up someone on your shopping list for frustration-free connectivity with the ROG Rapture GT-AX6000. This dual-band gaming router is set up to relieve network congestion with its WiFi 6 technologies, while our exclusive ASUS RangeBoost Plus tech improves signal range and overall coverage. Triple-level game acceleration boosts game traffic every step of the way from device to game server.
For larger homes with multiple stories, a mesh WiFi system is often a better choice than a traditional router. If you're shopping for someone who loves to game on the back patio, in a basement family room, or an upstairs gaming den, consider the ROG Rapture GT6. This mesh WiFi system uses two separate units to deliver reliable, high-bandwidth networking to every corner of a house. It offers sizzling gaming style, too—pick between Black or Moonlight White units.
The best gifts for esports gamers
Some of the biggest names in PC gaming right now belong to esports games. Even if you haven't joined in the action yourself, you very well may have heard of Fortnite, Call of Duty, Apex Legends, Valorant, League of Legends, or many others. To set your loved one on a path to victory, give their gear a crucial assist with specialized hardware from ROG and TUF Gaming.
ROG Strix SCAR 15, ROG Strix SCAR 17, and ROG Strix SCAR 17 SE gaming laptops
For the best possible performance for competitive, high-refresh gaming, look no further than the ROG Strix SCAR series. The ROG Strix SCAR is designed with esports pros in mind, with up to a 12th Gen Intel Core i9-12900H processor and an NVIDIA GeForce RTX 3080 Ti Laptop GPU.  Headlined by Thermal Grizzly's Conductonaut Extreme liquid metal, our ROG Intelligent Cooling solution keeps temperatures low so that your loved one can enjoy sustained gaming performance.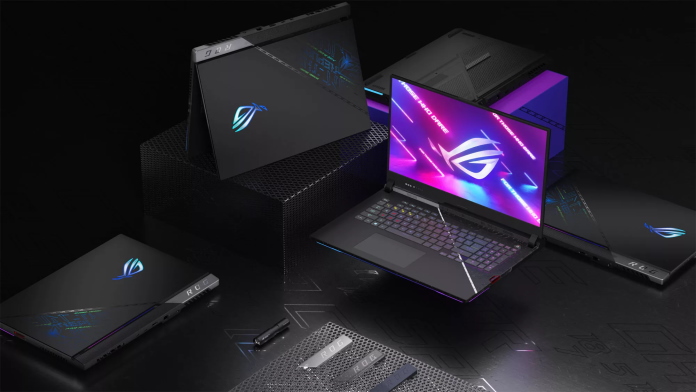 Competitive hardware deserves a competitive display, which is why the Strix SCAR 15 and SCAR 17 both offer ultra high refresh rate panels—300Hz on the 15-inch model and 360Hz on the 17-inch model. Both displays come with Dolby Vision HDR and Adaptive-Sync for stunning picture quality without tearing or stuttering. A 3ms response time assures clear movement so gamers can make pixel-perfect decisions in frenetic firefights.
For ultimate performance, consider the ROG Strix SCAR 17 SE. This gaming laptop features truly unleashed performance with its Intel Core i9-12950HX CPU. This flagship 65W CPU can boost to an impressive 5.2GHz and a staggering 175W for short periods of time when the GPU is disabled, making the SCAR 17 SE a potent content creation machine in addition to a flagship gaming machine. To ensure the best performance possible from this high-end chip, we use Conductonaut Extreme liquid metal thermal compound and a custom vapor chamber to tame the temperatures of this beastly processor.
ROG Strix G10 and ROG Strix GA15 gaming desktop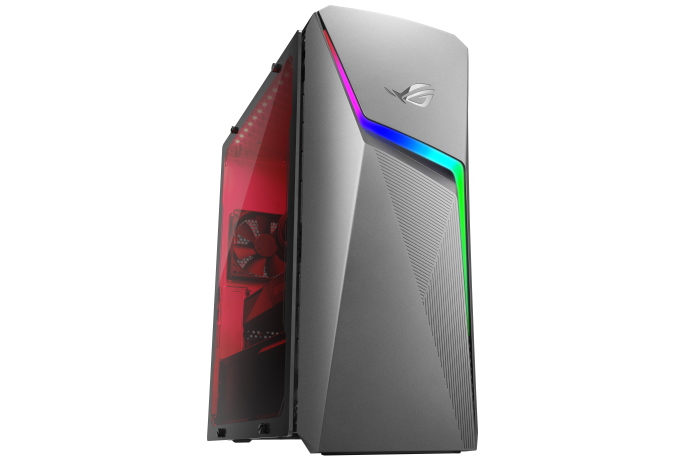 Shopping for someone who'd prefer a desktop over a laptop? We have your needs covered here, as well. The ROG Strix G10 desktop PC offers bang for the buck that's hard to ignore. For just about $1000, it'll give a loved one on your holiday shopping list a powerful AMD Ryzen 7 5700G CPU, an NVIDIA GeForce RTX 3060 graphics card, and a substantial dual-drive storage array. Its optimized chassis design puts all this hardware into a sleek, compact frame, perfect for anyone who needs to make the most of their desktop space. ROG engineers also made the most of that space with a precision-engineered thermal solution with two isolated chambers. Plentiful connectivity options make it easy for your gift recipient to set up a full gaming battlestation with their favorite displays and peripherals.
For an option with even more gaming horsepower, consider stepping up to the ROG Strix GA15. Its AMD Ryzen 7 5800X delivers more performance for games, productivity, and content creations alike. Its NVIDIA GeForce RTX 3070 pushes more frames in the latest games. We arm this PC for battle with an aerodynamic chassis with widened vents that stealthily direct more cooling air through the machine, and special, EMI-shielded glass gives a tantalizing look inside the chassis.
ROG Swift PG279QM gaming monitor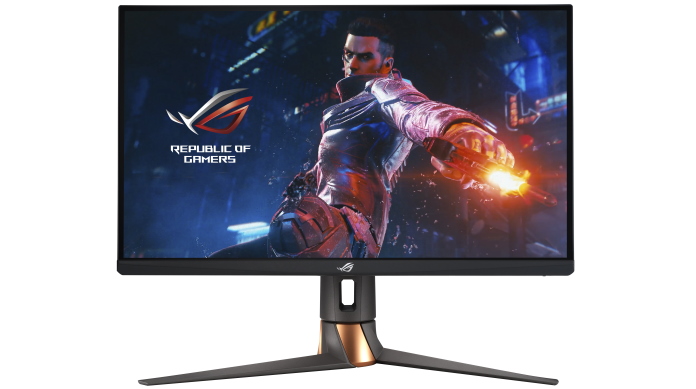 When it comes to their displays, esports gamers have three things in mind: speed, speed, and more speed. Put the gamer in your life in the fast lane with the ROG Swift PG279QM. This 27-inch monitor offers a sizzling 240Hz refresh rate and 1ms response to accompany its detailed 2560×1440 resolution. What's more, it includes NVIDIA's Reflex Latency Analyzer, a built-in tool that provides an accurate measurement of system latency. It allows gamers to measure and diagnose system latency without an elaborate camera setup, giving them the confidence to step into battle knowing that they've fully optimized their rig for peak performance.
TUF Gaming M4 WL gaming mouse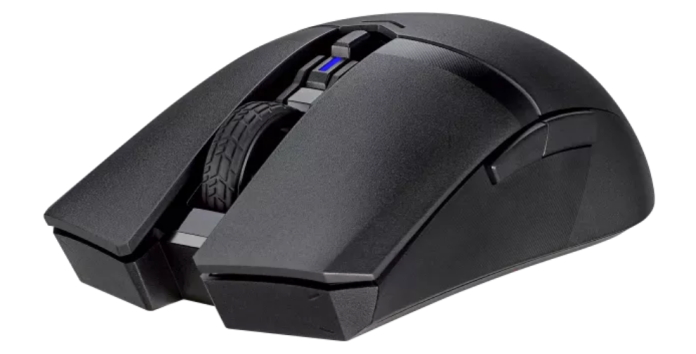 Esports gamers with a thirst for fast-paced first-person combat in games like Counter-Strike: Global Offensive and Fortnite rely on fast, precise motions with their mousing hand to quickly respond to their opponents. The TUF Gaming M4 WL sets them up for action with its ultralight chassis and gaming-grade 12,000 DPI optical sensor. Tri-mode connectivity allows them to play with a 2.4GHz wireless or Bluetooth LE connection so that a snagged cord never interrupts their aim.
ROG Falchion gaming keyboard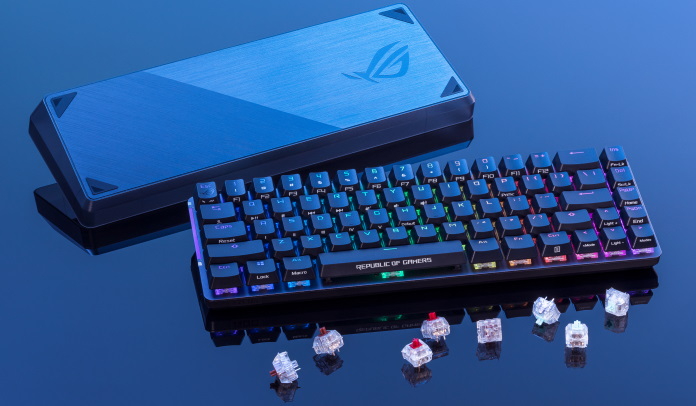 Here's an open secret: many gamers have more keyboard than they actually need. Traditional decks include a numpad and a separate section for arrow keys, yet in the heat of battle a gamer's left hand might never wander from their position above the WASD keys. That's why the ultracompact ROG Falchion makes so much sense for so many people. This portable, wireless gaming keyboard incorporates arrow and navigation keys into a slim 65% layout, creating more room for their mouse hand to move freely. A configurable touch bar on the left provides quick access to common functions like volume control, and durable ROG PBT doubleshot keycaps ensure elite performance for the long term.
Great devices for gamers on the go
Many gamers need a PC that's ready to travel at a moment's notice. Perhaps they need a system that's ready to play double duty as both a gaming rig and an ultraportable laptop. Maybe they travel frequently for work, and find satisfaction in bringing their gaming hobby along with them. Or perhaps they're just always on the move, whether that's in their own house or out on the road. For these digital nomads, we offer a wide range of lightweight gaming devices that make easy traveling companions.
ROG Zephyrus G14 gaming laptop
The acclaimed ROG Zephyrus G14 gaming laptop offers a potent blend of performance and portability. At 14 inches, it's roughly the same size as a standard ultraportable, yet it boasts an AMD Ryzen 9 Series processor, and AMD Radeon RX 6000 Series mobile graphics with a MUX Switch for the best possible framerates. ROG Intelligent Cooling with liquid metal and a custom vapor chamber ensures excellent sustained performance from these high-end components.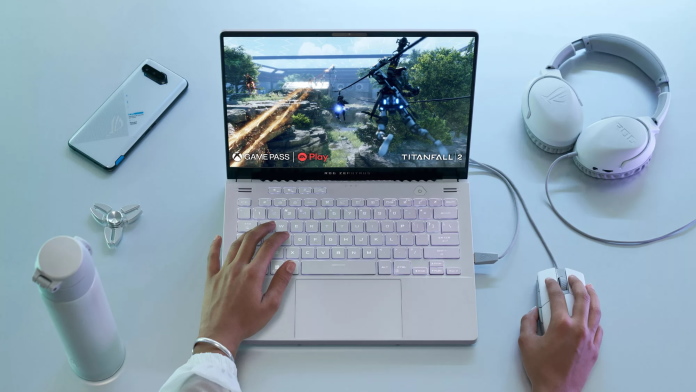 The G14's stunning display makes the most of the laptop's compact dimensions. As an ROG Nebula display, it offers 120Hz at QHD with 500 nits of peak brightness, 100% coverage of the DCI-P3 color gamut, and a 3ms response time — plus Adaptive-Sync, Pantone validation, and Dolby Vision HDR for a stunning, color-accurate experience that minimizes stuttering and tearing. The display has been expanded to a 16:10 aspect ratio, which increases screen real estate without sacrificing portability. Its tiny bezels offer a staggering 91% screen-to-body ratio.
The G14's sleek and fun style adds to its appeal as a holiday gift. Its sophisticated Moonlight White finish stands out from the crowd, and its iconic AniMe Matrix display allows users to personalize their laptop with retro-style animations using the array of 1,449 mini LEDs that shine through precision CNC-milled holes on the lid.
ROG Flow X13 gaming laptop
Someone on your shopping list might love the versatility and easy portability of 2-in-1 convertible laptops. But they might not realize that they can also get great gaming experiences with a 2-in-1 PC. Open their eyes with the ROG Flow X13. Featuring the latest AMD Ryzen 9 6900HS processor and NVIDIA GeForce RTX 3050 Laptop GPU, the Flow X13 will transform their expectations of what a portable gaming laptop can be.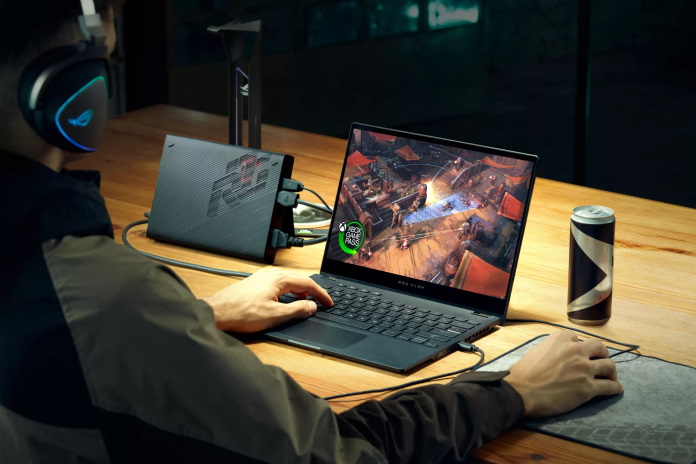 The Flow X13's ultra-slim, ultra-light body fits just about anywhere, while a 360° hinge allows for console-like gaming with a controller, or creating works of art with its optional stylus. Corning Gorilla Glass protects the touchscreen, which comes with both 4K 60Hz and 1080p 120Hz options for either ultra-crisp or ultra-smooth gaming.
Despite its incredibly portable design, the Flow X13 still sports a full keyboard with 1.7mm of key travel, as well as a robust port selection including HDMI, USB Type-A and Type-C, and our own XG Mobile interface for connecting to our ultra-portable family of external GPUs. No matter where your loved one goes or what game they pick up next, go with the Flow.
ROG Flow Z13 gaming laptop
The farther we get into our list of ultraportable gaming devices, the smaller their footprint. The ROG Flow Z13 shrinks gaming to new levels of portability. As the world's most powerful gaming tablet, the Flow Z13 is designed for the ultimate in versatility, with power belying its compact size.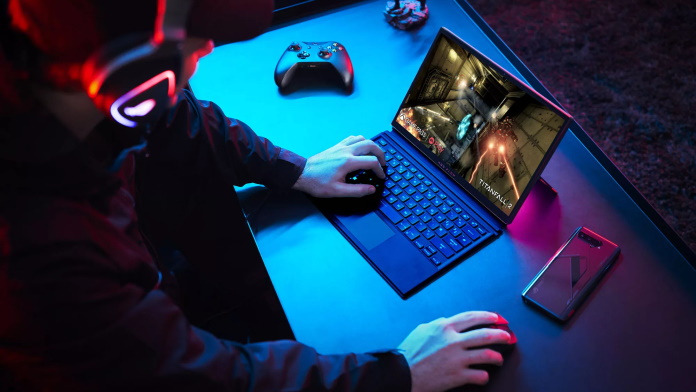 Thanks to Windows 11, a 14-core Intel Core i9-12900H processor, an NVIDIA GeForce RTX 3050 Ti Laptop GPU, and 5200MHz LPDDR5 memory, this tablet packs plenty of gaming horsepower into an ultra thin and light chassis. These specs are further bolstered by 1TB of PCIe SSD storage, a MUX Switch, custom vapor chamber cooling, and fast charging via USB Type-C.
To kick things into even higher gear, the models linked here bundle the ROG XG Mobile with the Flow Z13. This external GPU and docking station allows the Z13 to harness the top-end graphics power of a GeForce RTX 3080 Ti Laptop GPU. With one click, your gift recipient can connect to all their desktop peripherals and displays, recharge their laptop, and supercharge their graphics performance.
ROG Phone 6 and ROG Phone 6 Pro gaming phones
In our quest to deliver exceptional experiences to every gamer, we've even invaded the world of smartphones. The ROG Phone 6 and ROG Phone 6 Pro will transform all your expectations for what gaming on a phone can look like—and one of them will make an unbeatable stocking stuffer this holiday season.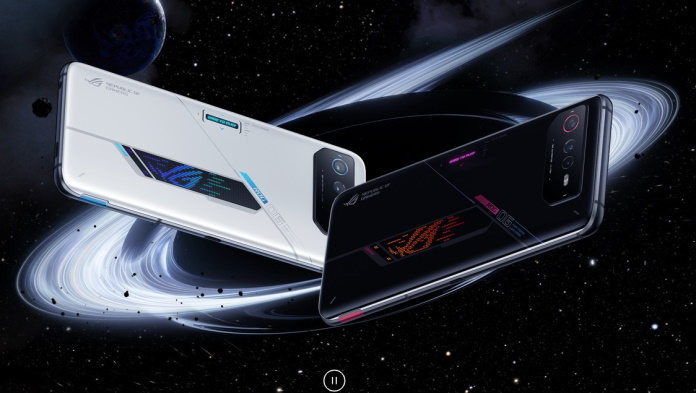 The latest Qualcomm Snapdragon 8+ Gen 1 Mobile Platform supercharges the performance of these smartphones—and our class-leading GameCool 6 thermal system smashes every barrier to ensure the best in-game experiences. The supremely responsive 165Hz AMOLED display delivers fluid, fast-paced visuals in any game, and a massive 6000mAh battery provides enough endurance for the phone to last multiple days without a recharge. The ROG Phone 6 Pro adds to this world-class mix of features with ROG Vision, a unique matrix color display on the rear of the device that keeps you on top of every moment with a variety of animations.
ROG Cetra True Wireless headphones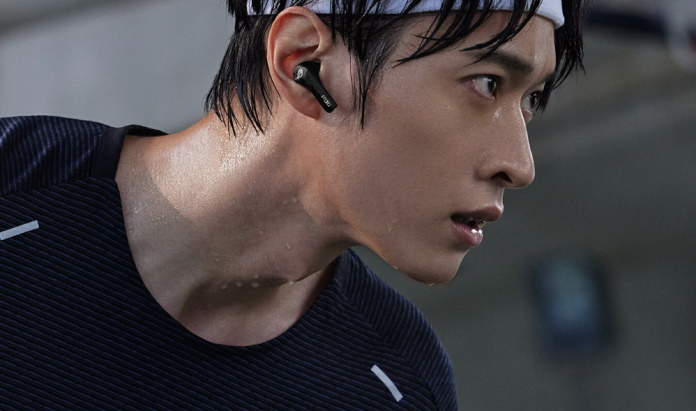 For any of these ultraportable gaming devices, the ROG Cetra True Wireless gaming headphones are a perfect match. These lightweight earbuds communicate to a wide range of devices with a low-latency wireless connection that's fast enough to keep up with competitive games. Specially tuned 10mm ASUS Essence drivers deliver high-quality audio. Active Noise Cancelation (ANC) tech detects and filters out distracting noise for immersive audio experiences. And with a 27-hour battery life and quick charge technology, the ROG Cetra True Wireless headphones are always ready for action.
The best gifts for gamers who do more
Today's gamers often have passions and interests that extend far beyond gaming. They might share their gaming experiences with the world through online streaming. They might have a hobby in content creation, filmmaking, game development, or design. They might pursue music or 3D animation. To fully pursue these passions, they need hardware that's ready to do more. These gifts stand ready to unleash the potential of the multi-talented friend or family member on your holiday shopping list.
ROG Zephyrus Duo 16 laptop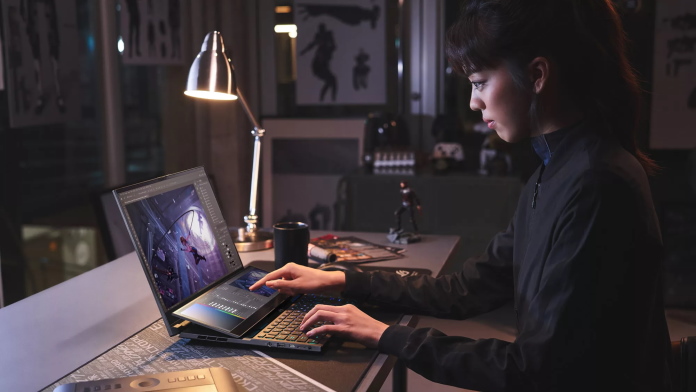 For anyone who multitasks, there's truly no gaming laptop in the world that competes with the ROG Zephyrus Duo 16. The ROG ScreenPad Plus display adds a secondary screen for extra productivity real estate, game-streaming tools, or controls for creative apps. As the secondary screen rises up and meets the primary display with its 4-directional hinge, it also opens up wide AAS Plus 2.0 air intakes to deliver cooling air to the powerful AMD Ryzen 9 6980HX CPU and NVIDIA GeForce RTX 3080 Ti Laptop GPU, ensuring that these premium components can run all-out in demanding applications.
But it doesn't stop there. This model of the Zephyrus Duo 16 offers the ROG Nebula HDR display, which boasts all the premium tech built into our Nebula displays but with a Mini LED backlight boasting 512 individual dimming zones, able to reach 1100 nits of peak brightness for stunning levels of contrast and color. This QHD, 16:10 panel boasts a refresh rate of 165Hz and is VESA DisplayHDR 1000 certified for the ultimate HDR gaming and movie-watching experience. This is a display you have to see to believe.
ROG Strix GA35 desktop PC
For the enthusiast on your list in need of a high-octane desktop, consider the ROG Strix GA35. This high-end machine harnesses a mighty AMD Ryzen 9 5900X CPU and a high-performance NVIDIA GeForce RTX 3090. To fully unleash these mighty chips, we designed the GA35 with a liquid cooling system for the CPU and a multi-zone cooling solution that keeps components operating at a comfortable temperature, even under load.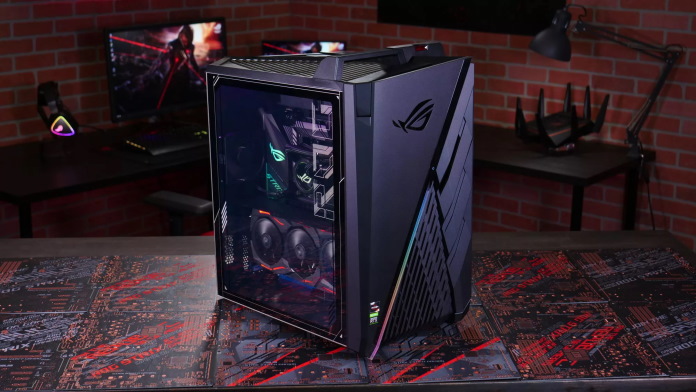 Thoughtful conveniences streamline every moment with the GA35. Its sturdy integrated handle makes it easy to set up and carry. Two hot-swappable drive bays cunningly hidden on the front panel allow users to quickly change drives. And the upgraded ROG Keystone II provides fast access to custom system settings.
ROG Claymore II keyboard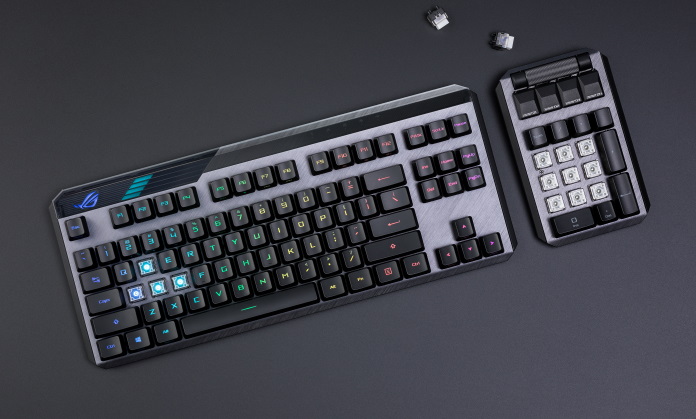 Today's power users need versatile input devices for their high-end machines. The ROG Claymore II keyboard gives gamers and creators alike full tactical control with its detachable numpad. Whenever it's needed, it clips onto either side of the keyboard in moments, and it's just as easy to tuck away to open up more desk space for a mouse. ROG RX Optical Mechanical key switches deliver an exceptional, wobble-free typing experience, while wired and wireless connectivity options let the lucky gift recipient on your list set up their ideal workstation.
ROG Rapture GT-AXE16000 wireless router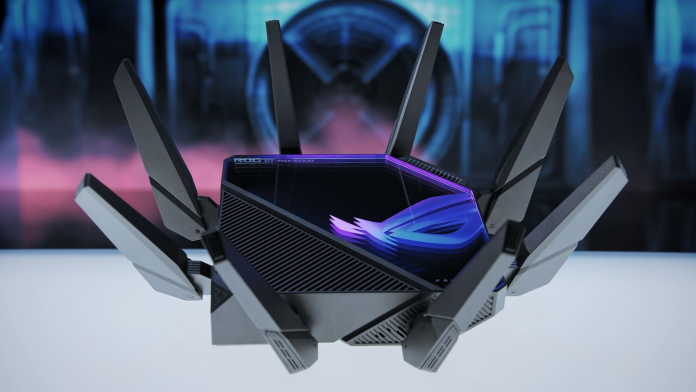 For unhindered online gaming, premium bandwidth, and exceptional all-around networking, complete a friend or family member's PC experience with a cutting-edge router: the ROG Rapture GT-AXE16000. The world's first quad-band WiFi 6E gaming router, this device offers data rates as high as 4,804 Mbps to compatible WiFi 6E devices—and that's before you consider its two 5GHz bands and 2.4GHz band. All told, that's 16,000 Mbps of aggregate throughput, provided that WiFi 6E is available in your region. Exceptional wired connectivity options, premium performance from a quad-core CPU, and customizable Aura Sync RGB LEDs add up to make this a coveted piece of tech for those who demand a rock solid connection at all times.
TUF Gaming VG28UQL1A monitor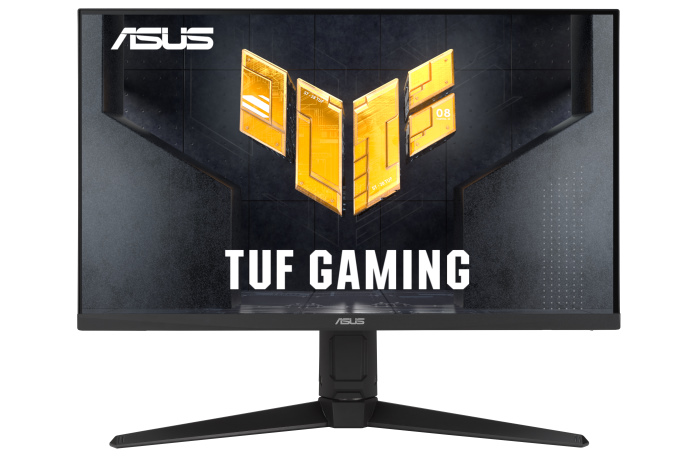 Is there a gamer on your shopping list who plays both on console and on PC? With the TUF Gaming VG28UQL1A, you can set them up with one display that's an ideal canvas for both. This 28-inch monitor features both a high-bandwidth DisplayPort 1.4 port and two HDMI 2.1 ports, so it's easy to connect the display to both a gaming PC and a next-gen console. With a press of a button, your lucky loved one can switch back and forth as the mood strikes, enjoying the display's detailed 3840×2160 resolution and fluid 144Hz refresh rate on whatever platform strikes their fancy.
Happy holidays from ASUS, ROG and TUF Gaming
This is just a small selection of the PCs, laptops, monitors, wireless networking products, and peripherals that we offer, but we hope that this list was able to help you find the right gifts for the gamers in your life. Looking for some gift ideas from our other product lines? Follow the links below to explore all the exciting tech that we have to offer this holiday season.