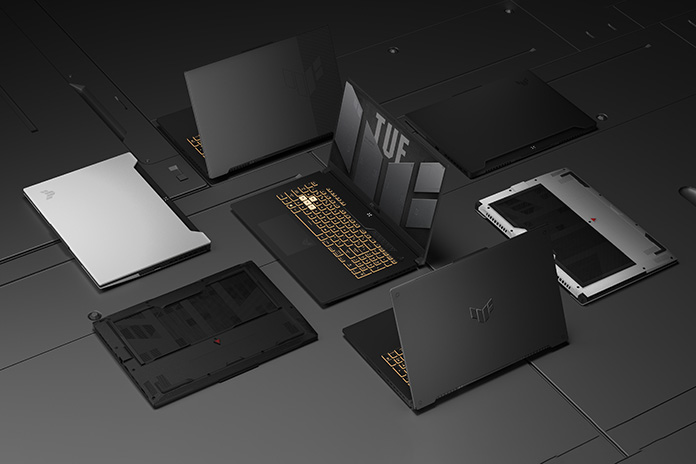 The TUF Gaming family is all about delivering fantastic performance without breaking the bank. The brand-new 2022 lineup continues that tradition with new Intel and AMD hardware, the latest NVIDIA graphics cards, and blazing fast DDR5 RAM. With a brand new mecha anime-inspired chassis, the 2022 ASUS TUF Gaming A15, A17, F15, F17, and TUF Dash 15 offer incredible value and performance for anyone looking to pick up a next generation gaming laptop. 
Battle-hardened power
The TUF Gaming F15 and F17 are powered by the brand-new Intel Core i7-12700H. This 14-core, 20-thread processor clocks up to 4.7GHz to blaze through even the toughest multitasking workloads, while also elevating your gaming experience with its stellar single-core performance. For the TUF Gaming A15 and A17, the power of AMD shines with the brand-new AMD Ryzen 7 6800H processor. Whether you're gaming, streaming, getting some work done, or doing all three simultaneously, TUF Gaming laptops have plenty of muscle.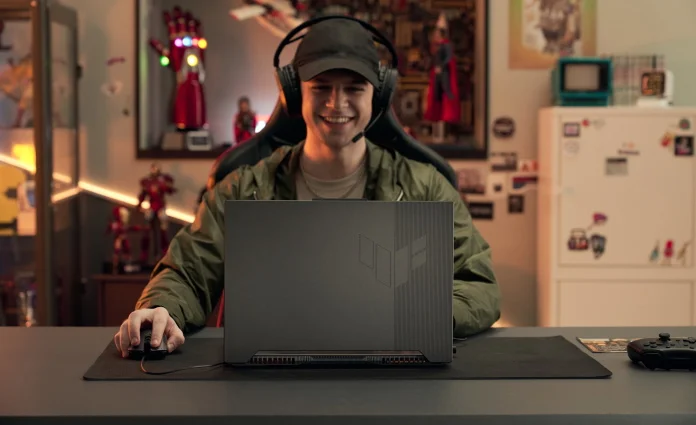 With CPUs that powerful, high-performance memory is critical. Keeping the CPU fed with information increases overall system responsiveness, as well as actual performance in games and applications. For 2022, TUF is upgrading to the next generation with the introduction of DDR5-4800MHz RAM. An incredible jump up from even the highest end DDR4 modules, these new RAM kits have a 50% faster data rate than the previous standard. With up to 16GB of memory, the new TUF Gaming laptops are ready to breeze through any game or project. For longer term storage, the machines come with up to a 1TB SSD from the factory, with a second M.2 slot for easy upgrades when you need to expand your game library. 
Of course, no gaming laptop is complete without a dedicated GPU. All 2022 TUF Gaming laptops feature the NVIDIA GeForce RTX 3070 Laptop GPU, with a max TGP of 140W. Thanks to a robust cooling solution, this higher power limit unlocks even more potential from the graphics chip, allowing it to boost higher for longer. Those higher sustained boost clocks mean you get the full performance of the GPU for exceptional framerates in your favorite games.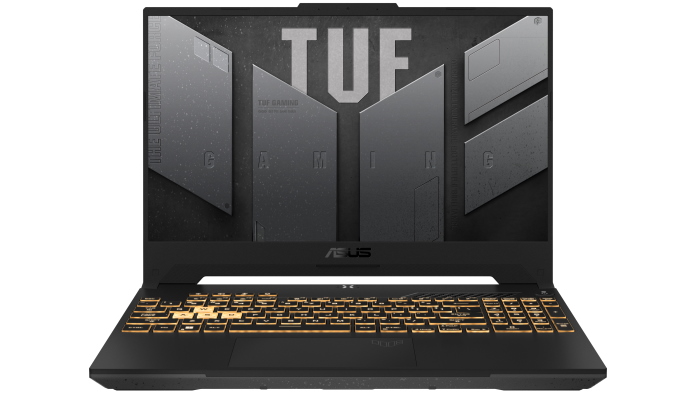 The graphics improvements don't stop there. Many modern gaming laptops route their GPU's frames through the CPU's integrated graphics before reaching the display, an approach which conserves battery life but prevents the GPU from giving its absolute best performance. New for 2022, all TUF Gaming laptops allow you to access a direct GPU mode via a MUX Switch, reducing latency and boosting gaming performance by 5-10% on average. 
Never miss a moment
A high refresh rate is essential for a high-quality gaming experience by allowing you to respond quickly to even the fastest paced action. For 1080p gaming, we've packed the TUF Gaming A17 and F17 with a Full HD 144Hz panel with Adaptive-Sync technology to smooth out any jitters and eliminate screen tearing. The TUF A15 and F15 are even speedier, offering a choice between an insanely fast Full HD 300Hz panel or a higher resolution QHD 165Hz display for sharp 1440p graphics. Whether you prefer to go all-in on speed or enjoy a balance of image detail and fluid animation, TUF Gaming has the panel for you. 
Blow away the competition
A robust cooling system lets the high-power components provide sustained performance—while keeping the laptop cool to the touch and the fans spinning unobtrusively. Our Arc Flow Fans™ are key to that strategy, featuring an 84-blade design of varying thickness. By gradually tapering down to just 0.1mm at each fan tip, the blades reduce turbulence while keeping airflow high. In fact, airflow is 13% higher than the previous generation, all while staying quieter than last year's design. When paired with up to four exhaust vents and five dedicated heatpipes, the 2022 TUF Gaming laptops are seriously cool. 
Mecha-inspired detailing
Taking a cue from the defenders of humanity in countless anime series, in 2022 TUF Gaming leans into the power and resilience of mecha. The TUF logo has been reimagined as well, with both embossed and laser-sculpted versions.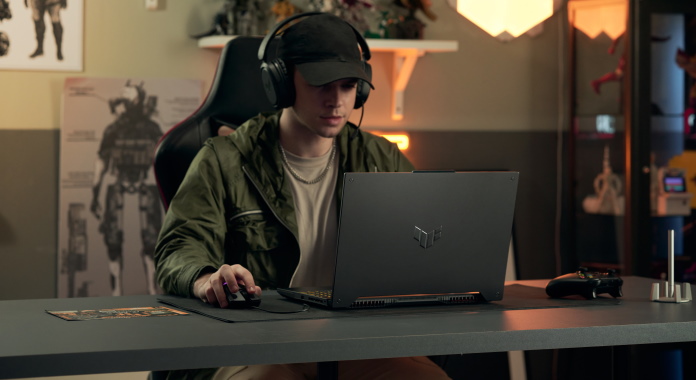 Just like the robots they were inspired by, TUF Gaming laptops personify the spirit of toughness. These rugged machines meet MIL-STD-810H specification and are tested to withstand intense heat, cold, humidity and vibration. They are more than capable of resisting the accidental bumps and knocks of everyday life. They're as convenient and comfortable to use as they are durable, too. Despite being 4.5% smaller than last year's models, the 2022 TUF Gaming laptops feature a larger touchpad, a full-sized keyboard and distinct four-way indicators for clear system status updates at all times. 
Dash into action
Joining the TUF Gaming lineup is the all-new 2022 TUF Dash, a thin and light option for those wanting a bit more portability on the go. Featuring a 12th Generation Intel Core i7-12650H processor and up to an NVIDIA GeForce RTX 3070 laptop GPU with MUX Switch, the Dash is an exceptionally capable gaming machine in a thin and light chassis. Brand new DDR5 memory running at 4800MHz can easily breeze through even the most intense multitasking, and dual PCIe 4.0 capable SSD slots ensure that you will have more than enough high-speed storage while on the move.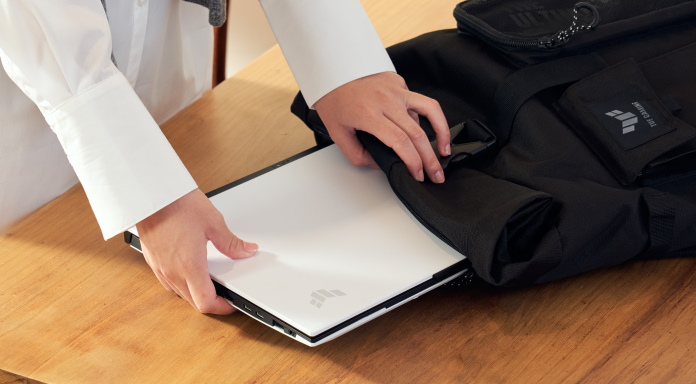 A QHD 165Hz panel with 100% coverage of the DCI-P3 color space provides immersive visuals in games and a color-accurate space for content creation. With Thunderbolt 4 support, adding an external dock or high-speed storage drive is simple. For peace of mind while on the move, the TUF Dash also supports USB Type-C Power Delivery up to 100W, keeping the machine topped up through a wide variety of compatible chargers and battery packs. With a sleek and svelte chassis that weighs just 2kg, this machine is the perfect traveling companion for a gamer on the move.