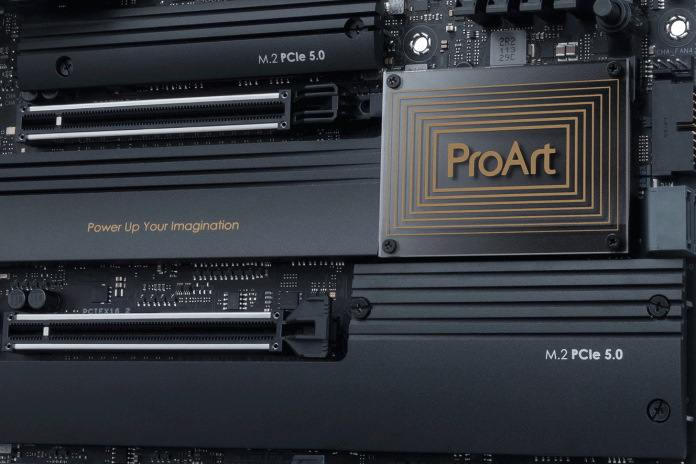 We've launched our full X670E and X670 motherboard families. Click here to read our full guide.
Every day, the full launch of AMD's next-gen AM5 platform gets a little closer. To date, we've announced the flagship ROG Crosshair X670E Extreme motherboard and a selection of boards from ROG, ROG Strix, and TUF Gaming. Now, we're ready to introduce two new ROG boards for your next space-saving build: the MicroATX ROG Crosshair X670E Gene and the Mini-ITX ROG Strix X670E-I Gaming WiFi.
But that's not all. The combination of PCIe 5.0, DDR5, and Ryzen CPUs together for the first time should turn the heads of creators, hobbyists, and enthusiasts of all kinds. That's why we're excited to also announce our new ProArt and Prime motherboards—no matter what your field of expertise is, we've got a rock-solid foundation for the AMD Ryzen build that will take your work to the next level.
A return to (smaller) form
You might say that MicroATX inhabits the Goldilocks zone of motherboard sizes—not too large, not too small. For gamers with no need for a second PCIe x16 slot, the ROG Crosshair X670E Gene delivers high-end performance, an exceptional feature set, and the signature ROG aesthetic in the mid-size MicroATX form factor.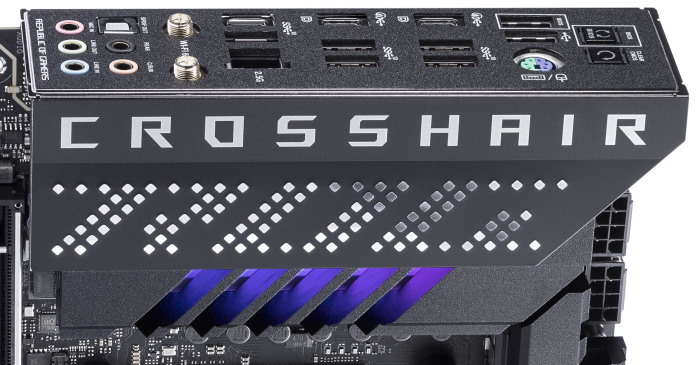 A shimmering black and white ROG logo on the integrated I/O shield and a pixelated Fearless Eye icon on the chipset heatsink herald your allegiance to the Republic of Gamers. RGB LED accents on the VRM heatsink, customizable with Aura Sync, provide a splash of color on a board that otherwise makes a statement with its dark tones and angular accents.
The thoroughly next-gen X670E platform gives us the opportunity to take your gaming experience to the power of five with PCIe 5.0 and DDR5. Its PCIe 5.0 x16 slot stands ready for the fastest graphics of today and tomorrow, and its support for DDR5 lets you enjoy the massive bandwidth, sizzling new speeds, and exceptional power efficiency offered by next-generation DDR5 RAM. Between its onboard slots and the ROG Gen-Z.2 card, the Gene offers two PCIe 5.0 M.2 slots and one PCIe 4.0 M.2 slot, giving you ample elbow room to build out a fast and spacious game library—and expand it down the road. And, of course, this motherboard is built for even the mightiest next-gen AMD Ryzen CPU with its robust power solution with 16+2 teamed power stages rated for 110A.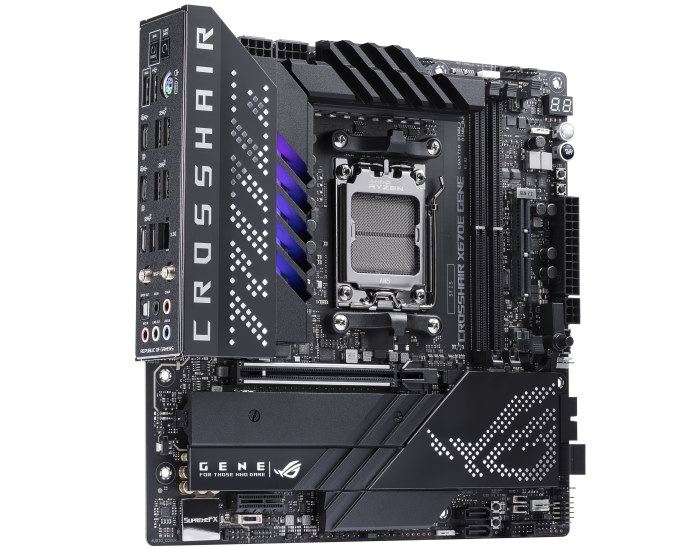 The Gene's wide suite of connectivity options checks all your boxes for a top-tier motherboard. Access to the freshly-opened 6GHz band through the latest WIFi 6E radio? Check. Intel 2.5Gb Ethernet for unhindered networking? Check. A pair of USB4 ports on the rear I/O, a header for a front-panel USB 3.2 Gen 2×2 Type-C port, and support for Quick Charge 4+? Check, check, and check.
Our mightiest small-form-factor motherboard yet
MicroATX builds are satisfyingly compact, but if you'd like your next console-killer PC build to rival today's consoles in size while crushing them in performance, the ROG Strix X670E-I Gaming WiFi Mini-ITX motherboard beckons.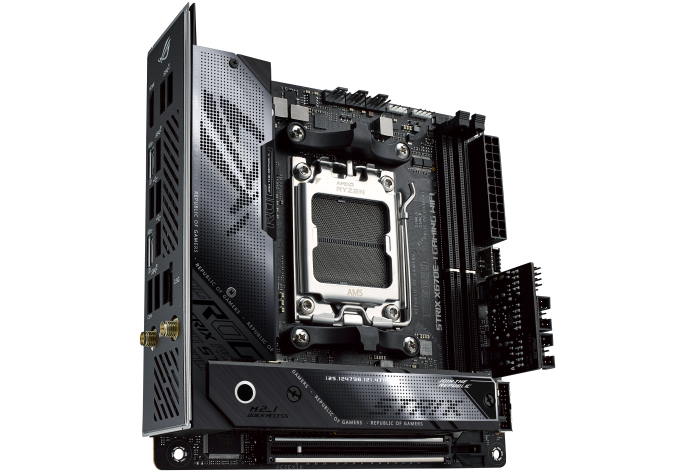 The ROG Strix X670E-I might seem impossibly small for what it offers: a complete platform for a next-gen gaming build. You'll find a PCIe 5.0 x16 slot prepped and ready for a cutting-edge graphics card, a pair of DDR5 DIMM slots, and two M.2 slots, one wired for PCIe 5.0 and one wired for PCIe 4.0.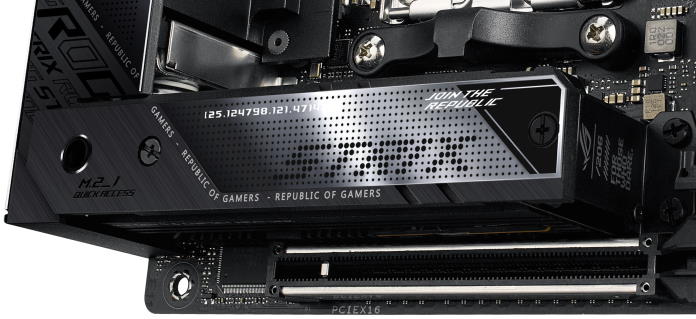 Innovative design elements make sure that you get the performance and features you need, even when you're building inside the tight confines of a Mini-ITX case. The I/O shield is pre-mounted for easier installation and a tidier fit around rear ports. A single heatsink cools the PCIe 5.0 M.2 slot and the chipset simultaneously, and VRM temps are aided by a large backplate, which utilizes a thermal pad to transfer heat away from critical decoupling capacitors. The space-saving ROG FPS-II card gives you easy access to front-panel headers, two SATA ports, important headers for clearing CMOS and enabling CPU overvoltage, and a PCIe mode switch for legacy expansion cards.
It's the all-new ROG Strix Hive that truly sets the ROG Strix X670E-I motherboard apart from the competition, though. This external control interface neatly addresses common challenges that PC builders face when putting together a compact Mini-ITX machine—and goes a step further by putting motherboard gaming features right at your fingertips.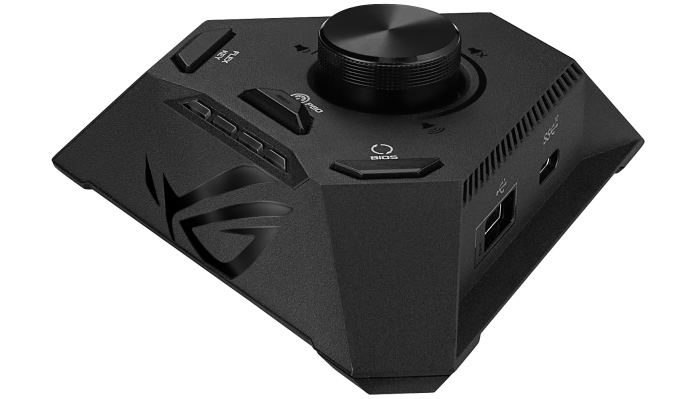 The Mini-ITX form factor doesn't provide much space for a high-end audio solution, so we (very literally) thought outside the box. The Hive houses top-shelf audio hardware—an ALC4050 codec and an ESS Sabre 9260Q DAC, to be precise. A headset jack and one Mic-in jack with 3.5 mm optical S/PDIF out deliver pristine audio, while an integrated volume knob keeps you in control.
Premium audio isn't the only trick up the ROG Strix Hive's sleeve. It offers a convenient USB 3.2 Gen 2 Type-C® port that makes it easy to connect external storage and peripherals. It includes our intuitive Q-LED array so that you can quickly diagnose build problems. An EZ Mode PBO button lets you activate a finely-tuned PBO profile in your OS in real-time—without entering BIOS. And you'll even find physical Flexkey and BIOS Flashback buttons, as well. Building, updating, and troubleshooting a Mini-ITX PC has never been easier.
The power of creation
Superb connectivity, plentiful high-speed storage options, and professional style set apart our ProArt motherboard lineup. The ProArt X670E-Creator WiFi takes all those elements and brings them into the next generation.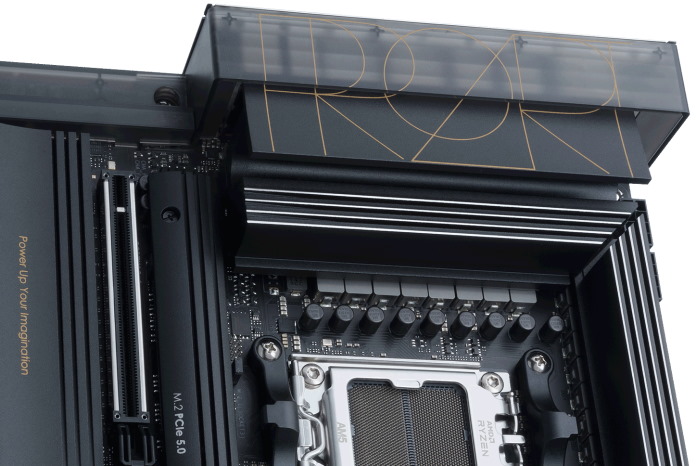 It starts with a sophisticated style rooted in clean lines, graceful angles, and precise symmetry. Unobtrusive colors give this ProArt board a timeless look that's never out of place, whether you're building a PC for your home office, the set, or for sharing work with clients. Gold accents on the integrated I/O shield and the chipset heatsink add touches of luxury and refinement.
Does your creative workflow scale with high-end memory kits? The ProArt X670E-Creator WiFi will accelerate your work with the massive bandwidth, lightning-quick speeds, and exceptional power efficiency offered by next-generation DDR5 RAM. With data rates 50% faster than previous-generation DDR4 memory, DDR5 unleashes a new tier of performance, and this motherboard offers a host of hardware and firmware optimizations that enable users to overclock capable kits to the absolute limit.
With PCIe 5.0 connectivity, the ProArt X670E-Creator WiFi gives you access to the fastest next-gen SSDs and GPUs. This motherboard boasts not just one, but two PCIe 5.0 x16 slots. Since many creative pursuits take full advantage of the fastest transfer speeds that they can get, we equipped this board with four onboard M.2 slots, two of which are wired for PCIe 5.0.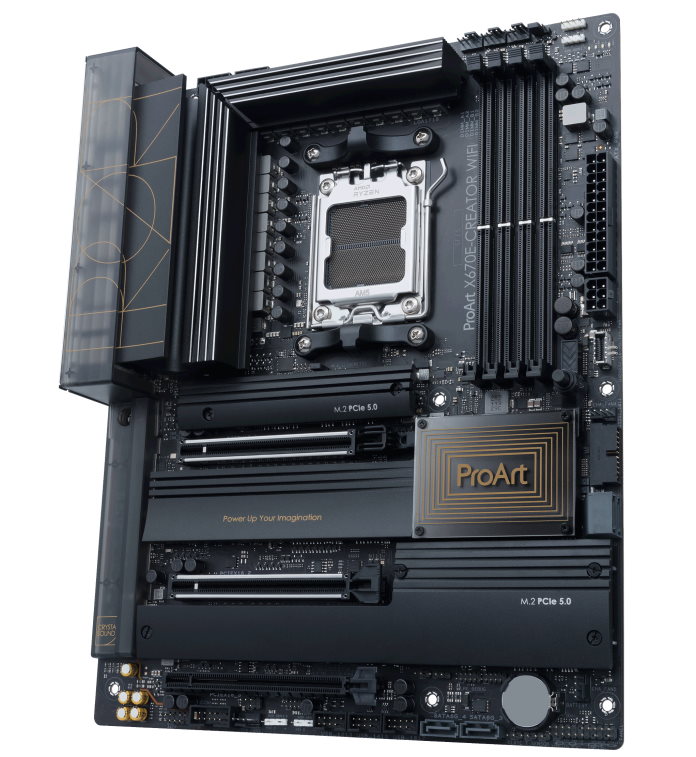 You'll also find a comprehensive selection of high-speed ports ready to connect your full creative workstation. With double the link speeds of PCIe 4.0, the new PCIe 5.0 standard provides us with the bandwidth to deck out this board with a pair of USB4® ports on the rear I/O panel. Flexible front-panel connectivity is essential for many workflows, so the ProArt X670E-Creator WiFi offers a front panel USB 3.2 Gen 2×2 connector with support for Quick Charge 4+. Make sure to pair them with a case featuring a front-panel USB Type-C port so that you can have convenient access to 60W charging.*
Exceptional networking options round out this board's feature set. With a compatible router, a WiFi 6E radio lets you tap the freshly-opened 6GHz spectrum in select regions for truly unhindered wireless connections. Intel 2.5G Ethernet provides rock-solid and reliable wired networking, while a Marvell AQtion 10G Ethernet port opens up even more options, such as connecting to blazing-fast network-attached storage.
A new frontier of ASUS Prime
Looking for a straightforward motherboard that offers you the features, reliable performance, and unobtrusive design that you need, all for an attainable price? Our ASUS Prime lineup has what you're looking for.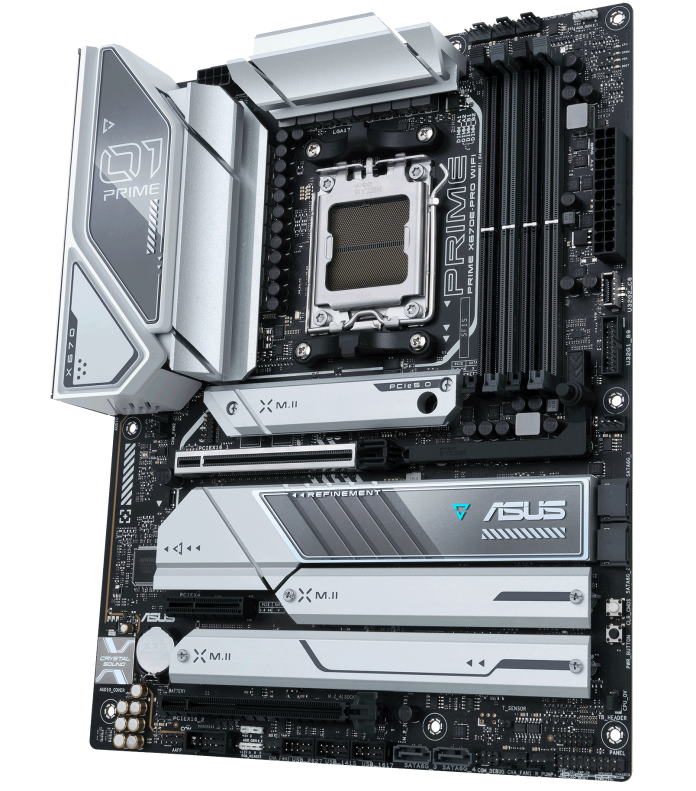 We're offering a trio of Prime boards for the new AMD platform. Atop the stack sits the Prime X670E-Pro WiFi. With its support for DDR5, PCIe 5.0 x16 slot, and PCIe 5.0 M.2 slot, this is a cost-effective option for anyone building out a next-gen PC. WiFi 6E, a Realtek 2.5Gb Ethernet port, and a Thunderbolt 4 header all add to its already-impressive value proposition. And that's before you consider its DIY-friendly feature lineup. Its pre-mounted I/O shield streamlines the installation process, it features our PCIe Slot Q-Release button that takes the hassle out of removing a graphics card, and its Q-LED diagnostic array takes the guesswork out of troubleshooting.
The breathtaking transfer speeds offered by PCIe 5.0 SSDs make all the difference in many workloads, but perhaps that's not a must-have feature on your AM5 motherboard shopping list. We designed the Prime X670-P WiFi and Prime X670-P just for you. These boards get the job done with their DDR5 support and offer ample room for storage with their three onboard M.2 slots. A Thunderbolt 4 header lets you set up a flexible, high-speed front-panel port in a compatible case. If onboard wireless networking is a must, grab the Prime X670-P WiFi, which offers WiFi 6 connectivity. If you're content with wired networking, opt for the otherwise-identical Prime X670-P.
Learn more at Gamescom
Between August 24th and August 28th, we'll be showing off these new X670E motherboards at the Gamescom event in Cologne, Germany. Join us at our booth to be one of the first to see these boards in person and also get an up-close look at even more ROG gear.
Even if you can't make it to Germany, there's more information on the way. Soon, we'll be able to share the full details of our next-gen AMD motherboard lineup. Follow us on social media for the latest information.
*To support 60W, please install the power cable to 6-pin PCIe Graphics Card connector or can only support 27W.