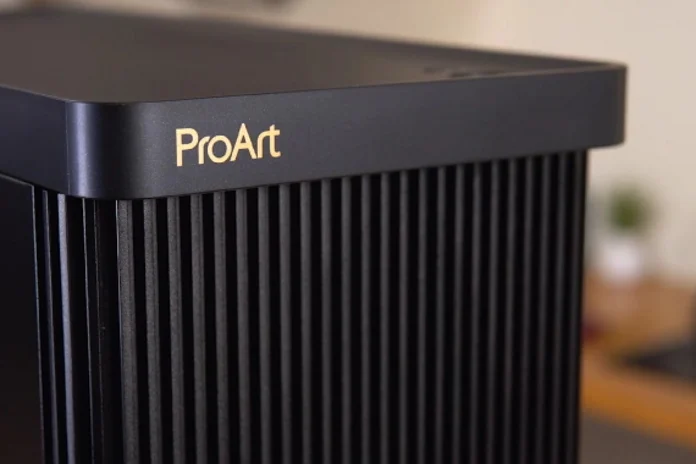 As I first started to tackle professional-level creative projects, I found that I needed more from my PC. I needed more processing power and memory for apps like Adobe Premiere Pro, Maya, and AutoCAD. I needed more storage. I needed more connectivity—high-speed USB Type-C ports for external storage, display connectors, fast wireless networking, and plenty of USB Type-A ports for peripherals. I needed more, and that's exactly what I got from the ProArt Station PD5 prebuilt desktop PC.
With its powerful Intel Core CPU, GeForce RTX 3060 graphics card, and 32GB of RAM, this desktop delivered the essential hardware I needed to get more work done—and higher-end options could give me even more power with the GeForce RTX 3070. Out of the box, it gave me an NVMe SSD for fast storage, and easy options for adding several more drives down the line. And between the display connectors on the graphics card, the motherboard's plentiful I/O at the rear of the PC, and the convenient top-panel ports, I can hook up my full array of monitors and peripherals, and still have ports to spare.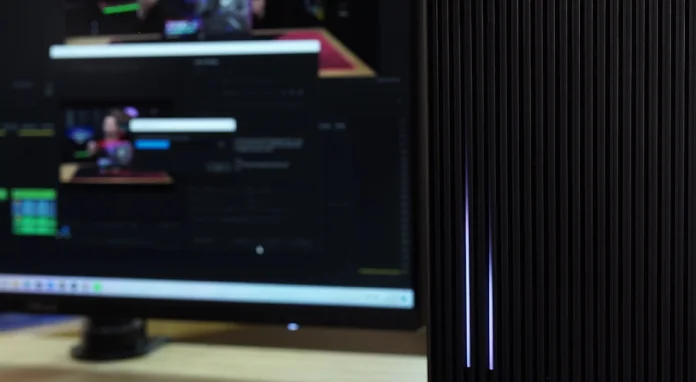 On top of that performance and connectivity, the ProArt Station PD5 streamlines my workflow with convenient features and tools. The LumiWiz LED indicators on the front panel show me CPU and GPU usage at a glance—and I can easily set them up to show me when a render completes. The ProArt Creator Hub app gives me a full dashboard into system performance, lets me establish groups of apps that I can launch with one click from the desktop, and makes it easy for me to calibrate my displays. And a physical latch for the power button ensures that an accidental press never interrupts my work. The PD5 gives me everything I need to create without limits.
Streamlined creativity
The last step of a creative project can feel like the longest. Rendering a 3D animation or exporting a video doesn't take as long as it used to, but whether this step takes five minutes or five hours, that's time that I don't want to spend babysitting my PC.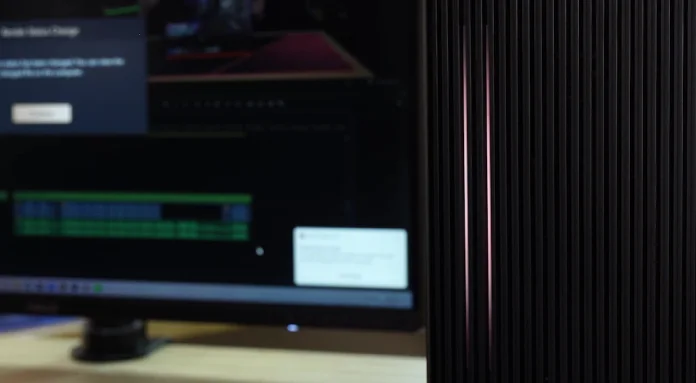 The ProArt Station PD5 has several tools that help me keep an eye on the status of my renders so that I can get other work done. The LumiWiz LED indicators on the front panel of the PD5 indicate CPU and GPU usage. Even if I'm on the other side of my home studio setting up a shoot, I can glance at my PC and see whether it's still hard at work. The bars will flash if I max out CPU or GPU load, helping me manage resources.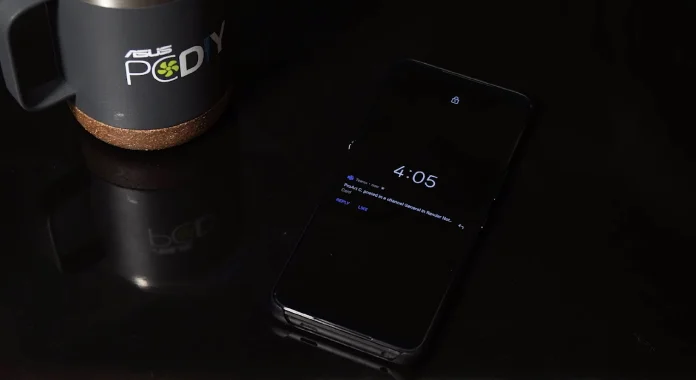 For longer exports, the PD5 offers even more options for keeping me in the loop. The LumiWiz indicators can be set to turn from their standard blue to a vivid golden hue when the app I'm using finishes a render or export. And through the ProArt Creator Hub app, I can get notifications through Microsoft Teams when a render is done. Since I have Teams on my smartphone, that means I can go anywhere and do anything I need to and still know the moment that my current project is finalized and ready for prime time.
Essential performance
It's no secret that creative apps can be power-hungry. An everyday laptop with a modern processor and integrated graphics can go a long ways, but creators can run into the limitations of everyday hardware pretty quickly once they start working with high-resolution assets or complex scenes. A prebuilt desktop or PC like the ProArt Station PD5 is a compelling choice for creators who need more than they're getting from their old machine.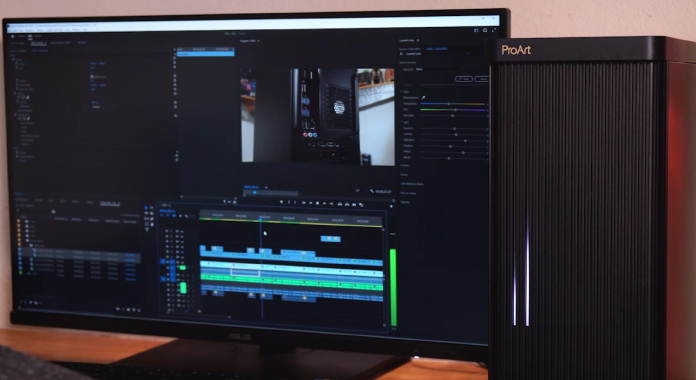 The PD5 puts me in the fast lane with a balanced set of internal components. Recent Intel CPUs offer a potent mix of multi-threaded muscle and single-threaded speed that's perfect for my work in Adobe Premiere Pro. The Intel Core i7-11700 in the PD5 boosts up to 4.8GHz for snappy, responsive performance as I'm adding and arranging clips, applying effects and transitions, and color grading. When it's time to export a project, its stable of 8 cores and 16 threads show their value as they give me quick project turnarounds. A plentiful pool of 32GB of DDR4 RAM lets me multitask as I work without slowdowns or hitches, and makes sure I can use high-resolution assets without bogging down the system.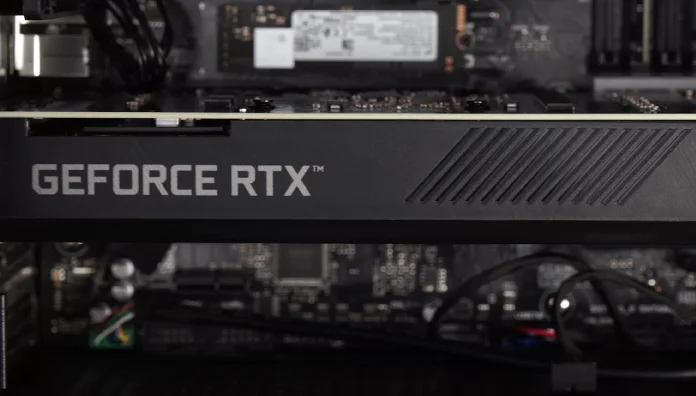 Graphics cards aren't just for gamers these days—they accelerate many functions in a wide range of apps used by architects, filmmakers, 3D animators, and many others. The GeForce RTX 3060 in my PD5—depending on your region, you can secure an even-more-powerful GeForce RTX 3070 or an RTX A2000—unleashes my creativity in apps like Adobe After Effects. Where my old laptop sputtered, the PD5 shifts into gear and performs.
Dongles not included—or necessary
Sometimes, less is more. Before I got serious about producing content, I rarely connected anything to my laptop but its charging cable and a mouse, and I appreciated the simple layout of my device. But now that I'm working with a full selection of displays, peripherals, and storage media, I'm living in a world where more is more. I want all the connectivity I can get—and the PD5 delivers what I need.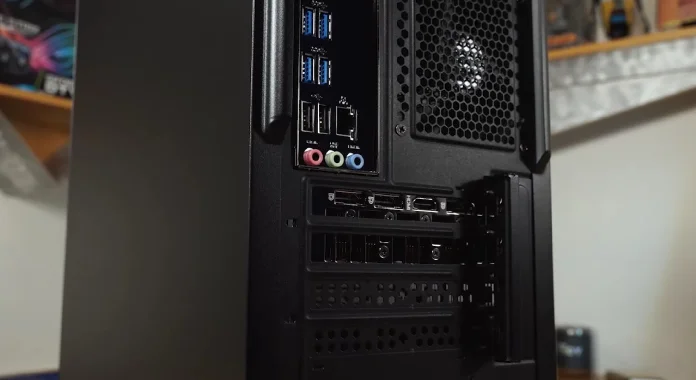 Take external displays, for instance. Like many others, I just can't work as efficiently as I need to with only one screen. Many of my favorite apps, like DaVinci Resolve, offer easy options for taking advantage of multiple displays. And that's not even taking into consideration the browser windows, music players, and communication apps that I almost always have open while I work. The PD5 makes it easy to connect a full array of displays. The GeForce RTX 3060 has a total of four display outputs, so I can easily connect all my monitors.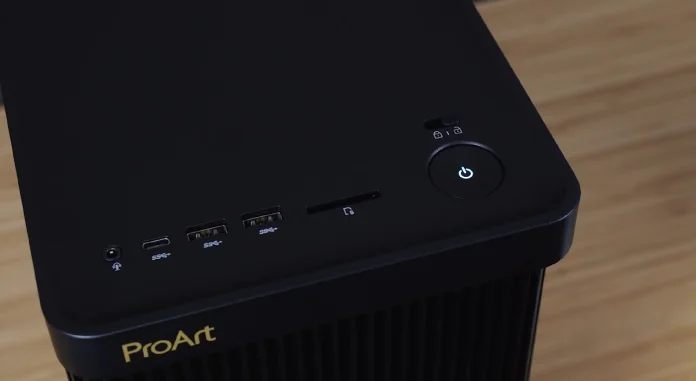 I've yet to meet a creator who lamented that their PC had too many USB ports. Mice, keyboards, headsets, control decks, webcams, ring lights, and drawing tablets all routinely appear on the creators' desks—and almost all require a USB port. The PD5 offers 6 USB Type-A ports on the back, and two more in easy reach on the front I/O panel. USB Type-C ports in both locations offer versatile, high-speed connectivity. And the integrated SD card reader on the front panel makes it easy for me to access media from my camera.
Another feature on the front panel gave me considerable peace of mind: the physical locking latch for the power button. This mechanism makes sure that my renders are never interrupted by accidental presses of the power button. As a father of young children who find buttons with glowing lights well-nigh irresistible, I breathed a lot easier with this locking latch in place. And if I had a cat who liked to perch on top of my PC—as so many of my friends and family do—I think I'd call this power button lock a must-have feature.
Going big on storage
Now that I stream almost all of my music and entertainment, my everyday laptop doesn't need all that much storage. But my creative workstation needs a spacious drive, and plenty of room to grow in the future.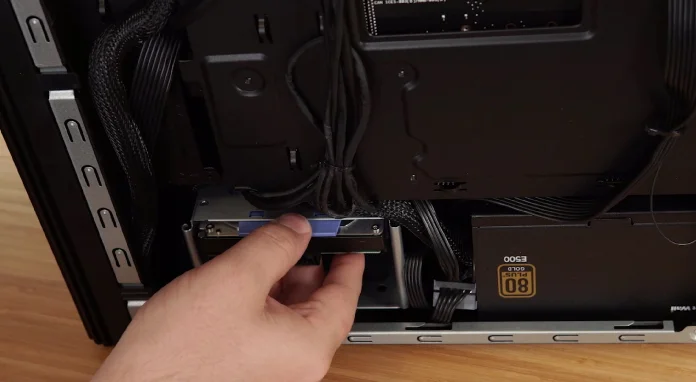 The ProArt Station PD5 gives me what I need. My unit shipped with a fast 1TB PCIe 3.0 SSD that's ideal for quickly loading the operating system and my favorite apps. A pair of drive bays will make it a snap to add massive SATA drives for long-term storage of my completed projects. And for convenience, one of these drive bays is tool-free—I won't need to fiddle with tiny screws in small spaces when it comes time to install my next drive.
ProArt Creator Hub pulls it all together
From customizing the LumiWiz LED indicators to keeping my system updated, the versatile ProArt Creator Hub app keeps me on top of every moment with the ProArt Station PD5.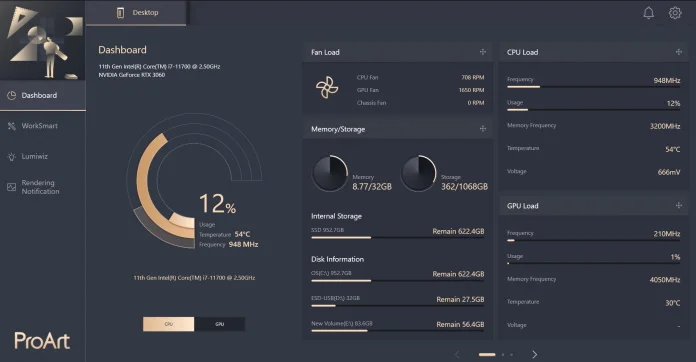 When I open it up, I'm greeted with a clean, streamlined dashboard for vital system resources. I don't need to download a third-party app just to keep an eye on system temperatures and fan levels—I get that right out of the box in a stylish interface that doesn't overwhelm me with excess information.
I typically load up the same cluster of apps every time I sit down for a particular task. The WorkSmart tab in ProArt Creator Hub saves me time by letting me establish a group of apps and browser windows that I can load all at once with one click. Once I've got a WorkSmart group established, I can pin it to my desktop and open it quickly whenever I want.
ProArt Station PD5
Model
PD5000TC
CPU
Up to Intel® Core™ i7
GPU
Up to NVIDIA® GeForce® RTX 3070
Memory
Up to 32GB DDR4 3200MHz
Expandable up to 128GB
PCIe
1x PCIe 4.0 x16
2x PCIe 3.0 x1
Storage
1x M.2 2280 (PCIe 4.0 x16)
2x M.2 2280 (PCIe 3.0 x1 and SATA)
6x SATA 3.0Gbps
2 x 3.5" HDD trays
Wireless
Dual-band 2x2 WiFi 6 (optional)
Bluetooth® 5.2 (optional)
Audio
High-definition 7.1-channel audio
Dolby Atmos
ASUS Two-Way AI Noise-Canceling Technology
Front I/O
1x USB 3.2 Gen 1 Type-C
2x USB 3.2 Gen 1 Type-A
1x Audio combo jack
1x SD card reader
Rear I/O
2x PS/2
1x HDMI 1.4
2x DisplayPort
1x RJ-45 Gigabit Ethernet
4x USB 3.2 Gen 1 Type-A
2x USB 2.0
3x Audio jack
PSU
Up to 700W 80 PLUS Bronze
OS
Windows 11 Pro
Windows 11 Home
Chassis size
7.1" x 16" x 15"
Weight
22 lbs
Availability (U.S.)
Newegg
Best Buy
Costco
Creativity unleashed
Beyond any doubt, the ProArt Station PD5 helps me get more work done. As I mix music, cut video, and develop my skills with 3D animation, this prebuilt desktop PC gives me everything I need to work efficiently. Its powerful Intel Core CPU and NVIDIA GPU have what it takes to perform in today's demanding content creation apps. It offers the full suite of connectivity I need for establishing a workstation in addition to easy options for establishing a large storage array for my projects and media. And exclusive features including the LumiWiz LED indicators and rendering notifications ensure that I can work efficiently.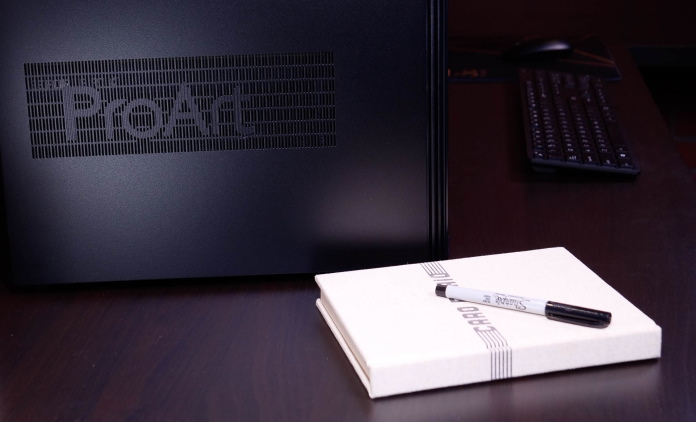 All this, and this desktop is easy on the eyes, too—the subdued blue tones of its finish and its classy vertical lines on the front panel make the PD5 a PC that allows me to work distraction-free and communicates my professionalism to clients.
Are you running up against the limitations of your current hardware? Secure a ProArt Station PD5 of your own and let it empower your creative work.